Best Kitchen Cheat Sheets
The best kitchen cheat sheets include the answers to all your kitchen woes!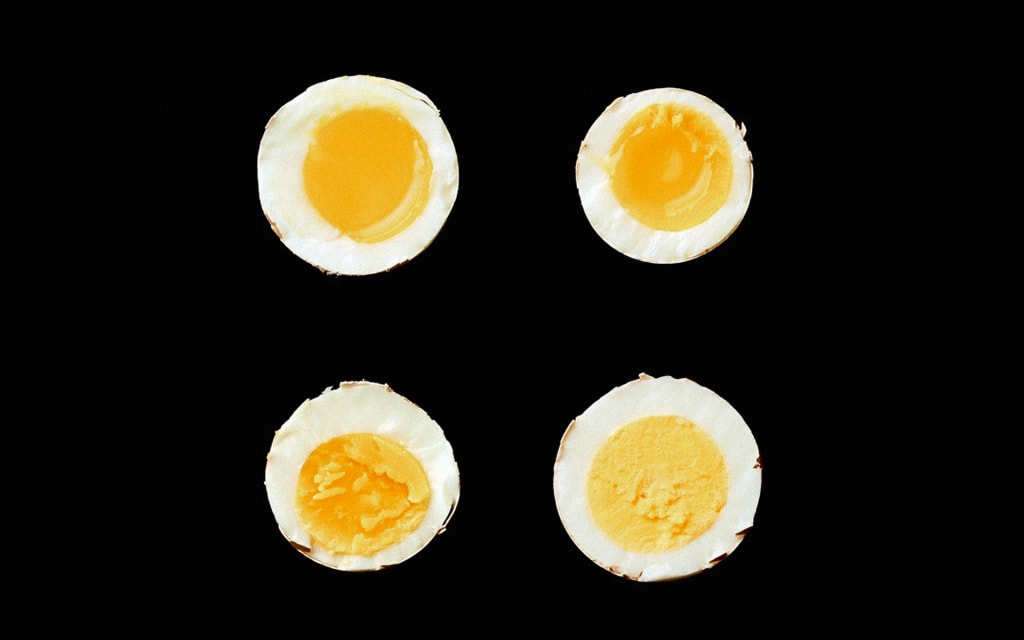 Whether you are a star chef or just a tenderfoot in the fiddly arena of cooking, kitchen cheat sheets are there to help you grapple with the gargantuan task of cooking a lip smacking meal! Most of us will agree that baking a cake is most definitely not a piece of cake; sometimes, we are stuck with a limited supply of ingredients while at other times the pan size we have is not the right one for the recipe! To help overcome all these bottlenecks and assist you in establishing your culinary prowess, we bring to you a catalogue of cherry picked kitchen cheat sheets:
Having trouble recalling baking conversions?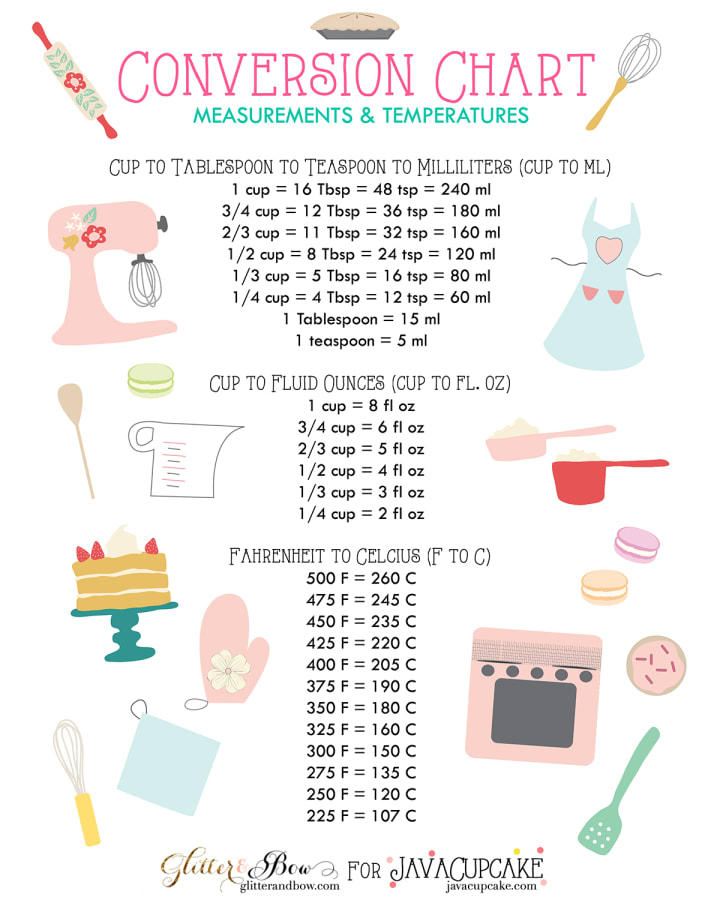 Remembering to convert basic baking ingredients such as butter, flour and sugar can be quite a knotty task. Well not to worry anymore as we have Basic Ingredient conversion charts to our rescue. Once you pin these kitchen cheat sheets up on the wall, you have all the frosting recipe conversion at your finger-tips. Further, to assist with precise baking temperatures while dealing with nuts and liquids, you can refer to handy Temperature Conversion Charts as well.
Using the right kind of kitchen mixer matters!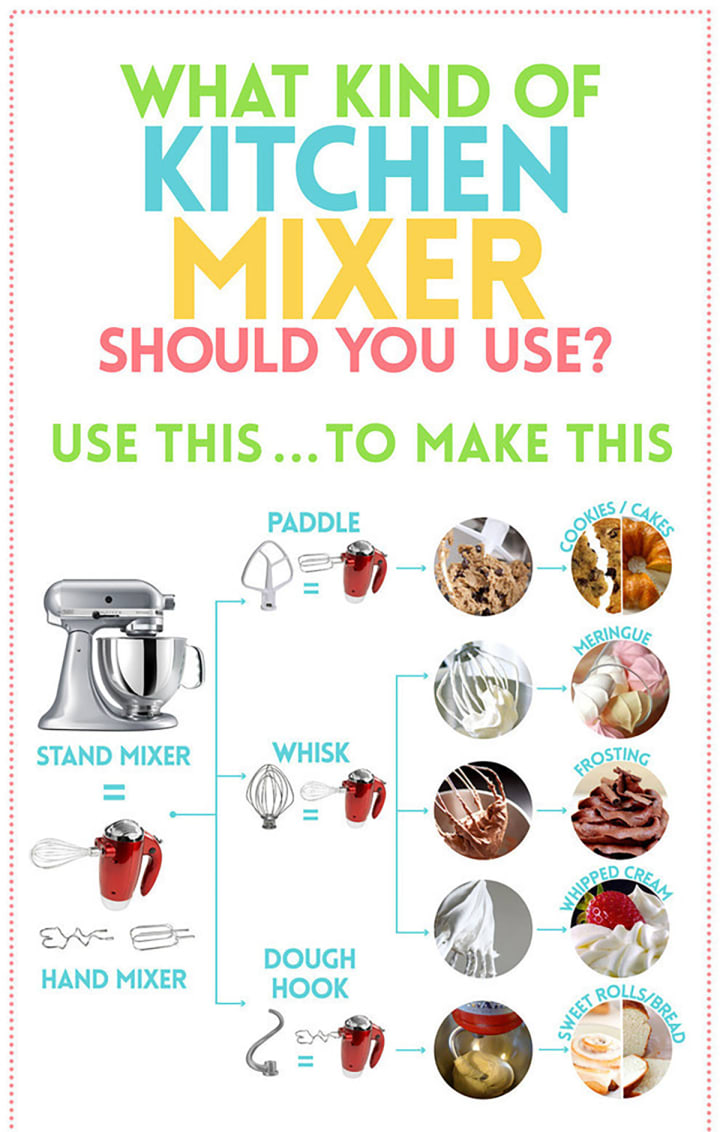 For getting the best results while processing food, you need to know the difference between the assortment of mixers available in the market. Pick up a hand mixer while dealing with small quantities but a stand mixer works best when you have to knead or whip for more than a few minutes. Similarly, a food processor is to be used when a thicker grainier paste-like mixture is desired as an end result of grinding or chopping the ingredients. On the contrary, a blender is to be employed when you have to make a thinner creamy purÈe as in case of soups.
The perfect way to keep your groceries and dairy products fresh.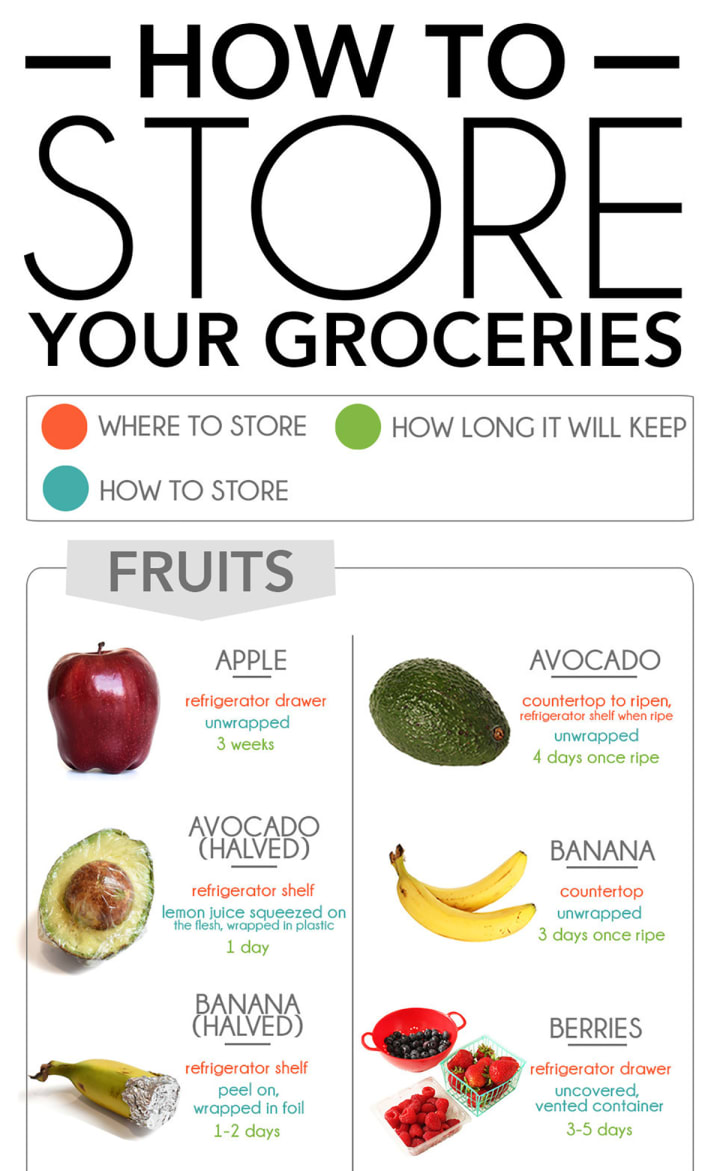 This kitchen cheat sheets lets you in on all the secrets of elongating the shelf life of fruits, veggies and dairy items in your kitchen; everything you need to know about how to, where to and how long to store them. An apple can stay juicy for 3 weeks but a banana can only survive 3 days on your countertop once it is ripened. Raw poultry can be edible for 2 days if kept in a meat drawer but once you put it in the freezer, sealed in a bag with no air, it can be preserved for up to 3-6 months!
How to mix and match food with wine.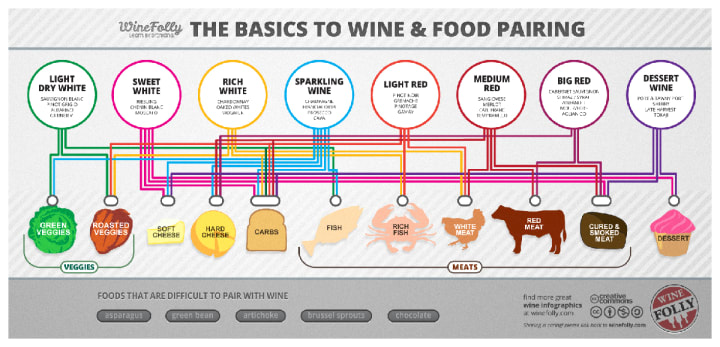 We all agree that there are a lot of misconceptions when it comes to pairing food and wine. For example, red wine and chocolate are considered to go hand in hand but what most people miss out on is that the bitter flavors in both the items eventually mix up, resulting in an overall acerbic taste. Not such a good thing for the guests you are entertaining at the house warming party, right? Well, this kitchen cheat sheet helps you get the basics of wine and food pairing right and gives you an insight into some of the best food and wine combinations.
Saga of spices!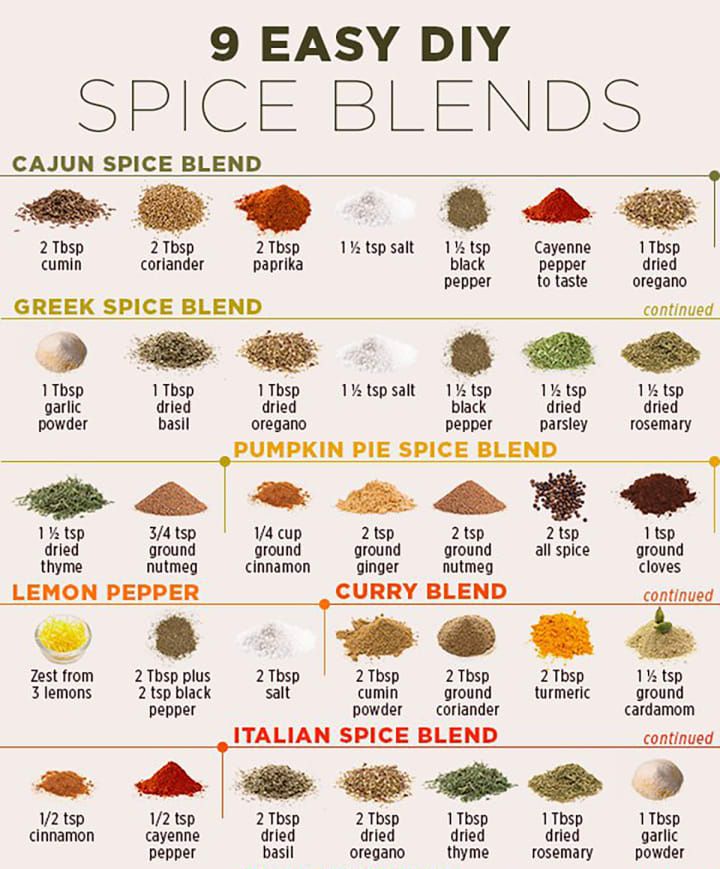 Spices are one of the most wholesome ingredients to add that punch of flavor to any recipe. Mastering in creating quality spice blends can definitely take your culinary game to the next level. Not only do they lend a fascinating tang to the already bland food items; once used in place of oil or fat for that extra flavor factor, these can be a real calorie saver too! Also, you can prepare them yourselves with the items available in the local market, making it a super affordable option in the long run.
Enjoy your perfect boiled egg.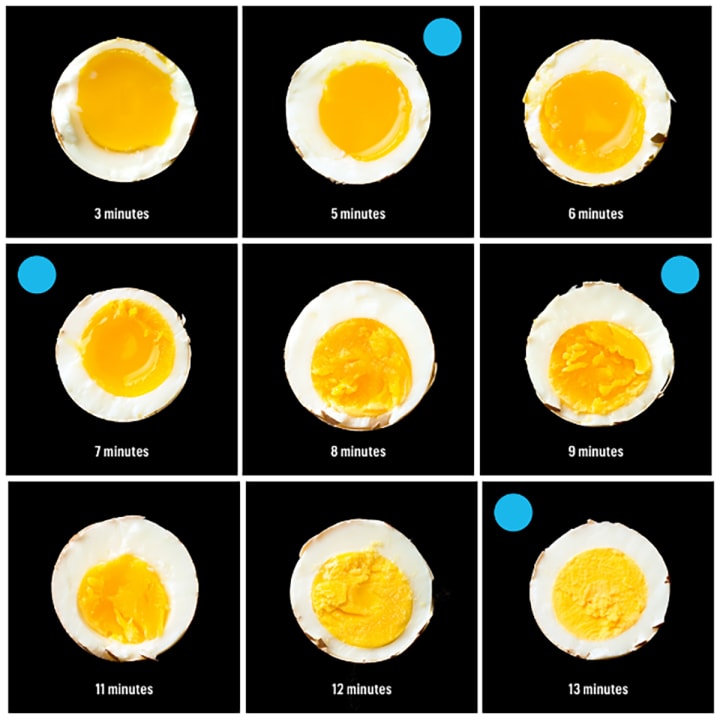 For all the perfectionists out there, this kitchen cheat sheet elaborating on ways to boil textbook eggs is a major life saver. Yes, there is more to the picture than meets the eye in a task as simple as boiling eggs and amazingly there are more than one ways to do so. For instance, start-in-boiling-water method gives more precise results as compared to the start-in-cold water approach. But the latter works best if you are craving for a traditional hard-boiled egg.
Know your blades well.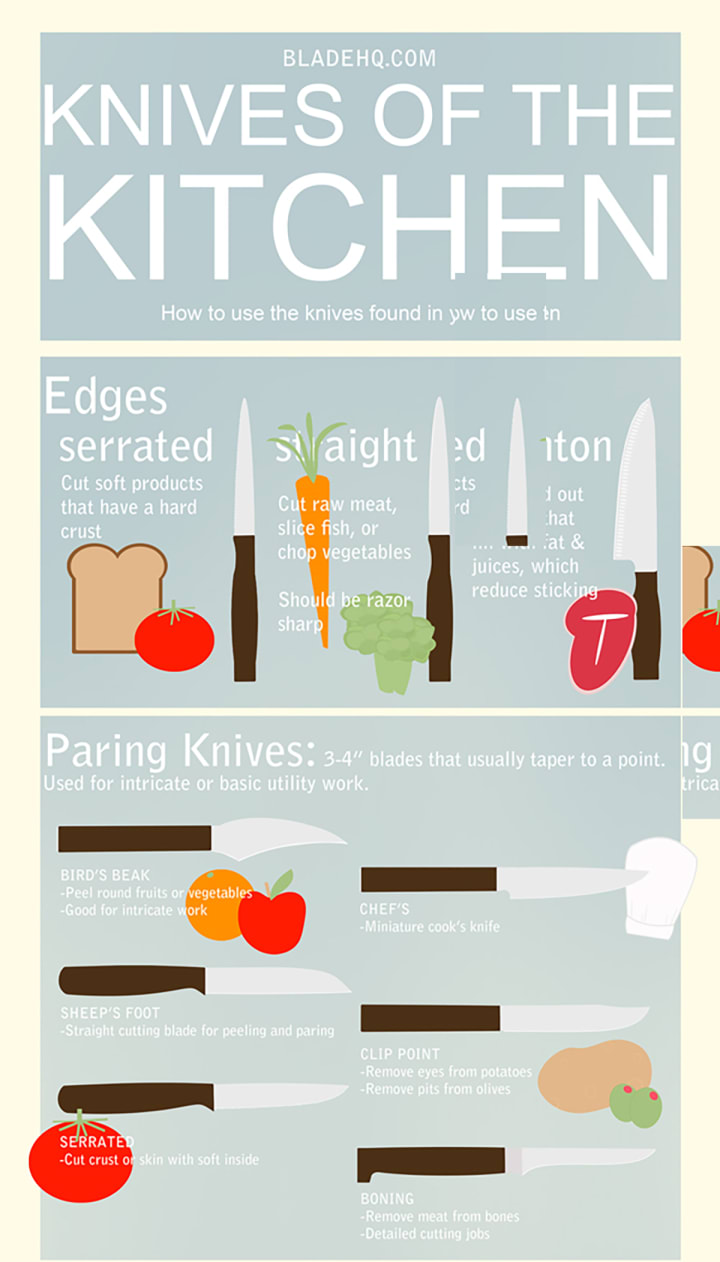 This kitchen cheat sheet details upon the various knives and blades found in the kitchen and lists down their handling and preferential food item to be cut as per design. For cutting softer products like a load of bread or tomatoes, a knife with serrated edges is ideal but for cutting raw meat, chopping vegetables and slicing fish, a straight razor sharp knife is required. Clip point knives are used for removing the potatoís eyes and olive pits and boning knives are best suited for removing meat from the bones, poultry cutting and other similar detailed pruning jobs in the kitchen.
A guide to cooking impeccable grains.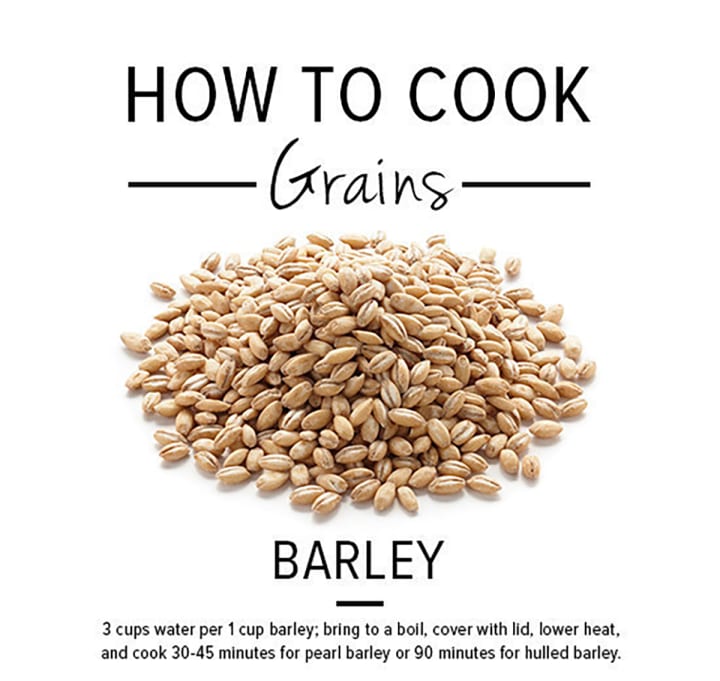 Different textures of grains need a different treatment to come out perfectly after cooking. For instance, if you are preparing brown rice, don't forget to add 2 cups of water per cup of rice and to steam for about 10-15 minutes after you are done with the cooking. On the other hand, wild rice requires twice the amount of water per cup of rice and needs approximately 45-60 minutes to cook properly. Precise details about cooking times and heat inputs for other grain varieties such as Quinoa, Oats and Millets are also listed out in the infographic.
Get yourself acquainted with precise grilling temperatures and time.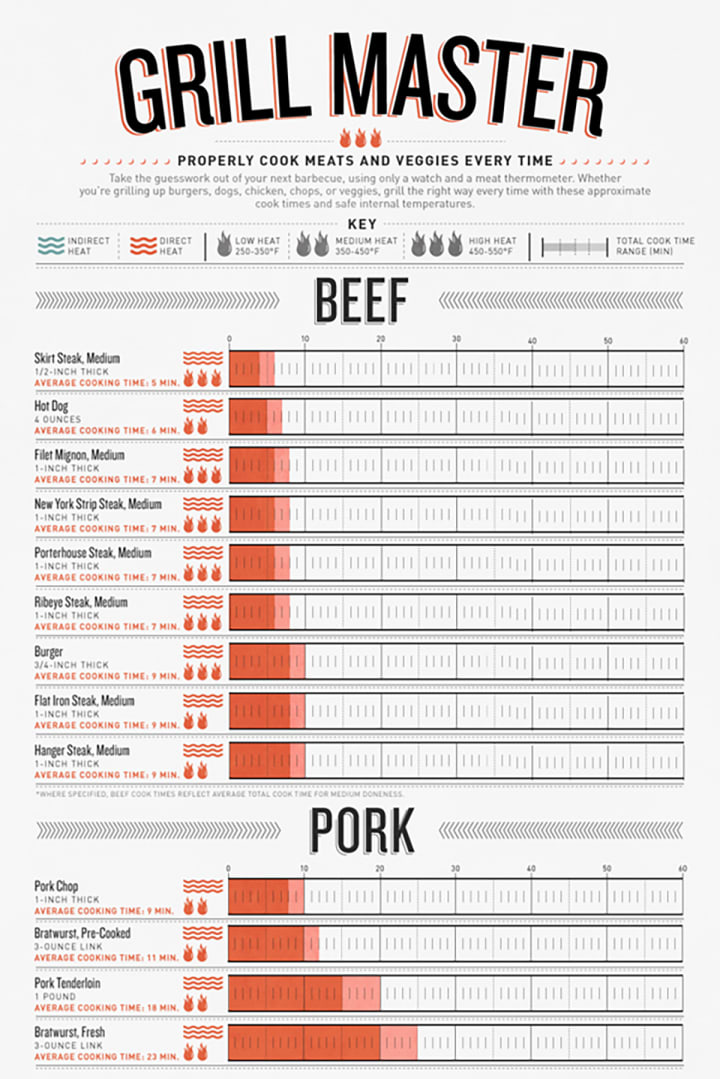 Throwing a barbecue for friends can be quite a task. Worry not, as this grill master kitchen cheat sheet gives you an upper hand by listing out the right amount of heat and time required to grill yummy burgers, chops, veggies and chicken. While beef generally requires 5-10 minutes to be perfectly grilled at direct high heat temperatures, chicken requires indirect moderate temperature heating for a longer span of about 40-45 minutes. Although, for safety reasons it is advisable to keep checking the internal temperature of meat products using a cooking thermometer.
Mastering the art of turkey roasting.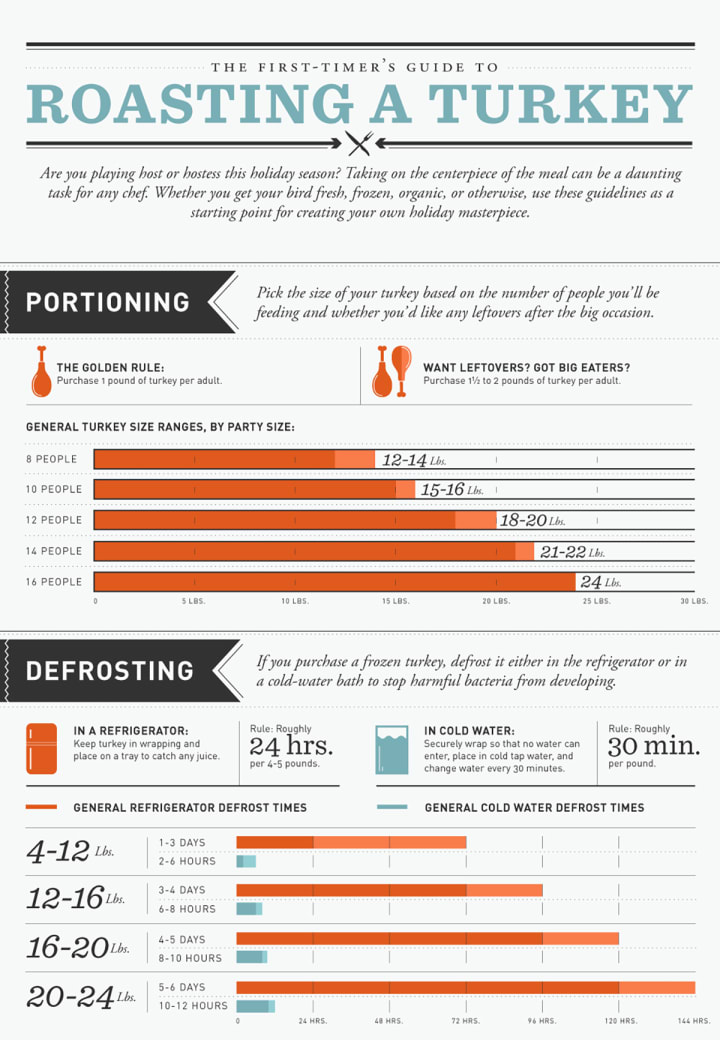 Being the centerpiece of the grand holiday meal, preparing a scrumptious turkey can win you a great deal of praises. If you are a novice at turkey roasting, a lot of questions about the process can bother you. What size of turkey will be ideal? How to defrost and season it? What to do with the giblets? This kitchen cheat sheets has got you covered with a step-by-step in-depth guidelines on how to successfully roast your first turkey. It has got some excellent tips on each of the activities involved such as portioning, defrosting, prepping and finally the roasting.
For that amazing espresso shot.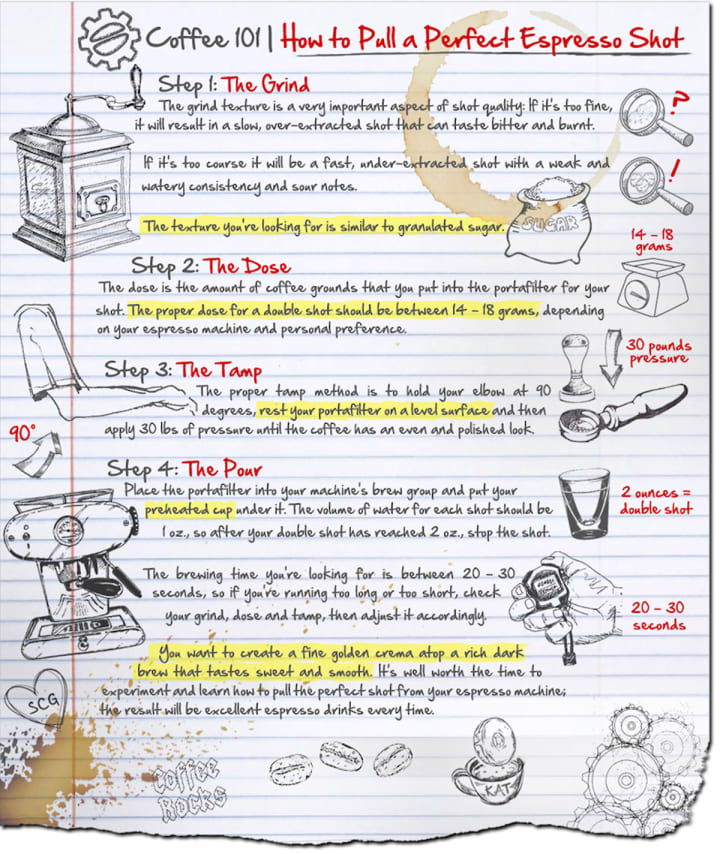 Yes, you can learn to make a great espresso shot, all by yourself, in the comfort of your home, with the help of this handy and stylish kitchen cheat sheet. On following this step-by-step guide and experimenting a little, you can perfect your own recipe and enjoy a lifetime of excellent cups of espresso drinks. The list gives an insight into the ideal kind of coffee beans texture, the exact amount of dose for a double shot espresso, the proper tamp method for the portafilter and the accurate brewing time.
Super-easy ideas for marinade preparation.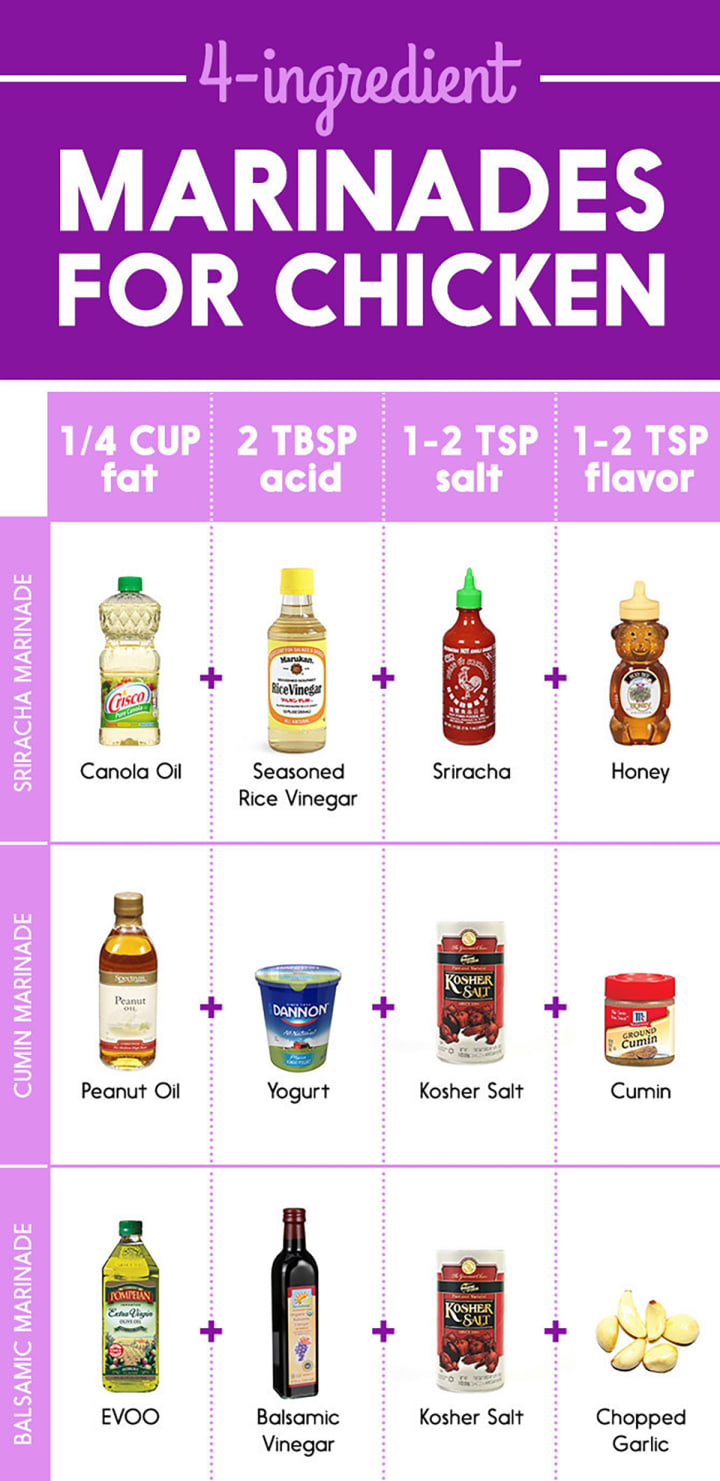 This DIY marinade preparation kitchen cheat sheet illustrates amazing ideas about making marinades out of everyday ingredients. Marinades essentially impart tenderness and savor to the meat and can be made out of a combination of simple products stocked up in your pantry. For instance, a Sriracha Marinade can be made by blending canola oil, seasoned rice vinegar, tobacco and maple syrups. All these combinations are easy to prepare and super affordable, making them all the more attractive.
Some slow cooker hacks.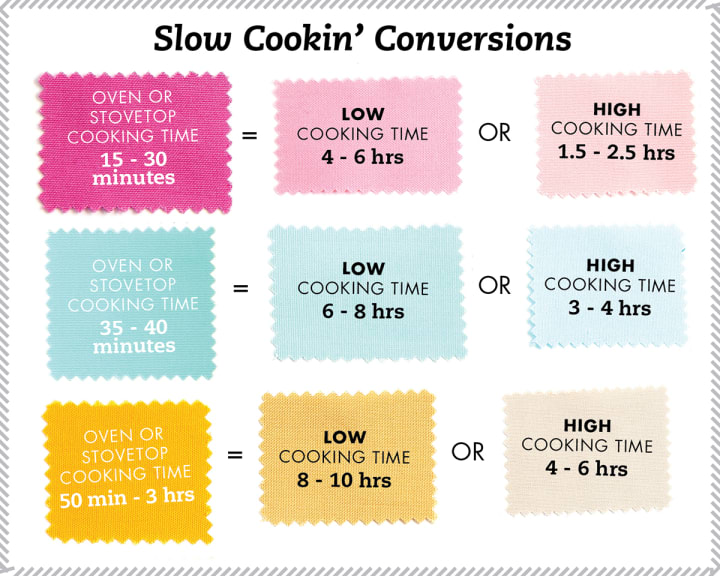 This kitchen cheat sheet gives you all the required conversions so that it is easier for you to convert your favorite oven-baked recipes to suit the slow cooker. According to this handy little conversion chart, a recipe that requires 15-30 minutes for completion in an oven or a stove-top, will need a low temperature cooking time of 4-6 hours and a high cooking time of 1.5 to 2.5 hours otherwise.
How to master recipes like a pro.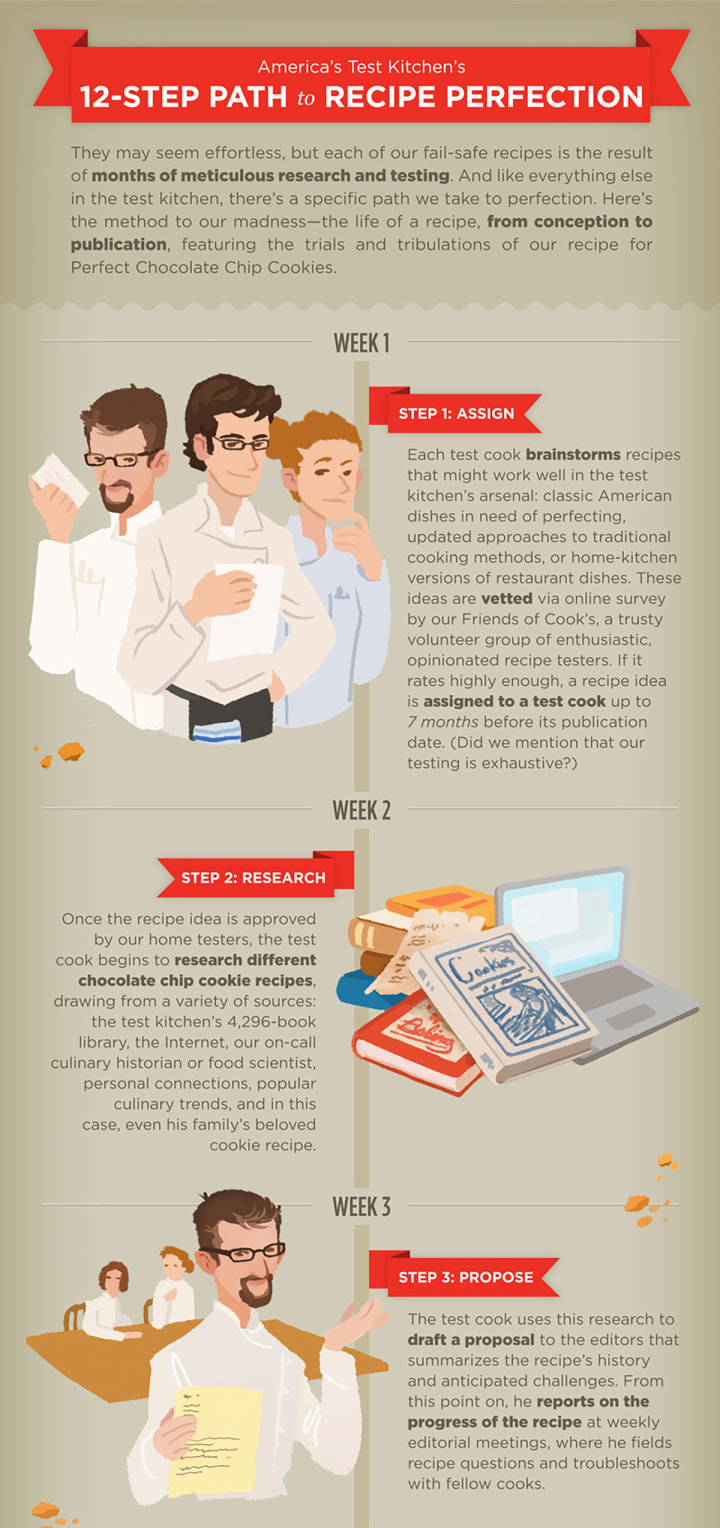 This detailed infographic kitchen cheat sheet tells how surefire test kitchen recipes are made. In a stepwise manner, it leads you to the path of perfecting your test recipe, explaining with an example recipe of Chocolate chip cookies. From brainstorming recipes to researching the culinary trends on the internet to experimenting and further refining the taste; this kitchen cheat sheet has got you covered on all the aspects.
healthy
literature
recipe
Learning to laugh at life while feeding a family of five. Finding unique, unusual recipes on a budget.