Best Healthy Cookbooks of 2018
Healthy cookbooks don't have to be filled with ingredients that taste like cardboard. These bestselling titles prove you can eat well and love every second of it.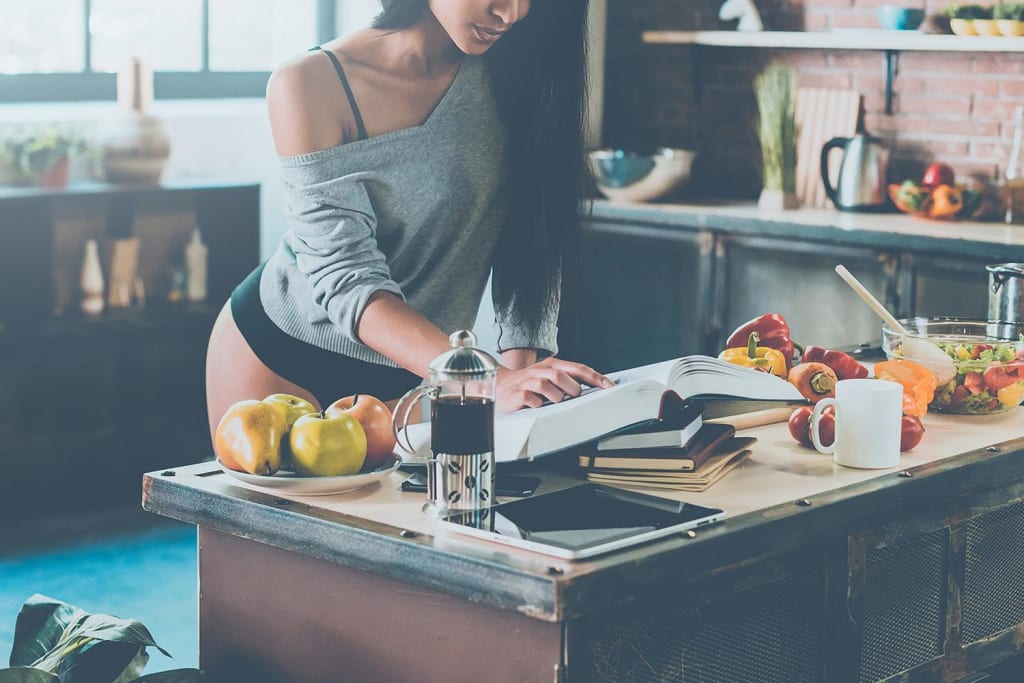 If there's one trope that has long plagued people who want to eat healthy, it's the "bad health food" stereotype. Health food of the past was known for being pretty terrible, having weird textures, or smelling foul. Nowadays, this isn't the case.
Chefs and nutritionists have been able to make health food taste phenomenal. Some might even say that we're now entering a new dawn of nutritional awareness for the masses, simply because nutritious food has become so tasty.
Most of the time, people want to get their health food fix at a local restaurant or juice bar. These healthy cookbooks, though, let you experience the benefits of a healthy diet without the higher price tag.
The benefits of a vegan diet have been very well-documented. People who choose to eschew animal products tend to have better heart health, lower cholesterol, and at times, clearer skin. Veganism has also been linked to lower rates of certain types of cancer.
The Wicked Healthy Cookbook is one of the greatest healthy cookbooks to focus in on a vegan lifestyle. Written by two brothers who work as chefs, this cookbook offers awesome recipes that show you how to make your veggies as meaty as possible.
Fresh ingredients, easy-to-follow instructions, and an overall awesome outlook on health is what makes this a great cookbook for any newbie vegetarian.
If there's one thing that many healthy cookbooks are trying to debunk, it's the idea that healthy food has to be flavorless food. Chloe Coscarelli's Chloe Flavor shows how spices and cooking techniques can bring out the best of every veggie you eat.
As a trained vegan chef, Chloe has worked hard to make sure that eating vegan won't kill your tastebuds. With mouthwatering dishes like Mango-Guacamole Crunch Burgers, it's safe to say that she's succeeded in her goals.
The ultimate goal of many health cookbooks is to make a great-tasting meal that's fit for a king. So, it's only natural that former White House chef and friend of the Obama family Sam Kass would make one of the best new cookbooks out there.
If you're looking for a cookbook that emphasizes healthy portions, great flavor, and sustainable food practices, you're going to love Eat a Little Better. If you're a fan of the Obama family, you'll also love the anecdotes about the former First Family sprinkled throughout the book's pages.
Foodies might recognize Danielle and Laura Kosan as the founders of The New Potato blog. Their blog captured hearts by celebrating all the little elements that made going out to eat so wonderful. Now, they have come out with one of the most delightfully healthy cookbooks out there.
Great Tastes features glamorous recipes that look perfectly ready for Instagram, all while keeping each meal healthy. A strong emphasis on nutrient-rich foods like avocado, kale, and egg mean that you won't have to feel guilty about these delicious indulgences.
What we really love about this cookbook is that it offers up delicious recipes for every time of day—and really, every occasion. It's wonderful.
Everyone who has ever dealt with a picky eater will tell you that getting certain people to eat their veggies is about as easy as pulling a cow up a tree. Ali Maffucci came up with an awesome solution: change the texture of the vegetables.
Inspiralized and Beyond gives health-conscious people new ways to serve up veggies and get people craving them. Whether it's zucchini noodles, cauliflower rice, or mashed broccoli, this book will make sure that you get your daily dose of greens one way or another.
When Lien Nguyen set out to make a cookbook, he had his work cut out for him. He decided to stick to recipes that are low sugar, low carb, gluten-free, and high nutrition—and nothing else.
Following a diet this strict isn't easy, but studies show that it does have a lot of weight loss benefits and heart health benefits. The biggest reason why you don't see people eating low sugar, low carb, nutrient-rich foods is because the flavor just isn't there most of the time.
Eat Real Food or Else is a cookbook that is equal parts reality check, medical facts, and cooking lesson. The doctor-approved recipes inside will have you wonder why you even bothered eating sugar in the first place.
Toby Amidor isn't a chef; he's a professional dietician who knows how to cook a damn good meal. Dieticians are great for authoring healthy cookbooks, but very few have managed to turn clean eating into something that's tasty, easy, and fun to do.
The Healthy Meal Prep is a cookbook that is realistic about the amount of time and effort people are willing to put into throwing a meal together on a weeknight. Amidor helps people learn how to meal prep and cut down cooking time through easy little tweaks.
This cookbook comes with a two-week meal plan, shopping list, and fully illustrated guidelines. If you're really new to cooking, The Healthy Meal Prep is as foolproof as it gets.
Are you a fan of Skinnytaste? The blog has become famous for its low-calorie, diet-friendly recipes that the entire family will love. Gina Homolka's philosophy is that you should never have to sacrifice flavor just so that you can slim out.
The recipes inside range from easy things you can throw together on a weeknight, to more advanced recipes that are ideal for a special family get-together. No matter what recipe you try out, you'll understand why this is one of the most popular healthy cookbooks on the net.
Bobby Flay might be known for his delicious Burger Palace chain restaurants, but let's be real. He's also known for looking healthy. You don't end up staying that trim while being surrounded by food without a lot of diet-conscious practices.
Finding cookbooks that offer healthy, beefy treats with an all-American flair isn't easy. That's why Bobby Flay Fit is so popular, and why people who want good comfort food that doesn't harm your waistline love it.
Toby Amidor strikes again—and this time, he's making meal prep easier than ever before. Knowing how hard it is to make meals with limited ingredients, he decided to up the ante by creating a cookbook that's filled with balanced, waist-friendly recipes that make shopping lists a cinch.
Most of the meals included are ready in under 30 minutes and only require a single pot. Though health food tends to be known for being hard to prepare, Amidor's 5-Ingredient Healthy Cookbook proves that you can eat great, even when you're pressed for time and money.
Though we often think of cookbooks in terms of meals, snacks, and desserts, it's important to remember that there are other kinds of recipes that you could be using to bolster your vitamin intake. Smoothies, for example, are excellent for people who want to add more fruits into their diet.
Superfood Smoothies is a great cookbook to have if you love smoothies, want to make sure you get all your nutritional needs met, and also want a little bit extra flavor in your drinks.
Gina Homolka's recipes are known for being perfect for high society dinners while keeping your waistline trim. The cool thing about her, though, is that she knows how to make recipes for every meal occasion—including ones where you are too pressed for time to do much at all.
Skinnytaste Fast and Slow is a cookbook that uses the magic of slow cookers to make your meal prepping easier than ever before. If you're looking for the best healthy crockpot recipes with that awesomely elegant veneer, picking up this is a great idea.
Danielle Capalino is a dietician who is a fan of the Low-FODMAP Diet. This diet is all about cutting out hard-to-digest sugars called FODMAPs, which have been linked to belly fat, weight gain, and yes, gas.
Her cookbook is one of the few to advocate for decreasing FODMAPs in your diet, and actively works as an educational tool for people who want to learn how to reduce belly fat. Backed with scientific research and delicious recipes, Healthy Gut, Flat Stomach promises exactly what it delivers.
Who doesn't want to have a healthy ticker? Considering that a large percentage of all deaths can be attributed to heart disease, it's surprising that there aren't more healthy cookbooks that focus on the topic of heart health and diet.
Of the cookbooks that are out there, even fewer seem to focus on offering up smaller portions fit for two people. The Heart Healthy Cookbook for Two offers up 125 different recipes for couples who just want to make sure their hearts feel great for as long as possible.
Though Martha Stewart herself didn't write these recipes, her talented magazine crew did—and honestly, you can't tell the difference. Clean Slate is a cookbook that offers up recipes built to help you get rid of toxins in your body, lose weight, and get all the nutrients your body needs.
This cookbook has a little bit of everything in it, including recipes that are vegan, vegetarian, gluten-free, and allergen-free. No matter what your personal dietary choices are, Clean Slate will have a dish that will whet your appetite and work with your body.
The hardest thing to do, when you're a parent who wants to offer up healthy meals for the kids, is find recipes your kids will actually eat. Heck, even finding a healthy recipe that your spouse will love can be a chore, depending on your spouse's chosen lifestyle.
Cynthia Lair has made a cookbook that makes it possible to find family-friendly recipes that work with kids of every stage of life. Feeding the Whole Family has become a mainstay among health-conscious families for about 15 years.
This edition has breastfeeding advice, mealtime tips, and recipes that are easy to make. It's a mom's best friend.
Kathryne Taylor is one of the most successful vegetarian food bloggers on the net, and it's a reputation that's well-deserved. Her blog, Cookie + Kate, has become a favorite for people who want light, delicious, and deceptively easy recipes.
If you're looking for healthy cookbooks that avoid meat, but might involve a little bit of cheese from time to time, Love Real Food will have your back. Over 200 different recipes can be found inside, all with a variety of flavors. Even meat eaters will find something they enjoy inside.
Lindsay Maitland Hunt is a recipe developer who doesn't like having to see millions of steps in a single recipe. She also doesn't like seeing foods that are too healthy for you, or foods that aren't really that satisfying. She likes healthy-ish foods. That's where she coined the name of her cookbook, Healthyish.
Despite the name, Healthyish puts a lot of healthy cookbooks to shame in terms of nutrition. It's also a cookbook that delivers super simple recipes that manage to look like they just came out of a five star restaurant. Bon appétit!
Model-turned-foodie Giada de Laurentiis made her living looking great and staying healthy enough to rock a photoshoot. Known for being one of the prettiest personalities on the Food Network, people often ask Giada how she manages to stay fit with her schedule.
If you ask her, she'll tell you that it's due to her extra-healthy diet. Giada's Feel Good Food is a collection of her favorite recipes, including special sections that are dedicated to learning how she works her food into her everyday life, exercise routines, and beauty tips.
Go ahead. Find out how she manages to stay so slender and healthy. You know you want to.
Tons of studies have shown that a plant-based diet is the healthiest option for longevity purposes. Whether you choose the Mediterranean Diet, the Sonoma Diet, or a vegan diet, it doesn't matter. Plants are where it's at, and if you're not used to having them in your diet, you need to fix that.
The Plant-Based Diet is a cookbook that helps you get into a more vegetable-based diet using three weeks of meal plans, easy recipes, and of course, delicious pictures that are sure to whet your appetite.
Fans of the LLBalanced website will recognize Laura Lea Goldberg as the woman behind the site—and for being one of the most epically happy people out there. Her entire philosophy is focused on balancing mind, body, and lifestyle to create a world where you can have it all.
Considering how upbeat her philosophy is, it's not surprising that she makes one of the best healthy cookbooks out there. Homemade treats like flatbreads, stews, and delicious breakfast foods are here to enjoy. Though it gets a bit decadent at times, it's hard not to see how this can be a great way to enjoy healthy food.
About the Creator
Ossiana Tepfenhart is a writer based out of New Jersey. This is her work account. She loves gifts and tips, so if you like something, tip her!
Reader insights
Be the first to share your insights about this piece.
Add your insights