Barbecue Chicken
A Mrs Huston Recipe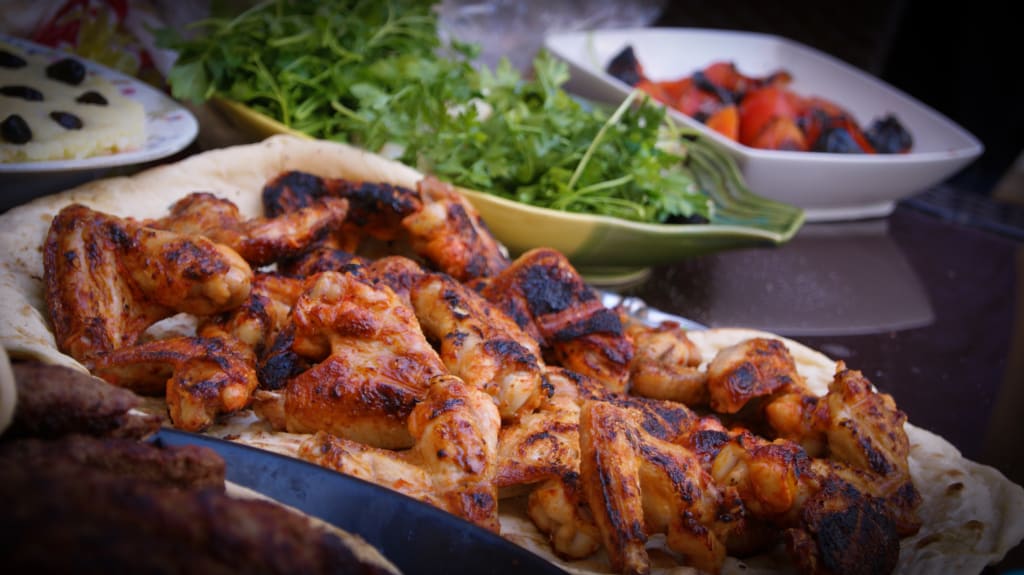 Photo courtesy of https://www.pexels.com/@owpictures/
With the price of chicken (and pretty much every other source of protein besides tofu) lately, I do not purchase it often. Now, I only purchase Chicken and beef when they are on sale. So on the few occasions I have found deals on chicken, I make BBQ chicken. It always goes over well and since we only have it a few times a year, it is a real treat.
Ingredients
Oil - just enough to lightly coat your cooking sheet.
Two Tablespoons Paprika
Two Tablespoons Chili Powder
One whole chicken (about 3 pounds), cut up into eight to ten pieces
Two Cups BBQ sauce - Try this recipe I previously posted on Vocal. https://vocal.media/feast/bbq-sauce
Coarse Salt, Pepper - To taste
Directions
Preheat the oven to 400 Celcius.
In a small bowl, mix the Paprika, Chili Powder, Salt and pepper. Make sure to mix well so that the spices are blended evenly.
Place the chicken pieces on an oiled baking sheet, making sure there is enough room on the sheet that the chicken pieces are not touching.
Sprinkle the spice mixture all over the chicken and make sure to rub it in well.
Prepare the barbecue sauce, setting aside one cup for later.
Once the oven has heated to 400 Celcius, Place the baking sheet into the oven. Allow the chicken to cook for thirty minutes.
Take the baking sheet out of the oven and baste the chicken pieces with the BBQ sauce.
Place the baking sheet back in the oven and allow it to cook for an additional fifteen minutes.
Allow the chicken to cool slightly on the sheet before plating
Serve with the reserved sauce.
Notes
One trick I have learned lately is to buy cheaper (but in this economy that is relative) cuts of meat. They might be tougher but with the proper cooking techniques for that cut of meat, they are just as good.
I have been known to buy chicken backs as I can purchase 2 for under three dollars at the store near my house. There might not be too much meat on them but I use them in making stocks and have been known to also add one uncooked chicken back to my Instapot when making rice. It gives a good flavour to the rice and makes it a more rounded food, especially when you also add some cut up veggies to the rice before cooking.
One thing I used to buy when I was a student and it was inexpensive was Spam. Did you know that Spam is gluten free? I was about to pick up a can for old time's sake but I noticed the price had gone up significantly.
The oil can be omitted if you are cooking your chicken on parchment paper.
Paprika is a great spice ot have on hand. I have two or three types. My favourite at the moment is a smoked paprika I picked up from the dollar store of all places.
If you have a favourite store bought barbecue sauce, feel free to use that. I just find that barbecue sauce is so easy to throw together that I have not bought it from the store in years.
If you are on a sodium reduced diet, you can omit the salt in this recipe.
If you wish, an easy way to spice the chicken pieces is to place the spices into a resealable plastic bag. Add the chicken pieces to the bag and shake the bag vigorously allowing the chicken to be coated with the spices. This allows the chicken to be coated all around and not just on the top.
About the Creator
Canadian Graphic Designer, Young adult novelist and gluten free recipe developer from Canada
Reader insights
Be the first to share your insights about this piece.
Add your insights