Apple Crisp Crumble
Paired with Butterscotch Schnapps!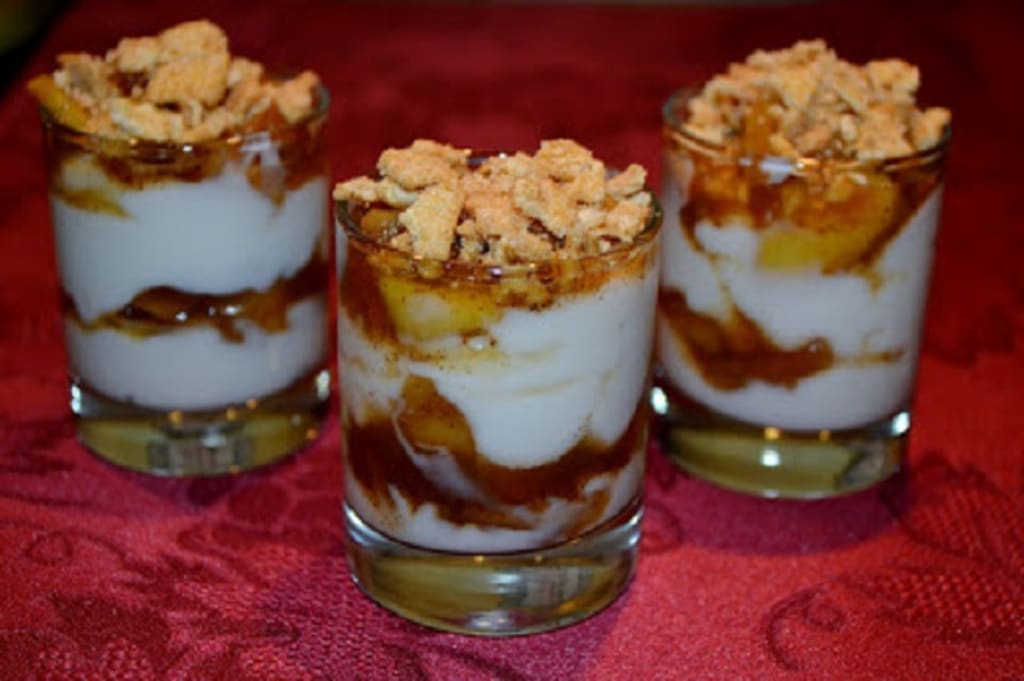 Who doesn't love apple crisp crumble? And who doesn't love the taste of butterscotch? It can only get better when the butterscotch is in the form of butterscotch schnapps.
This recipe is totally awesome for adult holiday gatherings. I mean, it's alright if the kids are out and about... but this dessert is definitely not one that they should savor. One serving is enough to give you that warm fuzzy feeling. It's basically like a shot of alcohol camouflaged in a dessert glass of delicious and delectable apple crisp.
The best thing is this recipe is really easy to make and since it is made with apples, it has to be healthy, right?
You will need:
For the Apple Crisp Crumble:
About 4 cups of cored, peeled, and chopped medium tart apples.
½ cup granulated sugar
¼ cup packed light brown sugar
1 tsp of ground cinnamon
½ cup of butterscotch schnapps
½ cup melted butter (use real butter)
1 pouch (1 pound 1.5 oz) oatmeal cookie mix (I like Betty Crocker)
For the Layers and Topping:
1 cup of whipping cream
1 tablespoon of butterscotch schnapps
1 tablespoon powdered sugar
Caramel topping (optional)
Once You Have Gathered Your Ingredients:
Heat the over to 375 degrees F.
Spray just the bottom of an 8 inch square pan with cooking spray.
In a large bowl toss together the apples, sugar, brown sugar, cinnamon and schnapps
Spread mixture into the pan
In another bowl, mix melted butter and cookie mix. Spread on top of the apples.
Bake 40 minutes.
In a smaller chilled bowl beat whipping cream, tablespoon of schnapps, and the powdered sugar using an electric mixer on medium high speed. Beat until stiff peaks form.
To serve, alternately spoon the warm apple crisp mixture and the crème mixture into small dessert glasses. Top with caramel sauce if you desire. I just usually slightly warm a small bowlful of caramel sauce and leave it on the table with a spoon. Serve immediately.
If you really want a rich caramel topping you can purchase Nestle La Lechera Dulce de Leche at Walmart. Dulce de Leche is a type of caramel topping that is a lot richer than regular caramel topping.
And, of course you can always serve a small dish of vanilla ice cream on the side.
I have really gotten into using mason jars for cakes lately. I found a ton of these little containers in my basement when I moved into my house. They are awesome to send home a portion of apple crisp with guests. Just spoon the mixture into a Mason jar and put on the lid and screw cap. I even keep a few pieces of seasonal color ribbon on hand to wrap around the base of the lid. Guests love the idea and they have a reusable mason jar to boot!
I would remind guests that they can heat up the contents of the mason jar by putting the jar in a pan of very hot water for a few minutes. Although mason jars are safe to microwave, glass can be unpredictable. Better safe than sorry.
These little apple crisp, butterscotch schnapps-laced filled mason jars are also great to bring along for small gatherings. Just make enough so that everyone gets one or there will be an epic battle brewing.
Another idea is to serve this dessert in a small take home mug. I pick up pretty little teacups and small mugs at yard sales and thrift shops for this purpose. Keep some saran wrap on hand to cover the mug if there are any left for later... which usually there are not!
However you serve it, this is one of the best desserts I have ever tasted. And, for some reason it tastes even better with each tablespoon you eat.
Enjoy!