A Royal Gift : Macaron
Macaron - a dessert that wins hearts - is a regal present that isn't bad for your figure.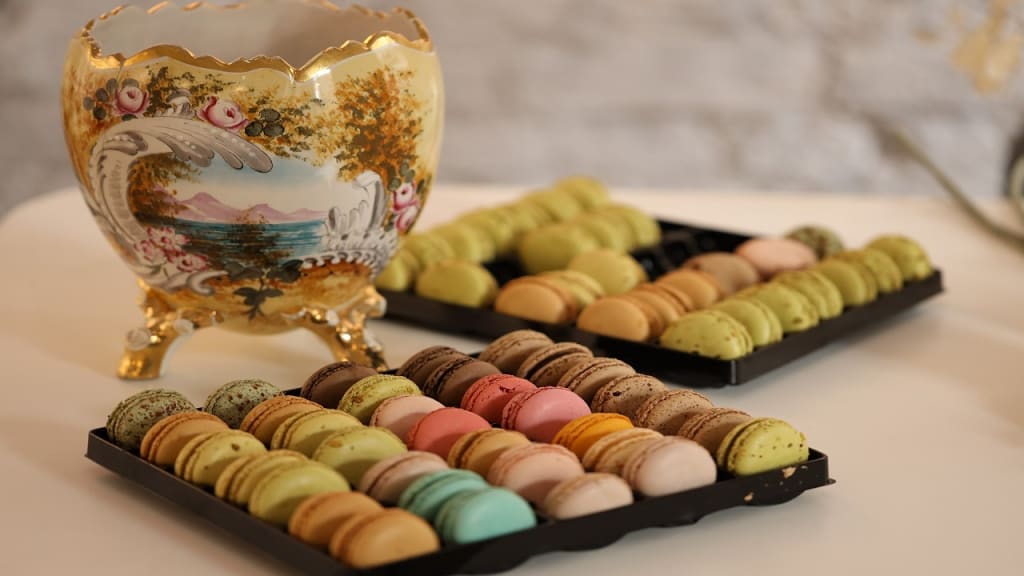 Macaron
What is your idea of the ideal dessert? Enchanting flavour motives, astonishing forms, and a masterful blending of the incompatible? What about a Michelin-starred meal?
But what if you could sample an amazing delicacy without visiting expensive restaurants? A crispy top composed of almond flour, jam and cream prepared from carefully selected ingredients, the expertise of skilled pastry chefs, and an attractive design - does this seem like the ultimate dessert's secret?
A lovely young lady with a fluid movement takes a mini-cake off a platter, nibbles it flirtatiously, and a pleasant grin spreads across her face. So, in 1533, Catherine de Medici had her first taste of crispy pasta, which won not just the queen's heart, but the heart of all of France!
The macaron is a typical French small cake made from almond flour dough. This dish is shaped like a little circular sandwich, held together by two half of cookies and a rich filling. This exquisite almond cake is ideal even for health-conscious people. Indeed, the "Macaronika" sets contain 24 different tastes of French desserts made entirely from natural materials. A single tiny cake has just 60 calories. As a result, everyone can indulge without jeopardising their physical appearance.
The original pasa recipe has seen so many worldwide changes through time that it has only left behind a recognizable form and texture, while the rest - colors, tastes, and fragrances - continue to vary. Confectioners prefer to be continuously on the lookout for innovative culinary solutions, collaborating with Michelin-starred chefs to create novel taste combinations for this delicacy.
After all, only great masters of confectionary art can smell and taste everything around them. Each confectioner perceives fragrances with a gentle touch and feels the originality of flavour combinations at his fingers. This is a particular realm of the most delicate almond treats that is worth exploring to appreciate its enticing originality.
Variety of fillings from the classic collection
Fragrant French pasta has long captured the hearts of sweet lovers. Today, there are countless variations of this unusual dessert: confectioners continue to look for amazing gastronomic combinations, experiment with tastes, but we continue to choose our favorite fillings and try the brightest of them!
Strudel is a ganache based on caramel chocolate, apple and cinnamon puree.
Basil & Lime is a cream based on white chocolate, lime puree and fresh basil.
Salted caramel - a cream based on white chocolate and butter caramel with sea salt.
Bounty is a cream based on white chocolate, with the addition of coconut milk and coconut flakes.
Bitter Chocolate & Himalayan Salt - dark chocolate cream with pink Himalayan salt.
Pear & Dor Blue is a cream based on white chocolate, Dor Blue cheese, walnut and pear confiture.
Fig & Camembert is a cream based on white chocolate, Camembert cheese, honey and fig confiture.
Raspberry & Lychee & Rose - cream based on white chocolate, lychee pulp, rose aroma, raspberry jam.
Cheesecake is a delicate cream based on white chocolate and curd cheese.
Lavender & Blackberry is a cream based on white chocolate, coconut milk with lavender aroma and coconut liqueur.
Macron is a dessert that pushes the boundaries of taste perception, elegantly combining fashion trends and traditional motives. The masters of the confectionery art masterly play on contrasts and emotions, they are ready to surprise the sweet tooth not only with incredible fillings! Now macaroni is a masterpiece of world art, which you can not only see, but also taste! So, in "Macaronika" a collection has appeared that will become a memorable gift for absolutely everyone - the Art Collection series! In this series, the key masterpieces of world art acquire their own unique and refined taste.
Working on designer sets of pasta from this collection, the pastry chefs decided to celebrate the true geniuses among artists, their contribution to world art and the most iconic works of creators individually. Just as there are classic combinations in pasta tastes - pistachio, vanilla, mango, there are also author's interpretations of modern trends - salted caramel, apricot & parmesan. Paintings from different eras have been selected for the Art Collection. For lovers of the classics - the Renaissance, for dreamers - the world of expressionism, for the daring and stylish - Andy Warhol's pop art.
Designer pasta sets from the Art Collection series are an original solution for a gift that will leave an unforgettable impression! The creative "zest" and the French charm that are contained in each set from this collection will not leave indifferent even the person who already has everything.