9 Dinner's From 10Lbs Of Ground Beef
Make your groceries go further series -Part 1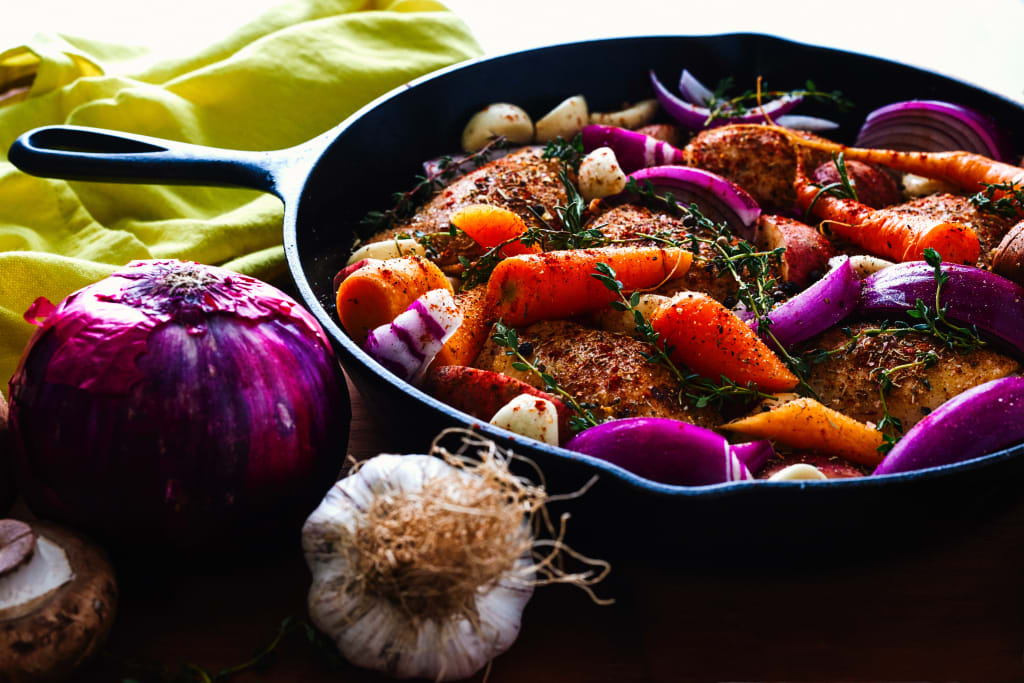 Photo By James Kern Unsplash
I live in the PNW and here we have a chain of employee owned stores known as WinCo. They have better than average prices on most food items and have some great deals on meat and produce. Of course these vary by season but I snagged a great deal a week ago and was stoked about it.
10lbs of ground beef for $18 which makes it about $1.80 a lb which considering a lb is normally at least $3.49 in my area is a wonderful price. I actually bought 2 and took one to my mom but should of grabbed a third for my freezer. I wanted to leave some for others though and I'm sure a deal similar will be back soon. I did want to write out the meals that I was able to make though =)
Dinner # 1 - Loaded Nachos
1 lb ground beef
1 Taco Seasoning. I like the taco bell brand but any is good =)
1 Bag Tostitos bite size or your favorite corn / tortilla chips
Toppings of choice :
We used
Rico's Canned Nacho Cheese
Sliced Olives
Sour Cream
Tomato's
Guacamole
Some other topping ideas are sliced jalapenos, shredded lettuce, green chilies, pinto beans, grilled corn and anything else you enjoy.
Prepare taco meat , heat cheese, prep veggies and toppings then layer .
Dinner # 2 Babybel Stuffed Bacon Wrapped Meatloaf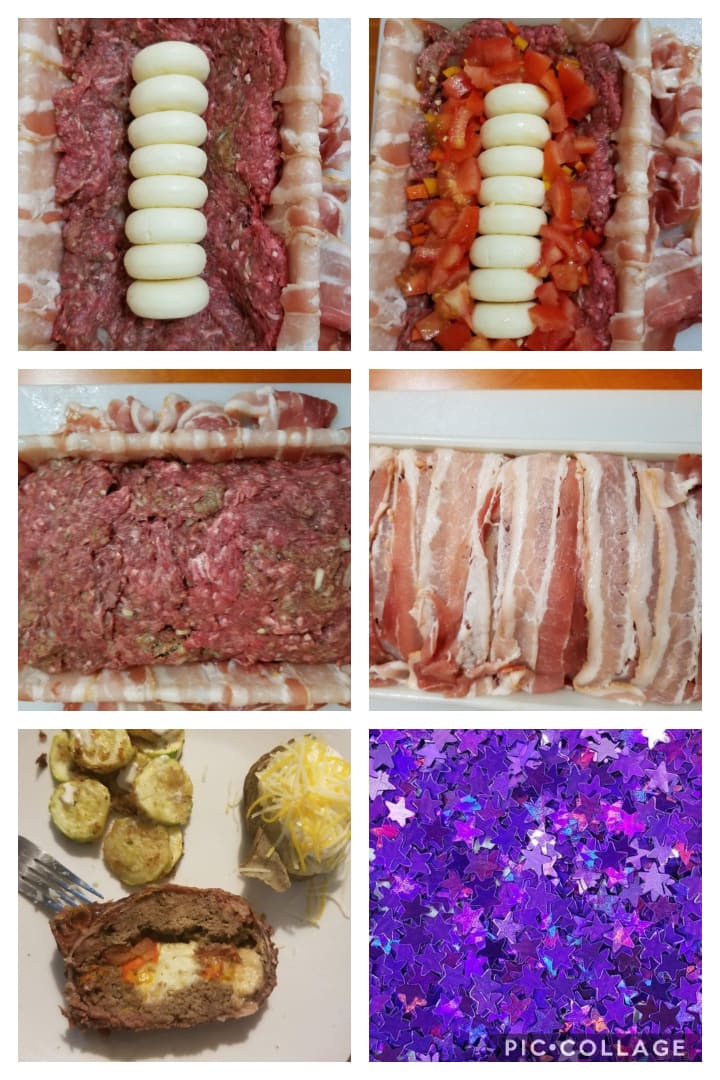 2 Lbs Ground Beef
1 12 pack Babybel cheeses
2 bell peppers 1 orange , 1 red
Desired Spices , We Used :
Garlic Powder or Minced Garlic
Salt & Pepper
1 egg
2 TBSP Worcestershire sauce
1/2 cup bread crumbs or 1 package ground Ritz crackers
Mix thoroughly with ground beef .
Line loaf pan with bacon leaving slices hanging over the edge.
Divide 3/4 of the mixture into the bottom of a loaf pan and concave the center pushing the mixture up the sides of the loaf pan slightly.
Layer Babybel cheeses in a line. Dice and Sautee peppers then arrange around cheese.
Top with remaining ground beef mixture.
Lay bacon down around meatloaf.
Bake at 350 for 55 minutes or until the meat reaches 160 F . You will want to test the temperature toward the side of the loaf and go about half way in . If you test the center you're more likely to be testing the cheese.
Remove excess grease by using a slice or two of bread or stale bread to absorb grease after baking discard bread promptly.
Dinner 3 - Mock Enchilada's
I call them mock enchiladas because I'm fairly certain Hispanic descendants everywhere would be slightly horrified if I called them enchilada's.
1 lb ground beef
1 packet taco seasoning
1 can refried beans
2 cups cheddar cheese
20 pack flour Tortilla's
1 1/2 cups rice. White , Brown , Knorr sides doesn't matter.
1 large can red or green enchilada sauce
Toppings of Choice
Sour cream , Olives , Green Chilies , Avocado / Guacamole
Prepare ground beef with taco seasoning .
Layer heated bean, beef , cheese ,rice and roll into tight burrito form , closed on both ends. Set aside.
Take 13x9 pan and add 1/8th cup of enchilada sauce in the bottom and spread evenly.
Place burritos in pan and cover with remaining sauce. Top with shredded cheese . Bake at 350 for 20-30 mins until cheese melted and sauce is bubbling.
Top with toppings and enjoy
Dinner # 4 - Patty Melts
1 Lb Ground Beef
1 Loaf Bread ( You wont use it all )
1 Packet Au-jus
Cheese Slices of Choice we use Sliced mozzarella
6 tbsp. butter
Season ground beef as desired we like salt, pepper, garlic powder and, Worcestershire sauce.
I find it easiest to take a 13x9 pan and squish the ground beef into the thinnest large patty possible then bake it at 350 for about 15 minutes or until it has reached 160 degrees internal temperature .
Once cooked top with cheese then start toasting your toast pieces . Once Cheese is melty cut patty's into bread size portions or close to This can make 6 larger melts or if you cut the squares smaller 8.
Make Au jus and enjoy.
Dinner # 5 - Ground Beef Stroganoff
1 lb ground beef browned with choice of seasoning s I use minced garlic, salt, pepper ,better the bullion beef stock ( 1 tsp) and Worcestershire sauce. Drain grease return to heat and add
While beef is browning boil eggs noodles or pasta of choice. Drain
Mix beef and noodles with
1 can cream of mushroom soup an additional 2 tbsp. Worcestershire sauce , salt , pepper and garlic powder to taste.
Enjoy !
Dinner # 6 - Inverted Pizza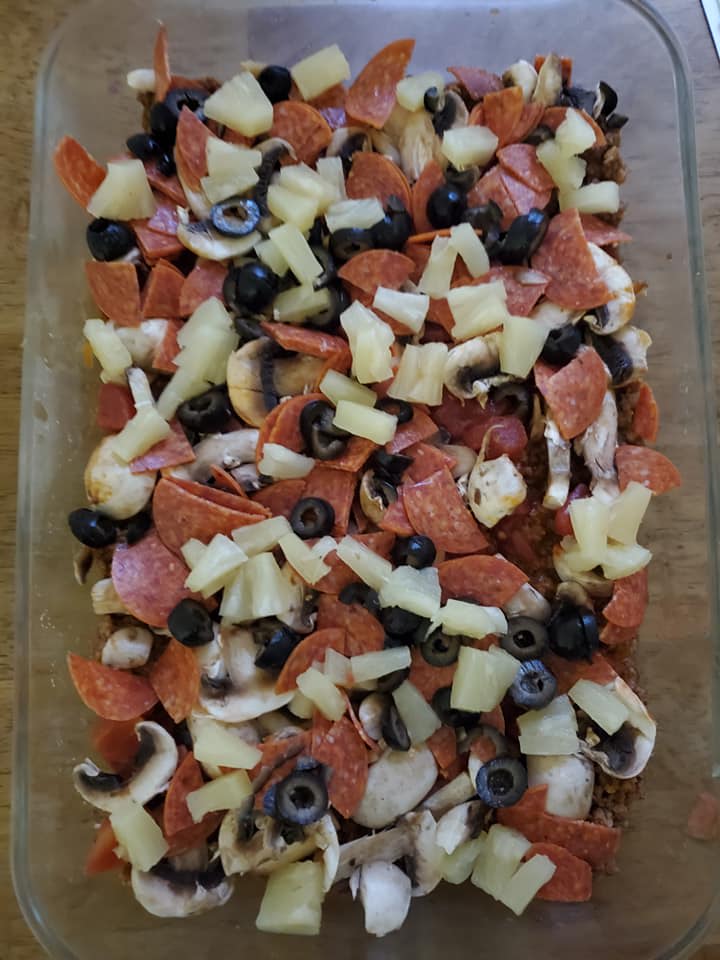 We call this inverted pizza
1 cup marinara sauce
1/2 lb hamburger
1/2 lb ground sausage
Pineapple chunks
Tomato roughly chopped
Olives sliced
Mushrooms slices
1 cup mozzarella cheese
1 jiffy pizza crust mix
Feel free to add other veggies or cheese I also love to do this with spinach and feta 🤤
Brown your meats drain grease then add marinara sauce and tomato's
Add to the bottom of a 13x9 pan was heated throughout.
Top with toppings - olives pineapple mushrooms then cheese .
Then mix your jiffy pizza crust. Now this is typical thick and you don't want too runny but You don't want it thick like your rolling crust either I have found that a 3/4 cup of water with cover **most ** of the casserole leaving some holes. You could use 2 mixes if you love crust.
Bake at 350 for 25 -30 mins
If you get grease use a couple slices of bread to soak it up before dishing up.
Dinner # 7 Salisbury Meatballs over Mashed Potato's
1 lb ground beef seasoned and rolled into mini meatballs
Brown in skillet
Mix 2 cans cream of mushroom, 1 tsp minced garlic
1 sliced 8 oz package mushrooms and 1 packet brown gravy with 1 cup cold milk . Simmer over med low heat while boiling potatos.
Mash potato's add desired additions. We like to add butter, salt , cheese and a dash of milk to make them super fluffy and flavorful.
Scoop potato's in bowl then top with meatballs and gravy .
Dinner # 8 - Meatball Parm
1 1/2 lb ground beef seasoned and rolled into meatballs
1 jar marinara sauce
1 cup each Parmesan and mozzarella cheese
Make meatballs and place into square baking dish .
Top with marinara sauce and then cheese
Bake at 350 for 20 mins .
Can also serve on sub bread to make meatball subs.
Dinner # 9 - Korean Ground Beef N Broccoli
You can check out this absolutely delicious recipe on Miss in the Kitchen Blog . Its a great way to use up that last lb of ground beef and absolutely delicious !

Misha Alsleben
My Characters Are Extroverts Because I'm not.
Wife & Mom Fueled by ;
Caffeine & Gratitude
I simply have too many hobbies and not enough time but I make time for writing because I have a deep passion for it and bettering my writing
See all posts by Misha Alsleben →