14 Day Pickles
A Mrs Huston Recipe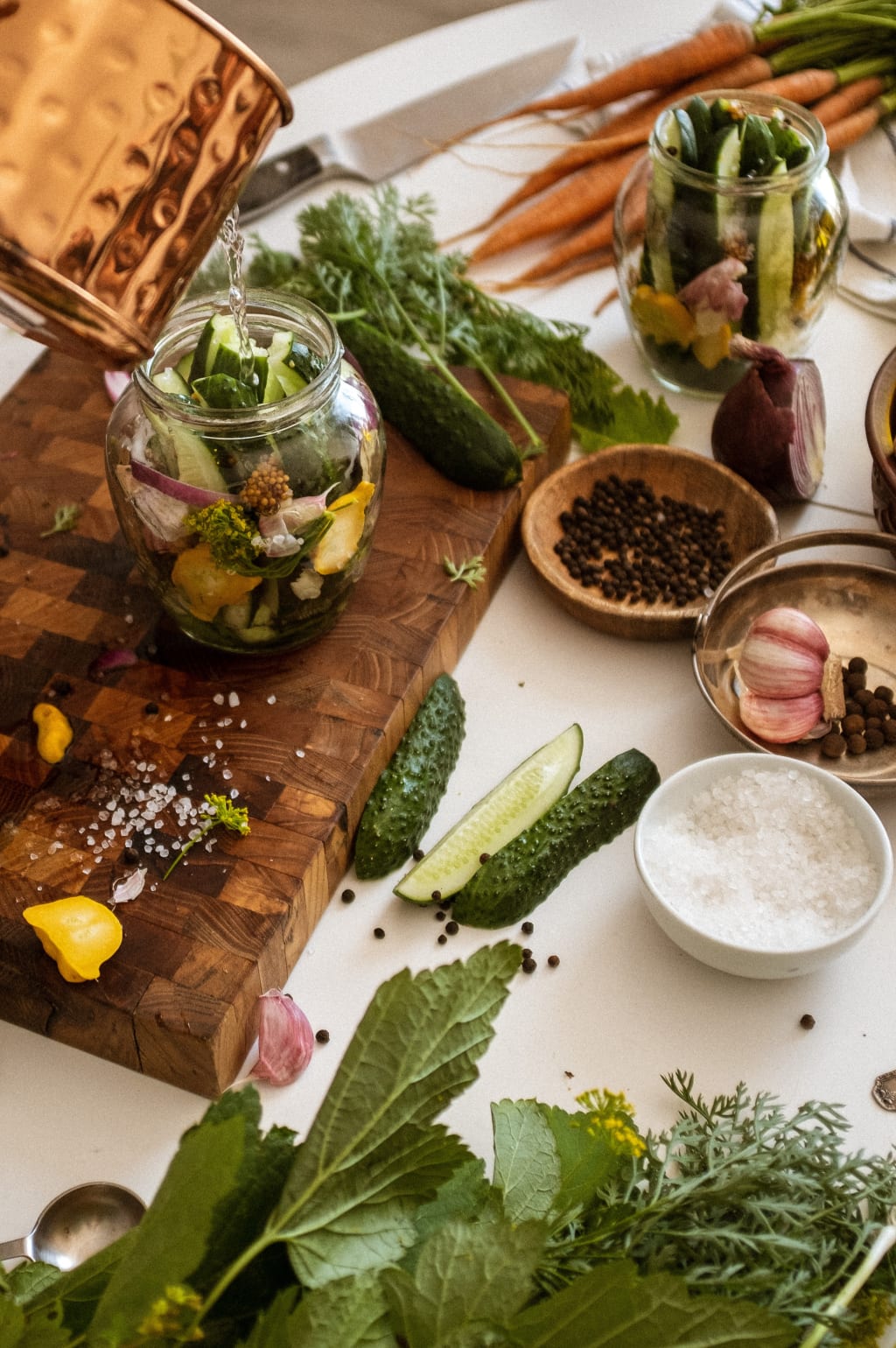 Photo courtesy of https://www.pexels.com/@kristina-snowasp-81019562/
Why would anyone buy pickles from the store? Especially when it is so easy to whip up a batch of freshly made pickles in your own house? And for so much cheaper, I might add. For the price you pay in the store, you could make more pickles than you could ever eat. I do not know about you but, I often have a ton of cucumbers from my garden. They are one of the easiest plants to grow. They need very little maintenance and grow quite quickly. I often have several harvests of cucumbers per season. Sometimes though, I have more than I know what to do with. I mean, way more than I could ever eat in salads or veggie sandwiches or smoothies. Also, I seem to have this intense hatred of wasting anything! So, I make pickles. That way I can enjoy the fruits from my garden well past their expiry date. It is stupidly easy to make your own pickles and, in only fourteen days, you too can have pickles.
Ingredients
2 pounds Cucumbers
1 medium Onion
2 stalks of Celery, sliced 1/2 inch thick
2C Sugar - Plain white is best for this recipe
1C Vinegar - Plain white is best for this recipe
1t Celery Seed
1t Mustard seed
Coarse Salt
Directions 
Wash your cucumbers. Do not peel. and slice them into half inch thick slices crosswise. Set aside.
Peel the onions to remove the outer skins. Cut the onions in half. Slice the halves into quarter inch thick slices. Set aside
Trim your celery and slice the stalks into half inch thick slices. Set aside.
Place all your chopped vegetables into a bowl. Toss with 1/2t of salt and allow to sit at room temperature for thirty minutes. Give your vegetables a good tossing every five minutes to make sure the salt has been distributed evenly.
While your vegetables are draining, mix the sugar, vinegar, celery seed and mustard seed in a bowl. Stir until the sugar is dissolved.
Once the vegetables have drained, divide them evenly among several mason jars.
Divide the cucumber mixture evenly among several clean jars or air tight containers. Pour the vinegar mixture over top of the cucumbers.
Place your containers in your fridge. Leave to chill for at least eight hours or as long as two weeks.
Notes
It is better to not peel the cucumbers as if you peel them, the cucumbers can get too soft and not hold their shape as well as unpeeled cucumbers. Plus the colour of the peel adds some contrast.
For draining the vegetables, you could use a colander set over a bowl to allow the liquid to drain off. I have never used one as I have a small kitchen and do not have any place for it. If you have a colander, feel free to use it.
If you do not have mason jars any container with a sealable lid will do. I have made quick pickles in plastic containers. If you are making them for long term storage, I would stick to glass, however.
These pickles really are ready for eating in as little as eight hours! If you need pickles for dinner this is a great recipe that you can make in the morning and have with dinner that night. The taste does develop over time though. They taste fine at eight hours but trust me, if you can wait for the whole two weeks, the taste of the pickles is beyond amazing!
You can pickle pretty much any vegetable. I have had success with some fruits as well. A Korean friend gave me some Korean melons telling me that back home, they often pickle them in a hot and spicy brine. I looked up the recipe and oh my god was it good.
About the Creator
Canadian Graphic Designer, Young adult novelist and gluten free recipe developer from Canada
Reader insights
Be the first to share your insights about this piece.
Add your insights