11 Easy and Delicious Ice Cream Pie Recipes
There's only one way to make pie better, and that's making it out of ice cream instead. Get the best ice cream pie recipes in the list below.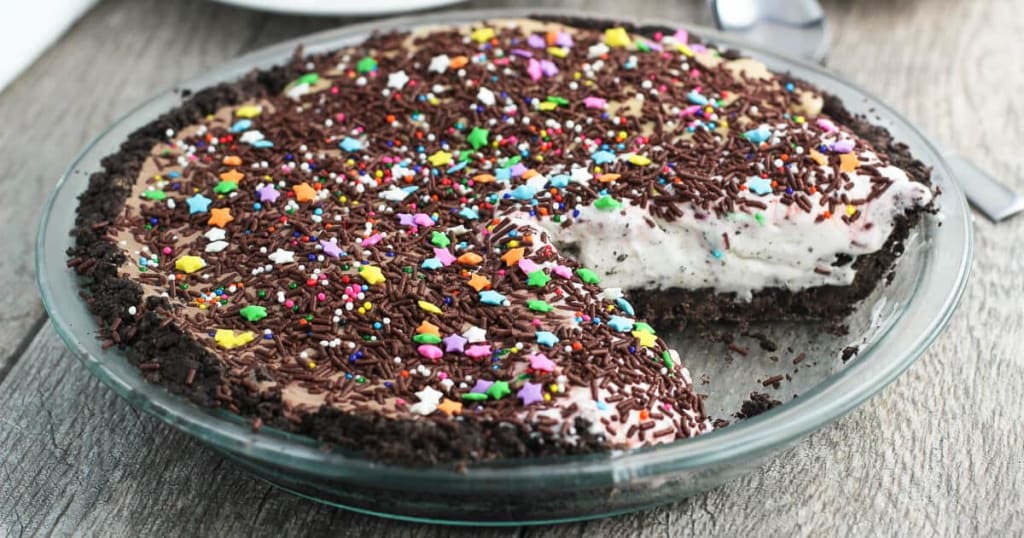 Ice cream pie is truly one of the most inventive ice cream desserts. Like yeah, ice cream is good, but what if we put it in a crust and ate it with a fork? Genius! Now you don't look like you're eating ice cream, but something that took effort and time to make! The best part is, though, that the following ice cream pie recipes take very little time or effort to make at all. There's a flavor for everyone here, so no matter if you're a mint chocolate chip girl or a plain vanilla dude, there's a pie for you. Ice cream pie is also one of the best summer desserts, so if it's hot where you are, consider making one of these to cool you down. I won't blame you if you make these in the winter though, they're just that good. Enjoy with a cup of hot cocoa instead!
Easy Ice Cream Pie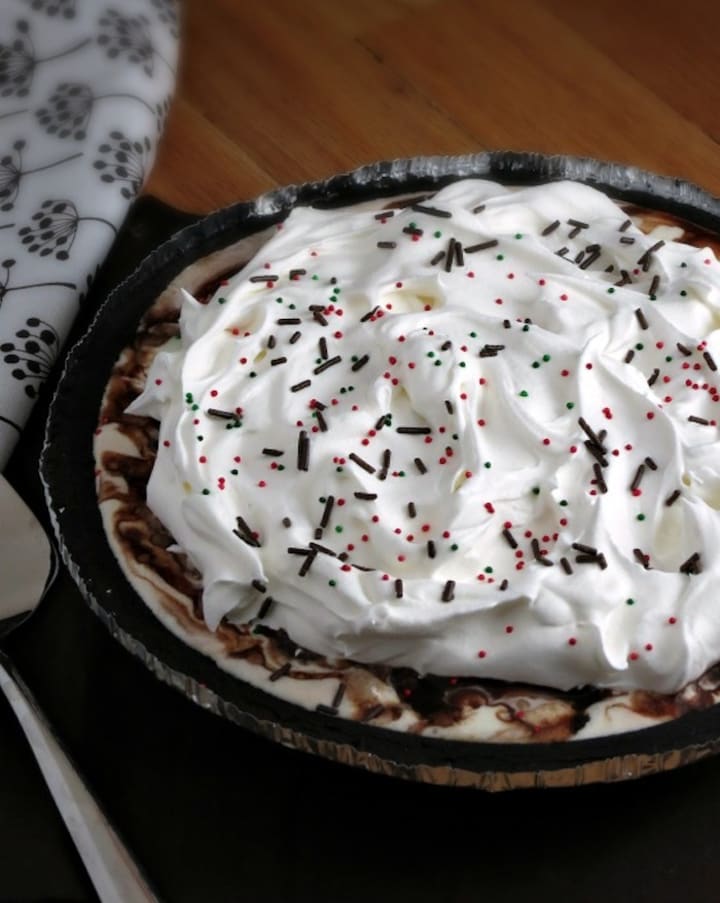 We'll start off simple for our first entry on the list of easy and delicious ice cream pie recipes. This easy ice cream pie recipe by Alida's Kitchen is stunning but super easy to make. All you need is your preferred pre-made pie crust, a quart of any ice cream, half a cup of chocolate syrup, whipped topping, and sprinkles! Just fill the pie crust with the ice cream, using a spatula to keep it flat. Drizzle some gooey chocolate syrup, then cover in a whipped topping. Don't forget the sprinkles! Let it freeze for about 4 hours and then slice and serve. It's that easy! For the ice cream flavor, I recommend a peppermint ice cream or egg nog if you want to go for a Christmas-in-July kind of feeling if you're using this for an easy summer dessert.
Now we're getting a bit more interesting! This coffee ice cream pie by Pillsbury is sure to satisfy any coffee lover. You could buy pre-made crust, but the recipe for the crust here is just too good not to make yourself. Plus it's really easy, so save some money and make your own! You only need chocolate wafers, butter or margarine, coconut, and cashews or macadamia nuts for the crust. Mash all of that together and press it into the bottom of a pie tin. After refrigerating for about 15 minutes, add the coffee ice cream and let that freeze for about 2 hours. When you're ready to serve, take it out and cover it with delectable hot fudge and more nuts. The subtle flavors in this pie will have you begging for more.
Turtle Ice Cream Pie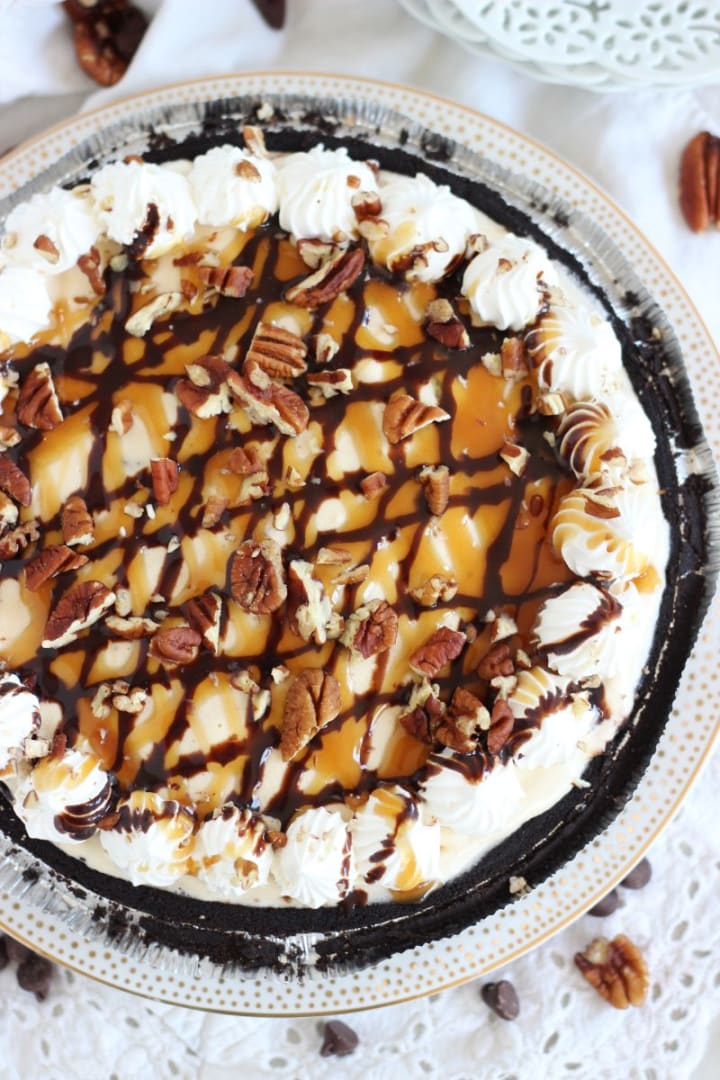 This is one of those ice cream pie recipes that requires little work, but you get a huge reward for it. That's pretty rare these days. This recipe for turtle ice cream pie by The Gold Lining Girl is absolutely to die for. If you're wondering why it's called "turtle" ice cream, you've been missing out on the wonderful creation that is Turtle Tracks ice cream. It's vanilla ice cream flavored with little chocolate caramel turtles, chocolate pecans, and a caramel swirl. That, in a pie?! Pure genius. Plus, this recipe has you drizzling the chocolate fudge sauce onto the crust before you put in the ice cream, so you get a delicious layer of chocolate right in between the crust and ice cream. I'm drooling right now just thinking about that!
This recipe is after my own heart. Mint chocolate chip ice cream is my #1 favorite flavor, and combining that with the concept of pie makes me go crazy. Betty Crocker's mint chocolate chip ice-cream pie recipe has your spreading a pint of ice cream over chocolate pre-made crust, and then adding a layer of crushed up mint cookies in the middle! The second pint goes on top of the cookies, then you just add some hot fudge and cookie leftovers as toppings. If there's such a thing as dessert heaven, this ice cream pie recipe is it.
10 minutes to make an entire pie? Sign me up! Of all our ice cream pie recipes, this one by Gimme Some Oven takes the cake (or should I say pie?) in terms of simplicity and efficiency. Even though it's really easy to make, it's super delicious and if you're having guests, I guarantee there won't be any left by the time they all leave. The link includes not just the recipe for the basic ice cream pie, but ideas for lots of flavor combinations like strawberry banana, caramel peach, and mocha ice cream pies. You really can't go wrong here. Just don't forget a dollop of whipped cream on top!
Oreo Ice Cream Pie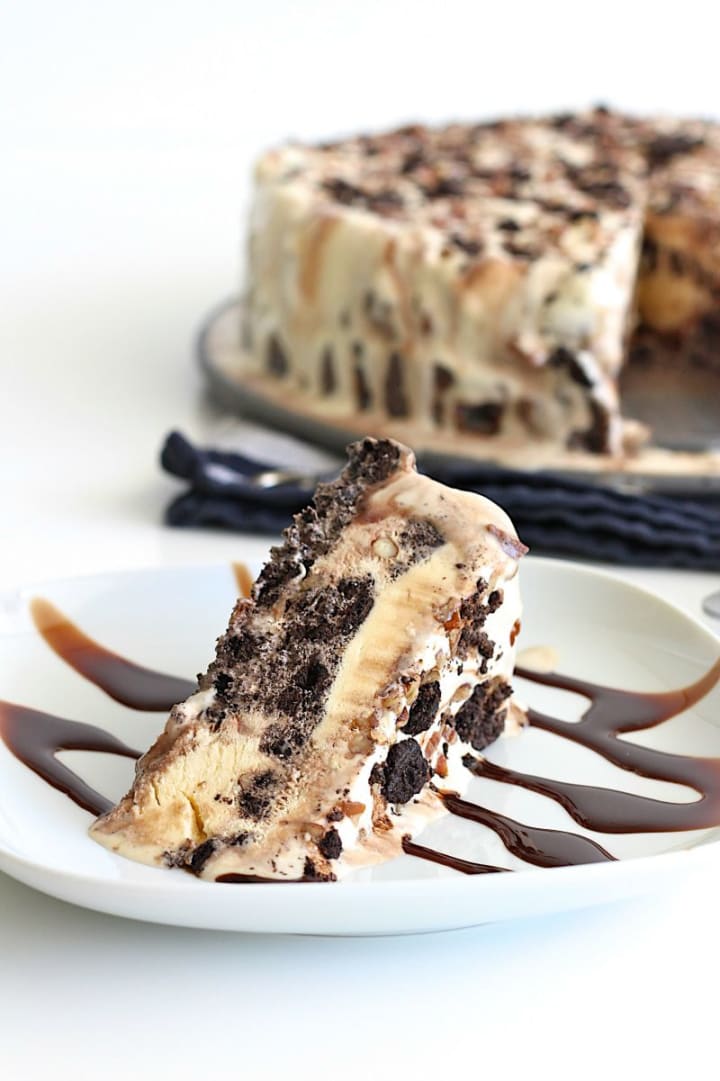 Easy and delicious, The Baker Mama's Oreo ice cream pie is a pleasing mix of textures and flavors, making it one of the best ice cream pie recipes out there. You make the crust out of crushed Oreos and whipped topping, then add a layer of vanilla ice cream, and finally a drizzle of chocolate syrup and chopped pecans. Then repeat these layers again and put it in the freezer for at least 3 hours. You'll have trouble holding yourself back from eating this entire pie in one sitting. Don't skip the pecans, either; they really give a great nutty flavor that you'll miss out on if you do decide to opt out.
Regardless of your opinions on The Pioneer Woman, you can't deny her recipe for ice cream pie with easy caramel sauce is amazing. This one has you making and baking your own crust, but if you're feeling lazy, a pre-made graham cracker crust is fine. For the filling, you'll need vanilla ice cream, peanut butter cups, Butterfingers, and pecans. Mix them all together and stick that pie in the freezer. Don't buy caramel sauce, though; that stuff is full of weird preservatives. Make your own easily with brown sugar, half and half, butter, salt, and vanilla. Just cook those ingredients over medium heat and put the sauce in a jar until you're ready to serve. Slather the sauce all over that pie when eating, and you'll have a good time.
Everyone loves a good banana split right? If you do, you'll fall head over heels for this banana split ice cream pie recipe from Will Cook for Smiles. Plus there's fruit in this pie, so that makes it healthy, right? (No, it doesn't, but it's fine. You gotta treat yourself sometimes.) Just cut two bananas and line the crust with the slices, then add scoops of vanilla, strawberry, and chocolate ice cream, alternating them. Finally, cover with whipped cream, hot fudge, and more fruit like strawberries and cherries, or even nuts! Whatever you like can go on top of one of the most delicious ice cream pie recipes.
Peanut Butter Ice Cream Pie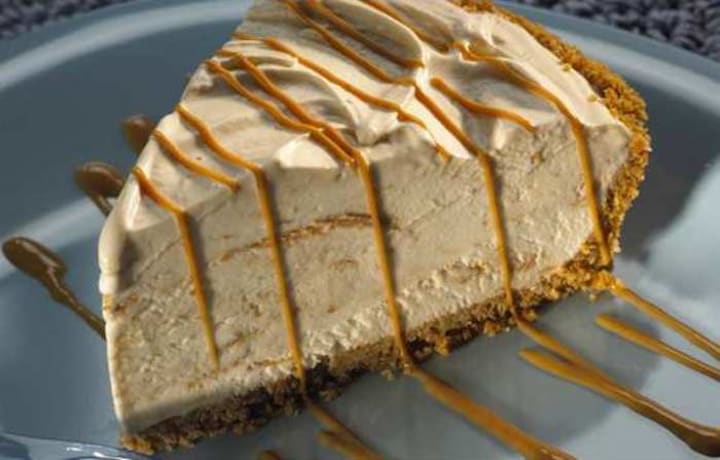 I know I said the mint chocolate chip pie was after my own heart, but this one is fighting for that top spot. I'm obsessed with peanut butter, and Hersey's own peanut butter ice cream pie recipe is to die for. There are literally only four ingredients and two steps, so you can't even say that this will take too much effort. All you need is vanilla ice cream, peanut butter topping, packaged crust, and whipped topping. Stir the peanut butter and ice cream together, place it in the crust, and freeze for 6-8 hours. You should serve it with some extra peanut butter topping along with the whipped cream. I'm getting hungry just thinking about it.
We're heading back to basics for this easy ice cream pie with a cookie crust by Oh Sweet Basil. The no-bake crust is super easy to make since all you have to do is crush some Oreo cookies and mix them with butter. You can pick any Oreo flavor you want with this recipe, so feel free to mix it up—we know there are some weird Oreo flavors out there. Oh Sweet Basil also recommends not using just one ice cream flavor, but three! This way, everyone in the family will get a slice of their favorite flavor. No more arguing over vanilla or chocolate, just have both, plus maybe some mint chocolate chip or strawberry to mix it up? Cover with colorful sprinkles for an aesthetically pleasing treat.
I was only going to include 10 pies on this list of ice cream pie recipes, but then I saw these choco-coco-nut mini ice cream pies by Pillsbury and I just couldn't leave these cute little desserts off the list. I mean, just look at them! Have you ever seen a cuter dessert in your life?! Not only are they adorable, they are extra tasty and super easy to make. You only need some chocolate chip cookie dough, coconut ice cream, hot fudge, and roasted chopped almonds. Slice the dough like you were going to make cookies, then press the dough into muffin tins.
Let those bake in the oven at 350°F for about 9-11 minutes, then let them cool for about an hour. I know, it's a long wait, but it's worth it. Put a spoonful of hot fudge and almonds into the bottom of the mini pie crusts, then a scoop of ice cream, and let that freeze for about three hours. When you take them out to eat, drizzle them with more hot fudge and almonds. Now everyone can have their own personal ice cream pie! (Or two. Or three. We don't judge.)
recipe
Just trying to take down the patriarchy while playing video games and eating too much pasta.
Receive stories by Katie Marchbank in

your feed