10 Halloween Inspired Treats
Frightfully tasty halloween inspired treats are the exact trick you need to get into a spooky mood.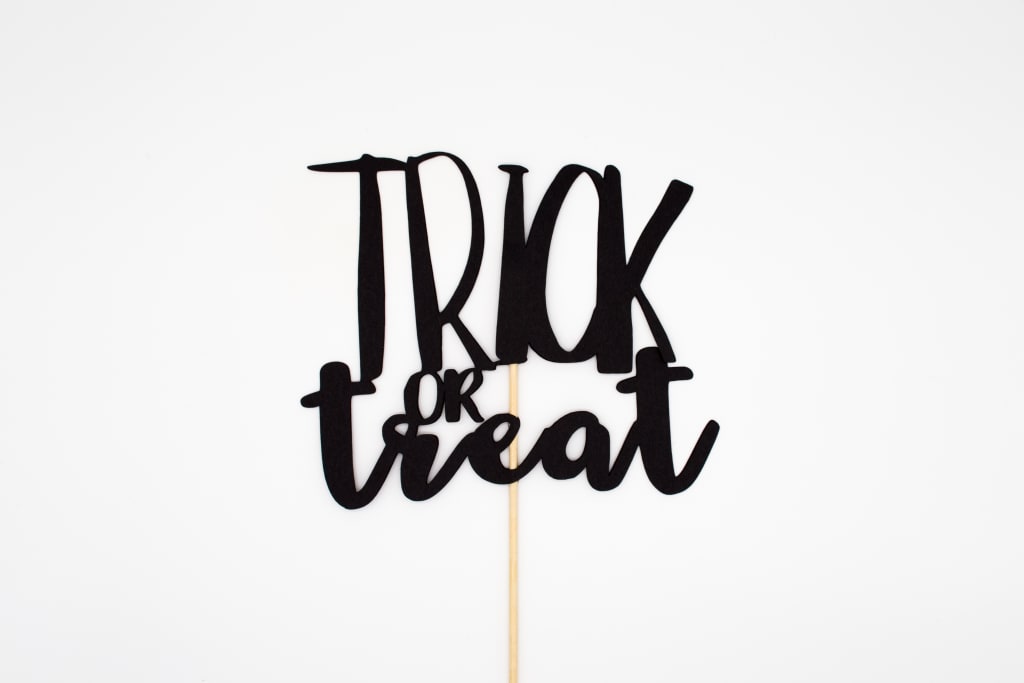 It's that time of the year again! Halloween is just around the corner, and along with incredible costumes, adorable trick-or-treaters, and terrifying haunted houses, the holiday brings its own culinary challenges to the table. But why settle for some lackluster, store-bought candy when you can delight and terrify with some ghoulish goodies of your own? Whether you're hosting an over-the-top Halloween party for your friends, or you just want to have something special to hand out to the hordes of children that will inevitably knock on your door, this list of Halloween-inspired treats is sure to deliver some frightfully delicious inspiration for your own creepy confections to ensure you hit all the important markers of Halloween on that last day of October, when the veil between worlds is thinnest.
Nutter Butter Mummy Pops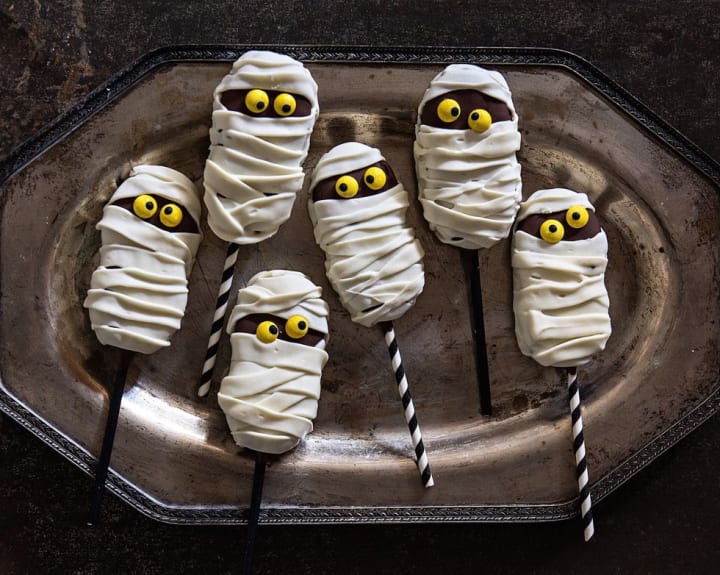 Crack open the sarcophagus for a delicious dessert that will cater to anyone's sweet tooth. These mummy pops are as fun as they are delicious, and they're a great way to bring something exciting to the dessert table.
What you'll need:
Lollipop sticks
11 oz melted chocolate
Nutter Butters, opened
1 cup buttercream frosting
Mini M&Ms
Directions:
Dip lollipop sticks in chocolate, then insert between the crackers of the Nutter Butter. Submerge the Nutter Butter in the melted chocolate and allow the excess to drip back into the bowl.
Place dipped cookies onto a baking sheet lined with parchment paper and leave them for about 25 minutes to set.
Use a pastry bag with a flat tip to add "bandages" to the cookie, piping from side to side. Leave a sliver of chocolate showing underneath and use chocolate to place two M&Ms here to look like eyes. Add an extra dot of chocolate in the center of each M&M to complete the eyes. Set aside for an hour to set.
These tasty treats will be hard to keep "under wraps," as they'll surely become the center of attention at any Halloween parties you find yourself attending or hosting.
Bloody Chocolate Cups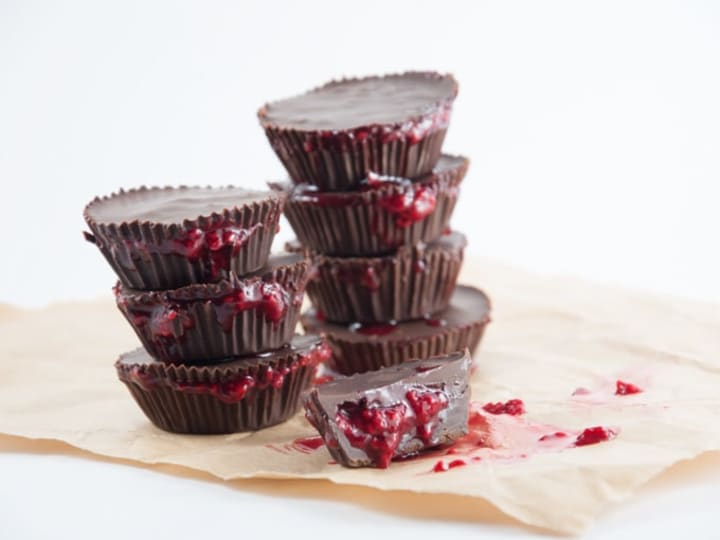 If you're looking for a Halloween dessert that's a little easier to make, but still has that spooky shock value, then these bloody chocolate cups are the perfect dessert for you.
What you'll need:
1 tablespoon rice syrup (you can substitute maple syrup or agave syrup)
1 cup frozen raspberries
1 ¾ cup chocolate chips
Directions:
Heat the frozen raspberries on medium-high heat until soft, then mash the raspberries to break down the large chunks. Add the syrup and mix before setting aside.
Melt one cup of chocolate, and while it's heating, line a muffin pan with cupcake liners.
Place about 1½ teaspoons of melted chocolate in the muffin liners and move them around so the chocolate spreads to the sides. Place in the fridge until the chocolate hardens (it should only take a few minutes).
While melting the rest of the chocolate, add a teaspoon of the raspberry filling into the chocolate coated muffin liners.
Pour the melted chocolate over the raspberry filling. Move it around so that the filling is completely covered. Let it sit in the fridge to cool (it should only take about five minutes).
Once it has hardened, remove the liners and enjoy.
Chill them in the fridge until you're ready to serve them. When your guests go to take a bite, they'll get a gory surprise in the form of the delicious raspberry filling! While you're at it, you could also pull together some Halloween Chocolate Cookie Bars for some extra chocolate on your plate.
Frankenstein Pretzel Bites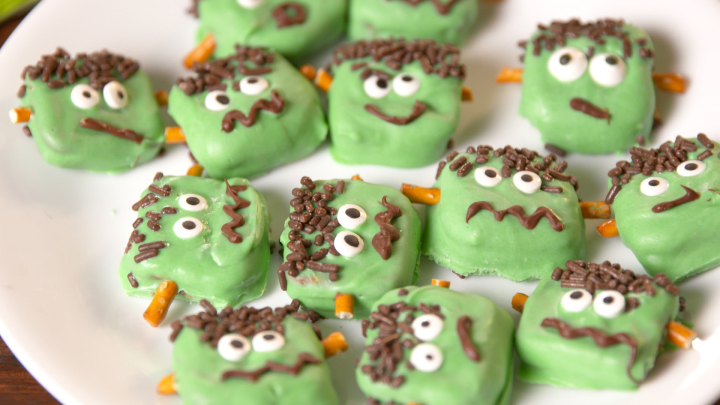 For a family-friendly recipe that's easy, simple, and fun, these Frankenstein pretzel bites surely won't disappoint! Everyone loves a good chocolate-covered pretzel, but this treat takes things to a whole new monstrous level.
What you'll need:
Square pretzels
Mini pretzel sticks
Creamy peanut butter
2 cups white chocolate chips, melted
1 tbsp coconut oil
Green food coloring
Chocolate sprinkles
Candy eyes
1 cup chocolate chips, melted
Directions:
Spread peanut butter onto a square pretzel, then place another square pretzel on top.
Combine coconut oil and melted white chocolate, adding a few drops of green food coloring while whisking.
Toss peanut butter-filled pretzels in the green chocolate mixture and fully coat them. Use a fork to transfer the pretzels to a baking sheet lined with parchment paper.
Add sprinkles to the top of each pretzel to create hair, then add two candy eyes below. Break off a small piece of a pretzel stick and place on each side of the head to use as ears.
Use a plastic bag filled with the melted chocolate chips to pipe on a mouth.
Not only is this recipe easy, but it's fun to make and the results are amazing! These pretzels are sure to be crowd-pleasers, and people will be amazed that it only took you about 20 minutes to create them.
Graveyard Pudding Cups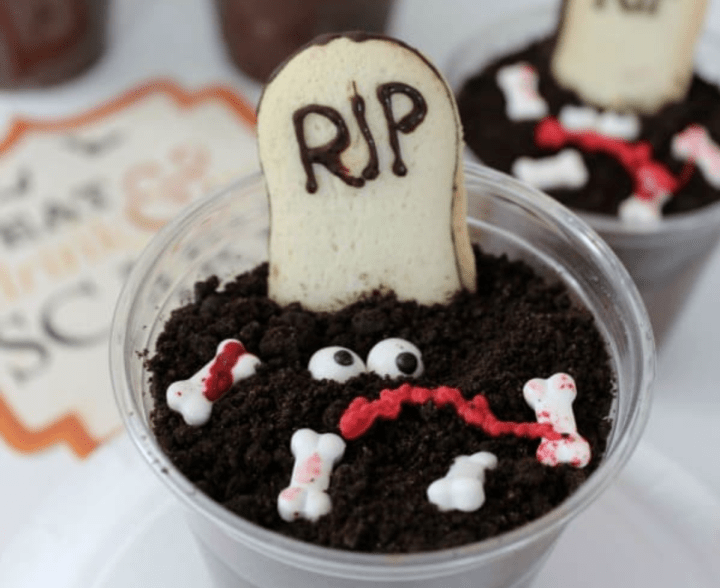 A creepy concoction that's as easy to make as it is to eat! These graveyard pudding cups might house the dead, but they're sure to be the life of any party.
What you'll need:
Chocolate pudding
Gummy worms
Milano cookies
Oreo cookies (filling removed), crushed
Gel icing
Candy pumpkins
Directions:
Fill cup 3/4 full of chocolate pudding and place a few gummy worms in the pudding. Smooth the top to create a flat surface.
Sprinkle crushed Oreos on top of pudding to create a layer of "dirt" (about a few centimeters thick).
Cut Milano cookies in half to create headstones. Pipe on messages using gel icing and insert into pudding cup.
Refrigerate until ready to serve, then decorate with candy pumpkins.
For an added scare, you can cut off the arms of old action figures or toys to have them poking out of the Oreo "dirt." You can be as creative or as minimalistic as you please, and no matter what, the results will always be scarily delicious.
Vampire Dentures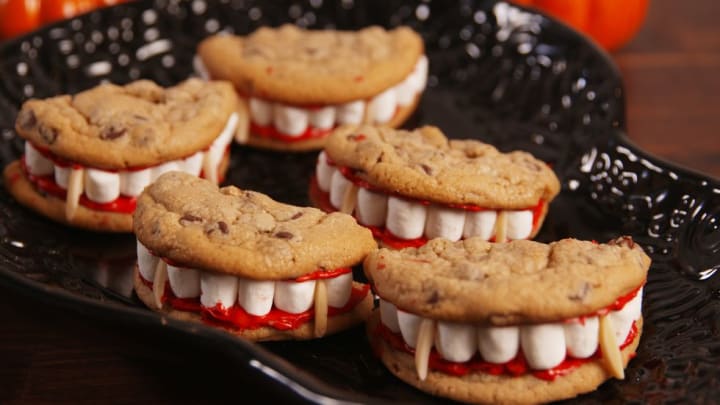 Another easy but delicious Halloween treat, these creative vampire "dentures" are sure to be a hit with guests of all ages.
What you'll need:
Chocolate chip cookie dough
1 can cream cheese frosting
Red food coloring
Mini marshmallows
Slivered almonds
Directions:
Preheat oven to 350 degrees. Roll the cookie dough into 1" balls and bake at 350 degrees for 12 minutes (or until golden-brown). Cut each cookie in half after they've cooled.
Mix a few drops of red food coloring with the frosting and spread on each cookie half. This will be the "gums" of the mouth.
Place marshmallows around the round edges of the cookies, then place a cookie half on top. Finish by placing a slivered almond near the sides of the "mouth" to create fangs. You could also use candy corn to create the fangs instead of slivered almonds.
This is a great treat, because you can customize it however you would like; you can really use any kind of cookie you'd like, and you can add candy "cavities" in the form of M&Ms or Reese's Pieces.
Black Cat and Bat Brownie Bites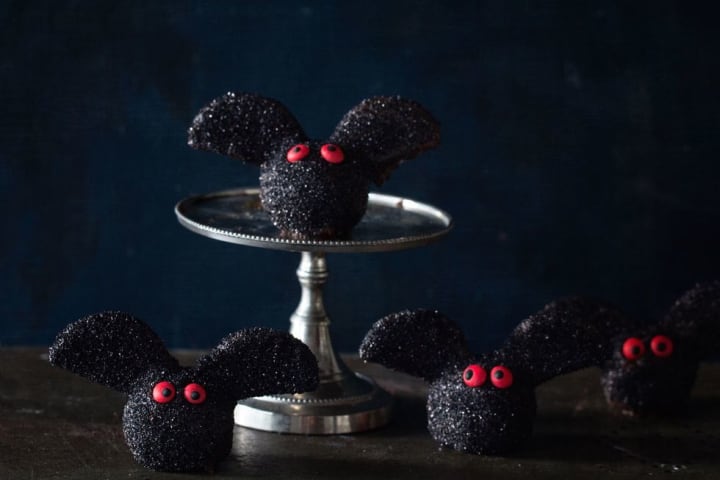 What screams Halloween more than black cats, bats, and delicious desserts? Why not combine all three? This simple treat gives you a mouthful of chocolatey goodness in a fun and themed brownie bite.
What you'll need:
1 batch fudgy brownies (homemade or store bought)
1/2 cups chocolate frosting
7 Oreo cookies (remove the filling and cut in half to make bat wings or in quarters to make cat ears)
11 oz melted semisweet chocolate chips
2 cups black sprinkles or black sanding sugar
Mini M&Ms
Directions:
Mash brownies by hand in a large bowl, mixing in frosting and kneading until it reaches an even consistency.
Use a scoop to form 1 tablespoon of the mixture into a ball.
To create a bat, place a halved Oreo cookie onto either side of the ball to look like wings. To make a cat, place a quarter of an Oreo cookie on either side of the head, pressing the rounded edge of the Oreo into the ball. Put the brownie brownie balls on a baking sheet lined with parchment paper and freeze for two hours (or until firm).
Remove the brownie balls and let them sit until they are room temperature. Dip each ball in melted chocolate, and immediately decorate with sprinkles or sanding sugar.
Use melted chocolate to adhere two mini M&Ms to the face to create eyes.
These brownie bites are almost too adorable to eat! Almost...
Cursed Candy Apples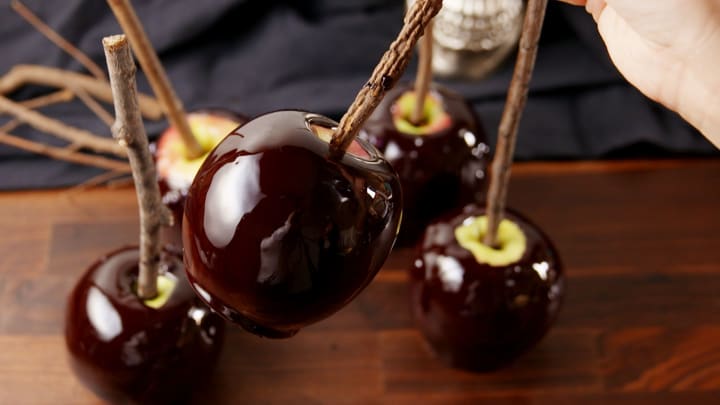 What's Halloween without a candy apple? These cursed candy apples are a darker take on the traditional holiday treat, and they're the perfect centerpiece for your Halloween spread.
What you'll need:
12 apples (Granny Smith add a nice tartness, but if you want to go on the sweeter side, Gala apples work well)
Wooden candy apple sticks
3/4 cup water
1/2 cup light corn syrup
1 tsp black gel paste food coloring
1 1/2 cup sugar
Directions:
Firmly insert candy apple sticks into the center of the apples.
In a medium saucepan, combine water, sugar, and corn syrup and place over medium heat. Whisk until the sugar is completely dissolved.
Use a candy thermometer to monitor the temperature; allow the mixture to heat up to 310 degrees before removing from heat.
Add the black food coloring and swirl the pan so that the color mixes evenly. Dip and twirl the apple for even coverage, then place on a baking sheet lined with buttered parchment paper. Let cool for the candy coating to harden.
These eerie apples are a tasty way to incorporate a Hallow classic into your unique Halloween dessert menu.
Chocolate Pumpkin Bowls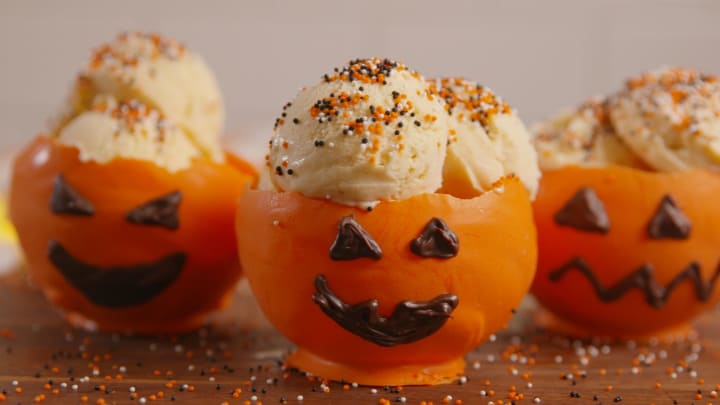 What you'll need:
3 cups white chocolate chips
Balloons
Orange food coloring
1 ½ cups melted chocolate
Black and orange sprinkles
Directions:
Inflate balloons to the size of the bowl you want to create.
Melt white chocolate and add a few drops of orange food coloring (about five drops should be enough).
Dip the balloons into the colored chocolate, making sure to get an even coating. Place balloons on a baking sheet lined with parchment paper and let sit for at least an hour.
Once the bowls have set, pour the melted chocolate into a plastic bag and pipe on jack-o-lantern faces. Let sit for 10-15 minutes.
Pop the balloons and remove any pieces from the bowl.
You can use the bowls to serve ice cream, pretzels, or even small candies for trick-or-treaters. Not only can you serve some great Halloween desserts in these fun bowls, you can also eat them when you're done!
White Chocolate-Covered Strawberry Ghosts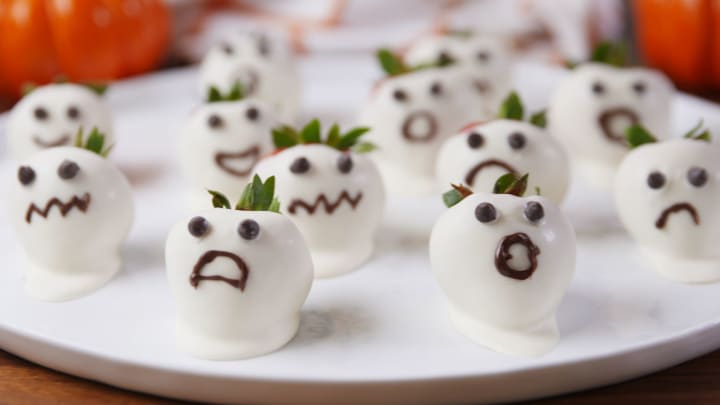 Everyone loves a good chocolate-covered strawberry, so why not bring this dessert staple to the dark side for Halloween? This twist on a tried-and-true treat is super easy to pull off, and the delicious result always pleases.
What you'll need:
One package of strawberries
8 ounces white chocolate chips
1/4 cup semi-sweet chocolate chips
1/8 teaspoon almond extract
1 teaspoon shortening
Instructions:
Pour shortening in a bowl with white chocolate chips. Melt the mixture and stir it until it is smooth, then add almond extract.
Dip strawberries in the mixture before placing on a baking sheet lined with parchment paper. Let the excess chocolate pour off the tip of the strawberry to form the "tail." Freeze for about five minutes.
Melt semi-sweet chocolate and stir until it is smooth. Place in a plastic bag and cut off the tip to pipe on mouths for the ghosts. Use the melted chocolate to attach semi-sweet chocolate chips for eyes. Refrigerate until ready to serve.
This ghoulish dessert is a great addition to any Halloween treat lineup. Be warned though, they'll go quickly, so make sure you've got enough to last the night!
Creepy Cinnamon Sugar Chips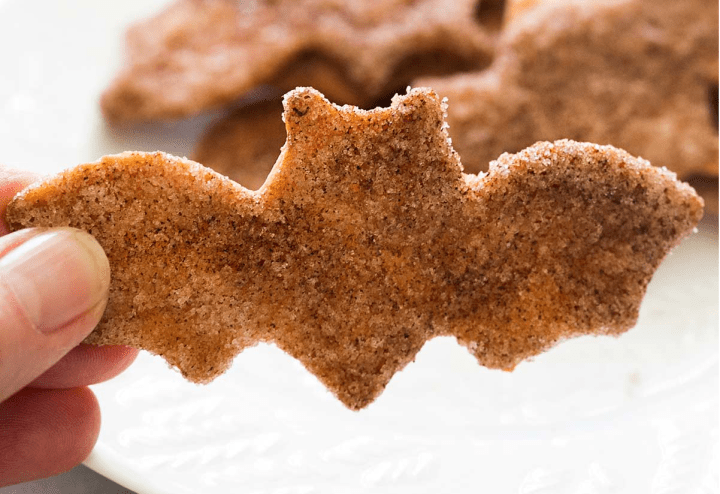 This customizable treat is perfect for a subtler homage to the holiday. With just the right amount of sweetness, these chips are a great snack to serve at a party full of guests with a bit of a sweet tooth.
What you'll need:
1/2 cup sugar
3 teaspoons cinnamon
4 flour tortillas
One stick of butter, melted
Directions:
Use a cookie cutter to cut out desired shape from tortillas (bats and witch hats looks great). If you don't have a cookie cutter, you can print out a picture of the design you would like and use a paring knife to trace it.
Mix cinnamon and sugar together in a bowl.
While preheating oven to 350 degrees, dip tortilla cutouts into the melted butter. Place one side of the cutout in cinnamon sugar mixture, then place on a baking sheet lined with parchment paper. Make sure the side coated with cinnamon sugar faces up when placing on the baking sheet.
Bake until the tortillas are crisp, about 10 minutes. Let cool for a few minutes before serving.
These chips are fantastic on their own, but you can also serve them with a dessert dip or a sweet-flavored cream cheese.
Caramel apples and fun-sized candy bars are Halloween staples, but these out-of-the-box ideas bring a little more magic to the holiday festivities. So put the candy corn back on the shelf and bring one of these scarily scrumptious Halloween-inspired treats to life while watching the top 5 scariest Halloween movies to honor the creepiest holiday of the year.