How to Halloween
A Formal Guide to Halloween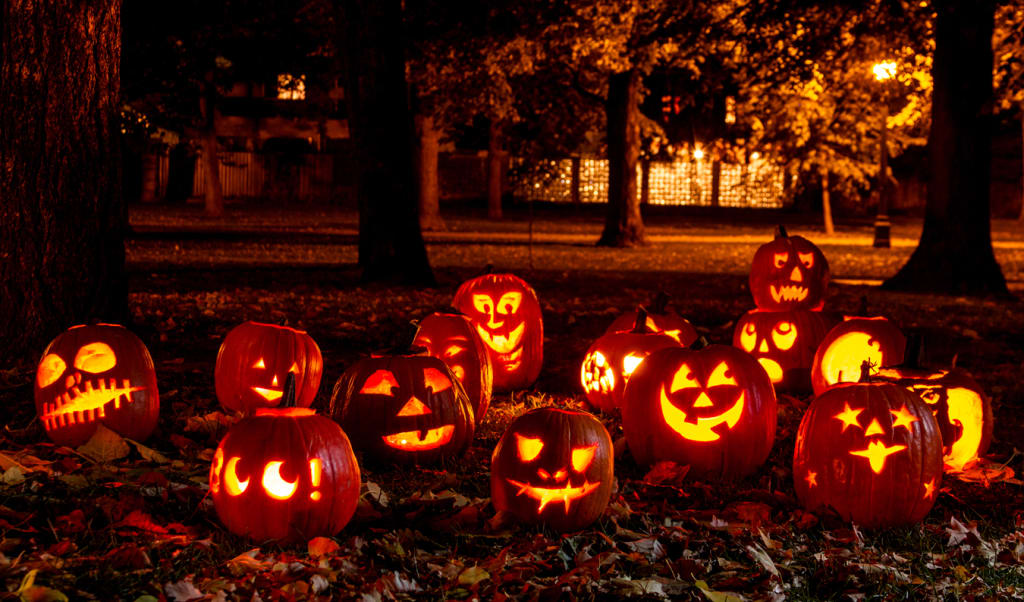 If you relate to most people, or at least most Americans, then you probably love Halloween. Whether you love the cheap, delicious candy on November 1 that it brings, or love the parties and dressing up, Halloween brings us together. This is a guide from how you should decorate for Halloween to safely Trick or Treating with your kids.
Trick-or-Treating
If you plan on taking your little ones trick or treating this year, you should probably make sure to take some extra precautions when doing so. The world today is a pretty crazy place, so there's nothing wrong with doing more to keep your children protected. If your child's costume happens to be a darker color and doesn't reflect any light, try buying some sort of reflective tape and putting it near the shoulders or arms and legs of the costume to prevent an accident.
If you haven't picked out a costume for your little one yet, or even if you have, make sure it doesn't drag on the ground and fits them properly so they won't trip. The last thing you want is your kid tripping over their costumes, or themselves, causing an injury. Another thing you should take into consideration is using face paints instead of a mask this Halloween. A mask can interfere with your child's field of vision and obstruct their view so I suggest using child safe face paints.
When I was younger, we always carried glow sticks or flash lights when we went trick or treating, so that wouldn't be a bad idea to do. These help for your little one to see in the dark and for them to be seen by drivers if you're trick or treating near a busy street or highway. Don't forget that if your child is under at least thirteen years old, they should not be going out alone. If you let your older children go out, make sure they go with friends and know to stay in familiar areas where there are plenty of street lights and they don't go too far. You could set a route for them to take and go over it with them a few times before Halloween comes around in a few weeks.
If you have older children who are at least sixteen and they plan on going to their friend's Halloween parties, make sure they know to drive slow around residential neighborhoods and to always watch for children. We all know children are especially excited on Halloween and you never know how a child will move around when they want to go somewhere, so be extra alert around neighborhoods that you know will be handing out candy on Halloween.
If you're taking your kids out and not handing candy out yourselves, make sure to check their candies. You never know what some people will do to harm someone, so be weary. Make sure the wrappers aren't tampered with or opened and don't forget, even though this sounds crazy, to check for needles.
If you're the one handing the candy out, then don't be that house people recommend you not go to because you're handing out apples or granola bars. Although it's pricey, full size candy bars will make you the most popular house on the street.
Decorating
Whether you want to go all out and spook up your home with crazy Halloween decorations or you just want to put up some festive decor, I'm about to help you out a little.
When planning to go big or go home, you need to keep in mind your budget and the prices of the big, bone chilling decorations. If you have a couple hundred bucks to throw around, you could buy two or three inflatable ghouls, and maybe a few smaller props along with the large standing motion sensor props. So, if you plan on going with the big props, you will need at least three hundred dollars ready to go in your wallet.
As you set up the bigger decorations, keep in mind the path children will take to get to your porch or wherever you plan on handing out goodies. Make sure there aren't any cords or wires out for children to potentially trip on and hurt themselves.
If you're into smaller decor, I suggest a couple easy to set up fake webs and some small spiders and whatnot. Think about how you want your home aesthetic. Do you want to be the scariest house on the block or the cute but still spooky home? If your home is too scary then some children may be afraid to come up to your door, but if it's not very scary at all then they may think you're lame.
Halloween Movies
If you're planning on binging movies all of October then you probably are already heading for the scary classics such as the Halloween series or Nightmare on Elm Street. If you're like me and enjoy a mixture of family friendly spooky movies but also gory flicks, you will enjoy this typical list of movies to hunt down and binge for the rest of October. So, I'll leave you with these. (Mix of family friendly and not so family friendly.)
Hocus Pocus
The Nightmare Before Christmas
The Halloweentown series
Twitches
Corpse Bride
Coraline
The Scream series
The Haunted Mansion
IT (Original)
Sinister
It Follows
Hush
The Shining
The Descent
Alien
The Exorcist
Carrie
Misery
The Conjuring
The Evil Dead
Drag Me To Hell
The Witch
As Above So Below
Hereditary
A Quiet Place
Casper
Monster House
Double, Double, Toil and Trouble
Scooby-Doo and the Ghoul School
Casper's Scare School
Lights Out
The Strangers
The Ritual
Rob Zombie's: Halloween
The Last Exorcism
Last Shift
Oculus
The Boy
1922
The Lazarus Effect
Clown
The Taking of Deborah Logan
Would You Rather
The Exorcism of Molly Hartley
Child's Play