The Escape
My name is Hunter Clade...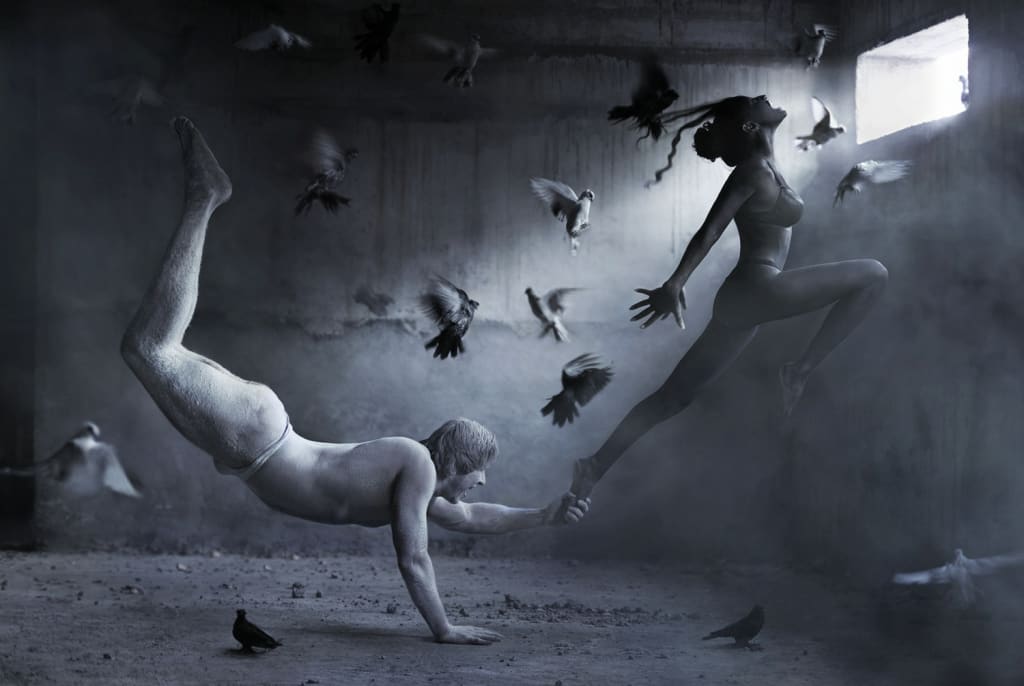 I awoke to the sound of shouting voices and whistling trains. "Get her!" an unidentified voice yelled. I scrambled to my feet and started running towards the exit.
So I guess you want to know me and how I ended up running from the police. Let's start with introductions. My name is Hunter Clade and I used to be the star player on my soccer team before my world fell apart. What happened, you ask? Well, when I was about 11, my family got killed by a terrorist fire in our apartment. I'm now 13 and have been on the run because of robbery for almost two years. I was originally from Portland, Oregon and am now in Bellingham, Washington. About a month ago, I decided to try to get to Canada. Ever since that decision I've been, heading north and have about 178 miles to go.
As I ran through the station, a train arrived and I plunged into a sea of people. As I ran, I was swept along with the crowd and was almost forced to board the train. I paused for a breath and glanced behind me. The cops had their guns out and were clearing the way as easily as a fox in a field of chickens. I got to my hands and knees and crawled until the crowd dispersed. I turned and sprinted as fast as I could towards the exit. I heard gunshots but I knew that they would never deliberately shoot me even if I wasn't zigzagging or going so fast.
"Stop or I'll have to shoot!" one of the cops shouted.
"Doubt it!" I shouted back with an edge of glee in my voice.
Yes, I know, running away from the cops is nothing to be happy about, but I couldn't help feeling smug that this would be my sixth time slipping through their fingers. Let's just say I take my victories when I see them. I kept running and soon my head plunged into the open air and I took a deep breath of the fresh sea breeze coming off the coast, instantly energizing me. Glancing around, I noticed a mall one block away. Once inside the mall, losing the cops was easy but the security guards were a different story. See, security guards have more experience in large crowds and are difficult to fool. I grabbed a few pins from my pocket and put my hair up in a bun. As I walked, my eyes took in every detail. I had to watch out for guards that were disguised. There was a woman buying a floral dress and a man relieving an elderly woman of her leopard printed wallet. I made my way to the elevator and once inside saw a girl that was about 14 or 15 with her boyfriend who had obviously been dragged against his will to go shopping. They were both too young to drive so taking the girls' bus pass, I casually exited the elevator.
I was walking up the stairs to get back to the ground floor when I decided to check the bus pass. Her name was Rebecca Sone and she was 15-years-old. Luckily, she had my same light blond hair and green-blue eyes. Now, all I had to do was find a place to brush my hair, get some better clothes, and look more presentable. I entered the Nordstrom that was right across the hall and asked for one of the people for a sample of one of the small kits they had. Once we had finished, I had on a dark red lipstick with some silver eyeshadow and a light dusting of rouge. I looked in the mirror and immediately decided to sneak out to the restroom and wipe my face clean. Once I felt like I was back to not looking like a wannabe makeup palate, I made my way out of the protection of the mall and wandered to a map of the small area I was in. It showed the mall in one area and a small red circle showing where I was.
fiction
About the author
I'm an aspiring artist and writer. I've always loved writing and am hoping to expand my creativity on this site.
Reader insights
Be the first to share your insights about this piece.
Add your insights