False Enforcement from Taxi-Cab Authority
A sting operation with malicious intentions in Las Vegas, NV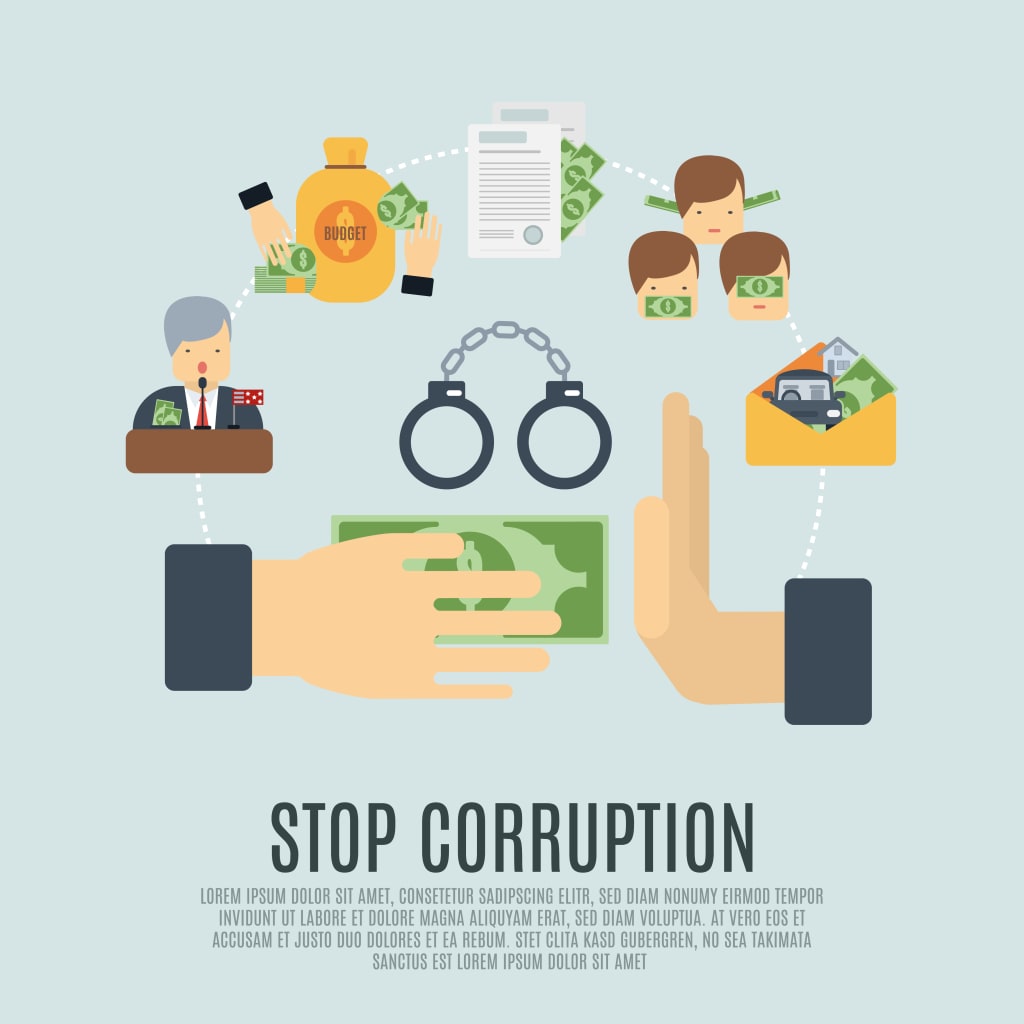 Found on Google.com- search " Images"- Corruption
Here is goes my public Rant against "Authority". So, in Las Vegas, Nevada- local Transportation Services or a Vehicle for Hire a.k.a Taxicabs are regulated by the name State of Nevada Taxi-Cab Authority. If any reader has given a read to my previous articles online, a story of corruption is written similarly. I discuss how Profiteering from Prostitution is more lucrative than actually earning a living. My complaints have gone statewide, and federal. I am not giving up.
It is long story, but I was a Doordash driver, buying a vehicle to drive food to customers who order online. The business had been slow after the holidays. I sought to try to help out someone who is denied a ride. So, I posted an ad. On the other end was a group of thick, buck, white cops with Fear, Anger and Hate all over their face. I guess some types call those guys MAGA Cops these days.
Possibly simple and hard retaliation has incurred by what I am effected by. Right now, since Jan. 14, 2023 - my owned and financed vehicle has been in a local impound lot: Fast Towing on N. Commerce St. It is still registered to me, although I received a letter stating it would be sold at auction. I am being hustled for over $4,000.00 in this matter initially.
I was arrested for posting a diligent ad on Las Vegas Craigslist. While there is a "Rides Offered" section and an open public "Ride Needed" section, I paid no money to the site (whereas a $5 payment is required for the first ad space). My ad read, Ride Offered for negotiation of Gas Prices. Regardless, the State of Nevada did the most Corrupt type of action. I have threats that I face 1 to 4 years in a State Prision, Loss of my Vehicle, and Loss of Privileges to have a T.A. Permit to drive a cab. Not to mention the tow lot fees, and the overdue rent fees on the apartment I live in.
I looked it up Ch. 199 Title 15 of the N.R.S. states it is ILLEGAL for an official to seek a Bribe. Well, literally on Dr. Martin Luther's King Jr.'s birthday (Jan. 18th) - MY CIVIL RIGHTS were VIOLATED! I was told verbally; I may not obtain my owned property: my vehicle from the tow lot unless I paid CASH $10,000.00. Not that I had not sought out legal help. I am being ignored! I have physical evidence, and no one has read it.
The T.A. formed, as an agency, out of controversy decades ago. Intending to allow Fair Use of Business, it now stands for institutional discrimination. Theoretically, its purpose was to share the Industry of Transportation surrounding the Las Vegas Strip. Such as, who can own and operate a Cab Company; or who can drive the cab; how fees and taxes are collected; and of course a Brick and Mortar building for Public Safety Officials. This state privilege is being violated to every extenuation allotted.
The T.A. is now an instrument to give protection of False Commerce. Only to protect the casinos. Tens of thousands of complaints about service requests are going ignored. This implies local residents or a tourist are stuck. The bi-laws were founded an Act of Legislation. Its need was not to deem who can profit.
My hearing was ran by a woman who does not have or present a State Bar Number, while claiming to be employed as an attorney for the State Agency.
Never mind her name given, she nearly has me shot by the MAGA cops during the hearing. Mr. White Privilege in the flesh yells, "SHUT THE F* UP, instead of reading my Mirranda Rights. In the hour and half hearing, he stated for the record he was present to PROOF MY GUILTY!
Their evidence is false, and I could not present a defense. I was given a Guilty conviction, in one court. There is a second court awaiting me for the same charge to be charged twice.
How is it, the state can pay for this Abuse of Power and false use of state funds to harass people like me who complain when needed? I see it as there is no good purpose to this use of enforcement. I was led to a casino location outside the jurisdiction of even the mayor's office to be arrested. I planned to earn minimum wage, after paying for gas. Mind you to take a 20 plus mile ride, taking time out of my delivery schedule to help out a person in need.
I hear a lot of people in Vegas complain about the need for service being ignored. Like passengers who are waiting in E.R. release rooms for hours at a time and have lived here for decades. I was one of those persons, after my breaking my ankle in 2020. The T.A. is responsible to take complaints from customers and drivers. Rideshare customers here state their driver refuses to show up, or that the fee to ride is too expensive.
I had applied for the job as Director of the T.A., more than a year ago. The former director was not fired; did not resign; and has been heard from. I was told there is no Director in the State of Nevada Taxicab Authority position. I immediately fraternized the talk of how the director is doing stating I had a repour with their boss, at the time of arrest. I was given a grin and told he is no longer with us.
The former director's name was Rueben. Perhaps we missed his funeral. He was a great guy. He cared about his job. I had several talks in his office. One those talks involved being harassed by cabbies trying to cash in the Asain Spa rides. He assured he knew a few people in law enforcement, I doubt those men were MAGA cops.
I made a Constitutional Defense at the hearing where all enforcement officers looked like riot gear staff members. I had no Right for an Attorney to be Present. I cited the 10th Amendment in defense. The false attorney had to ask for it to be looked up Google. I actually have an education, and feel like this is proof we need change. Nevada should not be taken advantage of just like T.A. office should not take advantage of former cab drivers.
At one point I interjected that the Punishment outweighs the Crime (I was charged criminally with," UPT"- Unlawful Passenger Transport). Constitutionality confused these T.A. officials fast. I was denied for charges to be dropped. While my car has been impounded over two months now, my finance company cannot take possession of the vehicle! There job is not to Rob me of my Job, under their Privilege. I have not been able to work since!
In ending my rant here, I am going to give my opinion: We need to Change Authority. The town of Las Vegas is too overregulated with falsity. I am thinking out how to make this change. When will the County of Clark allow a simple regulation process? The State of Nevada should not steal property from a low-income individual to Retaliate or Commit a Crime as a government entity.
I'll just be waiting for this specific need of Change to take place. My social media profile reads Jhon Legend's song lyrics," Waiting for the World to Change." It could all start right here with me, and my rant. Feel free to participate in making change real. Or, please contact me or comment below if you are motivated by my article.
About the Creator
Jenia is from North Texas, college educated, loves to write and create stories. The years of internet publications have brought on many other sites. Vocal.Media is the fifth site to publish this creator.
Reader insights
Be the first to share your insights about this piece.
Add your insights