Best Shows to Watch If You Like Mindhunter
Check out some of the most gripping shows to watch if you like Mindhunter.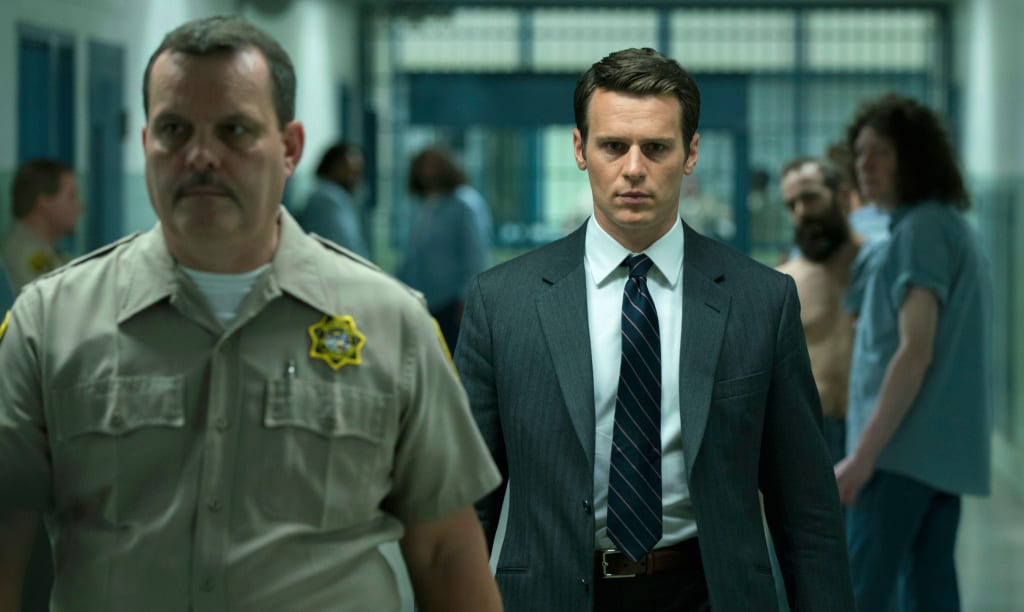 Mindhunter recently came out on Netflix with rave reviews, mainly thanks to the dark mind of David Fincher and Americas never-ending fascination with serial killers. The show tracks the formation of a Behavioral Analysis Unit under the FBI as they attempt to catch killers through understanding what makes them tick. We follow two agents, one old-school and one new-school, both of whom conduct interviews with convicted serial killers all over the country—many are based on actual famous American serial killers.
It has elements of the classic police procedural, but it's intricate and overarching story line makes it much more binge worthy than others. If you are at all interested in psychology and mankind's capacity for evil, you must check out one of the best TV shows to binge watch on Netflix. Once you exhaust the first season of the show, don't worry. Luckily there are plenty of shows to watch if you like Mindhunter, most of which about criminal profiling, FBI agents, and serial killers. Hold yourself over till next season by checking out some of these likeminded shows listed below.
Criminal Minds is a CBS show that has been on for well over a decade, and it deals with the Behavior Analysis Unit as they criss-cross the country trying to catch serial killers. It's one of the best shows to watch if you like Mindhunter, because it's about the unit Holden Ford and Bill Tench helped pioneer.
It's more of a procedural with a killer of the week theme, but if you like the process of tracking a killer, it's highly recommended. The show has over 200 episodes in the backlog, and thankfully they're all available on Netflix. The lives of this elite serial crime unit will certainly have you hooked.
Dexter is one of the best shows to watch if you like Mindhunter because it's able to replicate that addictive feeling given by David Fincher in his work. While it turns the genre a bit on its head—the show follows a killer the entire time—we still get many classic elements of a police procedural.
We follow Dexter, who works in the Miami Metro Police Department doing blood spatter analysis. He's great at helping track down serial killers since, well, he is one. It's so compelling, because it makes us want to root for the bad guy. Despite the fact that he kills bad people, he's still a monster. The entire series is available to binge on Netflix.
Manhunt: Unabomber takes an in-depth look at how one dedicated FBI profiler helped track down the Unabomber by using language analysis. It takes us inside the most expansive manhunt in FBI history, which had very little to go on until they published his manifesto in the Washington Post. It's truly a great show to watch if you like Mindhunter, because it embraces the science of catching a killer.
It isn't just one sided, as it does a great job of humanizing Ted Kaczynski without letting him off the hook for his crimes. In fact, the lead profiler who's going after him can't help but relate to some of the gripes in his manifesto, Industrial Society and Its Future. It's highly compelling and the entire mini-series is available to stream on Netflix.
Elite investigator Stella Gibson arrives in Belfast, hoping to help a confused police department catch a serial killer that preys on young women. The show splits in two, giving equal screen-time to her and the killer she is trying to nab.
Paul Specter is a dad and social worker, but at night he stalks the streets for vulnerable women to kill. He has an incredibly creepy routine, and it's one of the best shows to watch if you like Mindhunter, because it's all about why Specter is doing this. It's a highly addictive show that always sees the killer one step ahead of his hunter.
The Killing centers on the murder of Rosie Larson. It intertwines with a Seattle mayoral campaign after her body is found in the trunk of a submerged campaign car. It's one of the best shows to watch if you like Mindhunter, because the partnership between detectives Linden and Holder is the glue of the show, much like the love/hate relationship of Holden Ford and Bill Tench.
Set in a moody Seattle, the show is atmospheric in a way that'd make David Fincher proud. It really takes us deep into the trenches of investigative work, and it's compulsively watchable, like all great mysteries.
The cat-and-mouse aspect is often the most compelling part of the serial killer drama, and The Following is never short of that. It stars Kevin Bacon as a retired FBI agent who is called back into action after the same serial killer he put behind bars escapes with the help of a murderous cult.
Somehow, the serial killer communicates with other active serial killers and activates a cult of believers (the following) who work for him and aid in his efforts. It's among the best shows to watch if you like Mindhunter, because it asks one important question: How many active serial killers are out there? It ran for three seasons on Fox and is available to stream on Netflix.
Hannibal follows Dr. Hannibal Lecter, and it's kind of hard to believe this show aired on network TV for three seasons. A criminal profiler forms a relationship with Lecter, hoping to better understand the criminal mind —obviously one of the best shows to watch if you like Mindhunter.
However, Will Graham doesn't know Lecter is both a killer and cannibal, leading to some incredibly compelling scenes. Like most of these shows, Graham has some of his own demons, including one that haunts him by way of an innate ability to empathize with the serial killers he chases.
Luther is about one man's singular obsession with catching a serial killer, so much so that it destroys his marriage and most of his life. It's one of the best dark crime dramas currently on TV, and a lot like the agents in Mindhunter, he uses strange relationships with psycho killers to help solve crimes. It's all about the inner workings of the criminal mind, a show that's seemingly perfect for fans of human psychology.
Bates Motel is all about how momma's boy Norman Bates became the killer in the film Psycho. While it's an origin story, this version actually takes place in a modern day Oregon town.
All the rest is the same. They run a motel and undergo an examination of Norman's transformation. We get to see the way his mind warps, which is why it's one of the best shows to watch if you like Mindhunter. The series recently came to an end, but the show's five seasons are available on Netflix, allowing for some healthy binge watching.
Lastly, if you're looking for the best shows to watch if you like Mindhunter, I'd explore Broadchurch. It has the murder mystery aspect, as well as the ever-evolving relationship between the show's leading characters, making for some compelling television.
It all starts when Danny Latimer is found dead on the beach of a small town. What happened to him? What is this strange town hiding? Reminiscent of a real life Twin Peaks, Broadchurch is a great look at a procedural done to perfection and will make any fan of Mindhunter wanting more.
tv review
About the author
Joseph Farley is a North Jersey based writer who loves short fiction and stand-up comedy
Reader insights
Be the first to share your insights about this piece.
Add your insights