African Woman Was Brutally Murdered And Decapitated For Her Faith
A Tale of Faith and Injustice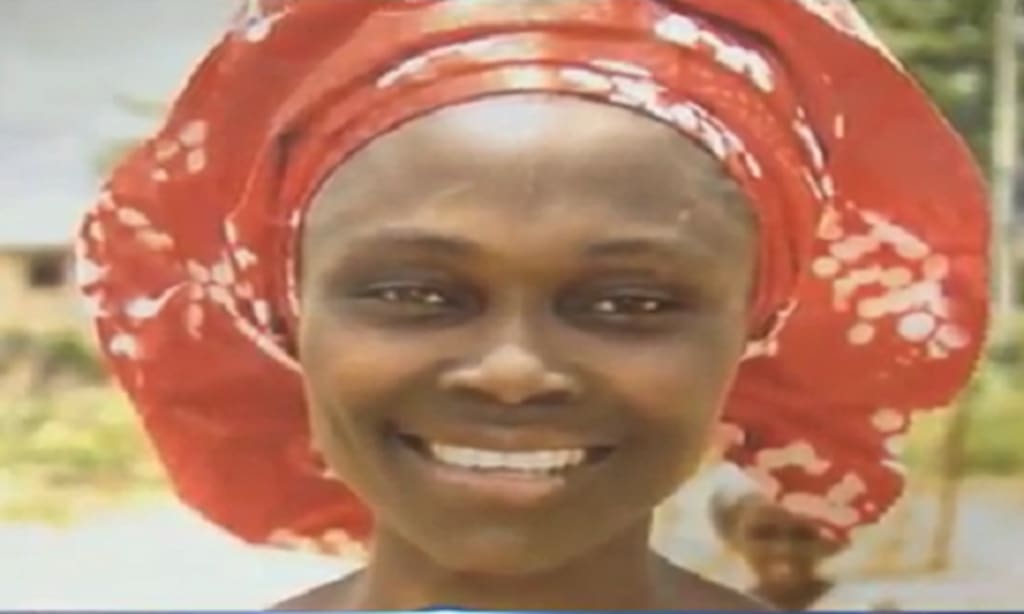 The brutal killing of Mrs. Eunice Olawale, a 42-year-old preacher in the Kubwa Guari area of FCT, remains a haunting chapter in Nigeria's history. Eight long years have passed since this tragic event unfolded, leaving behind a grieving family and a nation grappling with the loss of a beloved community figure. Eunice, a mother of seven children and a deaconess at the Redeemed Christian Church of God dedicated her days to spreading the word of God on the streets of Kubwa.
Eunice's routine involved venturing into the bustling streets each day, armed with her megaphone and Bible. Her powerful voice echoed through the air, serving as an alarm clock for many, awakening them to a new day. Her unwavering commitment and dedication to her faith earned her widespread recognition and respect. However, not everyone was pleased with her fervor and her public displays of faith.
On the fateful day of July 9, 2016, someone made the sinister decision to silence Eunice forever. What made her death even more shocking was the fact that she may have foreseen it coming. Before the incident, Eunice had overheard an Imam, a Muslim cleric, expressing his disapproval of her preaching. Whether she heard it directly or through hearsay, she became aware of a group of Muslim leaders discussing their discontent with her message.
Deeply concerned for her safety, Eunice confided in her husband, Mr. Elijah Olawale. Recognizing the existing tensions between extremist Muslims and Christians in the area, Elijah urged her to exercise caution and temporarily halt her preaching. Reluctantly, she complied and refrained from spreading her message for a week. However, abandoning something that had become an integral part of her life proved to be a formidable challenge.
Tragically, Eunice decided to resume her preaching on the 9th of July, 2016, at the usual time of 5 a.m. Oblivious to the grave danger that awaited her, she ventured out with her megaphone and Bible. The darkness of the early morning was slowly giving way to daylight as people began their day. Witnesses in the vicinity where she preached reported hearing her prayers and preaching. However, when she cried out, "The blood of Jesus," bystanders assumed it was a customary part of her message and thought little of it.
As the sun began to rise, a horrific discovery was made. Eunice's lifeless body lay in a pool of blood. She had been ruthlessly stabbed in the stomach, an act that left no doubt about her assailant's intent—to silence her message permanently. Strikingly, nothing was taken from her, not even her megaphone or mobile phone. This pointed to a targeted attack aimed solely at extinguishing her voice. By 6:30 a.m., news of her tragic death had spread, leaving her family devastated and the community in shock.
Overwhelmed by grief, Elijah sought justice for his wife and visited the local police station. He shared the information Eunice had received weeks earlier about the Imam's aversion to her preaching. Six suspects, including the Imam, were apprehended, although only two were temporarily held due to insufficient evidence. Eventually, all the suspects were released, and justice was not served.
The death of Mrs. Eunice Olawale shook the entire nation, triggering widespread outrage and protests. Many viewed it as a direct attack on Christianity and religious freedom. Despite the international attention and impassioned pleas for justice, the perpetrators remained at large, leaving Eunice's family and supporters deeply frustrated.
To this day, the story of Mrs. Eunice Olawale's tragic demise continues to haunt those who
were close to her. The absence of accountability for her murder serves as a painful reminder of the prevailing injustice that plagues society. While complete justice may never be realized in this particular case, Eunice's memory stands as a poignant reminder of the ongoing struggle for religious tolerance and freedom not just in Nigeria, but throughout the world. It underscores the urgent need to address the deep-rooted divisions and foster an environment where individuals can express their faith without fear of persecution or violence.
As we reflect on the life and untimely death of Eunice Olawale, let us remember her as a symbol of unwavering faith, resilience, and courage. May her memory inspire us to work tirelessly towards creating a world where religious harmony thrives, and no one is silenced for their beliefs.
Reader insights
Be the first to share your insights about this piece.
Add your insights