Stripped Down and Built Back Better
Navigating post-pandemic woes through refinishing a vintage bentwood rocking chair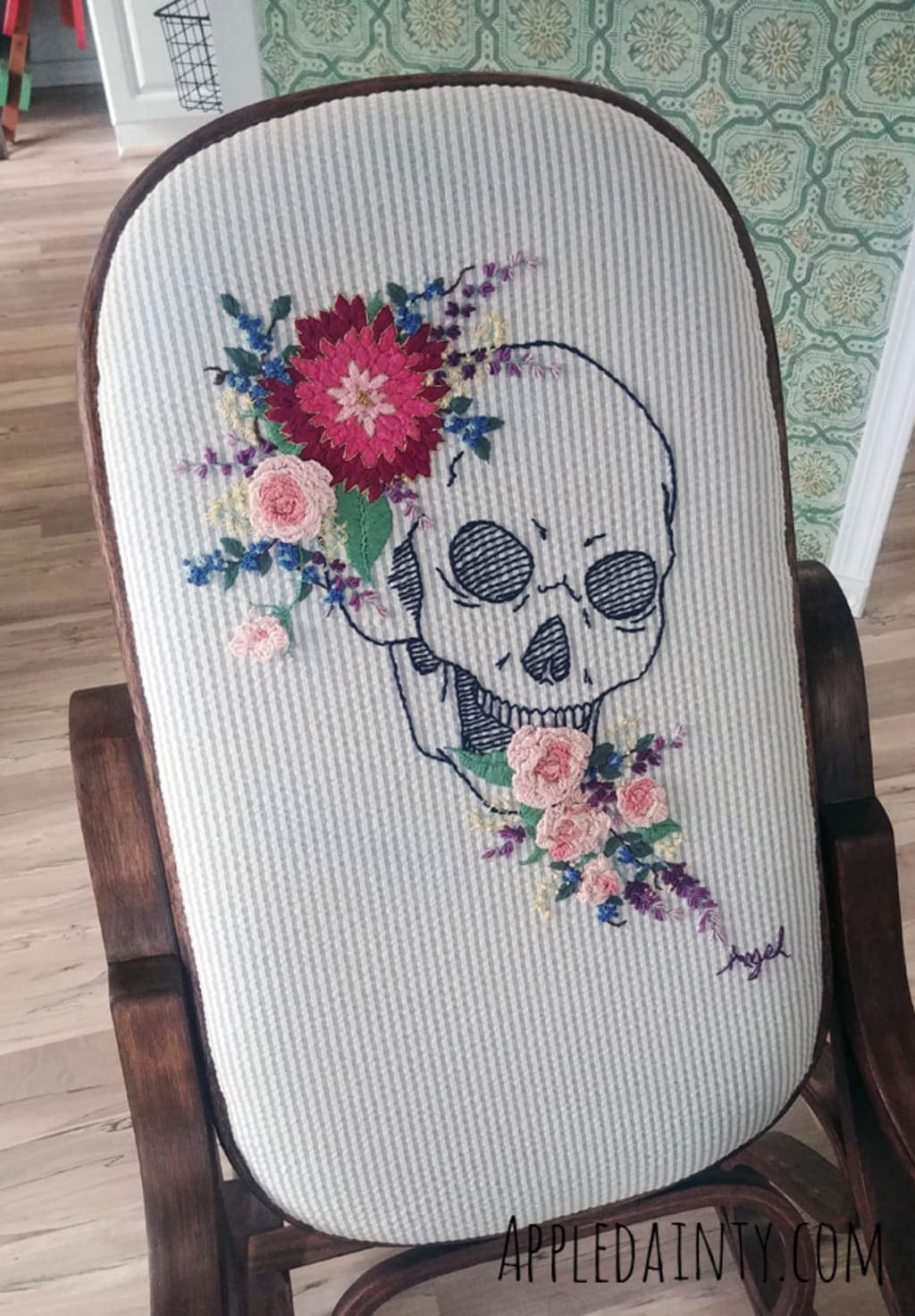 Finished floral skull embroidery
For the longest time I assumed that the fabled biological clock just skipped right over me, but a few years back - mere months before the pandemic struck, when the world was still 'normal' - I was standing in our empty guest room and it suddenly hit me that we could totally put a baby in that room. It would be a great nursery.
That was a wild moment for me, because although I have always liked kids I never wanted to have any myself.
My husband was thrilled. He knew I wasn't really interested in kids when we got married, and knew that we'd be happy with or without children, but he was excited by my newfound interest in babies. I threw myself into planning whole heartedly, trying to shore up our finances while also dreaming up crafty ideas for our future nursery.
I dredged up an old quilt that I had started as a potential gift for a friend's baby shower, but never finished. I purchased a cheap, old vintage rocking chair to refinish, and designed a floral skull motif to embroider on it. When my husband asked if that was entirely appropriate for a baby's nursery, I just laughed. I thought it was cool, and once I get rolling on an idea it's pretty much impossible to stop me.
Looking back, I wonder if maybe that wasn't a bad omen.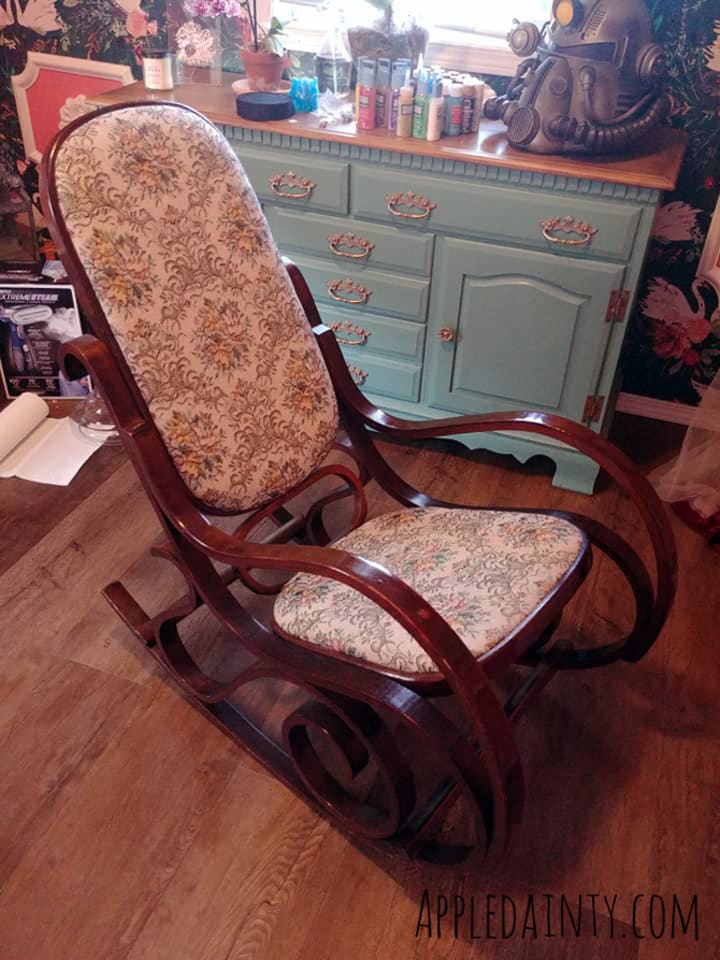 The bubble of excitement burst when I lost my job. Then, couple months later, things got worse - the world was embroiled in a pandemic. My personal setback suddenly became the entire world being set back, and I wasn't getting any younger.
The window to have a baby is closing. It's still not completely shut, but I think the trauma of the pandemic and the bleakness of the 'new normal' took its toll on not just me, but my husband as well; it no longer seems like having a child is possible. Not within our original timeline, anyway.
Still, I have to consider us lucky. I was only out of work for six months, and was already set up with employment insurance when the brunt of all the COVID induced closures and layoffs hit.
Knowing that we were lucky didn't stop the depression from setting in. I stopped working on this rocking chair project. It had been stripped, sanded, and stained. The bottom seat was already cleaned up and reupholstered. I was midway through working on the embroidery when it just got too hard to work on. Looking at it made me sad.
I wasn't sure I'd ever come back to it, but instead of packing it away I left it in my living room. It's unfinished form haunted the space, part spectre and part hope, waiting patiently for me to change my mind. Just like I had when I stood in the empty shell of our guest room.
As the pandemic restrictions began lifting, I found a job that I actually love. The stress started to fade, and along with it went the heartache. I picked up the needle again and finished the embroidery. Then, over a long weekend I completed the reupholstery on the seat back. Now, when I look at this finished chair I feel joy. It's a work of art.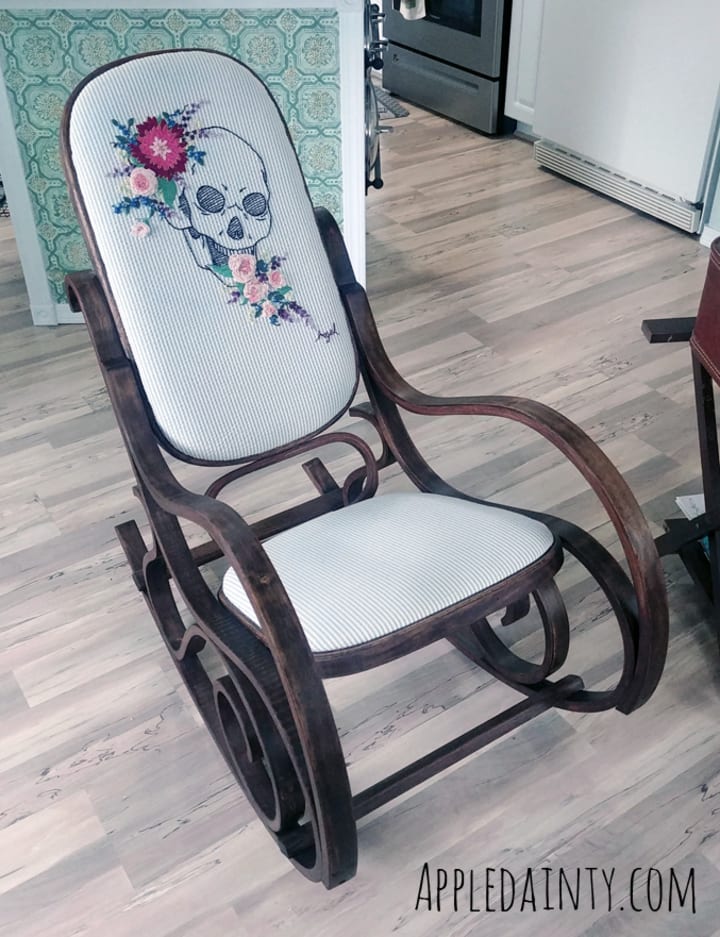 I'm still of two minds on whether or not I want to keep this rocking chair. It no longer makes me sad, and I love how it turned out, but the image that I held in my mind of rocking a newborn feels tenuous; like a mirage that will fade to nothingness as soon as I approach it. As with everything in this post-pandemic world, I feel hesitant to make any big plans, lest they get pulled out from under me.
The chair sits in my living room once more, part spectre and part hope, waiting for me to change my mind...again. All I can do is hope that perhaps our lives, like this chair, can be built back better.
Humanity
About the author
Reader insights
Nice work
Very well written. Keep up the good work!
Top insights
Heartfelt and relatable

The story invoked strong personal emotions

Easy to read and follow

Well-structured & engaging content

Masterful proofreading

Zero grammar & spelling mistakes
On-point and relevant

Writing reflected the title & theme
Add your insights