Macaroni with Soya Sauce
Ten fun facts about me
My all-time favourite song
Hey there Vocal!
My name is Chloe. I am a 25 years old woman, raising two young children, who has had a passion for writing her entire life. I thought that I would write a fun facts about the writer post for all my new followers!
I hate talking about myself sometimes and I actually struggled with coming up with all ten fun facts about me in a timely fashion. I had the idea for this post for a while now. Excuse my random brain nonsense.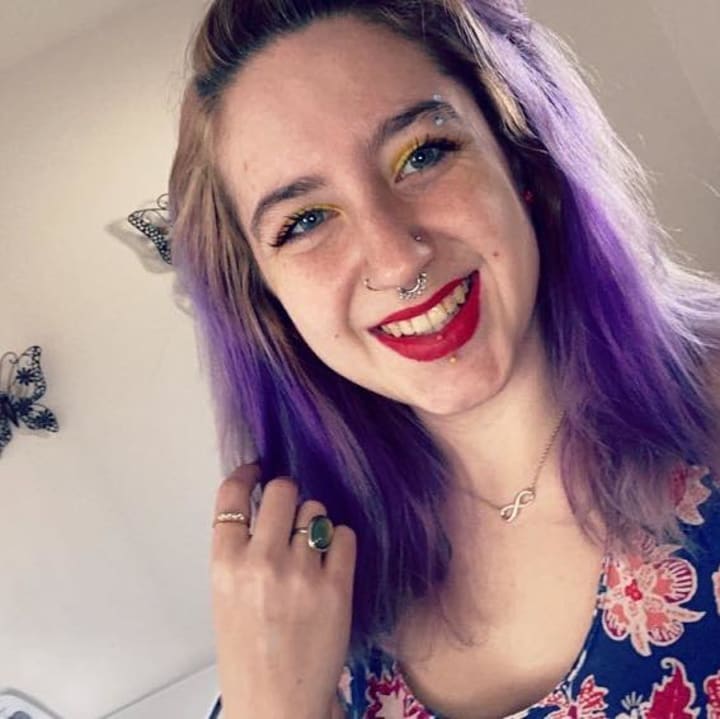 I thought this would be a fun read for my Vocal followers to enjoy! So all that being said, introducing me!
Ten Fun Facts About Me
1. I eat my macaroni and cheese with soya sauce. Not even lying I have been eating it that way since I was eight years old. I adopted it from my cousin but I cannot tolerate ketchup on my noodles. It feels wrong. I know it sounds strange of like a dumb high food kind of idea but I seriously cannot eat macaroni without the soya sauce. Sprinkle a little parmesan cheese on top of there and you're golden.
2. I have a bicornate uterus. Essentially this means that I have a heart-shaped womb which means I have a higher risk of miscarriage. This apparently runs in my family which I did not know until I had my first child almost five years ago.
3. I am terrified of heights. I must have died from falling in a past life for I am utterly terrified of heights. Amusement park rides, ladders, climbing trees- I have always been afraid of falling. I don't know why.
4. I love siracha! I put it on so many different foods such as: pizza, rice, ramen, salads, tacos, and eggs. I also love mixing it with ranch and eating it with veggies. I have a siracha sticker in my car and a stuffed pillow. I love the sauce so much.
5. I had jaw surgery when I was 18 years old. That was quite an adventure. The oral surgeon moved my upper jaw forward slightly. I was in the hospital for one day. They wired my jaw shut for two weeks. The day I got home, I woke up and I couldn't breathe because of how congested I was. I cried over how hungry I became. I drank so many protien shakes, figured out that you can add taco spice to tomato soup because it makes it taste better- I even tried blending lasagna because I was that hungry and everyone in the house was eating it. It was the hard two weeks but in the end it was worth it. No more crooked smile. Just a smile that I fully cherish and adore.
6. I have twelve piercings and five tattoos. I clearly have a high tolerance to pain. I plan to get more tattoos but I'm ready to slow down on the piercings. My poor grandmother actually made me record a video saying that I won't shove anymore metal into my face.
7. I am a huge Legend of Zelda fanatic. One of my first memories was watching my mom play the video game. I cherish my childhood games and my kids now have a admiration for the series as well. My son is supremely good at playing Breath of The Wild.
8. My children's father- our parents are together. It's a bit of a weird situation to say the least. Both couples started dating at the same time. My mom actually looked at me and said "Chloe, I win." My children's father was my soulmate. I truly loved him more than I loved myself back then. Oh how tables have turned though. It's a bit of a blended family situation to say the least. I fully defend on protecting my two children from people who just simply don't understand in the small community that we reside in. Also a bit of another fun fact, his dad's little sister dated my moms cousin at one point during the past 10 years.
9. Jurassic Park is my all-time favourite movie franchise. I used to have lines memorized when I was growing up. They will forever be my favourite comfort movies to watch. Who doesn't love dinosaurs or Steven Spielberg? The Jurassic Park novel by Michael Crichton is also phenomenal in my humble opinion. It gets more science-y than the movies do. I am not a huge fan of the Jurassic World series but they still are decent movies. I own the whole collection because yes, I am that big of a nerd.
10. I tried to create my own blog once. I wrote about the failure on Vocal previously once before. If you're interested in more information as to why that fell apart, the link to the post is below.
Thanks for reading ten fun facts about me, the author! I hope you found this post interesting. I'd be curious to read some of your own personal fun facts down below in the comment section.
Chloe Rose Violet
Read about my 100 Days of Happy Challenge down below!
About the Creator
Writing from the heart about love, life, music, mental health, and everything else in between. 💀🥰
•Follow me on Threads @rosefearless
•Like my new Facebook page ROSEFEARLESS
Purchase my affirmation cards here!
Reader insights
Be the first to share your insights about this piece.
Add your insights