Dear Mom
An open letter to the woman who hurt me the most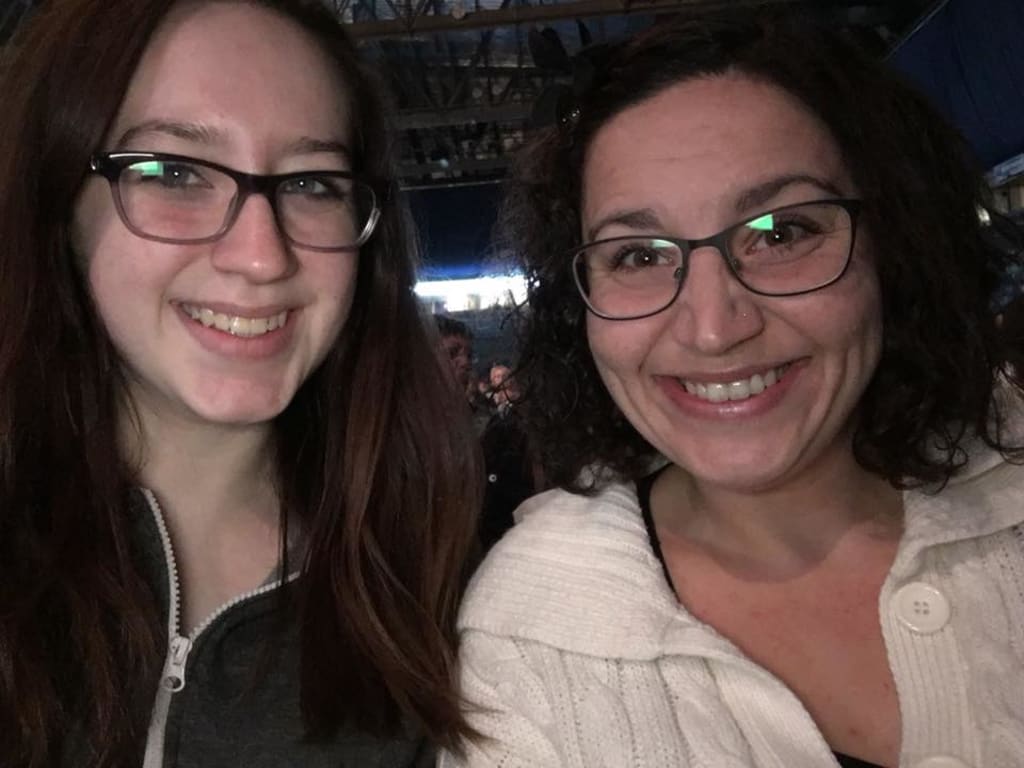 Dear Mom,
This picture, do you remember that day? We went to see Theresa Caputo live when I was pregnant with my first born child. I was so excited getting to see a real psychic in action. Now this day has turned into a painful memory for me. I know things are tense between us, but I hope that you know how much I love you. Having a child at a young age changes you in ways I did not know until I had my very own two kids.
I admire the strength and determination that you had when you chose to keep me at age sixteen. I cannot fathom how difficult that must have been for you back then, knowing that you were on your own raising me.
I watched you Mom. Growing up, I had always thought you were the most beautiful woman to exist. I loved playing in your make-up drawers. I can still smell the expired foundation and your signature Root's perfume.
I watched you work your entire life. Between your jobs and volunteering, you have always kept yourself busy. You worked over forty hours a week at our family business. I watched you then and I still watch you now. I admire your strength, even with all of the tension between us.
I remember all of the pride that I held inside little me when you completed your GED with three children and a husband to boot, damn near ten years after you were supposed to graduate. I babbled about it to anybody who would listen. I was so proud of you Mom.
I watched you bust your ass off to provide a life for your family. I truly admire that strength you showed me growing up. I admired you silently and loudly. I watched you Mom. I watched the way you looked at yourself while I was a child. Now as an adult, I still watch you. You inspire me to be the mom I am, to become to mom I want to be.
I just stood there as a child and stared at the most beautiful woman in the world. As I watched you pick yourself apart in front of mirrors, my own insecurities began to grow. You didn't notice me in the shadows of your insecurities Mom. But I stood there. I watched you Mom. I listened to the way you spoke about your body. I listened to the way you spoke about my own body. I remember the all the diet shakes and the temporary quick fixes but I also remember the McDonald's picnics at the park. I remember the good memories and the good moments with you and my half-siblings.
I cannot deny that there is tension between us for a reason, and for a very good one at that. But you did model the way I wanted to raise my children and I need to thank you for that. You stole some pieces of myself from me, and I am trying so very hard to reclaim those bits of myself.
I do not want my daughter or son to grow up seeing themselves in a negative light. Because of the way you and my step-father raised me, you demonstrated to me how to parent my own two children. You still help me choose to shape the words I speak to my children, even with the tension we now share between us. Without a doubt in my mind, my children will grow up to love themselves fully and without fear because I am learning to heal myself as their mother. Through the lessons you taught me, and some of my own mistakes, I am learning how to be their parent good and proper. Just know that no matter what, I love you Mom. Even if that means you can no longer be in my life because of all the pain and hurt that you have caused me. I hope you understand that someday. I miss the mother I had years ago, not this version of yourself that I no longer recognize. I wish you healing and peace.
Love your only daughter.....
Chloe Rose Violet
About the Creator
Writing from the heart about love, life, mental health, and everything else in between.
Self-established nerd.
Lifetime Legend of Zelda fan.
"Write hard and clear about what hurts."- Ernest Hemmingway
Reader insights
Be the first to share your insights about this piece.
Add your insights