Best Laceless Soccer Cleats Available Right Now
Dreaming about laceless soccer cleats? Read our list of the best one's here!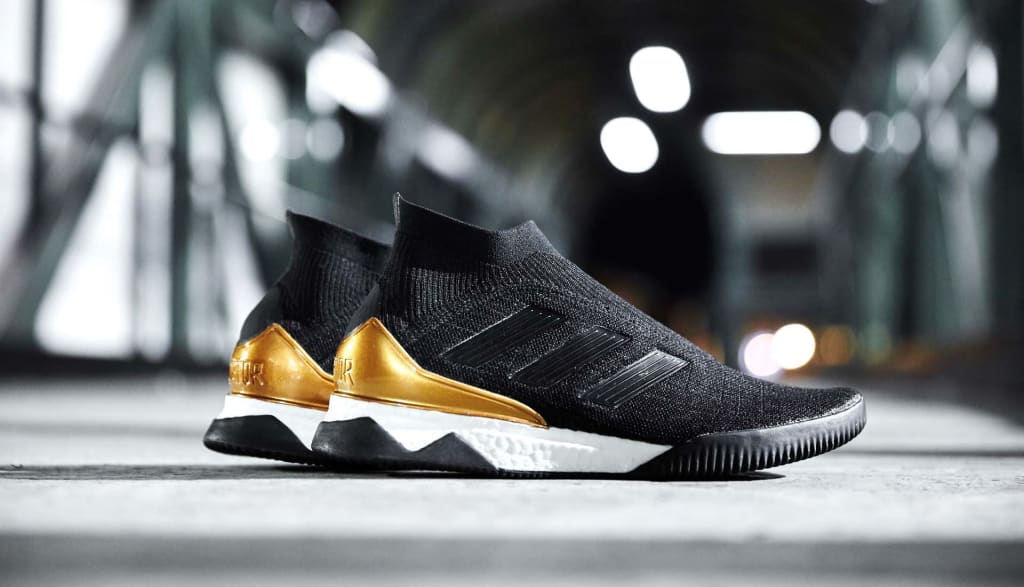 About three years ago, Adidas took the game in the soccer cleats industry to the next level with the launch of the world's first laceless cleats called ACE 16+ PureControl.
At the time of the launch, these cleats were endorsed by Arsenal's Mesut Özil, Barcelona's Ivan Rakitić, and Real Madrid's James Rodríguez. In the last two to three years, laceless cleats have become much more apparent, and there are a large number of models available in the market.
To help you out with your laceless cleats shopping and to bring back memories of some of the cleats we saw at 2018's World Cup, we have researched the corners of the internet to come up with the best laceless soccer cleats available right now.
X 18+ are arguably the best laceless soccer cleats available in the market. The laceless construction of the boots provides stability during sprints and proper ball contact. The upper section of the boots is covered in an ultra-thin material known as Skeletalweave.
Soccer superstars like Luis Suarez (Uruguay), Mohamed Salah (Egypt), David de Gea (Spain), N'Golo Kante (France), Marcelo (Brazil), Thomas Muller (Germany), James Rodriguez (Colombia), Gabriel Jesus (Brazil), Son Heung-Min (Korea Republic), and Angel Di Maria (Argentina) wore these boots in the World Cup.
These laceless soccer cleats are available at $280 in the market.
Predator 18+ are another top-of-the-shelf laceless cleats from Adidas. These soccer cleats have an upper made of Primeknit material, which provides ultralight comfort and pure control on the ball. The ControlSkin keeps the ball glued to your feet in all weather conditions.
According to Adidas, these boots are suitable for players looking for a killer touch or a defense-splitting pass.
David Silva (Spain), Paul Pogba (France), Manuel Neuer (Germany), Ivan Rakitic (Croatia), Mesut Özil (Germany), Mats Hummels (Germany) and Dele Alli (England) are some of the professionals wearing these laceless cleats.
These boots are currently available at a discounted price of $200.
The latest version of the Nemeziz range is endorsed by the likes of Roberto Firmino, Juan Mata, Chicharito, and Lionel Messi.
These boots are made for agile players, and they provide a really comfortable fit. It has an asymmetrical mid-cut collar, which fits really nicely around the ankle. These 7.2 ounce cleats also boast a barefoot-like touch on the ball. The laceless front offers a very clean striking zone.
Nemeziz 18+ are available for $280 in the market.
Phantom Vision Elite is the latest triumph from Nike in soccer cleats technology. These cleats are very recently launched, and they are arguably Nike's answer to Adidas' dominance in laceless cleats. These cleats are not actually laceless as they have hidden one-pull laces. Because of this design though, you have a clean strike zone made of a Flyknit upper along with Nike's Quadfit technology which protects the foot without weighing you down.
Phantom Vision Elite is a brand-new technology from Nike, and it can dominate the cleats market for months to come. These cleats are available at $275 a pair.
Predator Telstar 18+ is the latest entry in the laceless soccer cleats category. These soccer cleats are modeled after official match ball used in the knockout stages of the 2018 World Cup - Telstar 18.
The latest Predator is more of a collector's item, emblematic of the most politically charged World Cup yet, and would make you stand out in the field. They are built for control, and have the most responsive cushioning ever in Boost. Like Predator 18+, these cleats have an upper made of PrimeKnit and ControlSkin textile.
These boots are available at $350.
These boots are the follow-up to soccer's first-ever laceless cleats. These boots have been rocked by some great soccer stars such as Paul Pogba, Mesut Özil, Dele Alli and Juan Mata. The upper combines Paiho and Primeknit materials. Paiho provides firm lockdown and support while the knit material gives greater control of the ball. A PrimeCut collar fits like a sock around your ankle.
These laceless cleats could become a part of your soccer gear for $230.
If you are looking for cheaper laceless-like experience, then Spotlight Pro by Under Armour is a great option. The cleats are available for $90-$100 at Soccer.com.
The Spotlight 2.0 has a zippered upper, made of synthetic leather, which hides laces and provides a clean strike zone. The Microfiber upper grants great first touch and control of the ball, and the neoprene sleeve fits around your ankle like a sock.
These 8.8 ounce cleats are meant for use on firm, ground surfaces.
Adidas has now introduced its Predator technology in indoor soccer, a rival to the top lace soccer shoes across the market. These laceless shoes are meant for street or court surfaces. The upper is made of Primeknit and ControlSkin material, providing the same control on the ball as a normal Predator would. The mid-cut collar fits seamlessly around the ankle.
A Boost midsole ensures the comfort of your feet, and a flat rubber sole provides a tight grip on synthetic surfaces. These boots are available at a discounted rate of $140.
Adidas has taken their Nemeziz range to the streets with Nemeziz Tango 18.1 TR. These boots have the same upper, made from Agility Bandage System, as their firm-ground counterpart. The asymmetrical mid-cut collar is also very much similar to the firm-ground cleats. These shoes weigh 10.4 ounce, and they are not meant for competitive soccer. These boots cost $105 on Soccer.com.
Pogba Predator 18+ TR is the latest in the coloration between the Manchester United midfielder Paul Pogba/Adidas Capsule Collection. These are lifestyle shoes, and not meant for the purpose of playing. This shoe borrows a lot from Predator, but it has its own identity. If you want to carry some of Pogba's swagger, then you can start by ordering these laceless shoes, available at $170.