Whether or Not You May Like It, Rap Music Matters
And Here's Why...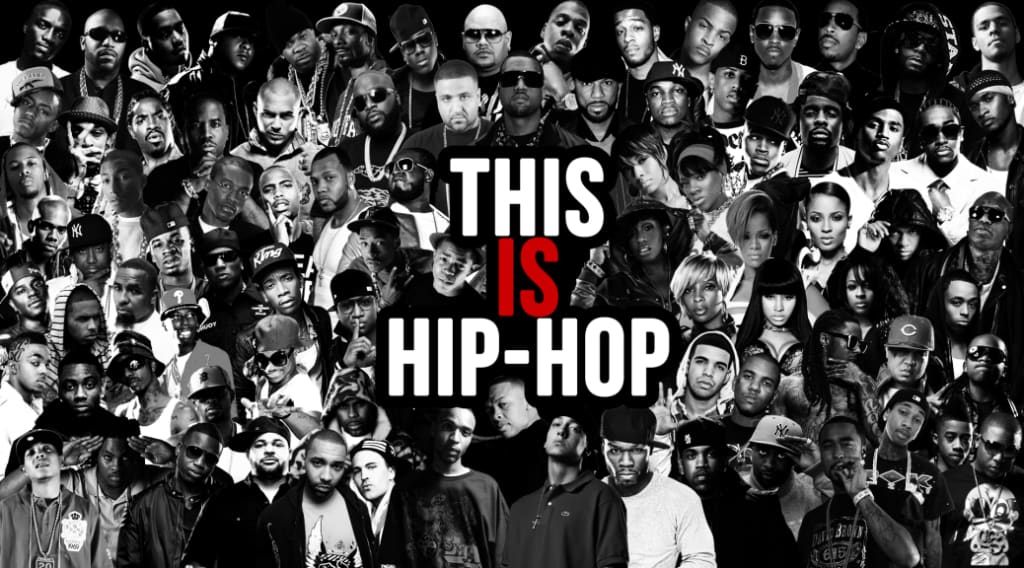 Many people in and out of the music industry would argue that rap music is becoming the most popular genre of music. It is prevalent throughout movies, video games, TV shows and contains a whole culture, filled with subcultures within itself. People seem to either hate or love rap music, with some people calling it the music of "this generation." But since the beginning, the roots of rap music have been cemented in something that is still prevalent today: giving a voice to those unheard.
In the late 1980s, gangster rap group N.W.A rose to prominence, with their breakout album, Straight Outta Compton (1988). This album was not only filled with themes of money, women, and illegal activities, but it was politically charged from beginning to end. Their song "Fuck the Police" wasn't just shouting anger towards the police for no reason. N.W.A was angry at the unjust systematic racism, brutality, and profiling the police were doing to African Americans, including themselves. Other rap groups at this time also released politically motivated songs, such as Public Enemy's "Fight the Power" and Grandmaster Funk's "The Message." All these songs shared themes of poverty, racism, police brutality, and the public turning a blind eye to all of it. The popularity of these songs didn't only bring rap music to the forefront of peoples lives, but also brought a voice for those who weren't listened to by the general public. People had to start thinking, discussing, and confronting the racism African Americans and other minority groups were facing on a day-to-day basis.
Rap music has changed majorly over the last 20 years. Gangster rap is still around, but it is not what the mainstream is listening to anymore. We now have artists like Lil Pump, 21 Savage, Post Malone, Lil Xan, and XXXTentacion. All these artists are diverse and distinct from the each other. Rap music reflects the same way, with multiple faces, voices, sounds and genres. We now have emo rap and mumble rap. Many current rappers face musical criticism for repetitive lyrics, rapping about the same things (mostly money, drugs, and women), and not having any "meaningful content." However, rap culture, like any culture, has and will go through many changes, all of which are meaningful. The drug filled songs many mainstream rappers release today, accurately reflect the youth drug culture and how drugs and addiction have shaped and are changing in our world. Drug culture is becoming more about what's behind a counter than what someone is cooking in their basement. It is also important to note how many of these rappers glorify the use of drugs instead of talking about the consequences. Rappers including Lil Pump have been criticized by other rappers like Joyner Lucas for this attitude. Other rappers have used the problem of drug use to have a platform for the voice of sobriety and recovery. These rappers include Lil Xan, Joyner Lucas, and Lil Uzi Vert. After rapper Lil Peep's 2016 death from a drug overdose, Lil Uzi Vert, and other rappers became sober and preached the dangers of drug use and its terrifying place in rap music. Rap music has become a place to voice multiple viewpoints and shows the public two different lifestyles. However, it is up to the listener to pick which one they support.
Other than drugs, many rappers talk about things we don't all see everyday, but that impact all of us daily. Many rappers share a similar narrative of growing up in communities plagued with poverty, crime, single parents, abuse, and mental health problems. Some rappers like Tyler The Creator, rap about being raised by a single mother, and the many trials and tribulations they had to face to get where they are today. Tyler faced extreme criticism, mental health problems, and exclusion from the core of hip-hop's inner circle for many years until he made it big. 21 Savage, Kodak Black, and Lil Wayne, share experiences of growing up in poverty and crime ridden communities. They rap about the "streets", drugs, gangs and the violence plaguing their world. It is terrifying when you realize that these rappers are speaking for the lives of many day to day people. In many inner city, rural, and minority communities, these themes are prevalent. What is even more shocking is the lack of supportive and helpful resources given and put in these communities. We should not glamorize or romanticize these issues within these communities with rap music, but should use it as a tool to highlight and hopefully help fix these issues. Rap music can give people living that lifestyle a voice and show them there is a way out.
The one theme that has sadly stayed relevant from N.W.A's "Fuck the Police" in 1998, to Kodak Black's 2017 "Tunnel Vision" is racism in the political, criminal, and social systems. Police brutality, systematic racism, profiling, and the enslavement of African Americans is the one thing that rap music has, and still tragically reflects. Kodak Black stated in his song "Tunnel Vision" that "They wanna see you in a penitentiary." In 21 Savage's song "Nothin' New," the entire song talks about years of systematic and inter-generational racism that African Americans deal with. The lines that best showcase the range of problems African Americans are facing include: "Police gunned his brother down, this shit too hard to handle," "Treat us like slaves then they lock us up in cages," and "They killed Martin Luther King and all he did was spoke." The song is beyond worth listening to. It truly and bluntly paints a picture of life for many African Americans in modern day America. This theme of racism is the most terrifying, and is the reason behind why rap music matters, and partly why it's stayed relevant throughout time.
Rap music has allowed issues that can be ignored by the masses, to come to the faces of all of us. Mental health, drugs, alcohol, and poverty are things we can and might all face within our lifetime. These are serious issues that need and should be treated properly. The issue of racism, however, is one that we tend to think is over, but we are far from the truth. The fact that there are more African Americans behind bars today, than there were slaves during slavery is a terrifying reality that rap music is not allowing us to ignore. It is disgusting that for hundreds and hundreds of years, systematic and blatant racism have resulted in efforts to destroy African Americans. These have happened and we usually are ignorant to it all, or we turn a blind eye to it. We have taken away resources from African Americans, denied them freedom, refused them support systems, put drugs into their communities, and treated it as if its their problem. I am not saying that no one is void of individual choice, but we are not living with inter-generational trauma, oppression, and in communities where there are problems without solutions. This is why rap music matters. Rap music has allowed this voice, the voice of someone in an abusive house, who has gang members on their street, to be heard. Rappers are speaking for many who are never heard until now. It is time we address these issues African Americans are facing. It is time we take ownership of our actions and their repercussions. It is time that we take this voice and listen to it. Whether or not you like rap music, it matters, because it is the one voice that expresses what many refuse to hear.

S. A. Anderson
Using this platform to express thoughts, ideas and maybe some fictional stories along the way... I like to write about what makes me feel alive, like I'm on fire, has my heart beating or makes me feel passionate...
See all posts by S. A. Anderson →