Playlist Eclectica - Vol. 2
I don't know if "eclectica" is really a word -- but I need something to summarize the crazy mess I put on playlists - and now there is more....
I was having so much fun with my first playlist, that I just kept going and rolled into a Volume 2. There's a good chance I could easily roll into a Volume 3...but we'll take care of that when the time comes.
As I explained in the first publication of Playlist Ecletica, I have this odd randomness of things I listen to. It's almost like my mind is a tumbled mess and to keep it from getting in a rut for too long, I have playlists that jump all around in genre.
**********************
Here's Playlist Eclectica the first.
***********************
Hopefully you don't bail on me over this very first one. I've listened to this a gazillion times. Confession: Even when the grandkids weren't around. It is just a catchy weird thing and I have to give them kudos for the oddity of the video itself

********************
Yep, here's some more of that folksy stuff that I like. Can't help it.

*********************
I enjoy this music video as much for watching the guy do his shuffle as I do listening to the song itself. And something about seeing him so openly wear mismatched socks make him my idol. Yes, I know there is actually a method to his madness with his socks - but let me have this moment, please. I identify with this because secretly hidden in my boots or under my pants legs are those "almost alike" socks that I sneak around in all day hoping that I never have to shed my shoes in public. I should just flaunt them like he does and pretend they are my fashion statement. But enough about the socks -- I do love this song and watching him dance is so soothing. For me this music video is like a meditation.

******************
Then I will switch over to music like this when I need soothed. I work a very high stress job. It's not the kind of job you would think was high pressure - we sell tombstones. But, because we live in an instant gratification world where now is when I want it since yesterday isn't an option, telling anyone that their stone won't be ready until next week or the week after that or any time other than this instant, can get you shredded up pretty good. So, odd as it sounds, after having done this customer service thing for seven long years, I think I have some PTSD issues and if not genuine PTSD, I definitely have triggers that send me right off the edge. So, my big blue headphones clamped on tight and listening to music like this helps soothe my soul.

****************************
And of course then I jump back to drums and bagpipes when I need to beef up my energy levels. This was the kind of music my living history character Lady Dalyndra, Queen of Dal Riada listened to. I have a drum - if only I were coordinated enough to get my hands to produce music on it. sigh... I can dream. I keep saying I'm going to sit in front of my TV with YouTube videos like this and attempt to play along. I wonder if I'd hurt myselft? I need my hands to type for my job and for writing. But still.....

***********************
I guess I am a bit of a freak for drumming. But this type music does uplift my soul and it helps me reign in my bouncing brain when it's getting wild. What especially intrigues me about this is that it is just buckets turned upside down - no fancy drums. But a whole lotta talent! And collaboration and synchrony. I'm in awe. But I will say this about every drumming video. I try to use this video with my grandkids to get us to do something with our buckets and drumsticks, but ummm, yeah, we're anything but elegant. LOL

************************
Oh yeah! This is what I'm talking about right here! This appeals to me on so many levels. It's catchy, upbeat and beautiful! I love the whimsy of the costuming here. Being a costumer, a wannabe cosplayer that never got there, but having a strong love of costume wear, this video and all of Kerli's videos and songs in general fill the bill for me. My dream would be to host a party themed like this and everyone have a blast! Oh, and food - there would be FOOD! Yes, please. Let's do it!

*********************
Another Kerli because, well, it's my crazy playlist and this is how I do things. I go down rabbit holes. I jump from one thing to another in my thoughts and everything I do. I call myself a "thought-hopper". Most people look at me startled when I suddenly blurt out something that seems totally amiss with the ongoing convo but they missed all the brain activity that got me from point A to Z -- because yeah, there was a lot of zig zagging in my brain between A and Z but for me, it all made Z relevant to A. But I guess without my brain salad to support the process, it leaves everyone else without context. Now here is the kicker.... my hubby TOTALLY gets me. Without missing a beat he knows exactly what I'm talking about. That's some serious magic right there for me to find someone who "knows" me and "gets" me.

******************
Then I end up with music like this. And let it ramble while I write stories. It's just a nice sound that keeps me buzzing along. And this lasts two hours so I'm good to go for a long time! Easy peasy!

***********************
From the above, I jump to Viking music. I love music with an ancient vibe to them. The old style sounds, the instruments, the beat. I think it speaks to me from a former life.

************************
And oh my gosh! This bagpipes, hillbilly, southern song. Oh my lord! I'm feeling it. Yeah, I say that alot but this song gets in my blood. It's been a lot of years since my 62-year-old self donned my cowboy hat, vest, skinny jeans (well... I was skinny then LOL) tall topped cowboy boots, my BIG buckled belt. I even had long hair. LOL Yeah, it was YEARS AND YEARS AGO. But I could cut a rug. Now I would break a hip. But a rum and coke, this song, cool night air and I would have been good to go! Ahhh, those were the days. Hey look -- I've lived long enough to use the phrase "back in the good ole' days".... yeee hawww!

*******************
Goodnight friends. I'm going to keep cruising through YouTube listening the night away until I slip into slumber and my laptop slides off my lap and hubby comes to bed and pushes my chin up to stop my snoring. LOL Hope you enjoyed this list of mind madness I do for playlists.
*****************************
Get to know more about me here:
And for other works by me, visit my profile HERE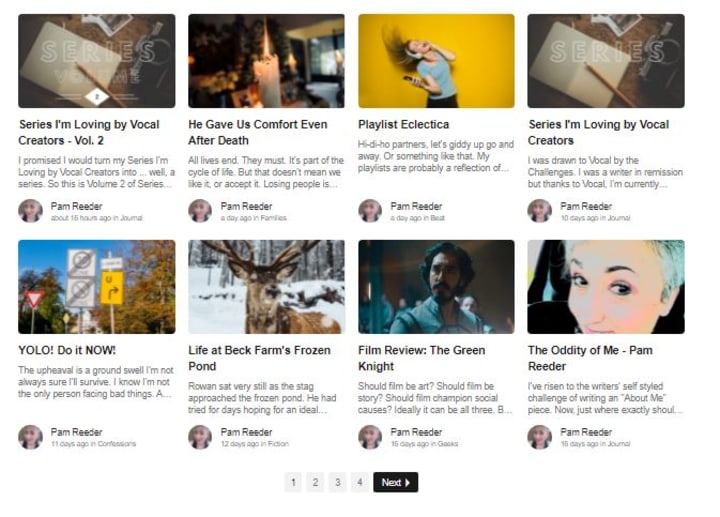 FOR MORE PLAYLISTS BY VOCAL CREATORS, VISIT HERE:
playlist
Stifled wordsmith re-embracing my creativity. I like to write stories that tap into raw human emotions.
Author of "Bristow Spirits on Route 66", magazine articles, four books under a pen name, technical writing, stories for my grandkids.