Nuggets
Original Artyfacts From The First Psychedelic Era - 1965 - 1968 on Elekra Records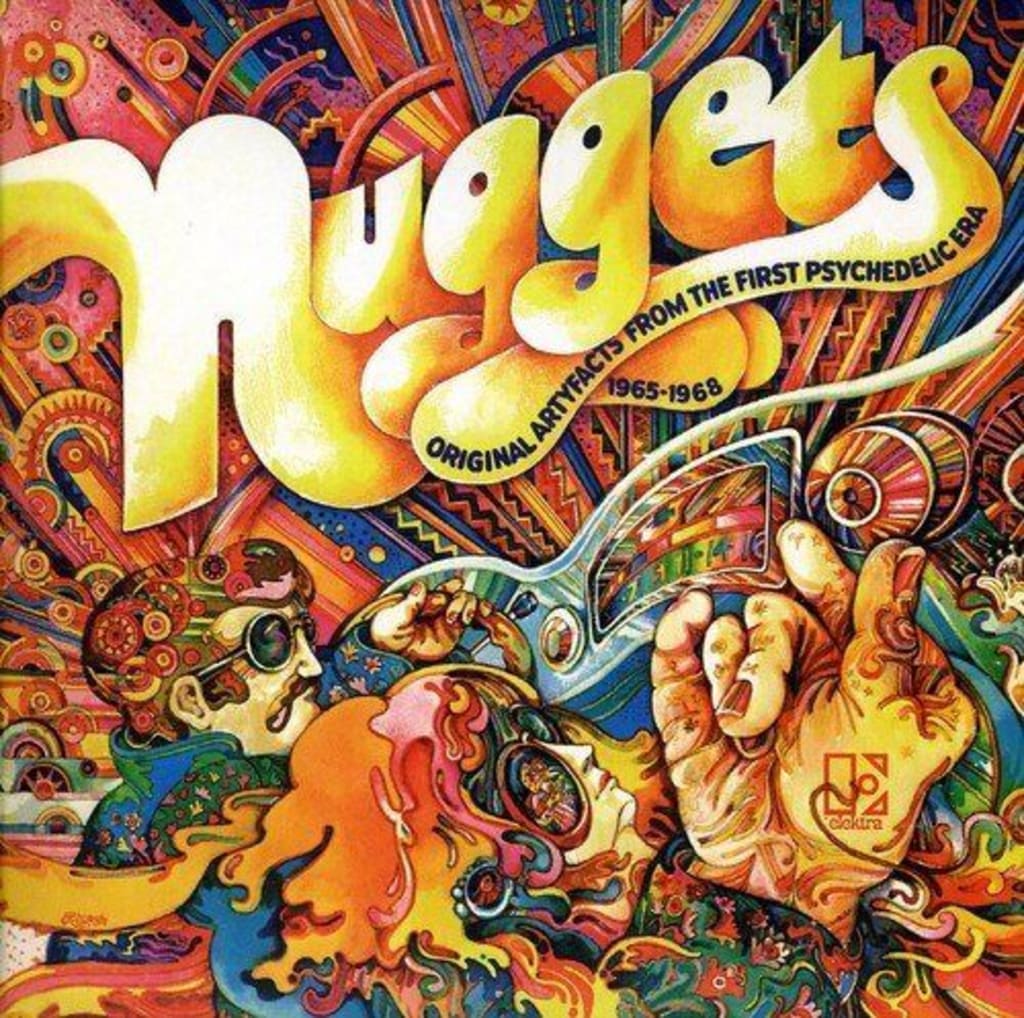 Nuggets 1965-1968
Introduction
When I work from home I listen to a lot of music over a lot of genres. Because of my age I listen to music that was released way before some of my friends were born, but then again I listen to a lot of music that was released before I was born so just because music is not "of your time" does not mean you should not listen to it.
I do know people who will not listen to anything unless it is British Heavy Metal between 1974 and 1976 and I know people whose taste varies on that limitation.
One of the benefits of our times is that we usually have instant access to music, and very often people only listen to predefined playlists from Spotify, Amazon and Youtube and many other streaming platforms, and while I don't mind suggestions I do not think that suggestions should be the only thing that you listen to.
One of the problems is that in the sixties and early seventies record companies ironically didn't know much about music, but then by the eighties we had record executives who were focussed on maximising profit and this has been the prime goal of record companies since then resulting in homogenised music choices for the audience and often "artists" chosen for how saleable their image is.
There are exceptions to this, and ironically, the digital age has made it much easier to create and market music without the need for record companies.
Frank Zappa hit the nail on the head when he said (this is how I remember it) "The record execs were old fat guys smoking cigars, but when you pitched an idea to them they usually said - yeah we'll give it a go and see what happens - but now it's all market surveys and risk analysis and the likelihood is that chances will not be taken, hence the reason there is so much bland sound on our airwaves.
So here are a few songs from the Elektra Nuggets compilation that is playing as I write this piece. I really believe that none of these records would have been touched by a major record label despite all of them being commercially successful to some extent.
Take a listen and see if you can see anything like this today, You may be surprised what you can find. I will follow this with two pieces I wrote on current bands that you have not heard.
Songs From Nuggets
Dirty Water by The Standells
That simple riff emphasised by the electric organ is everything on this record, I love hearing it and playing it. The pure punk vocal is perfect for the record.
I Had Too Much to Dream (Last Night) by The Electric Prunes
The guitar on this sounds lik a mosquito or aother annoying stinging insect but it is perfect in the song and never stops thorought in the psychedelic episode.
Open My Eyes by The Nazz
Nazz were Todd Rundren's (the man behind the sound of Meatloaf's Bat Out Of Hell) first band and he is stil producing stummimhg music todauy . You will find him popping up in many of my Vocal posts. This one would stand a chance of being made today, a slice of absolute class from garageland.
Psychotic Reaction by The Count Five
This starts out as a fairly standard sixties pop/rock song but then drifts off into the sort of music you are expecting from the title. This is one I don't think would pass the requirements of your average record company executive today.
We Ain t Got Nothin Yet - Blues Magoos
The Blues Magos appear on the album covering "Tobacco Road" but this came on when I was looking for videa and that riff is the same as "Black Night" by Deep Purple. I am surprised there was no litigation but I will investigate further.
Reader insights
Outstanding
Excellent work. Looking forward to reading more!
Add your insights