My interview with a Cat.
Fat Cat's single, 'Up at Dawn' featuring Clay Agnew now available on all major platforms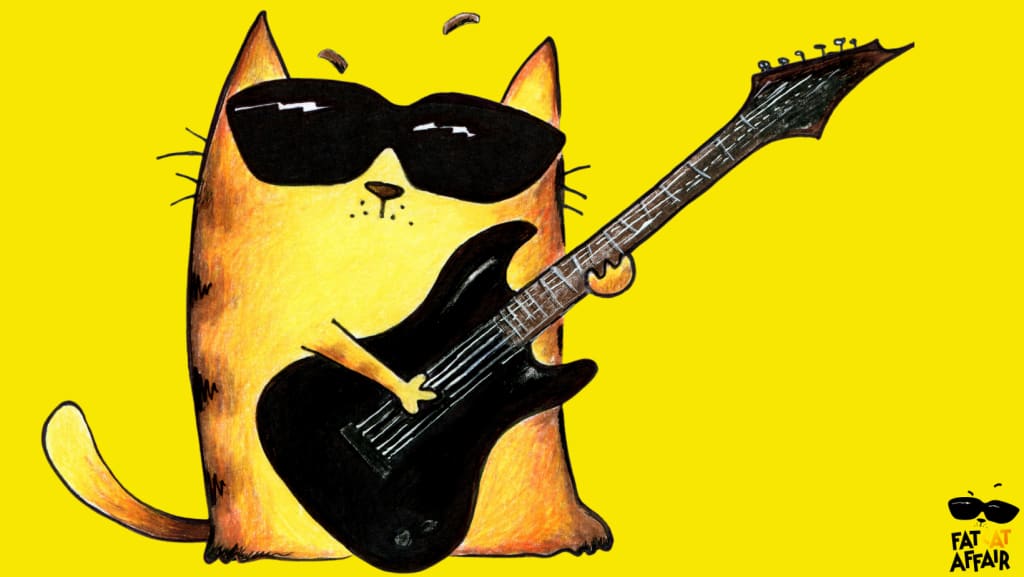 I had a wonderfully unique opportunity to interview a cat.... a fabulously talented, musical cat known as Fat Cat.
Not only did I find Fat Cat extremely talented but very friendly, engaging, and quite funny. I mean, I didn't really expect that from a cat.

There is a legend in Europe, on the streets of the great cities. The name is whispered in the alleyways, talked about in the artist quarters and spreads like wildfire whenever he plays. Fat Cat is in town! Fusing RnB flavours with pop and funk undertones, Fat Cat is one of those rare felines that everyone wants to work with. A multi-instrumental, multi-genre, funktastical cat-beat monster! Many have people whilst others say it is because music is in his blood. Fat Cat's reputation has drawn interest from a thousand directions as his new project brings together a company of talented singers, musicians and producers as they work toward a collective vision called Moon Songs. He continues to be an enigma as he invites the world to come meowl with him! - Fat Cat Affair
Fat Cat released his 3rd single called Up at Dawn featuring Clay Agnew now available on all major platforms.
Tell us a little bit about yourself.
Where to start? I am a travelling musician, an international cat of mystery and multi-instrumentalist. Music is my life. My mum used to sing sweet songs to me and the kittens when we were young. I have made it my business to play with anyone and everyone. It helps that I am deeply interested in stories and people.
May I ask how you arrived at your artist name? Give us the scoop.
Well, you might have noticed that I am a cat. So at least one part of the answer is obvious. What is not so obvious is how much I love music. One might say that I have a love affair with it… an affair so big it can only be described as 'fat'. I am a cat having a fat love affair with music. And... my name is Fat Cat. It all comes together nicely.
What is your purrrfect genre?
I love all cat-egories of music! But seriously, I am a romantic. I am deeply inspired to write songs about love, relationships and people and my favourite genre of music to do that is a mixture of pop and RnB with a little bit of funk thrown in. But I love jamming blues and rock. It is what I grew up with. Jazz is a big love of mine too. I developed some crazy cat-beats when I was a kitten.
"Up at Dawn" will be your third single? Can you tell us little about it?
The track was inspired by a concert I once played in the Black Forest. I had recently left home, feeling sad about everything I left behind. I found comfort in touring Europe, playing secret parties. There I met a girl who I had an instant connectivon with. After my gig, we sang together through the night until the sun came up. We made some wonderful music and she restored my faith in people. "Up At Dawn" is my tribute to her and the chemistry we have with certain people.
Do you have any other plans relating to this release? A video?
I made a lyric video featuring a beautiful model called Ilze Skestere. We used images from the album art photo shoot to create the reel.
I hear, cats can change their meow depending on the situation, do you have different meows while creating or playing music?
For sure! I love caterwauling. I have been doing it all my life. But if I am playing the crazy cat-beats I start meowling. That is the best one for jamming with friends. And of course, you can't beat a soft purr for something more romantic.
What is the best song you ever released and why?
My best song is always the one I am currently releasing. I'm a cat. We live in the present.
What song do fans seem to favour?
I would love to say that my fans are in the moment like me but so far, we have had a great response to Eyes Full of Tears. That said, I am really excited about the new release and I think fans will be too!
Cats sweat through their paws. Does that make it difficult to play an instrument?
Not having thumbs is my biggest challenge! But I am a cool cat and don't sweat a lot. I never get nervous. I have always felt comfortable in my fur. But, if it is a hot night in Europe, I pad around on my cushion before I get on stage. That helps me keep my paws dry.
Is your music available on Spotify or YouTube?
Every song I release is available on most of the streaming platforms, including YouTube and Spotify.
I'm wondering if it's difficult to fit music into your day with all the grooming cats do?
Well, you would think it would be tricky, especially since I need to schedule cat-naps as well but so far, I have managed to maintain a good balance of music, writing, grooming and sleeping. I am blessed with silky smooth black and orange fur. It doesn't need much, just the occasional paw and lick.
In 2013, a cat ran for a mayor in Mexico. Ever think of doing something like that?
Everyone knows cats and politics don't mix. It's a bad idea. Humans might not like all the changes we would make… And like I have already said, music is in my blood. Cats are made for singing, sleeping and hunting down cool parties.
If one artist were to perform at a Fat Cat party, who would get the call?
Cat Stevens is pretty cool, but old school. I have worked with Billy Meowlish and love her style but if it could be anyone… then it has to be Paul McCatney. He is a legend.
The richest cat in the world inherited $12.5 million when its owner passed away. What would you do if you inherited that amount?
There is a Fender Stratocaster I have my eye on, but probably, I would give some of the money to the Cat Sanctuary, to help my Cat Fam out! For the song "Up at Dawn", every pre-save we got, I donated one meal to the local cat shelter.
Other than fame & fortune, is there something you hope to achieve through music?
I am motivated by the songs and the collaborations. I am always looking to build my network of artists and yes, grow the Cat Fans of course. The fame and fortune, they are added bonuses but not what drives me.
What is your favourite/best outlet to connect with your followers Instagram, Spotify, FB, Twitter, iTunes? How would you want them to follow?
Most of my communication goes through Facebook and Instagram. For those who like my music and want to hear more I would encourage you to follow me on Facebook for news and Spotify for music.
Are you currently working on any projects we should look out for?
I am working on several projects at once but the next one will be a song release early in January just after holidays. That song is called "I Wonder".
It is a story about two of my friends who were always together but didn't manage to become a couple. It's pretty deep.
Is there something you would like to say, that I didn't cover?
Thank you for following my journey, listening, downloading and streaming my songs and helping support my Cat Fam. Keep your paws out for more!
Have a very Happy holyday season and look forward to meowling again with you soon.
Reader insights
Be the first to share your insights about this piece.
Add your insights