Playlists
Must Haves: Bleachers
Top Bleachers songs necessary for any library.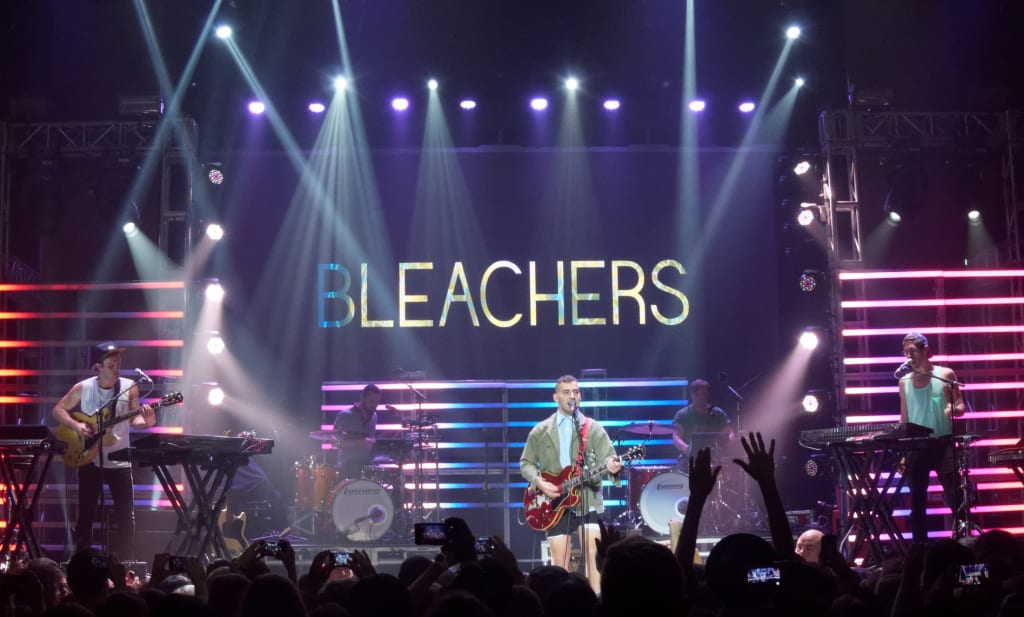 Bleachers has been such an important band in my life, because they really know how to make me get in the feels, but also I genuinely enjoy Jack Antonoff's music style. They are mainly know for "I Wanna Get Better," their RIAA certified gold debut single.
For those who have never listened to Bleachers, they are heavily 80s-inspired, with their sound existing in a indie pop, alternative realm. If this band is of interest to you, check out the list I have below for Bleacher's best overall songs that are perfect for a well rounded experience.
You can find Bleachers on Apple Music, Spotify, and other streaming/purchasing services.
6. "I Miss Those Days" - 'Gone Now'
Are you in the mood for an uplifting melody with bells and saxophone? Well, have I got something for you. Think back to the good old days, where moments are just happening, and you're not soaking in the fact that moments like these are super reminiscent and you'll think of them in the future. Now here you are in the present, and it is super nostalgic to think back, and you genuinely miss those moments. To me, it is almost like going back to your hometown after many years of returning. You are young and naive, now things are different, but it is still the same place you remembered.
5. "You're Still A Mystery" - 'Strange Desire'
There is something magical about Jack Antonoff; how he could just make such sad lyrics into an upbeat, catchy, hype song. It is truly a mystery (sorry).
We all know that one person we were infatuated with, but they way they loved was uber confusing to us. For example, I was totally falling for a girl that really only liked the bad boy... and I was the kid that was involved with everything and was friends with everyone. Not my personality, but she went through break-up after break-up, heartache after heartache, and I'm just like "yo, I wouldn't do that, just love me." I'm not sour. Whatever.
Nevertheless, this is a solid tune for trying to understand someone and how they love. "Maybe I don't need to understand why your love is such a mystery." *shrug*
4. "Don't Take the Money" - 'Gone Now'
With a central idea of love being put up against the capitalistic weapon of money, this song is focused on not wanting something to be chosen over your own feelings. It follows a couple who fights, and one feels as though they're putting a lot into their relationship and want the other wholeheartedly, but the other is taking the other option out. There is quite the 80s-distinguishable synthesizer and reverb, which is always a plus, too.
3. "Shadow" - 'Gone Now'
So I am someone who is very positive and likes to lift people up from their lows. Empathetic is a good word, too, but you know I'm going to ramble on. This song is really about loving someone even in their lowest of lows. Now I'm sure Antonoff wrote this for a romantic reason, but maybe not. I see this for you standing behind someone you love, whether that is platonic or romantic. The chorus opens with "If you're feeling small, I'll be your shadow." Think of it, sometimes you need someone in your corner to be a shoulder to cry on, or even someone to just be around as you figure your stuff out, even in your lowest of lows. Everyone has that person, whether it is a partner, a family member, or a close friend, that is always with them, almost like a shadow. If you don't, I highly recommend you find one, as they are super helpful in lifting you up when it feels as though no one else is there. Just listen to this already.
2. "Rollercoaster" - 'Gone Now'
So I feel as though I don't need to get super metaphorical here with this one. We have all heard the comparison of life or a relationship being a rollercoaster, where it has ups, downs, twist, turns, and other directional terms. This song makes me feel like someone is in love with that one person who is not necessarily the best for them, but even when running away from it, they can't let go. There is some emotional drive, which you can feel in the electric symphony of instruments guiding the vocals.
1. "I Wanna Get Better" - 'Gone Now'
On the reverse side of "Shadow," where you're standing in someone's corner, I feel the message to "I Wanna Get Better" is about standing in your own, and gaining that self-awareness after you've given so much to something that wasted your time, be it a relationship, a job, or whatever. You're on the edge of sanity, you've had enough, and you just want to get rid of those hateful feelings... probably thinking that you genuinely want to get better. Of course there are amazing lyrics in the chorus about finding someone who makes you want to do better, which is always a plus. It is crazy how when you find the one that'll change your life how much you realize what has gone wrong, and how much better you want to do.
Thank you for years of music, Bleachers.
If you like what they've got thus far, go check out their full albums. Antonoff was the brain behind the Love, Simon album, which also has additional Bleachers music on it. He also has posted on social media about writing music, so a new album is likely on its way.
playlist