How the Stone Roses Managed to Become One of the Most Important Bands in History yet Still Feel Underground
They changed the face of music forever, yet are still regarded as 'personal.'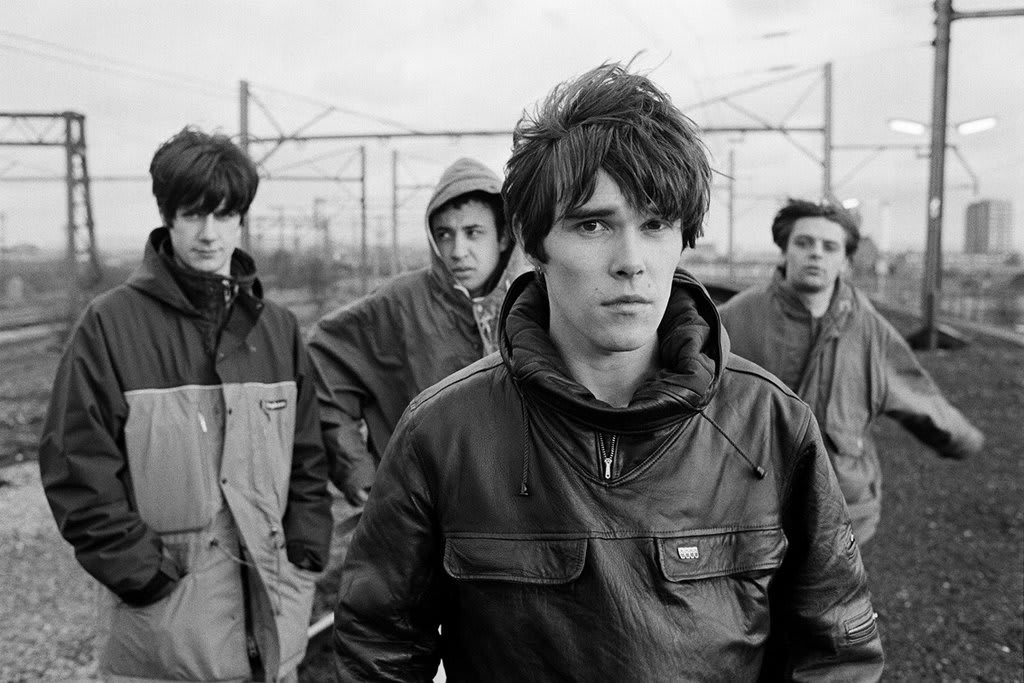 The Stone Roses are arguably one of the most important bands in the history of British music, with their immense influence still being present today as they changed the face of British rock.
They emerged with their first single in 1985, and as the music scene began to shift, they pioneered the movement in Manchester later coined as "Madchester," becoming one of the most notable bands in the genre alongside the Inspiral Carpets and the Happy Mondays. Fusing alternative rock with acid house and psychedelia, the Stone Roses dominated the style typical to the Manchester scene, having a huge influence on the genre also known as "baggy." They also had an immediate influence on the fashion of the time, mixing football casual with the hippie style, with drummer Reni's fishing hats becoming a staple fashion statement.
Despite being initially ignored within the music scene during their early beginnings, the release of their debut album, The Stone Roses in 1989 was met with extreme success, with critics suggesting that it was one of the best albums of all time, with their influence and importance being felt immediately.
Legendary gigs such as their performance at Spike Island in 1990, hailed as the English Woodstock despite disastrous problems with the sound, certified their importance in the music scene, as they drew youth together differently to previous bands. It was almost as if they were "owned" by youth culture, with young fans truly feeling like the Stone Roses were life-changing due to their impact on the nation.
They also seemed to kick against the dominance of American pop over the music industry and its influences, creating very typically "English" music, as they were influenced almost solely by English rock and punk bands, adding to how well their debut album was received as it satisfied the needs of young rock fans in particular.
After the success of their first album, struggles with bad management and clashes with their record label began to emerge, severely impacting and delaying the release of new music and almost tainting their importance at the time, as their legal struggles were at the forefront of their image.
Unfortunately, this is the main reason for their decline, as delays and wasted time led to them becoming disjointed with the unique movement that they established, which I believe is the main reason for their second album, Second Coming, not being received particularly well. As it was released in 1994, five years after their debut, expectations had been built high, and as they returned to a changed music scene, the album was widely criticised. In my opinion, Second Coming is a strong album that would have been held in high regard if released by any other band. However, by moving on from the Madchester movement, the Stone Roses lost touch with their fans, despite the popularity of the genre dwindling in the early 90s. Ultimately, this personal sense of disappointment from fans seems to taint an otherwise great album.
Ironically, the decline of the Stone Roses was also brought on by bands that they influenced. The Stone Roses' influence on the genre of Britpop is undoubtable—they introduced a unique and typically English style of music which ultimately led to the foundation of Britpop. Both Blur and Oasis were heavily influenced by the Roses, with Blur's first album Leisure being classically baggy in genre, although they quickly moved on from this. Oasis began similarly, as both Gallagher brothers attended the Stone Roses' gigs, and have clearly stated that they would not have formed a band if the Stone Roses hadn't come before.
Thus, the Stone Roses caused not only their own musical revolution in Manchester, but their influence extends to the immense success of Britpop in the 90s, with this genre defining British music forever, with the Stone Roses' impact being easily traced down to modern indie and alternative rock bands. This certifies their importance within English culture, with current bands such as Arctic Monkeys all being influenced by the Stone Roses either first-hand or second-hand, i.e. by being influenced by bands impacted by the Roses. This renders them as one of the most important bands in rock history, as their impact is unending.
Despite this, the Stone Roses still feel like an underground and personal band to many, and although they were successful, they never became a level of mainstream which rendered them impersonal to fans. Their prominence in youth culture for their generation and all young fans that came after are potentially the reason for this, as they seem to provide a musical epiphany for teens which defines their youth.
This importance is evidenced by the intense and almost emotional nature of their comeback shows. When they reunited in 2012, their concerts at Heaton Park, Manchester became the fastest selling rock gigs in UK history. All of their reunion shows up until the last in 2017 were life changing for youth who never thought they would be able to see the band, and for older fans, was a happy revisiting of their own musical past.
It is arguably the Stone Roses' influence that led to their downfall. However, in my opinion, this rather heightens how their music still seems special in a personal way, as they were held back from the mainstream, making them the most successful band with an underground feel ever.
Reader insights
Be the first to share your insights about this piece.
Add your insights