Fringe Mellow opens with Our Brand.
Struggling to meet life's expectations and rise up to be the person you want to put forward in life?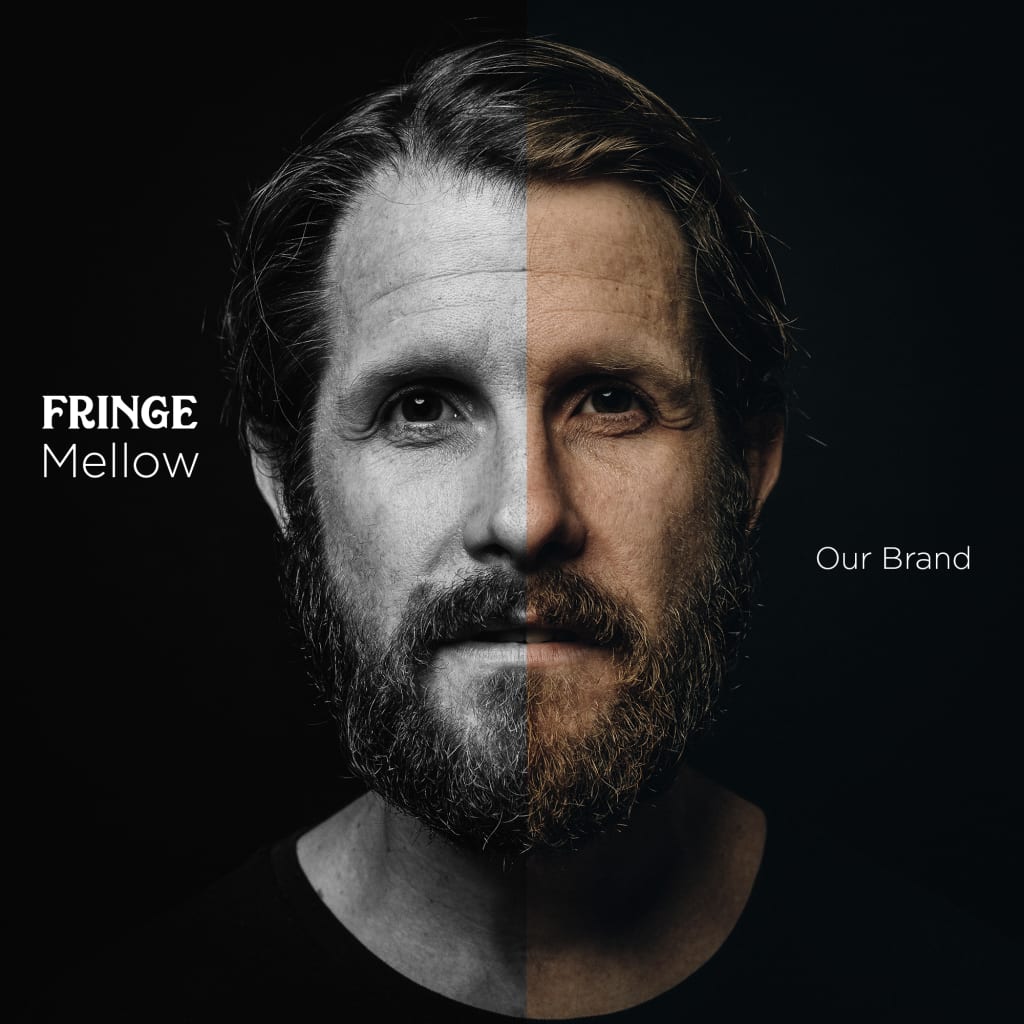 This is a photo of me on the artwork of our first single.
Hi, My name is Lance and I'm not all I'd hoped I'd become. I'm a husband, father, friend, and creative writer. Yes, I wanted to be all these things! But I think in the beginning I thought I could do all these things easily since they are the things, I am passionate about and are consistent in my life. The truth is I wanted to be a good husband, father, friend, and creative writer however there is always room for improvement and it's our shortcomings that we associate with the most.
Welcome Fringe Mellow. Henry Glover is my best mate, we met about 20 years ago. Back then we were both presenters at a community radio station hosting shows and talking about our love for music. One day by chance we both met in the foyer and we began talking about our own creative ventures. Henry is a producer and instrumentalist and I have what I like to call a "knack for writing." I was recording my own raps at the time and was beginning to feel a sense of pride for what it was I was making. Upon showing Henry a couple of my demos he suggested having a go at remixing one of these. Thus, we began our first musical project together! later being released as an album in 2007. The album was titled "Zelus - High Knights."
After this release, we began performing live and incorporating other artists into our set. In 2018 we released an album composed of the music we made since the last one that we never got around to releasing. This album Zelus - High Knights 2.0 was released as a way to close the door on an era. This music we held onto for a long time as we became inactive creatively and began to focus our energy in other areas of our lives.
Since then, we have supported each other through many moments in life via the art of conversation. I have gained 2 kids and a wife and Henry has witnessed a child of his own become an adult while he continues to raise a son he has since gained as well. Our occupations have changed many times through the years also. Through these changes, we have both come to believe that it's crucial to talk about our feelings to find a sense of normalcy with the choices we are making and the thoughts we are having.
We are Fringe Mellow.
In 2018 I started a creative writing podcast titled Indigo Knights. It was when I began writing for the podcast that I had found my creative voice again! When I caught up with Henry, often we would discuss the topics my lyrics would raise.
One afternoon Henry suggested making music again. We both headed into the studio to record "Our Brand." This time we wanted to capture something different. Recording the delivery in a more spoken-word tone allows for more subtle characteristics and emotions to surface. Many of the issues we talk about aren't the ones you necessarily cry your heart out about but rather give you a sense of relief knowing that there are other people out there who might feel the same way you do. "Our Brand" is about the image you set out to create, envision, and become proud of when you start a relationship. Like in many areas in life we let ourselves down from time to time and your partner might see that. This song says even though I lack the enthusiasm to give it my all at the moment just know that I am truly aware of what we got and I do value it.
I wrote this song about my relationship with my wife. There are times when I feel she deserves more and I don't want her to blame herself for my lack of presence. I'll discuss the lyrics and the photo is another story. This story is our introduction.
About the Creator
Fringe Mellow music is down to earth lyricism presented in a rhythmic spoken word delivery over house inspired beats and production. Fringe Mellow represents the experience of being human.
Reader insights
Be the first to share your insights about this piece.
Add your insights