My Lens with Fringe Mellow
Looking at life through broken glass.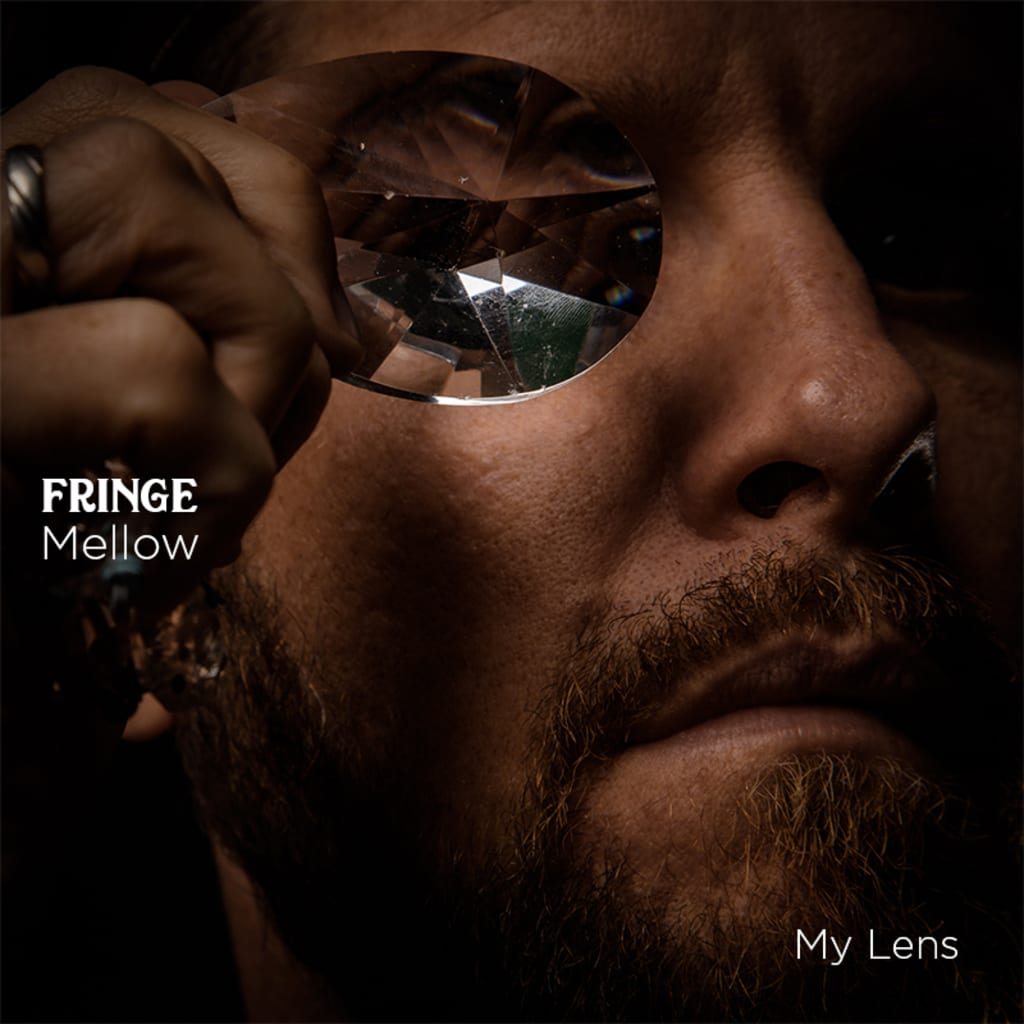 My Lens single artwork
I think it's super important to exercise that writers muscle because you want to know that when that great idea or concept comes to you, being able to write it down isn't going to be the hard part. I've had so many ideas and concepts that never seen the light of day simply because I wasn't practiced enough to execute them properly. Let me tell you the story of 'My Lens.'
'My Lens' was episode 17 of a week by week writing pattern I established when I began my podcast titled - the "Indigo Knights Podcast." Making this podcast made me search for concepts and ideas all the time. Doing this often made me more open to receiving them. I began pondering a lot after I spoke to people about ways I could put what they were worried about into a song.
Tragedy effects most of us. I don't mean to say a person struggling to find work is somewhat equal to someone who maybe starving but what I am saying is that it's what happens in our lives that create our own personal definition of tragic. The same thing could happen to 100 people yet the way they react and respond to that tragedy can be so unique and shape you in a way that can't be compared. Some people may come across very broken and others might appear unchanged by a similar event. The truth is everybody is affected but not in the same ways.
One line came to me after discussing an issue with a friend who had been damaged by the same thing another friend of mine had happen to him. The line was - "We all shatter differently." This made me visualise glass and the way it breaks, relating it to us and how we break.
I remember thinking of a camera lens and how it compares to our ocular lens. They both take in light and produce a clear picture. I began thinking about sand and how much sand goes into a pane of glass and thinking of our molecular make up... I thought this was a great idea. I didn't speak to Henry about it until I went around for our planned writing session.
Well this is the bit that threw me.. I arrived at Henrys and he had already began making a beat. I mean that's great... but this beat? This beat was perfect for the concept I had been thinking of that day. How could this be? The sounds he was using were not like the many others we have used in other songs. The sounds reminded me of that sound glass makes once tapped with varying levels of water in them. I hadn't written any of my ideas down at this point.
I grabbed my pen and pad out and began writing with the line -
As look out of my lens and see eye to eye with my friends.
I found flow state. I used many of my ideas and I presented them in a way that brought them all together and in place. We recorded the song that night too! If you listen to the demo on the podcast episode you will notice that the vocals are pretty much the same as the vocals on our master.
'My Lens' Photography
Henry and I like to give people a nudge as to what the song is about in the photo. The song is about how we see through broken glass. We used one of those sun catcher glass reflectors. I am surrounded by darkness looking through broken glass for the light. I love what this image alludes to and how it suits the song! For more about Henry Glovers photography check out www.henrygloverphoto.com.au
The Lyrics
Looking out of my lens and see eye to eye with my friends. I can see truth as if it's clear, through bits here and bits there. The light bends through fractures, highlighting different patches. I can see what reflection of me is captured as we break down what each other can see. We're both broken in a way that's unique. I need to speak less to see more clear. Condensation from to much of my breath is a conversation that's too wet.
Looking out of my lens, seeing eye to eye with my friends.
I asked where is the pain in a pane of glass? Sitting up back of class with glassy eyes , when I saw the sunrise. I was laughing as the party died. Looking out through the lens I was granted , I loved the picture when it was slanted. I could see it all, that wasn't my advantage. I'd never been dropped and had to glue back a piece. The first time I felt rather clever life was still easy to see. We become more weak learning to manage through inevitable damage, that's what sets us free.
Looking out of my lens, seeing eye to eye with my friends.
How do I look? What a stupid question. We focus on that and miss the lesson. Throw me a rock and I'll break it down. What's made up of particles too many to count. Add water and it magnifies, a form of liquid that never dries. Everybody shatters differently from the impact of life.
Looking out of my lens, seeing eye to eye with my friends.
Listen to the song
Learn more about fringe mellow visit www.fringemellow.com
About the Creator
Fringe Mellow music is down to earth lyricism presented in a rhythmic spoken word delivery over house inspired beats and production. Fringe Mellow represents the experience of being human.
Reader insights
Be the first to share your insights about this piece.
Add your insights