'Eagles'
The high-flying 1972 debut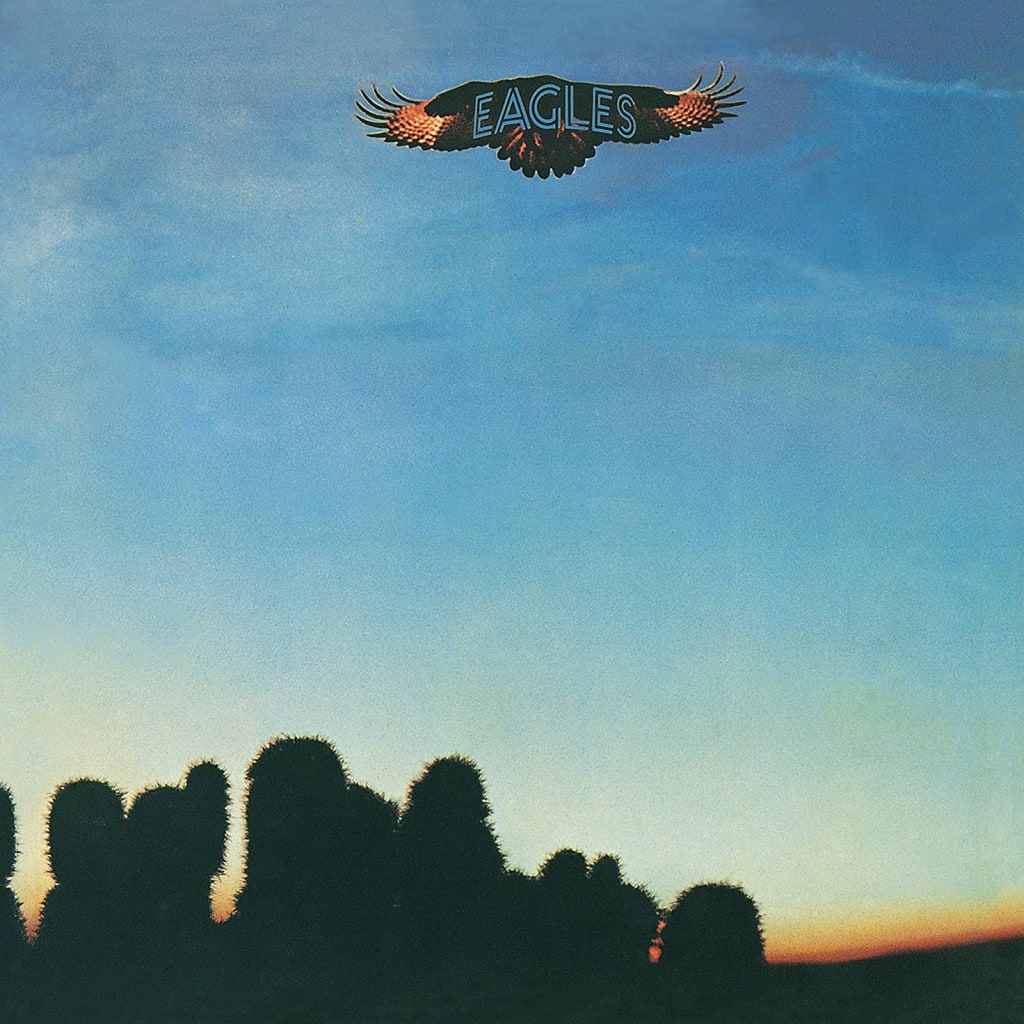 The front cover of the debut album from Eagles
The original Eagles, Glenn Frey, Don Henley, Bernie Leadon and Randy Meisner, each came from diverse backgrounds before performing together for the first time as Linda Ronstadt's backing band at Disneyland in 1971. The two relatively inexperienced Eagles destined to be the group leaders were Glenn Frey, born and raised in Detroit, Michigan, and Don Henley, from Linden Texas. Both say their lives were changed by seeing The Beatles on the Ed Sullivan Show in 1964, as so many American musicians have.
The other original Eagles brought a little more experience to the Ronstadt gig. Bernie Leadon had been an associate of former Byrd Gene Clark, then a member of the legendary country rock band The Flying Burrito Brothers, which featured former Byrds bassist Chris Hillman and the legendary Gram Parsons, who was also briefly a Byrd. Randy Meisner, originally from Nebraska, auditioned to be bassist for legendary group Buffalo Springfield; while he passed the audition the band turned out to be doomed, though its remnants evolved into a band to be named Pogo, soon to be renamed Poco for legal reasons involving a comic strip with their original name. Randy played bass on Poco's debut album Pickin' Up The Pieces but quit before the album was finished since he felt he wasn't given equal creative control with leaders Richie Furay and Jim Messina, something he later said he had come to understand as he had contributed no songwriting to the effort and was in his words "a young punk." His next gig was part of Ricky Nelson's Stone Canyon Band.
Frey had moved to LA where he met and formed a duo with J.D. Souther, which released an album on Amos Records under the name Longbranch Pennywhistle. Coincidentally, or perhaps fatefully, another act signed to Amos Records was Don Henley's band Shiloh.
Over time, all members of Eagles (not, at Glenn Frey's insistence, the Eagles), were brought together by John Boylan, Linda Ronstadt's manager, as backing band for the rising singer. After touring with Ronstadt and with her blessing, the four Eagles began work as a new band. Through the intercession of Frey's friend and neighbor Jackson Browne, David Geffen's Asylum Records signed Eagles. Browne had already released an album for Geffen and scored a hit with a song called "Doctor My Eyes"; Browne and J.D. Souther, by then Linda Ronstadt's love interest, would be essential partners in helping the ascension of Eagles, particularly over their first three albums.
To oversee the first Eagles album, Geffen secured (after some prodding) legendary English producer Glyn Johns, who insisted on recording the album in London at Olympic Studios. Johns' presence on the project and word-of-mouth about the band's abilities as harmonizers made the album a highly anticipated item even before its recording in February 1972. Featuring a cover designed by Gary Burden and legendary photographer Henry Diltz, Eagles was released in June 1972.
The band immediately hit paydirt with the album's opening track: a song called "Take It Easy" that remains one of the band's two or three signature songs to this day. The song was in some ways a piece of good fortune for the band. Frey and Henley at the time were not yet the legendary songwriting team they would become--in fact, they did not cowrite any songs on the debut album. "Take It Easy" was in fact a song that was started by Jackson Browne, who had abandoned it after having trouble finishing some of the lines. Frey had heard the song (he and Souther were Browne's upstairs neighbor) and offered to help finish by providing his own lyrics. What resulted was the perfect way to introduce the world to the Eagles, with its jangling guitars, banjo by Bernie Leadon and crisp harmony vocals. While the song, the debut Eagles single, peaked at Number 12 on the Billboard chart, it helped the album reach Top 30 on the album charts and has been a radio (and streaming) staple ever since.
The album's second song, "Witchy Woman," began life as a guitar riff from Bernie Leadon to which Don Henley added evocative lyrics about a woman who "Got the moon in her eyes." Again featuring great guitar work and harmonies, it solidified the album for listeners. Not only did it show that the group weren't destined to be one-hit wonders, it actually rose higher on the Billboard charts than the debut single, though its classic status is a little less pronounced.
"Chug All Night" is a hard rocking song with more terrific harmony work by the band, with songwriter Frey singing lead. Randy Meisner adds some really cool bass lines.
"Most Of Us Are Sad" is a mournful ballad written again by Frey and sung by Randy with exquisite harmonies from the rest of the band. It is the band's first real ballad and introduces the Meisner voice, a considerable weapon for the band the band would bring out on occasion through the Hotel California album.
"Nightingale" is a song written by Jackson Browne, in this case one that he never put on an album of his own and it is not one of his best. Henley takes on lead vocal chores; the blossoming of Henley as lead singer as the band progressed was a key factor in Eagles' ascendance into a new musical stratosphere. Once again, exquisite harmonies and superb musicianship mark the track, adding style to what is mostly a mundane exercise. But the sound of the band is still strong with this closing salvo of side one, and the second side could hardly be called disappointing.
To open side 2, the band turns to something of an oldie "Train Leaves Here This Morning" was written by Leadon with former Byrd Gene Clark, and had previously appeared on the album The Fantastic Expedition of Dillard And Clark. Leadon was a musician on that album, but here he takes the lead vocal. As always the Eagle harmonies really sweeten the song, and they do justice to a song that was great the first time round.
"Take The Devil" is a song written and sung by Meisner. Frey's guitar solos really shine and the song is a nice, if somewhat unmemorable ballad.
"Earlybird" is a banjo-driven song written by Meisner with Leadon, featuring bird noises in the background. The song, once again more filler than essential, is really a showcase for Leadon who sings lead as well as plays banjo, Glenn Frey plays electric guitar. By now, the harmonies and musicianship are not in serious question.
The next track is another that is widely considered an Eagles classic. "Peaceful Easy Feeling" was written by friend of the band Jack Tempchin, whose career as a solo artist met with limited success despite his being voted into the Songwriters' Hall of Fame in 2019. When some of his songs have been done by Eagles and a few other artists, there is quite some magic, never more so than on this one. You can just feel the wind going over the desert by listening to this song. Frey sings lead on this song and Leadon and Meisner join in on a beautiful three-part harmony. As the album's third hit single, "Peaceful Easy Feeling" hit 22 on the Billboard Charts, and has only grown in prominence over time, especially following its inclusions on the mega-successful first Eagles greatest hits album.
"Tryin'" is another song by Meisner, who takes on lead vocals. Once again, it is a showcase for Leadon and Frey on guitars , but it's not the strongest of tracks.
So the assessment of the first Eagles album has to be that the musicianship and harmonies carry the day, with the songwriting well behind. The best tracks were at least partly written by those outside the band, specifically Jackson Browne, Jack Tempchin, and Gene Clark.
But there was no reason to think Eagles weren't destined to become a staple of American music and though they sometimes call their next album a failure, it's hard to agree with them. And if it was a failure in any way, it surely was an interesting failure.
About the Creator
Writer, Drummer, Singer, Percussionist, Star Wars and Disney Devotee.
sclifeonthespectrum.wordpress.com
Reader insights
Be the first to share your insights about this piece.
Add your insights