American Standard
James Taylor's Standards Album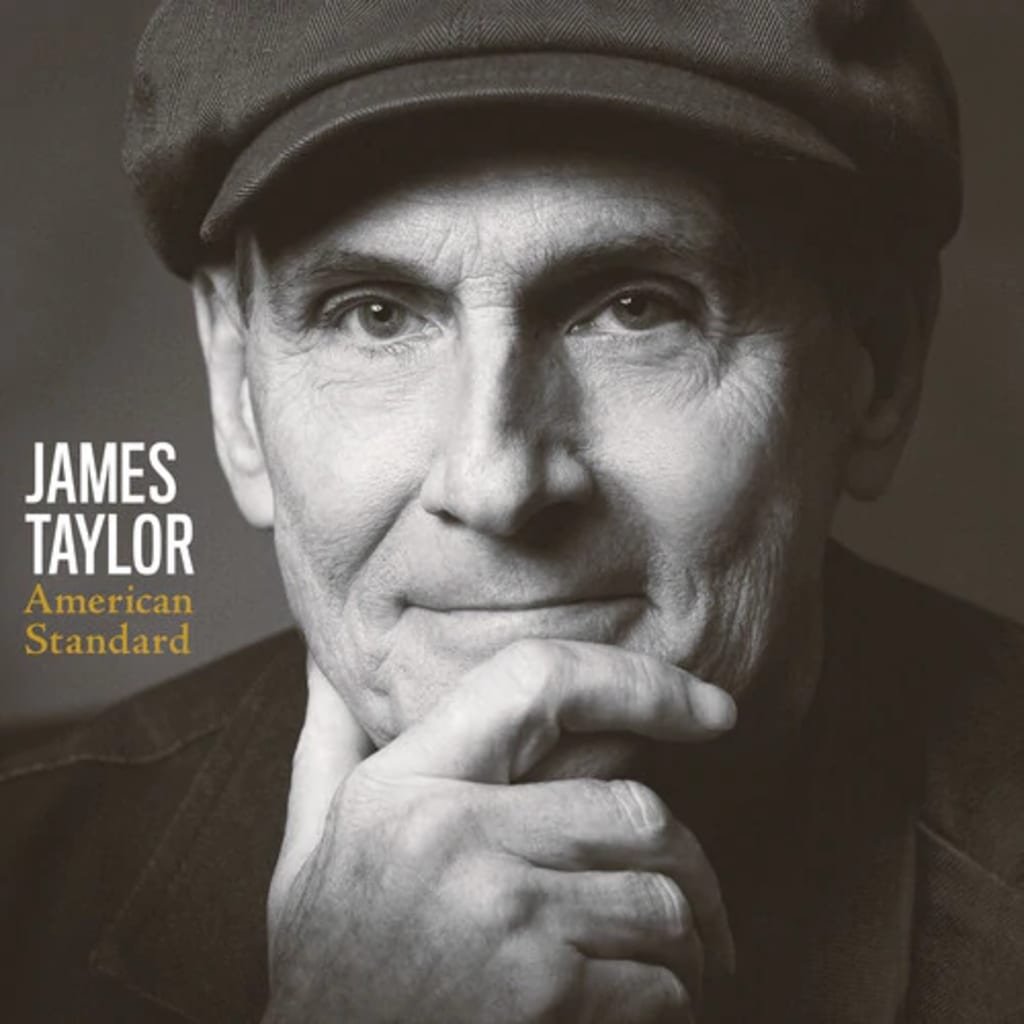 On February 28, 2020, just prior to a global pandemic coming to these shores, James Taylor finally followed up 2015's Before This World. But in this century songwriting had not come easily to James; in fact, he had to lock himself away to come up with the original material featured on the 2015 album. So not surprisingly, James had found a project here for which he didn't need to apply his songwriting skills
In the current century, James has done only two albums of mostly original songs. These have been augmented by several live albums or DVDs, a Christmas album, and an album and a half of songs he released under the titles Covers and Other Covers. And now he decided on an album of more covers.
But where Covers and Other Covers featured an assortment of 1950s pop and early rocktunes, American R&B songs, country music, and tracks by singer/songwriters who were his contemporaries, the songs selected by James Taylor for his American Standard album were by his account, mostly songs from the Taylor Family record collection when James was growing up. And to put it mildly the Taylor living room wasn't the only American living room enjoying these tunes, hence the "standard" designation.
This was not a particularly radical move for Taylor. He had presaged it several times, notably covering such American standards as "Oh What a Beautiful Morning" (on Other Covers); "Second Star to the Right" for a Disney "tribute" album done by Hal Willner; "It's Only A Paper Moon" (from the soundtrack for A League of Their Own and repeated on American Standard), and "Getting to Know You" for a Pediatric AIDS benefit album.
And at this point venturing into the domain of Sinatra, Bennett, Cole, Bing, and Fitzgerald was hardly a unique move for a performer of the rock age. By this time there were countless predecessors; everyone from Harry Nilsson to Boz Scaggs, Rod Stewart, and even Bob Dylan had done at least one album of standards. Both Linda Ronstadt, onetime fellow Peter Asher client with James, and Carly Simon, James's ex-wife, had both done multiple nostalgia albums.
The difference between James performances and that of his predecessor was that James Taylor treated these standards as though they were James Taylor songs, not stodgy classics. Whereas Nilsson used heavy string arrangements by famed composer/conductor Gordon Jenkins, Ronstadt employed Nelson Riddle for arrangements, and Dylan's albums were largely songs derived from the Sinatra canon, James seemed intent not on recreating the past but on simply doing the best job he could on songs he really loved. Unlike a lot of other "Songbook" albums, Taylor was paying homage not to the song interpreters he grew up with but to the writers of these songs.
Along with collaborator John Pizzarelli, Taylor worked out guitar arrangements for each song, adding parts for various guests but mostly maintaining a folksy intimate feeling. It's a smaller sound for Taylor than his albums dating from about 1975, but any of the songs could have fit onto any of those albums somewhat seamlessly. And while these performances won't replace the Sinatra albums and Broadway cast albums that James and his contemporaries grew up on, the joy with which he sings them is pretty darn infectious.
The album opens with "My Blue Heaven" written by Walter Donaldson and George A. Whitting for a 1927 film series called The Ziegfield Follies." it featured in a number of later films; Taylor's touchpoint was likely the 1956 smash R&B version by Fats Domino. Still, James does not channel Fats much here, this is a ballad reading with the guitars spiced by the violin/fiddle of Stuart Duncan.
Next is "Moon River" is written by Henry Mancini and Johnny Mercer. It was originally performed in the 1961 movie Breakfast at Tiffany's by Audrey Hepburn (Yes, she performed it herself in the movie; famously, her part in the songs from My Fair Lady in 1964 were mostly "ghosted" by singer Marnie Nixon--the mother of singer/songwriter Andrew Gold--who perfromed the same function for Natalie Wood in West Side Story and Deborah Kerr in The King and I.) It has been covered by countless singers over the years, most successfully by Andy Williams. Duncan and Jerry Douglass (on dobro) add coloring, with Larry Goldings closing out the song on melodica.
"Teach Me Tonight" is written by Gene De Paul and Sammy Cahn. The song has long been the domain of jazz singers, with pop singers occasionally taking up the challenge. As always, drummer Steve Gadd provides strong ballad accompaniment, augmented by Luis Conte's percussion. Walt Fowler provides a brief trumpet interlude.
One of the album's more obscure songs, "As Easy As Rolling Off A Log" is written by M.K. Jerome and Jack Scholl. Taylor performed it on tour in the summer of 2021, explainin that he first heard it in "Katnip Kollege," a 1938 "Merrie Melodies" cartoon. It's an upbeat mellow number, with the showstopper interludes coming from clarinetist Lou Marlini, a former member of Blood, Sweat & Tears and the SNL band.
"Almost Like Being In Love," is an oft-performed standard by Frederick Lowe and Alan Jay Lerner from the 1947 musical Brigadoon It was first sung in that play by David Brooks and was later performed by Gene Kelly in the 1954 film adaptation. Here, the backing vocalists--namely Kate Markowitz, Andrea Zonn, Dorian Holley, and Arnold McCuller--excel.
Another showcase for the for the backing vocalists is the next track, "Sit Down' Your' Rockin the Boat," written by Frank Loesser for the 1950 play Guys and Dolls. A devilish dobro from Jerry Douglas dances throughout the vocalizing and guitar work, with Viktor Krauss (brother of Alison Krauss) excelling on upright bass.
Next up is the classic "The Nearness of You," penned by the immortal Hoagy Carmichael and Ned Washington for the 1938 movie Romance in the Dark. This chestnut is effectively performed by Taylor and Pizzarelli, with color added by the trumpet of Walt Fowler. Taylor performed on a 2001 Michael Brecker album titled after this song, contributing a verson of his own "Don't Let Me Be Lonely Tonight."
"You've Got To Be Carefully Taught" was written by the legendary team of Richard Rodgers, music, and Oscar Hammerstein II, lyrics, from the show South Pacific. Stuart Duncan's violin adds the appropriate tone behind Taylor's reading on the this song about how children lose their innocence, especially in how they learn prejudice.
"God Bless The Child,' a song written in 1939 by Billie Holiday and Arthur Herzog Jr., is another tale of morality, this time about the superficial appeal of money. This is another vehicle for the excellent dobro work of Jerry Douglas.
"Pennies From Heaven," introduced by Bing Crosby in a 1936 film of the same name, was written by Arthur Johnston and Johnny Burke. The song has been performed by numerous performers; it was especially favored by jazz performers in the 1950s. The breezy guitar arrangement here gives way to organ accompaniment by Larry Goldings near song's end.
"My Heart Stood Still" is another piece written by Richard Rodgers, although this time with lyrics by his first partner, Lorenz Hart. A favorite of Frank Sinatra, the song here features the distinct guitar styling of Taylor, with Duncan's violin and Luis Conte's percussion bringing the song home.
"Ol' Man River" is another lyric from Oscar Hammerstein II, this time with music from his first partner Jerome Kern. Written for the 1927 stage production of Showboat, the song was given its defining performance by Paul Robeson, a bass-baritone singer who performed it in the 1936 movie and later would alter the song at recitals to reflect the messages of race relations he was attempting to convey. Wisely, Taylor doesn't attempt to match the powerful Robeson ballad. on this song, Taylor plays the melancholy lyric straight. The guitar arrangement here is pretty much unadorned, except for a late whistle from the singer.
"It's Only A Paper Moon is by Harold Arlen, Yip Harburg and Billy Rose. As mentioned earlier, this is a song Taylor had previously committed to tape for the movie A League of Their Own, but the song actually dates back to 1933 and an unsuccessful play called The Great Magoo, set in Coney Island. The song was performed by a number of jazz singers, especially during World War II before getting a new boost in the 1973 hit film Paper Moon.
"The Surrey With The Fringe On Top" is another Rodgers and Hammerstein classic, this time from the musical Oklahoma, and features James's wife Kim on vocals. Otherwise, the reading is fairly straightforward, but the vocalizing is heartfelt.
Some versions of the album featured additional bonus tracks "Ive Grown Accustomed To Her Face" by Alan Jay Lerner and Fredrick Loewe from My Fair Lady, and "Never Never Land" by Adolph Green, Betty Comden and Jule Styne from the 1954 musical version of Peter Pan. James would later release a digital EP that included these songs plus the Judy Garland standard "Over the Rainbow" written by Harold Arlen and Yip Harburg for the film The Wizard of Oz. The songs are of a piece with the album and are worth checking out.
No indication has yet been given of any future Taylor albums, but this one is a very listenable affair, though his versions are more likely to augment than replace the library of recordings that precede them. All in all, however, this is a nice album for a late winter afternoon.
About the Creator
Writer, Drummer, Singer, Percussionist, Star Wars and Disney Devotee.
sclifeonthespectrum.wordpress.com
Reader insights
Be the first to share your insights about this piece.
Add your insights