A recap 'No more demos' live at the arthouse
Write up about the arthouse show on the 10th of December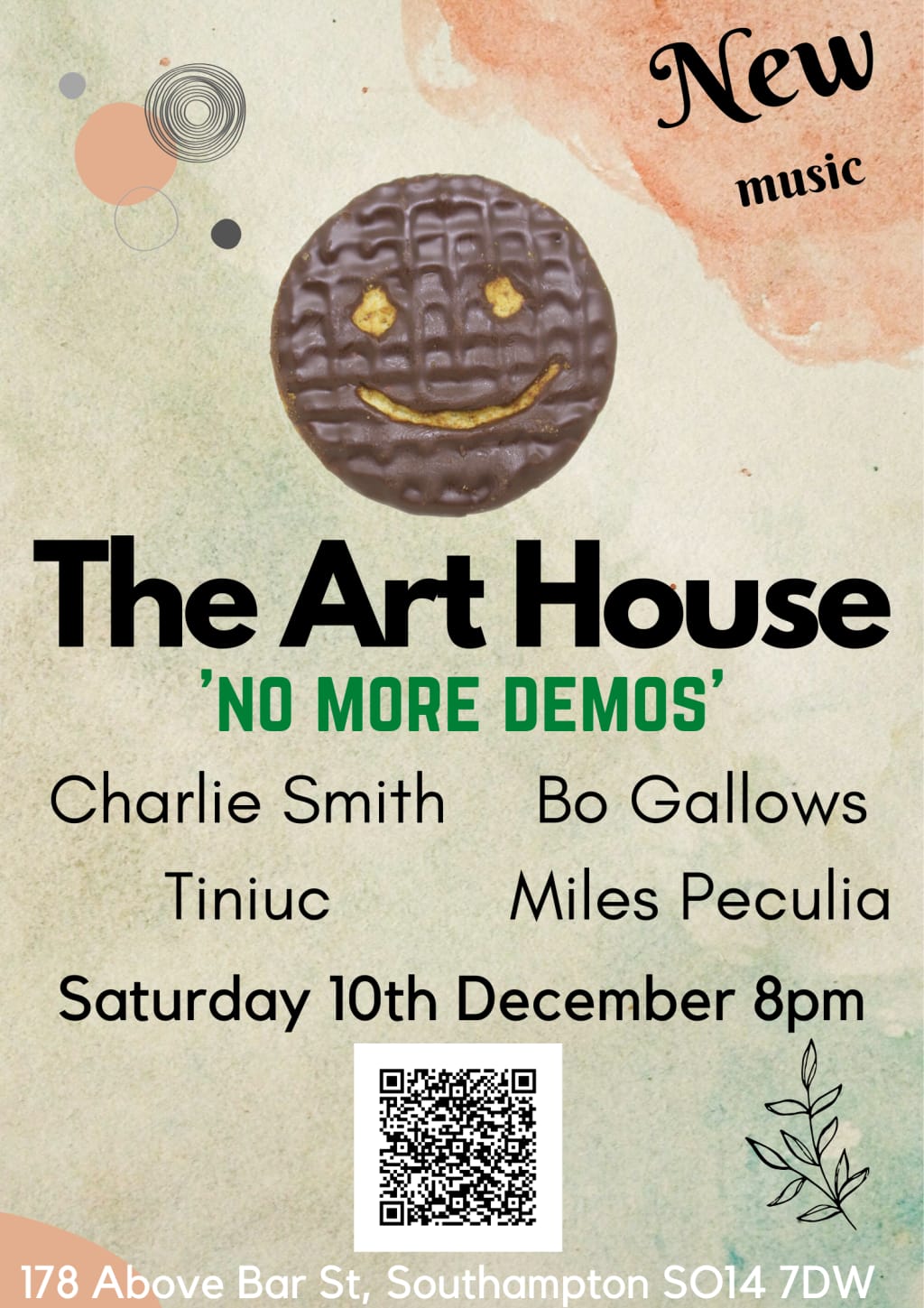 It's the time of the year for reflection and indulgence. We eat too much and we drink even more. It's time to end the year in style. For me, it's always a humbling experience when things go wrong and are challenging. I'm one for always learning and it's good to find out what you don't know, preferably this is done before the event happens, but that's life though it doesn't always happen how you expect. You have to expect the unexpected. So from a medical emergency at the start to a successful gig. Here is a little breakdown of how the evening went down on Saturday the 10th of December.
Before the evening even started we had to deal with a medical emergency that luckily turned out to not be as serious as I had feared. We managed to get through that and I have to give Bo Gallows massive credit for really making this event great by using his charm and charisma on the night and finding us an audience despite that. Sometimes things just don't go as you imagine/hope they would. It probably turned out to be one of the worst nights of the year to put a gig on. (Just the small matter of France vs England in the football) But spoiler alert they lost anyway. Due to that and it being freezing sometimes the odds really aren't in our favour. However, you really must not let that get to you. I am extremely grateful to everyone who did purchase a ticket in advance and did make it to the gig, not just this gig but also the other gigs I have hosted this year. However, despite rather disappointing advance sales we want to sell enough tickets on the night to make the event viable. Again, this is all down Bo gallows hidden sales technical which he is rather good at. He managed to sell me a new insurance policy I didn't know we needed.
The running order for the evening:
Tiniuc
Miles perculia
Bo Gallows
Charlie Smith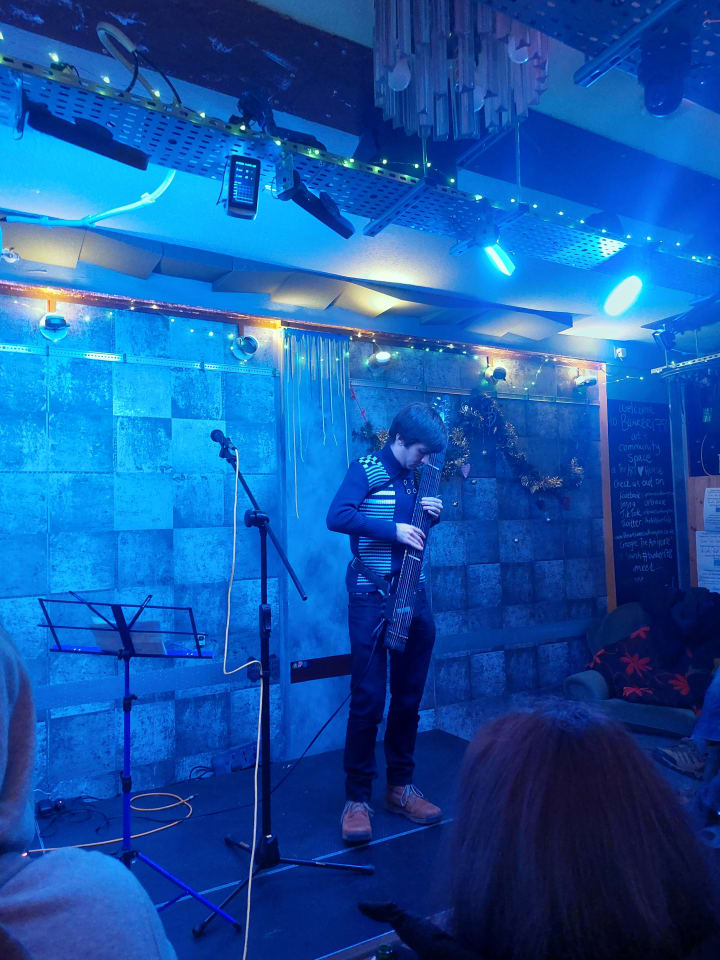 Have you ever heard of a Chapman stick!? Well, I had never heard of one before I met Alex. I must admit it is very strange in shape and sound compared to a guitar. It more sounds like a piano or a synth rather than a guitar. A nice way to start the evening with a little instrumental and something a little bit different.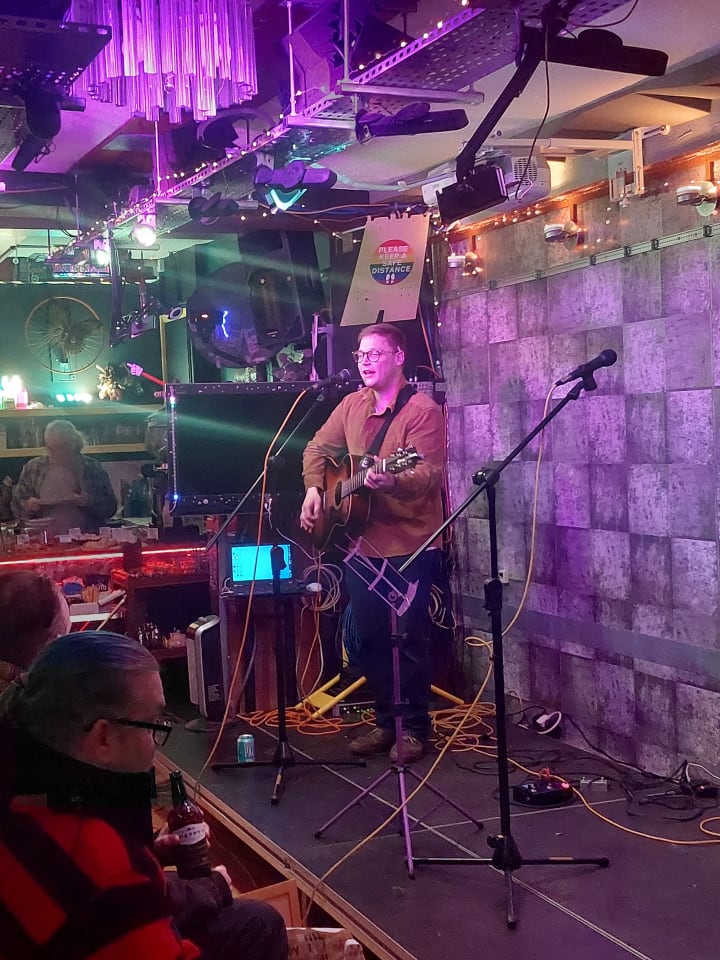 It might well have been his first gig performing but not his first gig supporting. He has been to a few of the gigs this year so it was great to actually get him up on stage. The most impressive feature of his set was that he managed to keep the self-rolled cigarette behind his ear for his whole set.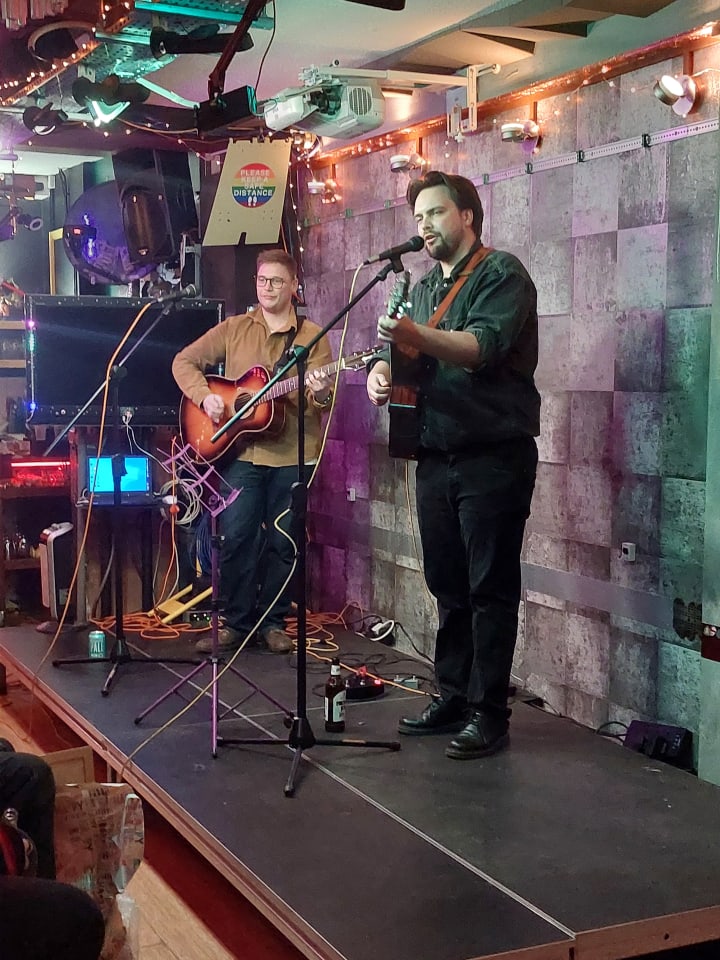 Next up we have the lovely Mr Bo Gallows. When he is not selling gig tickets you can find him up on stage. Not only did he perform a few songs with Miles Peculiar, but he also jumped up and did a song with me.
Then it was just up to me to give a few laughs and play through a few tracks of my latest release 'Not a demo anymore'. I played through it roughly in order and replaced the songs I couldn't play on acoustic with so of my older songs and a few covers.
**********************************************************************
I've learned two important lessons from this gig and it has inspired me to take action. In the new year, I will do a first-aid course so I can take action if required. I've also purchased a card machine aswell so that I can get take more payment options for tickets. It is important to learn and keep improving the events to the best of my ability. To conclude it turned out to be another fantastic night of independent music hosted at the arthouse despite the challenges. I just want to thank again the arthouse for having us and letting us do these shows. Thanks to all the performers and the audience. Hopefully next year there will be awesome shows at new venues and old ones.
Charlie
About the Creator
I'm new to this but hey I'm giving it ago. I sing and play guitar. I'm here to share a few bits of info I learn along my journey
https://linktr.ee/CharlieSmithMusic
Reader insights
Be the first to share your insights about this piece.
Add your insights