A Broadside At Your Favourite Songs and Artists From Half Man Half Biscuit
Songs From The Pen Of Nigel Blackwell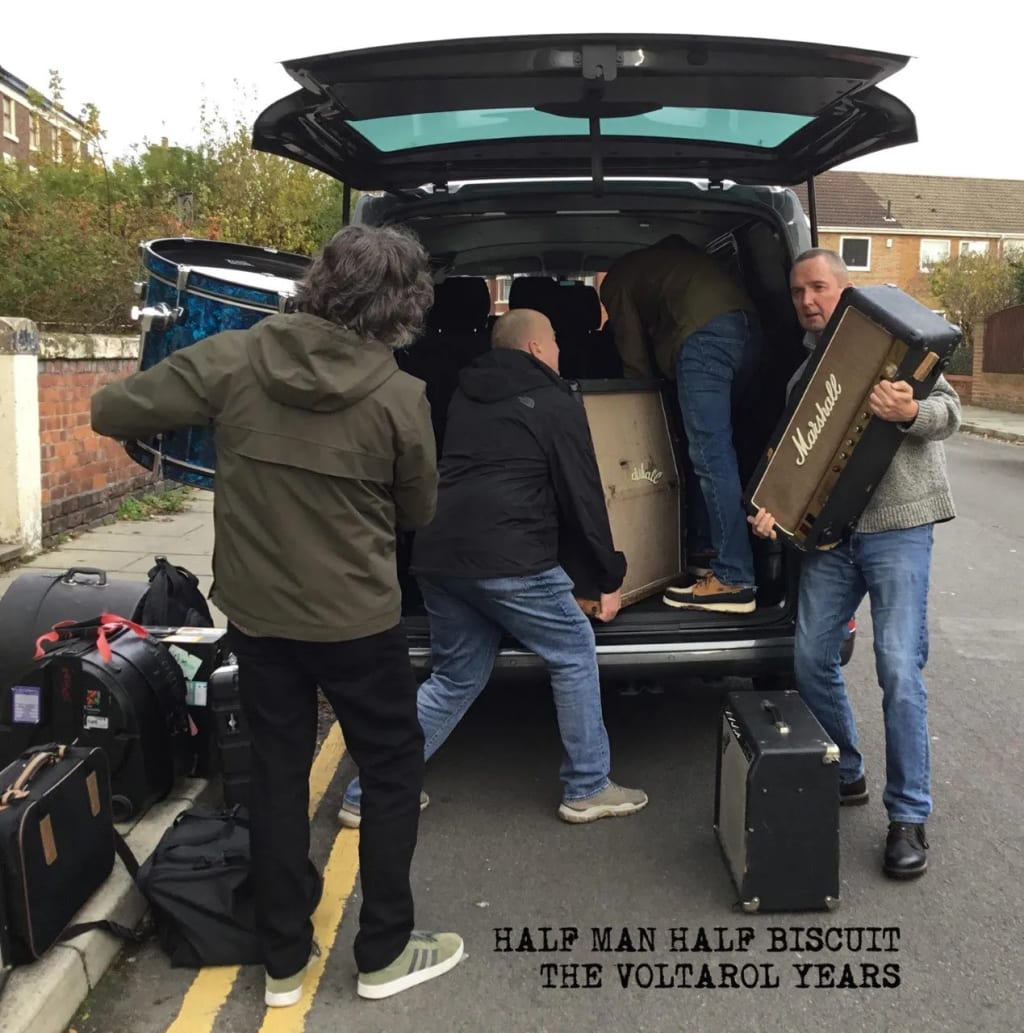 Half Man Half Biscuit - The Voltarol Years
Introduction
Most of you will never have heard of Half Man Half Biscuit and their leader Nigel Blackwell, whose lyrics have been documenting the minutiae of everyday life in the UK. He often either refers to a band or celebrity in the title or a famous song that you might know.
I wrote an appreciation of Nigel's work and it is one of my top ten most-read stories and deservedly so.
This is a trawl through their canon to maybe give you at least a little familiarity and also the opportunity to learn a little more about things in the UK.
All the lyrics are available on the HMHB Lyric site below.
So without further ado, we will drop into the familiar world of Half Man Half Biscuit.
All I Want For Christmas Is A Dukla Prague Away Kit
I seem to remember Dora Bryan had an awful novelty song called "All I Want For Christmas Is a Beatle" and Spike Jones had "All I Want For Christmas Is My Two Front Teeth" , and since this was released we have had Mariah Carey''s "All I Want For Christmas Is You". I was so sure there had been more "All I Want For Christmas" songs but apparently it is just these four, though the Maria Carey one has been covered many times.
Back to this song and it documents a home-pitched battle featuring Scalextric and Subbuteo between several schoolkids, possibly being autobiographical because I remember that happening to me.
The Dukla Prague Away Kit shirt is worn by many who attend their gigs and I have my own shirt for when I go to see them, although I lot of people for some reason ask me if I am Polish.
We Built This Village (On A Trad Arr Tune)
Obviously taking their cue from Jefferson Starship's "We Built This City (On Rock and Roll)" and re-siting it in a rural middle England comment on roads, and Brenda Blethyn getting shot, not something that would concern the Starship.
Joy Division Oven Gloves
This is referencing Manchester's Post Punks and marrying them to kitchenware. You can actually buy Joy Division Oven Gloves. My favourite line is "Nero Fiddle While Gordon Burns" referring to the Granada TV presenter
Eno Collaboration
This is almost a tribute to Brian Eno but is still very funny, especially with lines like this encapsulation Nigel's assessment of him.
I know Bono and he knows Ono and she knows Eno's phone goes thus:

"Brian's not at home, he's at the North Pole

but if you'd like to leave a weird noise"
Hair Like Brian May Blues
Authentic Birkenhead Blues targetting the hoar of Queen's guitarist, and it is very funny in the style of a ropey Robert Johnson.
Albert Hammond Bootleg
Albert Hammond is a musician I admired but Nigel has given a possible bootleg of his a little toxicity. Lots of dark humour in here.
The Bastard Son Of Dean Friedman
More dark humour about Bette Middler and Nigel discovering an unwanted paternity connection. I saw Dean Friedman at The Mouth Of Tyne Festival, he scored points for being anti Republican, but his response song to this was not very good at all, and his general music is not my cup of tea.
I Love You Because (You Look Like Jim Reeves)
Jim Reeves had a song called "I Love You Because", apart from the words this song has nothing to do with the Jim Reeves song but is viciously funny, with lots of reference to ancient British TV personalities.
Conclusion
These are a few more Half Man Half Biscuit songs for yu to explore and I hope you go further and maybe buy an album or two from Birkenhead's finest.
Reader insights
Outstanding
Excellent work. Looking forward to reading more!
Top insights
Compelling and original writing

Creative use of language & vocab

Easy to read and follow

Well-structured & engaging content
Add your insights