10 Cool Car Organization Hacks You'll Actually Want to Try
Believe it or not, there are lots of ways to organize your car. And with ten of the best car organization hacks, you'll never want to drive in a car without these tips and tricks.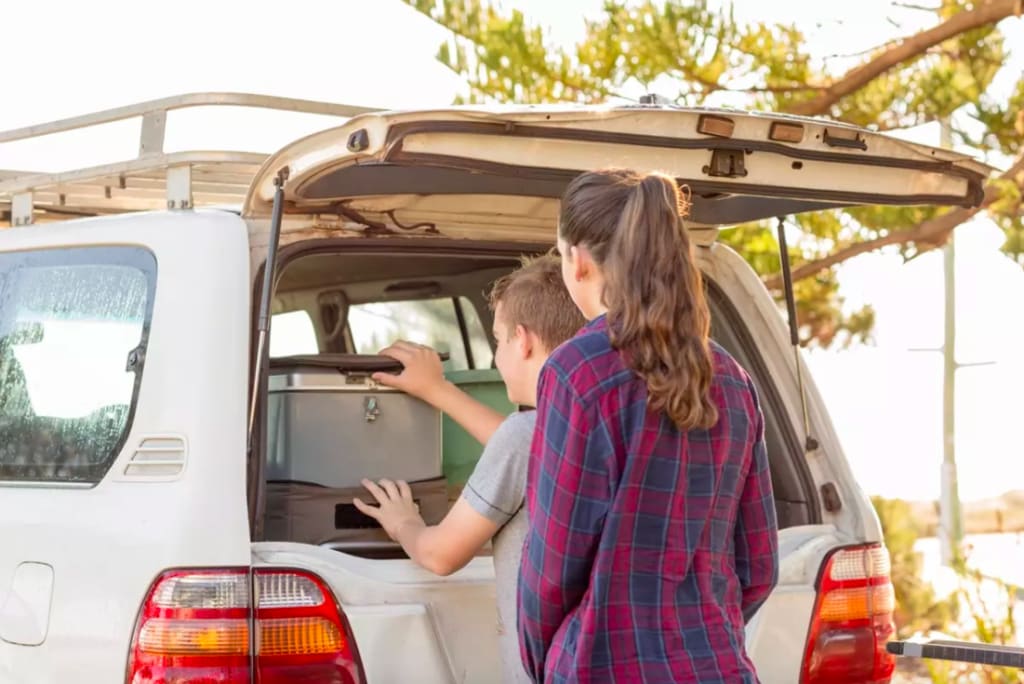 From discovering the magic of ball claws to finally filling that pesky seat gap, these are the top ten best car organization hacks.
Finding ways to organize your life, no matter the place, is important to maintaining a clear mindset and successful lifestyle. And your car is one of those places that will make a huge difference once you get organized.
To start off our list of the best car organization hacks, we're going to begin with a fun one. This is for all of the parents who struggle to maintain a clean backseat. Buying a couple bathroom shower suction holders to stick to your windows will transform the floor of your car.
Instead of finding crayons all over the floor, you now have a space for your kids to clean up after themselves. Suction two or three holders to your windows next to each of your kid's seats, and you'll instantly have a clean, organized kids station for all of your children's backseat needs.
Acrylic trays are great organizers.
To organize your middle console, acrylic trays are always great to organize small items. To separate a section for change, ponytails, lipstick, you name it, these trays provide one of the best car organization hacks.
A simple hack, but one that will make sure even the nook of your middle console is organized, these trays will provide a great spot for any of your lose items that will easily get lost. And of course, everyone needs a little spot for their change in case of tolls. This is also a great place to store tissues, hand sanitizer, and a car charger.
An old plastic cereal container is your new backseat garbage.
Using a plastic cereal container to create a DIY backseat garbage can is another great car organization hack. Garbage in the car is never anything too big, so this cereal sized container the perfect size for storing your garbage in the back seat.
Plus, it looks cuter than a loose plastic bag, and will remind you to take out the garbage from the car after a long trip. Don't throw empty wrappers on the floor of your car again, and provide a simple spot for your garbage with this cheap and easy container.
Your basketball will never noisily roll around the trunk again with this ball claw. A simple and easy product, the ball claw can hold basketballs, footballs, volleyballs, you name it.
Simply screw the claw with a regular screwdriver to the trunk, and you'll have a permanent ball holder in your trunk at all times. You can also use this to organize your garage, and mount each of your sports items to the walls with the same process.
Create your own trunk shelf.
Instructables has come up with a great car organization idea. This one too has to do with the trunk, and it is a pop-up trunk shelf. This shelf will make storing groceries, luggage, sports equipment, you name it, in your trunk.
No matter the task, you will be able to store rows of items without them being crushed or damaged. Plus, the trunk will be instantly organized. And with only a needle and thread, hacksaw, and scissors needed, you can pride yourself in making your very own organizer.
Use silicone cupcake liners in your cup holder.
This is one of the most simple car organization hacks, but it will definitely make clean up a lot easier.
And all you'll need is a pack of silicone cupcake holders! Simply add a couple holders to line your cup holders, this way you can easily remove the liners, and get rid of the dirt and garbage that inevitably lands in the bottom of the cup holders. Silicone liners are better and more durable than paper ones, but both will work equally.
Another simple addition to your car, these hooks are perfect for keeping your items off the floor of your car. These hooks are meant to be added to your headrest, and they only cost a couple bucks.
Perfect for storing your purse, jacket, umbrella, and shopping bags for easy access, you will keep your car organized and clutter-free. Plus, they can even hold up to 50 pounds each!
Pet lovers should try out doggie seat covers.
If you are a dog owner, you know the struggle of keeping your seats fur-free. And while your car is dirty, there's no possibility of you organizing it. So instead of allowing this to happen, you should consider these dog seat covers by 4Knines. Found on Amazon, these seat covers are some of the best car organization hacks available.
Coming in regular sizes or extra large, these heavy-duty pet seat covers will protect the seats from even the fluffiest dogs. Plus, the covers look sleek and clean at all times. Easy to install, it will take just minutes to install your covers, and your car will instantly transform into a clean, pet-ready backseat.
Make your own family care kit.
An idea by Bluei Style Blog, creating your own makeshift family care kit will have you prepared for anything on the road with your fam. They suggest including wet wipes, sunscreen, a first aid kit, kid's pain reliever, antibiotic cream, antacid, nausea pills, bug bite relief cream, and bandages.
Because you never know when you might need some of these items, or even all of them. Plus, you can also include a snack tray with cheese and crackers, fruit snacks, granola bars, etc. And to complete your kit, the last drawer should include some clothing care like stain remover, lint rollers, scissors, and even a mini sewing kit.
To complete our list of the best car organization hacks, we had to mention this little product. Everyone has struggled with dropping things between the seats, and never seeing them again.
Or how about dropping your phone between the crack to spend all too much time shoving your fingers uncomfortably to retrieve it? This gap filler will finally solve this problem, and make your car cleaner and easier to maintain. It's simple, it will block the gap between your seat and your center console, so you'll never lose a french fry, your keys, or your phone between the seats again.
About the Creator
Passionate about writing, animals, makeup, movies, friends, family, learning, exercising, and laughing!
Reader insights
Be the first to share your insights about this piece.
Add your insights