Basic Guide to Visit Germany
Travel Guide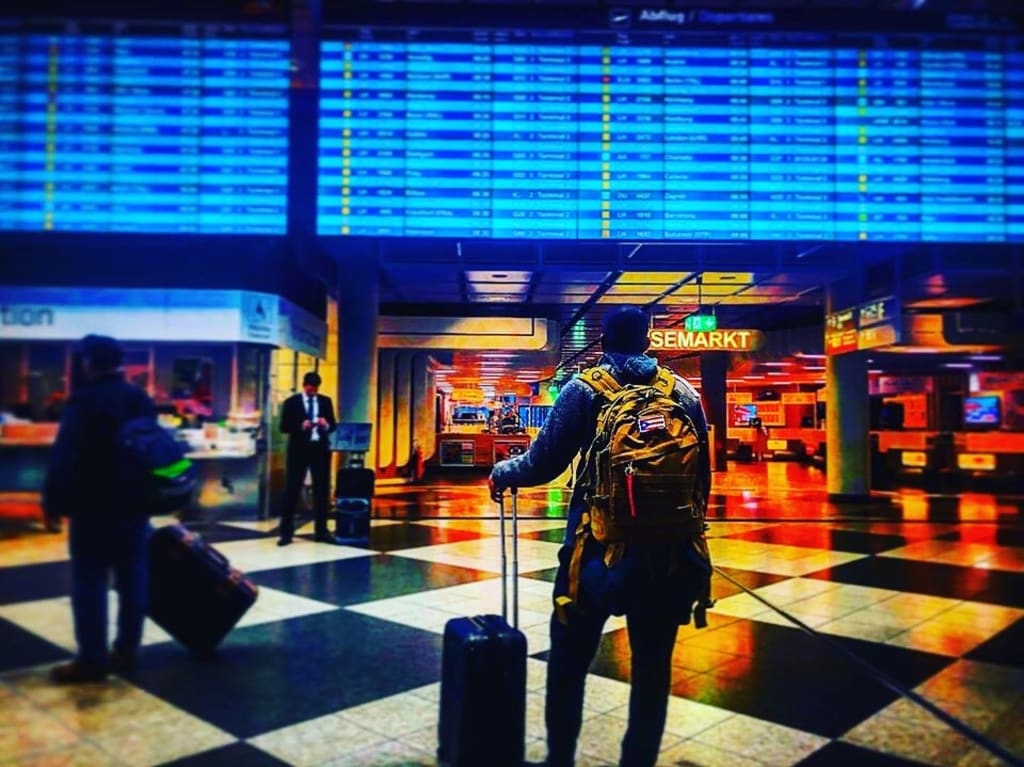 Munich International Airport
Getting to Germany
The cheapest way to travel from the United States to Germany would be through international airports like ORD in Chicago or JFK in NY to any part of Europe and then fly from that city to your final destination in Germany. Often times, one can find cheaper prices when booking separate tickets and travelling through different countries. To give you an example, we flew from ORD to LHR in London for 350 USD round trip per person, from there we took another flight to DUS in Dusseldorf, Germany for 80 USD per person which totals 430 USD. If you were to book separate tickets our recommendations to enter Germany would be to fly into Hamburg, Berlin or Munich.
Sometimes you can find cheaper flights to other cities that we have not mentioned, and from there one can take a train to the cities of interest and save more money. We have noticed that there are some direct flights from different international airports in the US to Germany. However, buying tickets with multi city stops will save you a lot of money.
Best dates to visit Germany
As for best dates to travel to Germany, traveling in the Fall between the months of October and November, one might be able to pay around 400 USD round trip to Germany. In the Spring, we have seen that flights are usually cheaper from March through May. One might even find a direct flight to Frankfurt from Chicago O'Hare for as low as 450 USD. We recommend planning for trips and buying tickets well in advance, as the closer the dates approach, prices on flight tickets increase. Also, if one where to find a ticket at a good price (less than 400 USD) and you are already determined to travel to Germany, buy the ticket, it is likely you will not come across that price again.
Preparing for the long flights
Remember, when flying abroad, it takes plenty of time to reach your destination. Dress as comfortable as you can—some may even fly in their pajamas. Bring some snacks with you, as some of the cheap airlines available like Norwegian Air will not include a meal for the long flights. Always make sure to read the full information of your ticket and restrictions. Some airlines, like Eurowings, have a weight limit for carry-on luggage (8 kg or 17.6 lbs.), which some may think absurd to fly abroad with, but if you plan accordingly, like us, you can fit a 10-day trip in your carry-on while staying within limits. We prefer flying with American Airlines when travelling abroad; they have great reviews, and some of the newest airplanes and their in-flight meal is really good.
How much time should one need to visit Germany?
We spent a total of 10 days in Germany and only visited the big cities, and still it feels like it wasn't enough time. We would recommend at least 2 weeks (14 days) to explore at least cities like Frankfurt, Munich, Berlin, and Hamburg. This should be enough time to see most of what each of these cities have to offer.
When in Germany
The first thing you should do when you reach your destination in Germany is find a place to exchange currency. Germany's currency is EURO and this currency has more value than the USD. When exchanging currencies, you should never exchange in the airport and should wait until you are close to a central train station where you can find many places to exchange USD to EURO. In addition, the more USD you exchange, the better the exchange rate. Another method is to withdraw money from ATM—though we have not tried this method, it seems to be recommended as there is no fees to withdraw in many ATMs and one can get the best exchange rate. Even though many places in Germany only take cash, it is useful to have a credit card.
We recommend buying a ticket for public transportation in the cities. Prices for these vary per city and how many days one wants the ticket for. We have found that the easiest way to explore Germany is by using public transportation. Trains, buses, and subways are all reliable in Germany. One can use Google maps to find the best transportation to reach your destination. Some of the public transportation even have direct access to the main attractions. For example, in Berlin, we had a subway station right next to our hotel which had a direct route to the Berlin Wall.
To move from city to city, you will need to buy a train ticket. These can be bought through bahn.com. Like mentioned before, the earlier you buy tickets the cheaper it is. For instance, a train from Dusseldorf to Munich cost 59 EURO for 2 people, booked 1 month before the trip. If one was to buy the train tickets the same week, the same tickets could have cost 189 EURO. In addition, an information center is available at every central station and airport. In Germany, most of the people speak German and English, so as long as your English communication skills are good you should be fine. A translator, like Google translate, is a great way to communicate with those who only speak German.
Düsseldorf
We picked Dusseldorf as our way in to Germany because it was the cheapest flight we could find and the most central to some of the cities we wanted to visit, like Aachen and Köln. Düsseldorf is a city in western Germany known for its fashion industry and art scene. In Dusseldorf, hotels can range from 60 USD to 100 USD, depending on the season.
Plane tickets can range from 30 USD to 90 USD from London. From this city, one can find train tickets to Köln for as low as 20 EURO.
Munich
Train tickets from Dusseldorf to Munich can range between 25 EURO to 70 EURO, depending on when you book. It takes 4-5 hours by train, so we suggest taking the train early in the morning to enjoy the rest of your day in Munich. Once in Munich, a city ticket cost around 12 EURO per day. This city is majestic in its own way. Home to one of the largest urban parks in the world and many beer gardens. Munich is known for its annual Oktoberfest celebration and its beer halls. In this city we recommend visiting one of Munich's oldest beer halls, Hofbräuhaus. Here you can try Munich's finest beers and authentic German meals. Another place to visit is Augustiner-Kelle, a beer garden where you can also enjoy authentic meals. Munich is also home to one of the biggest rural parks, the English Garden. This park has plenty of things to offer, whether you want to explore the park, grab a beer in any of the 4 beer gardens, rent a pedal boat or even sunbathe in the lawn.
Another popular place to visit in Munich would be the Olympiapark where you can find attractions like aquariums, zip line inside the Olympic stadium, the Olympic Tower of Munich and many other. The BMW museum and the BMW Welt, are also located just on the outside of the Olympiapark, where you can find the history of BMW, antique vehicles and the most updated vehicles.
In the city of Munich, we recommend staying near the central train station. We found it very easy to move around while staying in this area. The hotel of our choosing was the Vi Vadi Hotel, for which we paid around 70 USD per night, though nightly charges can vary per season. This hotel is located in downtown and is only a five minutes walk away from the central station.
Berlin
The city that never sleeps. From Munich to Berlin we traveled by plane due to an increase in prices for train tickets. We saved more money by flying into Berlin. Note that we took a train from central station to the airport; however, the train that takes you to the airport is not always included in your regular train and bus ticket—it varies per city.
Out of all the cities we visited, Berlin was our favorite. The city is known for many monuments and landmarks like the Victory Column, The Berlin Wall, Check Point Charlie, and others. If you want a wonderful view of central Berlin, one of the places you should add to your list is the Berlin Fernsehturm, also known as Berlin TV Tower. Tickets and prices for this landmark can be found online. You can take a look at the pamphlets provided to you with your public transportation ticket or the ones in the hotel lobby to plan the visits to your desired landmarks and monuments.
We highly recommend buying public transportation tickets during your visit in Berlin since the places of interest may be far apart from each other. We bought our tickets at the airport—these tickets included all public transportation and discounts in different locations such as restaurants, shops and attractions. When in Berlin, we did not stay near the central station; however, train and bus stops were minutes way from our hotel, which made it easy to move around the city. Sana Berlin Hotel was the hotel of our choosing for our days in Berlin—it is a beautiful hotel with an indoor pool and sauna included in your stay. As for places to eat, Berlin has many restaurants with great reviews. A place that we would highly recommend would be Chopstix located in Alexanderplatz, in central Berlin. This restaurant offers Vietnamese and Japanese fusion meals. And best of all, it has a perfect view of the Berlin TV Tower from the bottom.
Hamburg
We took a train from Berlin to Hamburg where we traveled for two hours. Hamburg, compared to the other cities that we visited in this trip, was a more relaxed environment. We saw a lot of families having lunch, chatting at a cafe and strolling through the parks. Here you will find a beautiful park called Planten un Blomen where you can find water sports and playground for kids, as well as a Japanese garden. It's a great place to sit and relax, have a picnic, and even get your feet in the water. One can also visit the Cathedrals, such as Saint Peter's Church which is known for its stained glass windows on top of the altar and Flussschifferkirche which is a floating Church—Domkirche St. Marien and St. Nikolai Memorial are other Cathedrals one may visit.
An activity that may be of interest while in Hamburg are water sports. During our visit, we decided to rent a pedal boat at Outer Alster Lake. From the lake we could see the TV Tower, Saint Peter's Church and Domkirche St. Marien. The rental was 20 EURO per hour for one pedal boat, which may fit up to four people. We rented the boat at Segelschule Pieper and the service was great; they also have a pier or wooden walkway that takes you to a cafe where you can sit and enjoy the view of the lake.
We enjoyed our stay in Germany so much that we will, without doubt, visit again. This is why we wanted to share our experience and provide you some tips so you can also have a great time. Hopefully our guide will help you plan a trip where you will enjoy every moment of it—from start to finish.
Crossing out Germany from our bucket-list.
guide
Our names are Armando and Joareliz.
We are travel bloggers from San Juan, Puerto Rico.
Follow us on Instagram: @bucketlistjourneys_