5 Places and Things to Do in Utah
Utah has tons of exciting, fun, adventurous places you must see!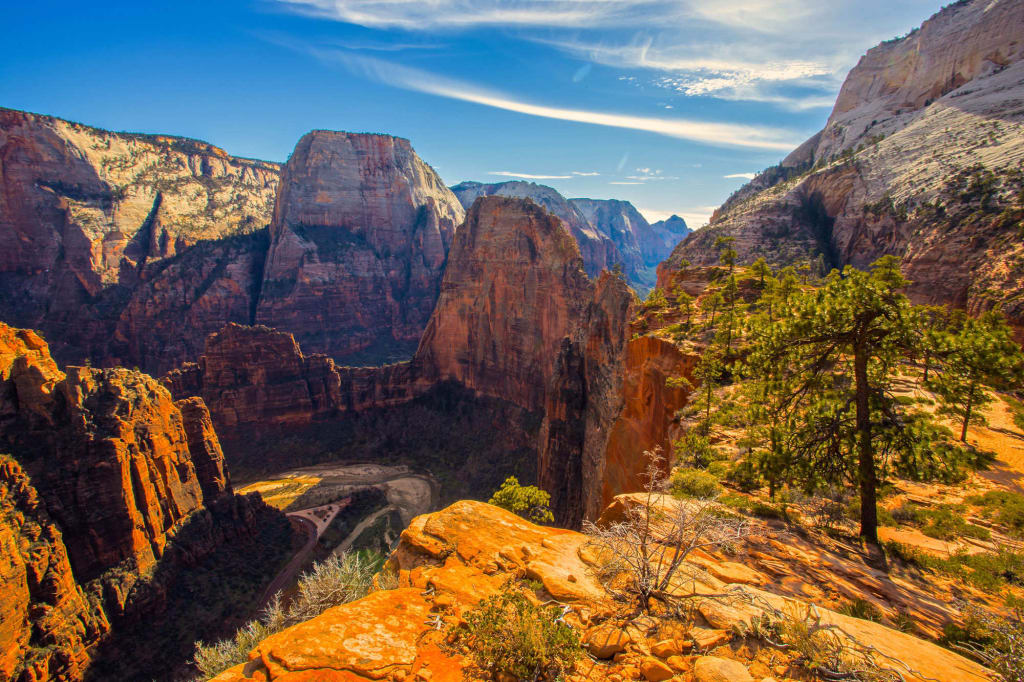 Zion National Park
Utah, home of the Great Salt Lake, and where the first permanent settlers for the Mormon church settled. So, what's so great about this state? There's many things, but to make this quick, I'll just list a few:
First off, we have some of the GREATEST snow! Seriously though, it's the best! Perfect for sledding, skiing, and especially, snow ball fights!! All of these things bring us to the first of five places you must visit: Park City. This place is awesome! There's tons to do! Lots of shopping outlets, museums, and most of all, skiing. Also, if you go in the month of January, you'll be there just in time to check out the fun Sundance Film Festival held every year in Park City. This festival started in 1978 in Salt Lake City to attract more filmmakers to Utah. Soon, the festival moved to Park City and now has thousands of attendees every year! This is a great and fun activity for all families.
The next place you must visit is one of our many national parks! Utah is home to five different ones, and they're all amazing! You'll find that there are tons of different things for everyone to enjoy. There's Bryce Canyon National Park, Zion National Park (which is about an hour from a fun town called Saint George), Arches National Park, Canyonlands National Park, and Capitol Reef National Park. If you love hiking, climbing, beautiful scenery, or photography, you'll definitely want to check out one or even all of these national parks! You won't see more impressive arches, national bridges, rivers, or canyons anywhere else!
Next up? We have the Wasatch and Uinta Mountain Ranges. What's so great about these mountains, and why am I adding them to this article? Well, they provide lots of opportunities for hiking, camping, fishing, ATVing, biking, climbing, and even backpacking. These mountains are amazing, and you'll never see any others just like these, so grab your tents, RVs, fishing poles, and backpacks, and get ready for a fun time in these mountains with family and friends!
Museums will be our next topic! Utah has quite an array of fun museums for all ages! There are aquariums, children's museums, church museums, history museums, art museums, and so much more! We've got the Natural History Museum of Utah and the Utah Museum of Fine Arts in Salt Lake City, we've got Hill Aerospace Museum in Ogden, Joseph Smith Memorial Building also found in Salt Lake City, Thanksgiving Point in Lehi, and Clark Planetarium in Salt Lake City. These are just a few of many museums in Utah that can be a fun, yet educational experience for all ages!
And last, but not least, we have Temple Square. Temple Square is a complex owned by The Church of Jesus Christ of Latter Day Saints in the center of Salt Lake City. So what's so great and fun about Temple Square? Well, besides there being a gigantic, gorgeous temple right in the the center, there's tons of things to do surrounding Temple Square. There's shopping to be done at the City Creek mall with stores such as Alex and Ani, LUSH, H&M, American Eagle, Forever 21, and so much more! There's also museums around, tons of restaurants, and there's some fun tours to go on. Not to mention, there's a bunch of nice hotels around that you'll definitely want to check out...or check in!
So, there you go! The five best places you'll definitely want to visit the next time you're in Utah! Or, hopefully, after reading this article, you'll want to plan your next vacation here in Utah!