'She Believed She Could, So She Did' Feminist Affirmation Cards Review and More
#Review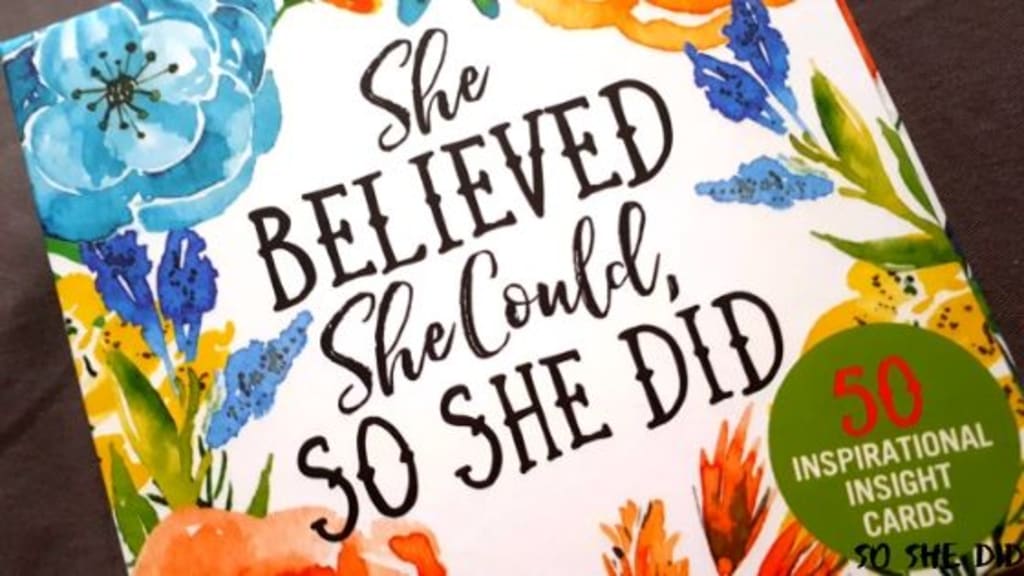 I decided to buy my first collection of affirmation cards and I ended up choosing one called She Believed She Could, So She Did byPeter Pauper Press Inc. However, I realized even before buying them that I can't see all of the cards that come inside. Since I took the chance anyway and had them delivered to my doorstep, now it's my turn to let you know what cards come in this pack and what I thought about them.
What are affirmation cards?
Affirmation cards are cards that help bring "positivity" into your life. Generally, you pick one a day to give yourself a positive message in the morning. This deck is a bit different; it aims to give feminist inspiration to help woman build ambition and achieve their goals.
Peter Pauper Press Inc. explains the process like this: "Select a card, make its message your theme, and see what you can accomplish! Share with family, friends, clients, and colleagues to spread the positivity."
"Woman Must Not Accept, She Must Challenge" - Margaret Sanger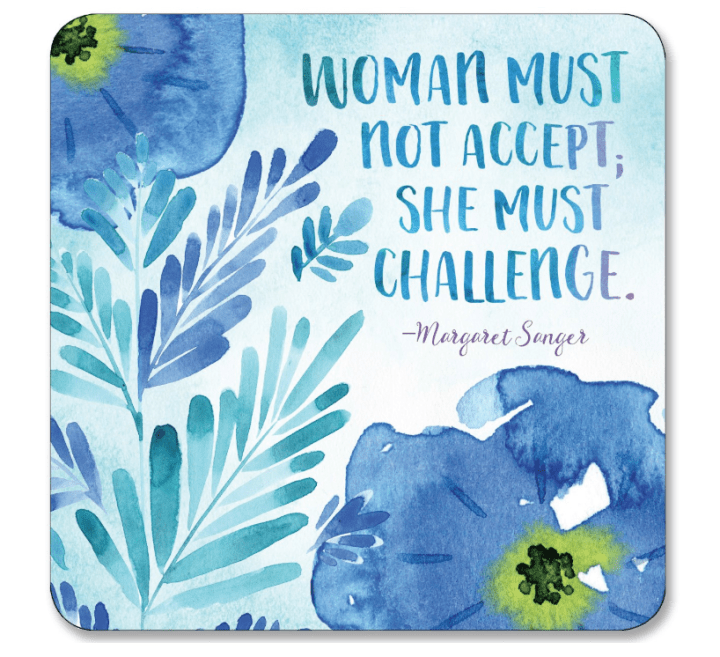 All 50 of the cards are 4 inches by 4 inches.
The Packaging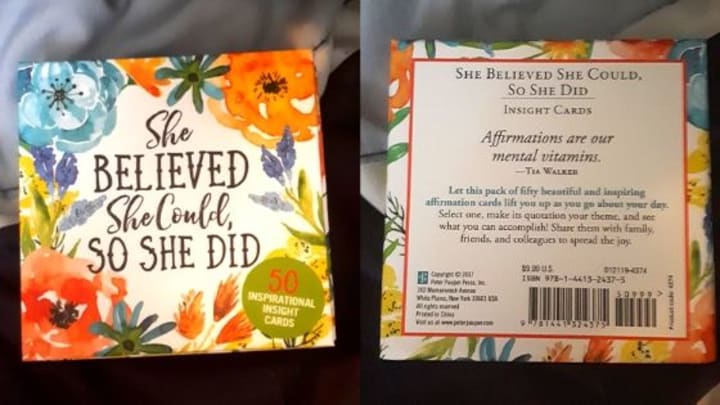 I already liked it once I got the box; it's sturdy, pretty and useful since I can always use the box it came with to store the cards.
My Favourite Cards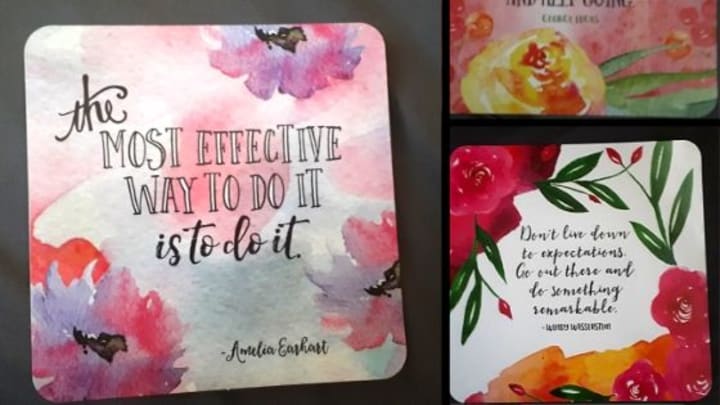 The Quality of the Cards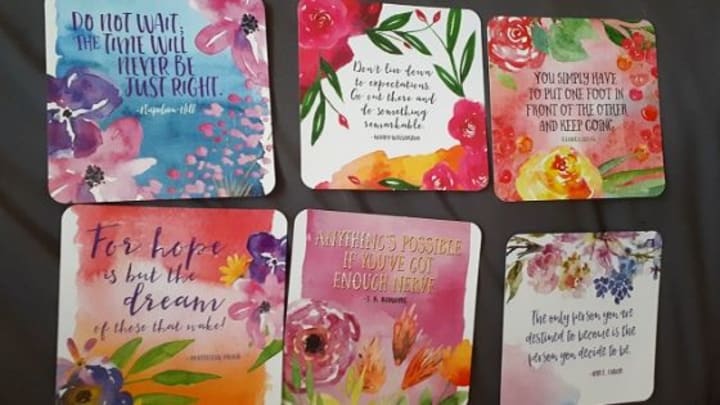 I am very happy with the quality of the cards! They are shiny, colourful and durable. If I spilt a small amount of water on one, it would still be fine... mind you they are not 100% waterproof.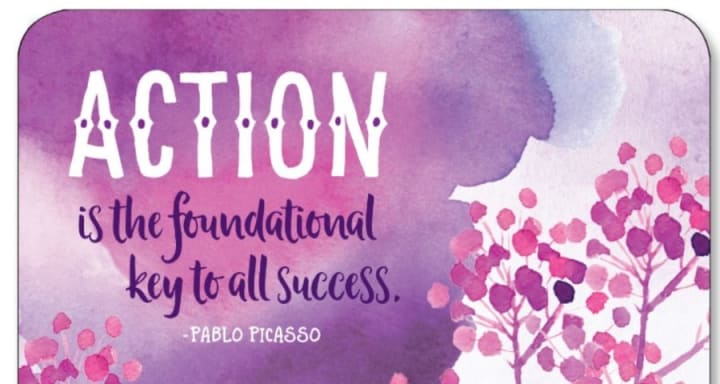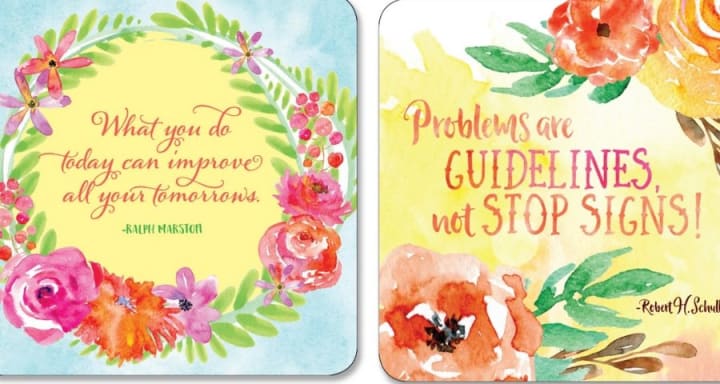 A Look at the Cards
I love the watercolour art. Unfortunately... not all of the cards held up to my expectation in terms of aesthetics.
8/10 Stars
I love them, but I wish they all had the same quality of art that is shown on the ad. Also, it turns out other people don't really like aspiration cards as gifts...
ISBN for 'She Believed She Could, So She Did' by Peter Pauper Press Inc.
ISBN: 978 - 1 - 4413 - 2437 - 5 (978-1-4413-2437-5)

Hello. Nice to meet you! How are you? Hmm... this feels like a really one sided conversation... why don't you follow me on social media so I can get to know you too!
About the Author
I started blogging about two years ago, and my collection of blogs and articles is getting pretty impressive. I've taken online classes for writing, and even some classes about the art of blogging itself. It would be really awesome if you join the adventure, and maybe even help me think of what to write about next. If you would like to submit some feedback or ideas, you can always tweet me on Twitter.
Like the story? Share it on social media!
Thank you for reading my article. Would it be okay if I ask another favour though? Would it be okay if you share this on your Facebook page or Twitter? If you can't share, there is a tiny little donate box at the bottom too. No pressure though, just thought I would mention.
Work Cited
She Believed She Could, So She Did Insight Cards Empowering Thoughts and Quotations for Women. Peter Pauper Pr, 2017.
Amazon. "She Believed She Could, So She Did Insight Cards (Deck of 50 Inspirational Cards): Inc. Peter Pauper Press: 9781441324375: Gateway." She Believed She Could, So She Did Insight Cards (Deck of 50 Inspirational Cards): Inc. Peter Pauper Press: 9781441324375: Gateway - Amazon.ca, www.amazon.ca/Believed-Could-Insight-Cards.