"Drag Race UK" Features Poignant Look At Gender Norms
Queens Ginny Lemon, Sister Sister And Bimini Bon Boulash Shed Light On Life Outside The Gender Binary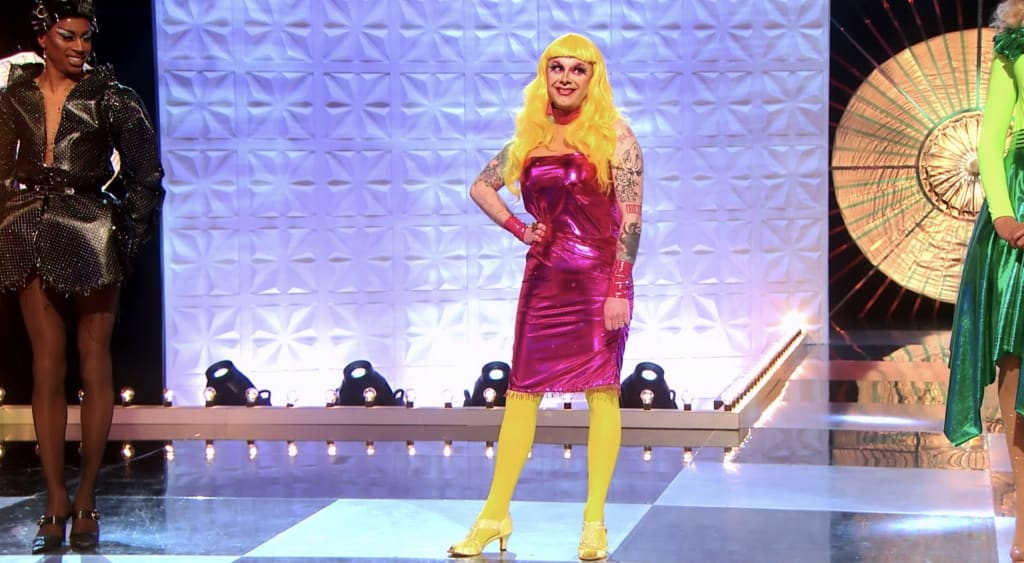 https://u2k3a4x7.stackpathcdn.com/wp-content/uploads/2021/01/Drag-Race-UK_203_B-scaled.jpg
Although I've watched all 12 complete seasons of #RuPaulsDragRace and am currently well into season 13, this is my first time watching #RuPaulsDragRaceUK. The most recent episode on January 28 on #Crave in Canada featured probably one of the most remarkable, poignant and heartwarming conversations about gender norms and life outside the gender binary between two of the queens - #GinnyLemon and #BiminiBonBoulash.
The queens were involved in a sewing contest where they were paired off and had to determine "Who Wore It Best?" Ginny was speaking with her partner, #SisterSister, about how she preferred to wear yellow because it was the non-binary color, and then was asked by Sister what she felt her identity was. Ginny became emotional and admitted that for years she didn't know "what [she] was."
It was at that point Bimini Bon Boulash approached. Bimini identifies as non-binary and reached out to Ginny Lemon when they realized that their fellow competitor was struggling. What ensued was probably one of the most heartwarming and poignant discussion about living life as a non-binary individual and the issues that can come as a result of struggling with one's gender identity.
Bimini acknowledged how difficult the discussion regarding the gender binary - or rather, the gender non-binary - can be, and according to Gay Times, said their identities were theirs and not for anyone else to debate. It was likely one of the most forthright conversations about gender I can recall ever being had on any Drag Race iteration.
Ginny indicated that it wasn't until they left their family home that they began to accept who they were. This was after they'd believed for years that they were "ugly and stupid," and in listening to this conversation, I had new insight into the struggles those individuals who identify as non-binary might endure as they work towards self-acceptance and towards being accepted by their family and friends.
I really respected what Bimini said about how the term non-binary was really a new term, in that we were now identifying those who felt that they did not necessarily fit into gender normative roles and attributes, but it was not a new idea. Just because we've come up with a new label for something does not necessarily mean that the idea of that particular thing is new. The challenge, Bimini pointed out, was that people like Ginny Lemon and Bimini Bon Boulash don't always fit in so easily in a world that still largely adheres to a gender binary.
This season of #DragRaceUK has been very heartwarming as the queens find themselves suddenly vulnerable in ways they'd never really found themselves in previously. This conversation between Bimini Bon Boulash and Ginny Lemon, though, also serves to show the progress #RuPaulsDragRace has made as far as its consideration of those who aren't exclusively gay males. This year, on season 13 of American Drag Race, the show's introduced its first transgender male competitor. There are more queens on both shows who say on the show that they don't adhere to gender norms. Gone out of both iterations of the show is the phrasing "Let the best woman win" and instead we hear "may the best drag queen win."
These are all important changes that the show has made over the years in order to adapt to the changing world around it. Ginny Lemon's and Bimini Bon Boulash's conversation in the #werkroom, while unscripted, only adds to those adaptations, as this is a conversation that #DragRace has never really had previously. We can only hope that queens like Ginny Lemon and Bimini Bon Boulash have now paved the way for more of those conversations to occur. As Bimini said in a recent tweet, "The human existence is complex...Remember some of the best artists in the world rejected gender norms."
pop culture
About the author
I'm a high school English and French teacher who trains in the martial arts and works towards continuous self-improvement.
Reader insights
Be the first to share your insights about this piece.
Add your insights