10 Feminist Female Artists You Should Know
Lessons from painters lost in the past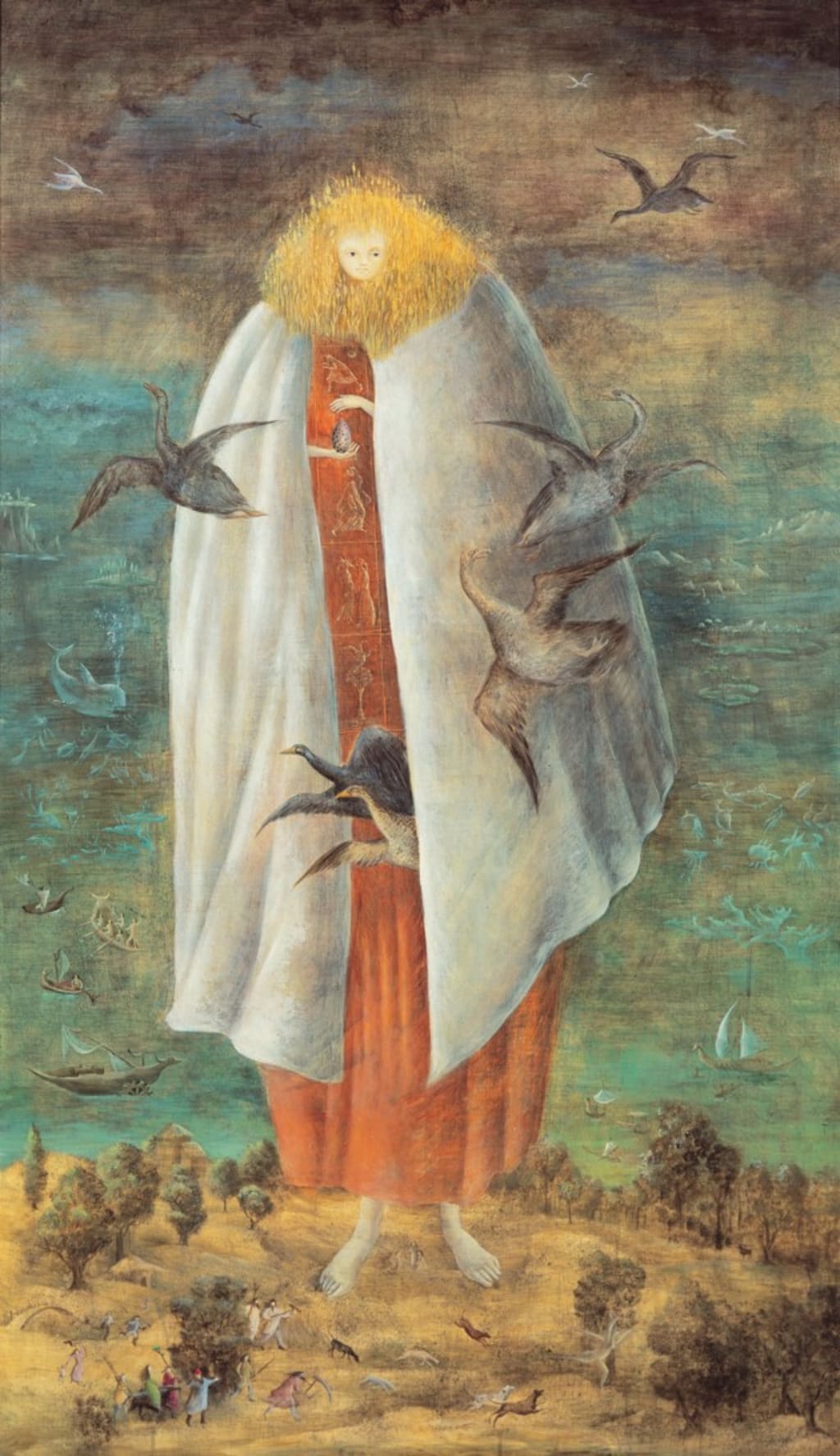 1. Black Iris III by Georgia O'Keeffe (1926)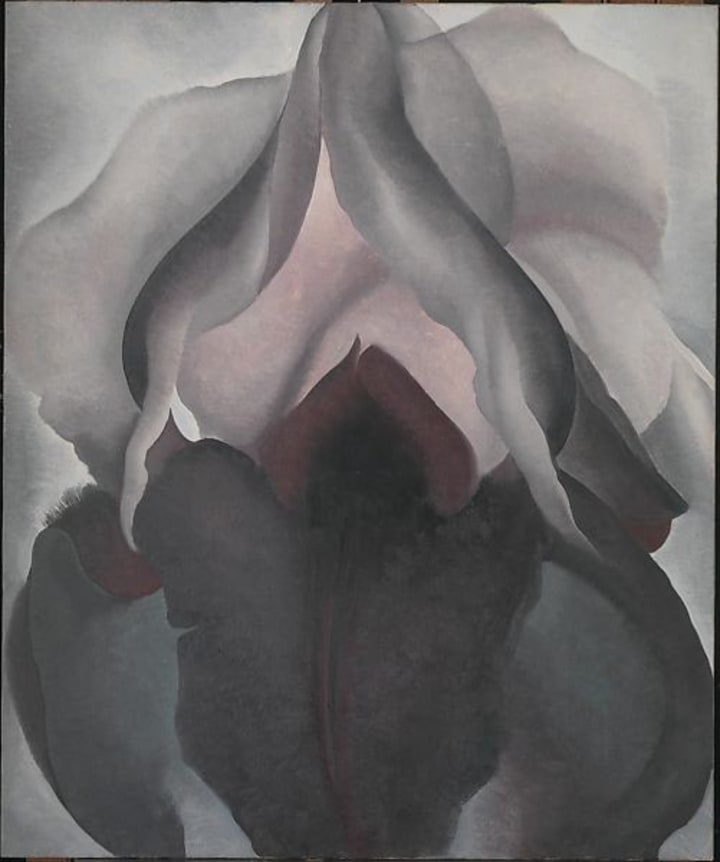 Irises - the first reference that might come to your mind is Van Gogh's painting Irises, which he painted while admitted to a mental asylum in Saint Remy.
But irises have a special significance in Christianity. They are associated with the Passion of Christ (the week of Christ's crucifixion and resurrection), probably because the flower blooms in spring around Easter.
At first glance, if we see the image without knowing the name of the painting, we might not be able to predict it as a picture of flowers.
The microscopic details of the flower and its curvy petals are visible to the naked eye.
Looks impeccable. Isn't it?
O'Keeffe's art piece forces the viewer to observe the tiny details, which are overlooked otherwise.
Famous art historian Linda Nochlin, the writer of the famous iconic essay, "Why Have There Been No Great Women Artists?" in 1971, compared Black Iris as a morphological metaphor for genitalia.
For Nochlin, an O'Keeffe's flower became shorthand for the vagina, and even some images were called out for clitoral imagery.
To which O'Keeffe argued,
"When people read erotic symbols into my paintings, they're really talking about their own affairs."
---
2. The Dinner Party by Judy Chicago (1979)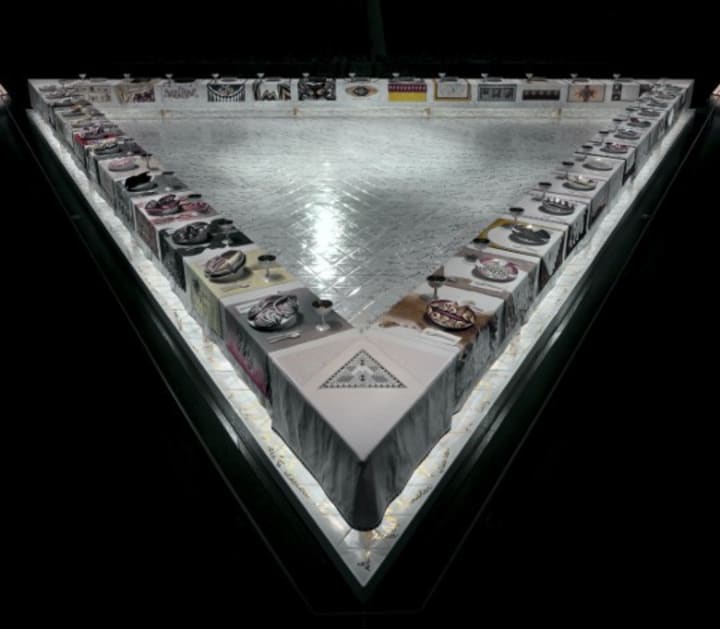 What makes art controversial?
A tricky question. Often what demarcates controversial art from non-controversial art is individual perception and subjectivity.
When an artwork divides audiences, sparks reactions or evokes cultural debates, it tends to be a controversial piece of art.
Coming to this piece, do you remember seeing this triangular table in the viral Netflix series Squid Games? The episode where the three finalists are served dinner on a table similar to this.
This is Judy Chicago's The Dinner Party.
• The installation artwork comprises a ceremonial banquet, arranged on a triangular table with thirty-nine place settings, each representing an important woman from history. Call it a scandalous piece of art or a feminist representation but this painting certainly paved the way for many other female artists.
• The setting consists of embroidered table runners, golden chalices, and Chinese porcelain plates crafted with designs of vulva and butterfly. Each dish was personally stylized for a woman being honored.
• The 39 women included in The Dinner Party begin from prehistorical times, including the Primordial Goddess and continue chronologically to Anne Hutchinson and Virginia Woolf in the modern era.
• The names of another 999 women are inscribed in gold on the white tile under the triangular table.
This artwork is amongst the few that have continued to spark controversy for nearly 40 years.
Many labeled it revelatory, but conservative critics like Hilton Kramer called it 'vulgar, kitsch, and crass.'
Some female critics also tagged it as preachy.
---
3. Philip Golub Reclining (1971)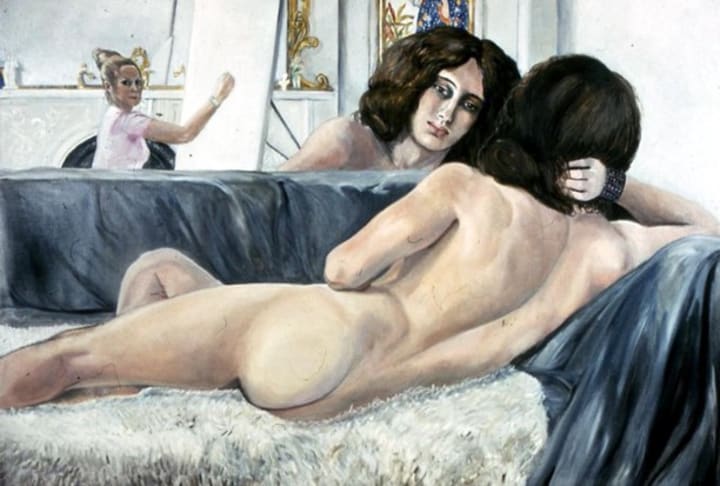 What is your first thought seeing this painting?
Isn't it a contemporary version of Velázquez's magnum opus Rokeby Venus? Except there is a role reversal and a female artist creates the portraiture of a male nude.
This painting is by a provocative portraitist and feminist - Sylvia Sleigh.
Deeply inspired by another feminist artist Linda Nochlin, Sleigh painted both sexes clothed and unclothed, but her male nudes caught more eyeballs and sensationalized the art world.
In this art piece, Philip Golub, son of artists Leon Golub and Nancy Spero, lounges on a sofa with his bare back.
The effeminate gestures of Sleigh's male muse, his voluminous hair with central parting, luscious lips and curvy buttocks all look beautiful and sensual.
Perhaps Sleigh is trying to portray that masculinity is not just a physical construct. It has a deeper psychological meaning.
Sleigh has taken the seat of the male artist and draws Golub's portrait with utmost fierceness and confidence.
---
4. Eine Kleine Nachtmusik by Dorothea Tanning (1943)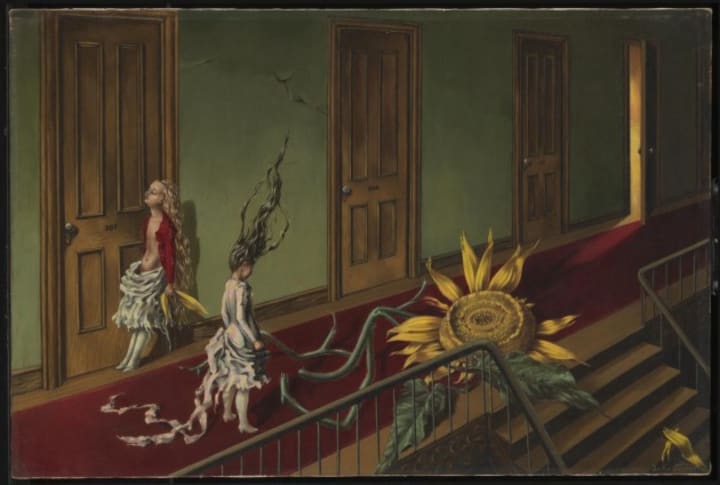 Dorothea Tanning created this painting during her stay with friend Max Ernst in Sedona, Arizona.
She was fascinated by Mozart and titled this after one of his most well-known serenades.
What does the painting mean?
• The ambiance appears to be a hotel corridor with numbered doors. The rightmost door is slightly opened and gives a glimpse of incandescent light.
• A giant sunflower is placed on the red carpet with a few petals on the stairwell and a few with a girl wearing a tattered red jacket. But, hey, wait. Is she a living figure or a toy? She appears to be a life-size doll from her hairline and moulded contours of her torso.
• Tanning was fascinated by Gothic novels in her adulthood, so she used these giant aggressive flowers to show the supernatural forces.
• Another girl stands next to her with her face in the opposite direction. Her long hair stretches upwards as if blasted by a powerful gust of wind. The branched stems of the sunflower seem to surround her.
---
5. Judith slaying Holofernes by Artemisia Gentileschi (1612)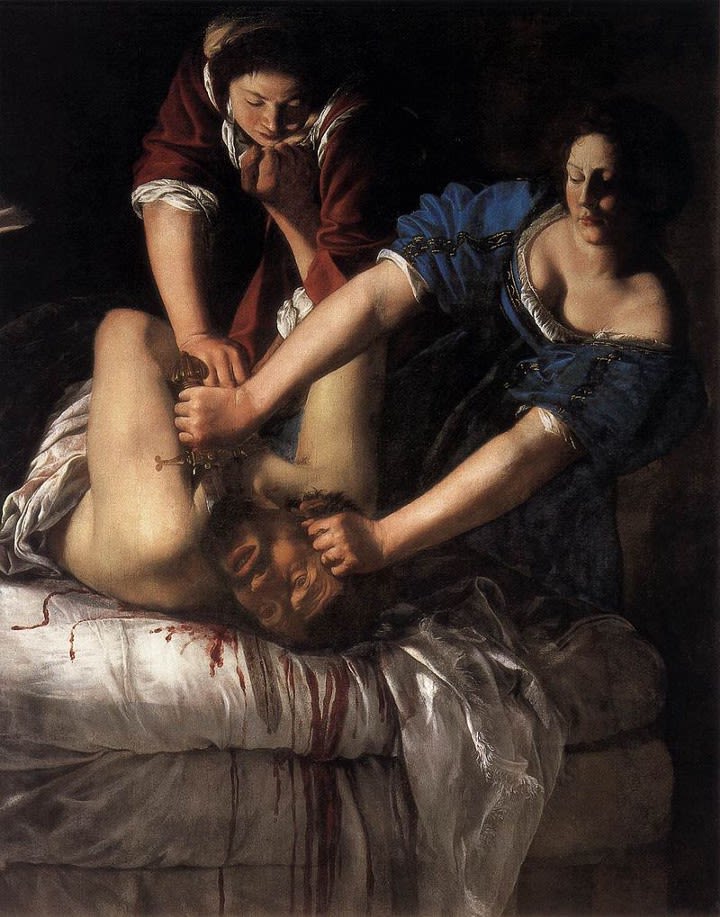 Another female artist lost in history. It's only in modern times that art historians recognize Artemisia Gentileschi and her oeuvre.
She was one of the rare female artists in the 17th-century Baroque era, where domestic responsibilities were only a women's prerogative.
Gentileschi started producing professional work with a high order of precision. She became the first woman to be a member of the Academy of the Arts of Drawing in Florence.
When painter Agostino Tassi raped Gentileschi, she used art as a medium for her catharsis.
She smashed patriarchy through her canvas.
Judith slaying Holofernes is a testament to it.
Two women press a man down on a bed. The woman in the blue gown puts her fist against his right temple while the other grips his torso. Although the man tries to push the woman in the red dress, he can't defeat the combined strength.
Blood spurts through the bedsheet and the victim's eyes are wide open.
The dying man is Holofernes, an enemy of the Israelites in the Old Testament, and the young woman beheading him is Judith.
---
6. The Two Fridas by Frida Kahlo (1939)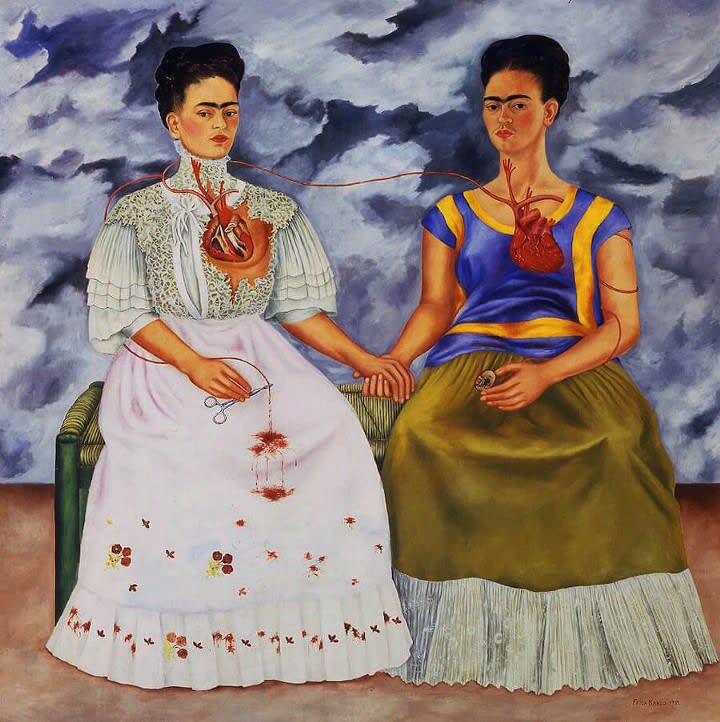 The Two Fridas was born just after Frida's divorce from Diego Rivera in 1939. Although they remarried in 1940, they always had a love-hate relationship.
Kahlo was one artist who constantly portrayed her sufferings on canvas. Be it her physical pain or mental trauma; it was on the canvas.
In this portrait, Kahlo features two 'Fridas.'
The Mexican Frida's heart remains intact and has a small portrait of Diego in her left hand.
And the European Frida, who hates Diego.
She wants to detach her life from Diego. The blood flows profusely onto her dress. This Frida tries to stop the flow of blood from surgical forceps.
A connective vein unites the loved and unloved Frida - the Mexican and European Frida.
---
7. The Giantess by Leonora Carrington (1917)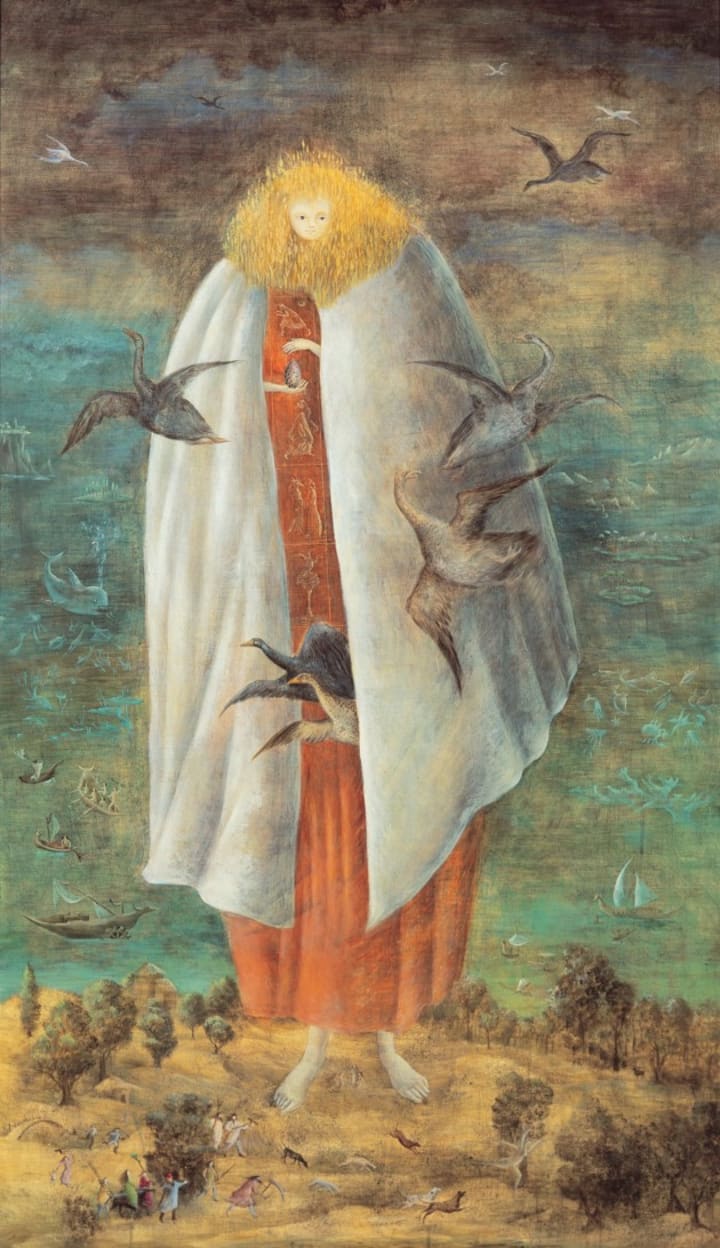 Carrington, the female surrealist, explored themes of magic, miracle and transformation.
Raised by an Irish mother and constantly listening to Celtic lore and fairy tales in her childhood, she made her own little world of imagination and reality.
Her solid friendship with another female surrealist, Remedios Varo, defined a female-centric movement within Surrealism, entirely dedicated to female energies.
"In everybody," Carrington once declared, "there is an inner bestiary."
She shared a special relationship with animals and her bond with hyenas portrayed her own wildness and defiance.
In The Giantess (also known as the guardian of the egg), Carrington's central figure is giant, figuratively and symbolically.
Carrington portrays this giant woman as the Mother Goddess with the supreme power of creation. The golden hue around her face shows her fierceness.
A flock of birds near her vast robe shows her special connection with animals.
She holds a black egg in her hands, perhaps depicting the creation of new life.
---
8. Celestial Pablum by Remedios Varo Uranga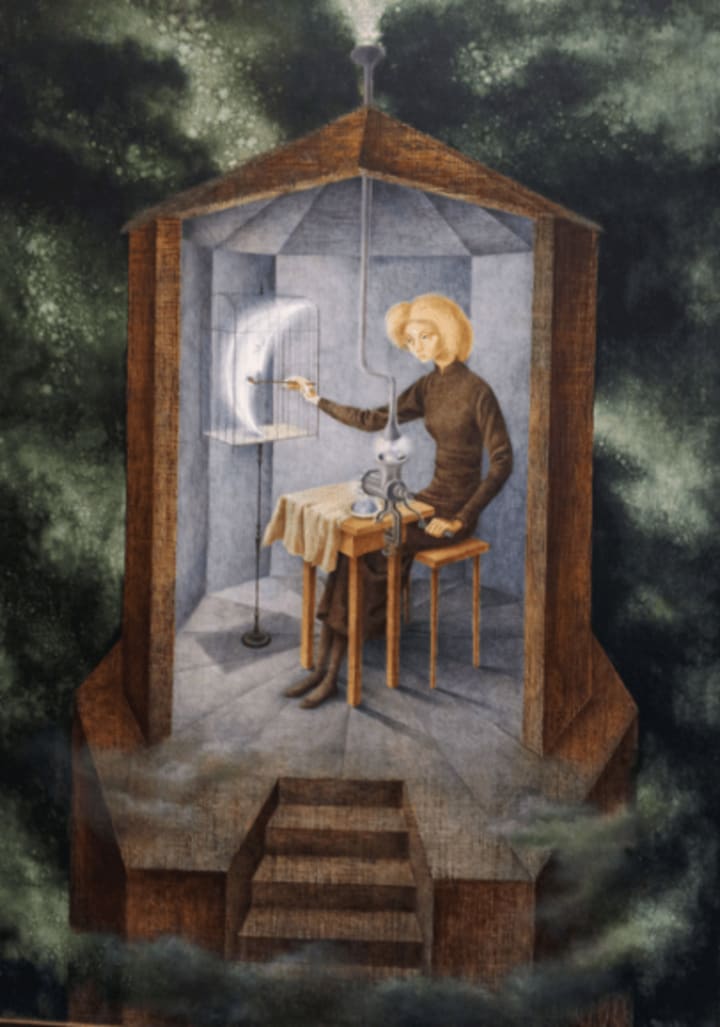 Many of Varo Uranga's paintings were related to the cosmic universe and she believed that both art and science were deeply intertwined.
This piece was no exception.
Sitting in a medieval-looking tower, a lonely woman operates a juicer clamped on her desk.
She pipes in starlight through a hole in the ceiling and turns the handle of her small machine to crush celestial fragments, creating pablum (baby food). She then feeds the baby food to her caged moon.
Symbolically, the moon shows female strength and fertility. Varo was a feminist and defied patriarchy.
---
9. The Last Drop by Judith Leyster (1639)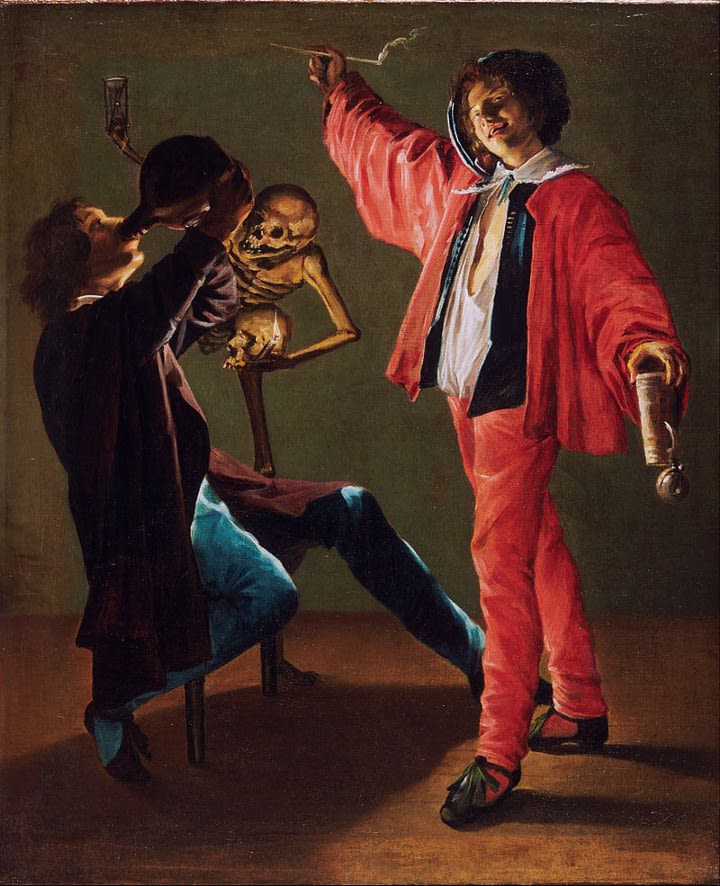 Judith Leyster, a Dutch female artist, created this painting.
Like her other female contemporaries, her identity was lost in history for more than 250 years.
Only in the 21st century did Leyster's paintings come into the spotlight.
The Last Drop (The Gay Cavalier) is an incredible painting full of contradictions - virtue versus vice, life versus death and warning versus humor.
• The man in the red costume suggests the setting of Shrove Tuesday, the night before the beginning of Lent. He seems overindulgent with an inverted tankard in one hand and a long smoking pipe in another.
• The other man sits and gulps alcohol from the pitcher until the last drop.
• The gay cavalier and his companion are so overindulged that they have ignored the presence of a skeleton. The skeleton bears an hourglass in one hand and a skull and flickering candle (reaching its end) in another, depicting the mortality of human life.
The Last Drop is a pun to the last drop in the alcohol bottle and the transience of human life.
---
10. Relache by Toyen (1943)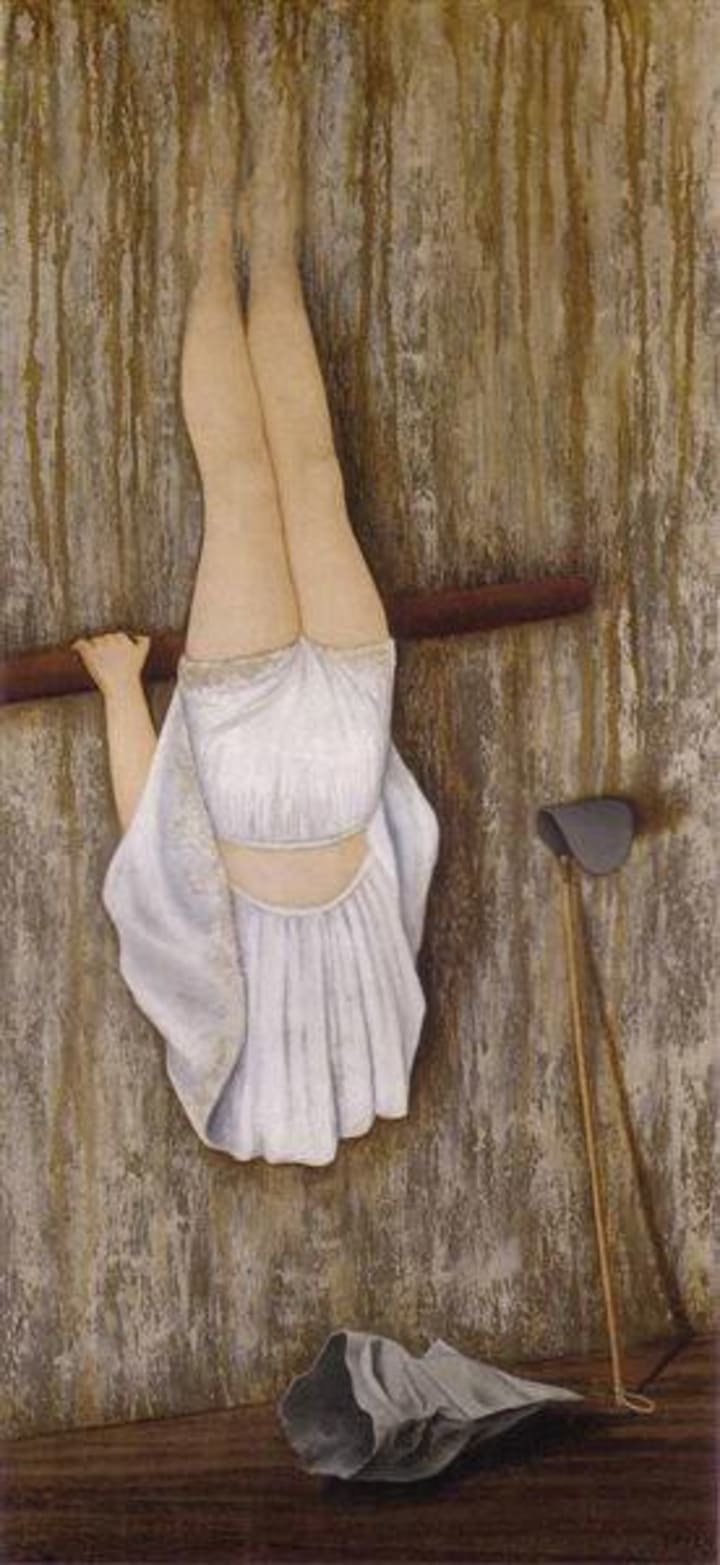 The Czech surrealist Toyen was born Marie Čermínová in Prague to catholic parents from Bohemia.
When she joined the surrealist movement, she was named 'Toyen.'
Toyen became famous for her erotic illustrations.
There is a sense of fascinating eeriness in this portrait.
In this portrait, Relache (meaning 'released' in English), does the female emerges or disappears into the wall?
Art historians and academicians found Toyen an amateur artist and never critically reviewed her work.
---
Which is your favorite painting? Let me know in the comments.
---
Here's my latest eBook 10 Paintings to See Before You Die.
About the Creator
Art enthusiast. I engage with art at a deep level. I also share insights about entrepreneurship, founders & nascent technologies.
https://linktr.ee/kamnakirti
Reader insights
Be the first to share your insights about this piece.
Add your insights