A Day In The Life of An 18th Century British Prostitute
"The Progress of the Women of Pleasure"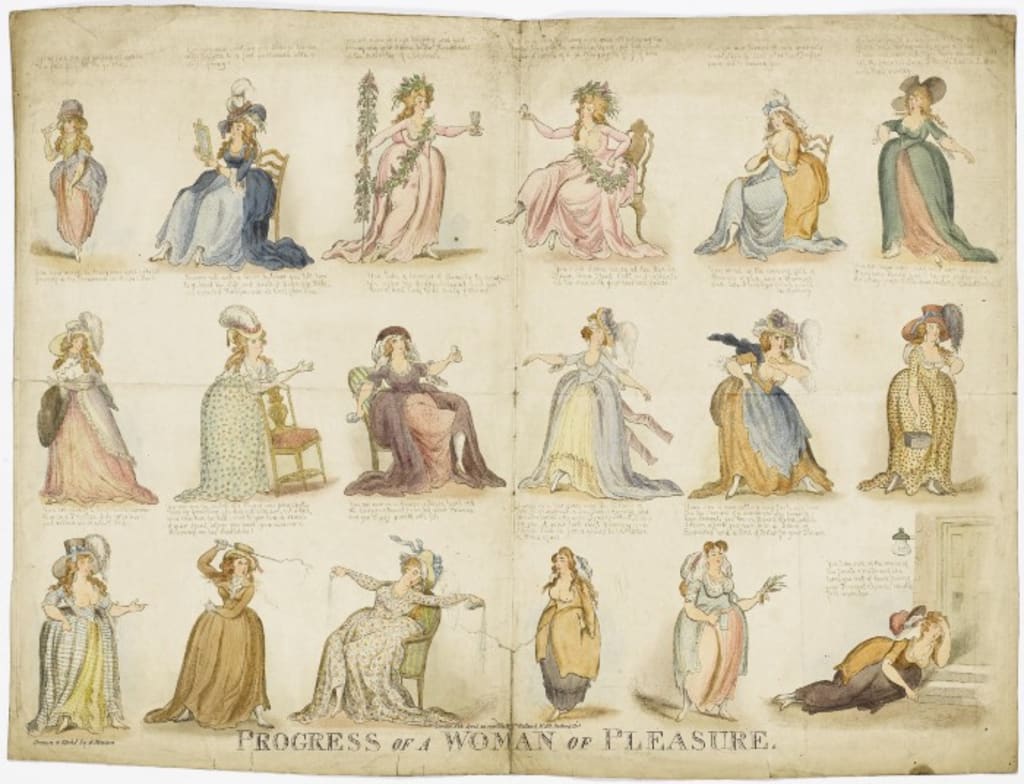 The Progress of the Women of Pleasure (1796) by Richard Newton. Source — Public Domain
"Come, my lord, come along, let us drink a glass together."

"I'll go with you if you please."
Prostitution was prominent across England in the 18th and 19th centuries. There were two main reasons for this - urbanization and the middle-class getting access to power and money.
"Pleasure Gardens" were established for art and fashion aficionados. Entertainment like concerts, music and balloon flights were also held.
Well, at least that's how it was promoted amongst the public, but behind the closed doors, it included night parties, insobriety and lechery.
How were the prostitutes supplied?
The poor and unemployed young women, who needed money, took up this job.
A British caricaturist and artist, Richard Newton, created an illustration, The Progress of the Women of Pleasure (1796), which depicts the rise and fall of prostitution in 18th-century England.
Newton captioned each of these images. But the handwritten captions cannot be very well-read. So let's try caption these images in Newton's words and dive deeper into a few illustrations.
1. Your first step for preferment will be to a great lady in King's Place.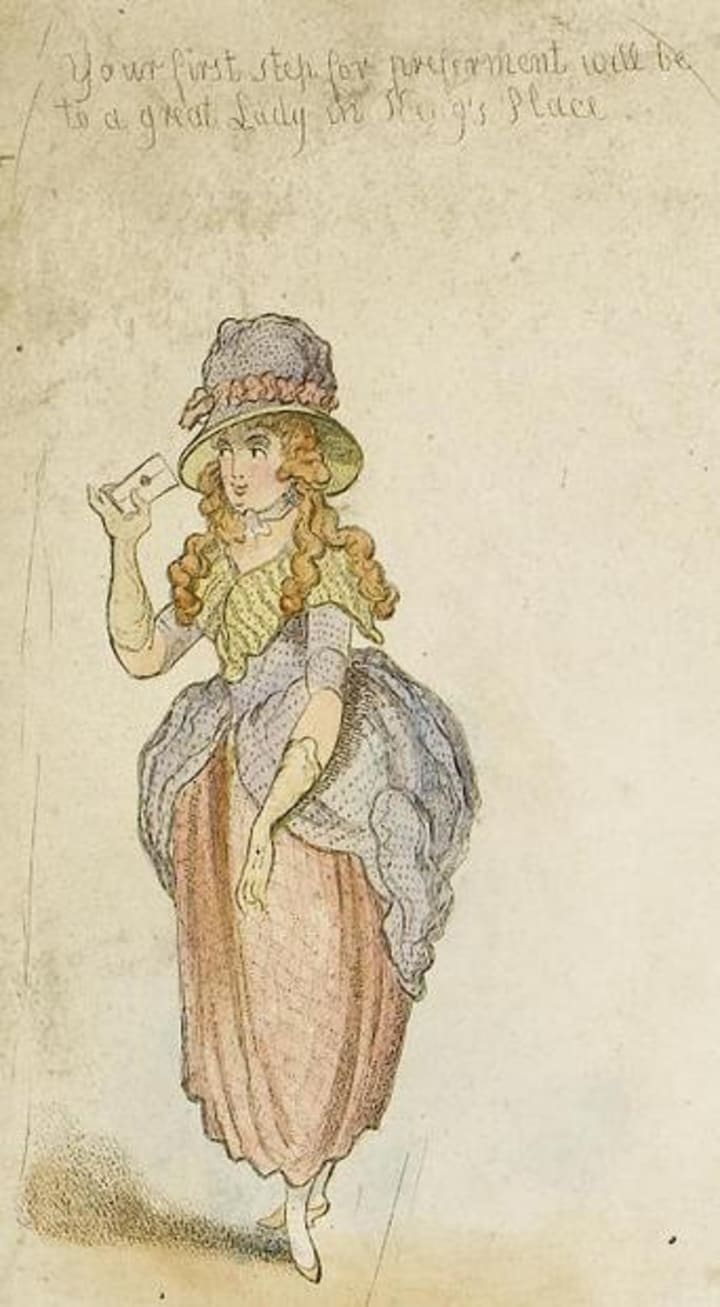 Charlotte Hayes was a brothel keeper who ran some luxurious brothels in and around King's Place in St James's. Getting into this brothel meant more money and high-paying clients.
---
2. We see you now waiting in full dress for an introduction to a fine gentleman with a world of money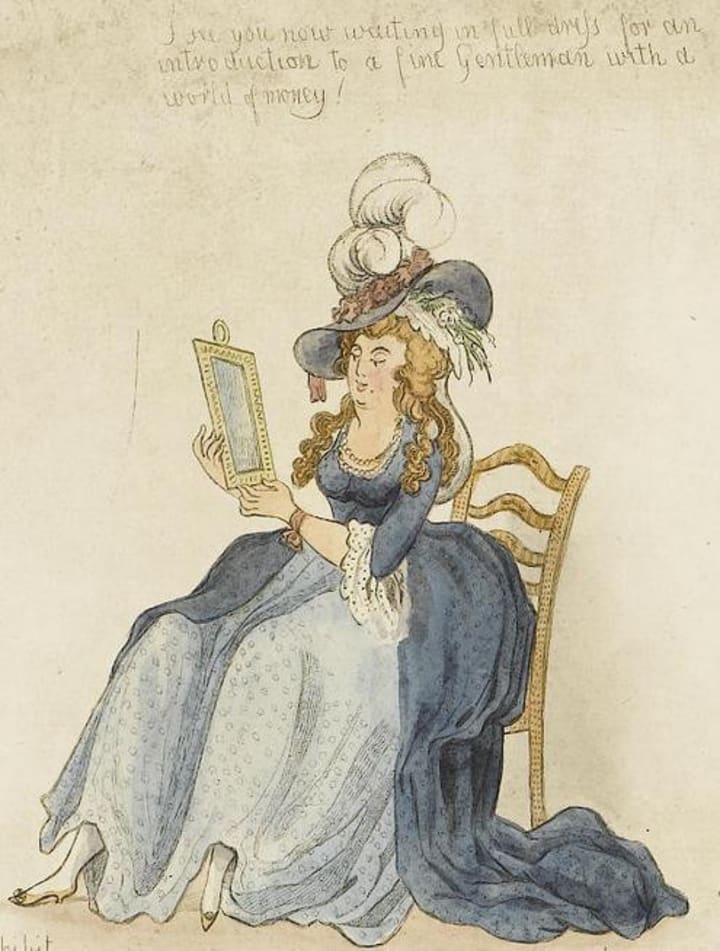 ---
3. You are now in high keeping and you accompany your Adonis to the Masquerade in the character of a Bacchante.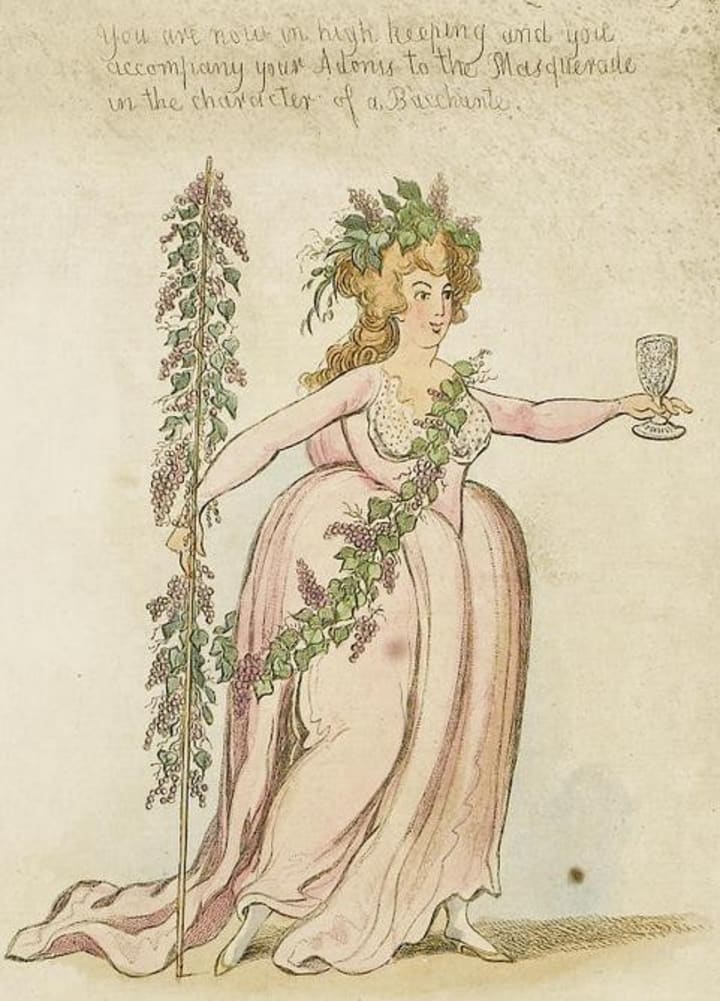 According to historian Sir John Plumb, "the eighteen century was the age of commercialized leisure."
In London, Vauxhall Gardens was the most spectacular "Pleasure Garden."
Drinking, masquerade parties and sexual pleasures defined these gardens.
---
4. Not being used to champagne and not possessing the sweetest temper in the world in liquor, you give your keeper a sample of it by flinging a glass of wine to his face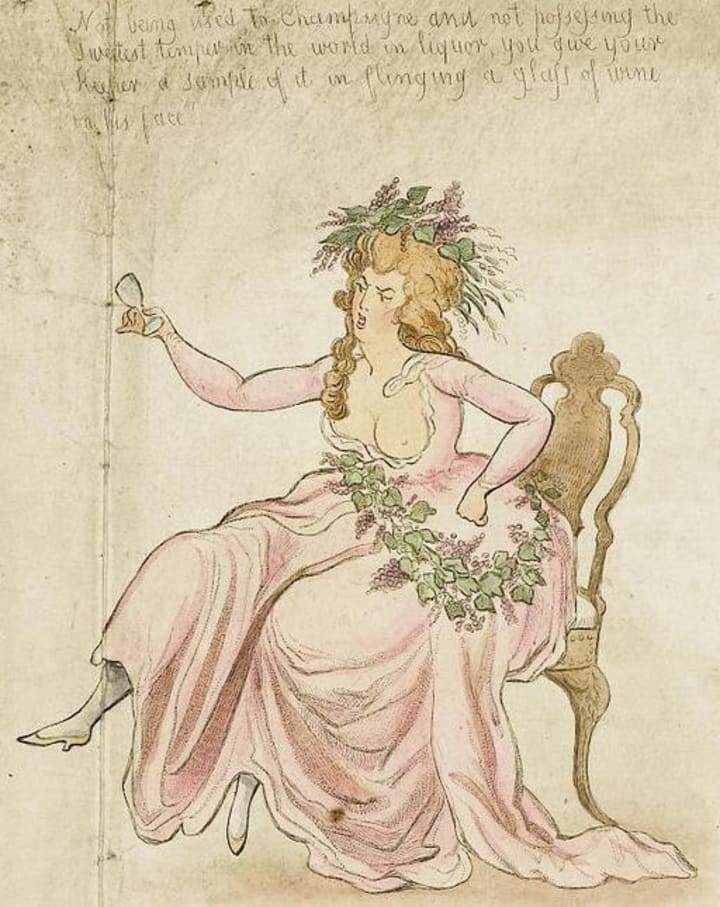 ---
5. You are now turned off and your only consolation is that your hair dresser promised to marry you.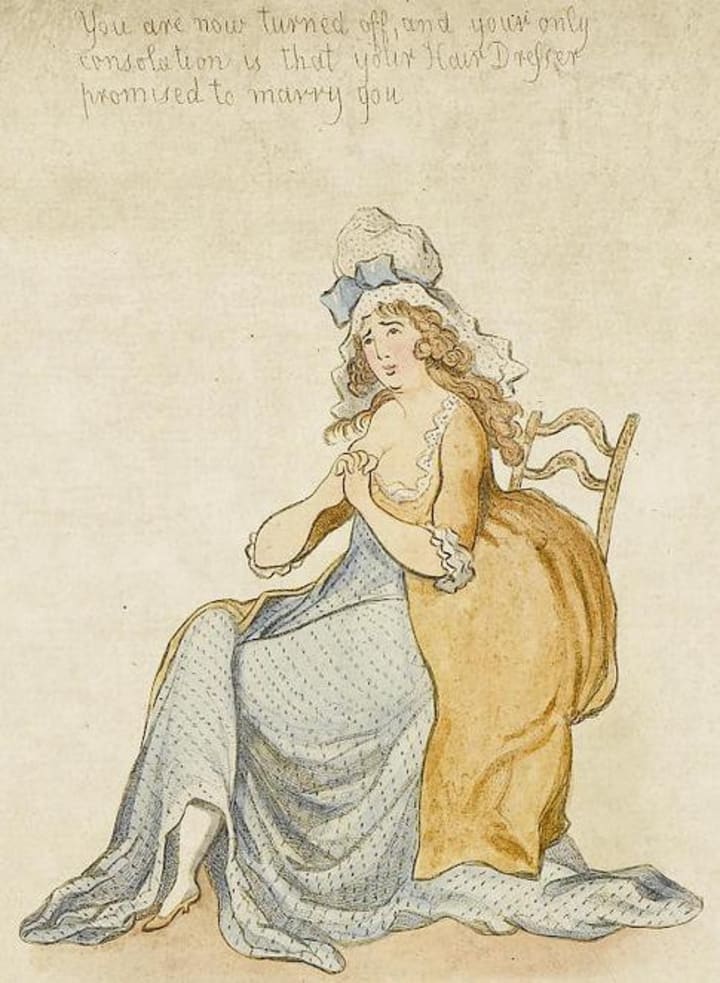 Would someone marry me if I'd leave the prostitution business?
Would I be able to live a respected and reputable life?
---
6. He loves you to distraction but he thought you'd have an annuity of 200 a year! I hear you roar out - "You dirty rascal! I could get the smartest linen draper's man in London with that money."
The man might marry her if the prostitute has an income of more than £200. The woman curses him that if she would have this much money, why would she marry a hair dresser?
---
7. You move to Marybone (Marylebone) and exhibit yourself in the Promenade in Oxford Street.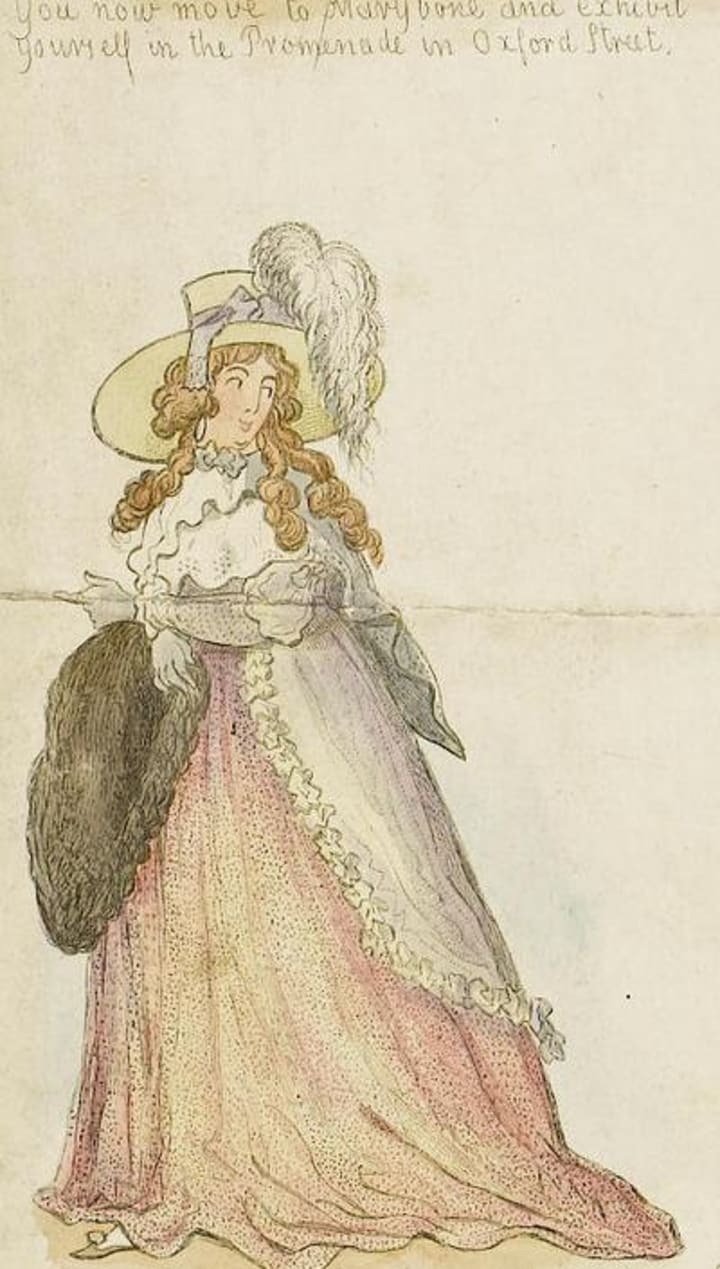 Marylebone was another area in London famous for brothels.
---
8. Having met with a Crown Customer, you tell him to go treat his Wife and Brats at Bagnigge Wells, you expected Five Guineas at least from him.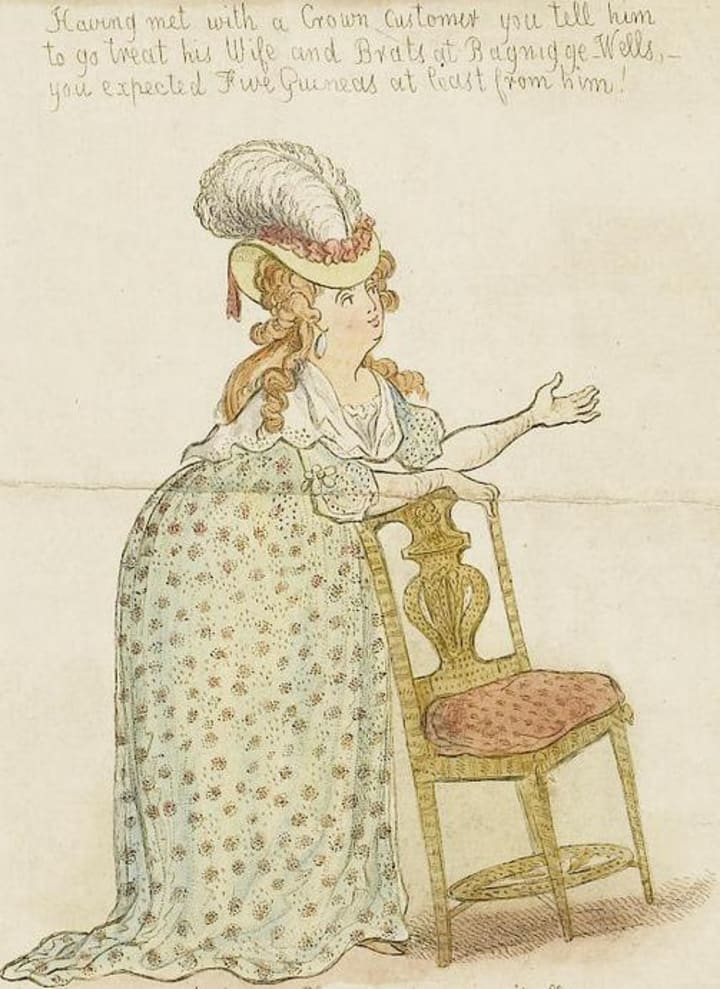 A crown customer would be someone from the royal society or higher echelon. Bagnigge Wells was a spa near St. Pancras that no longer exists and the guinea value was more than a pound.
---
9. You take a bumper of Brandy to comfort you after the disappointment and you drink bad luck to all scaly fellows.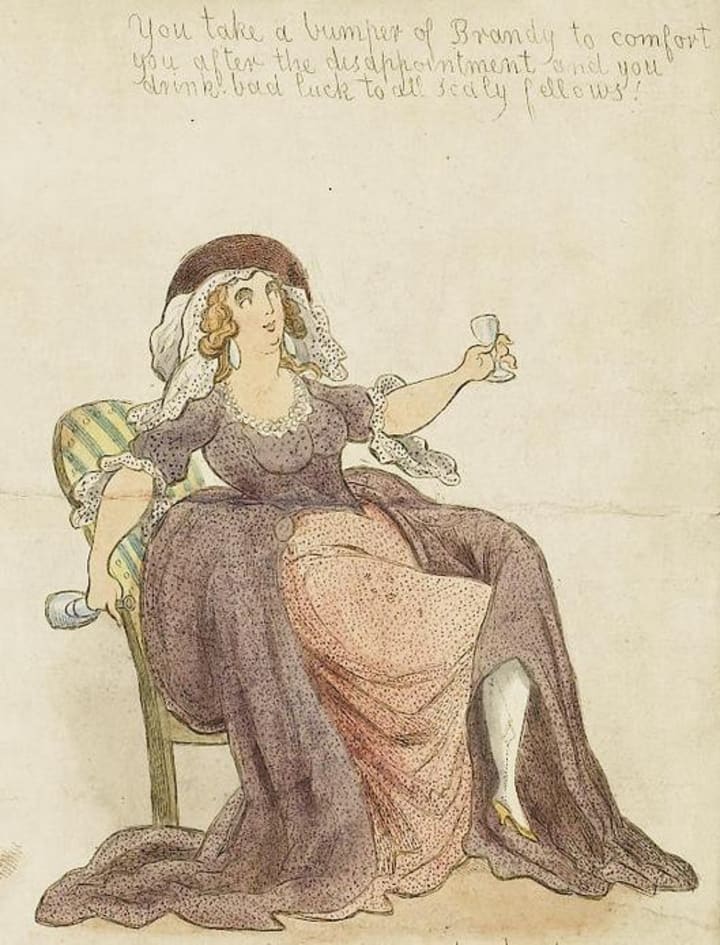 ---
10. You now dance away at the Hop in Queen Ann Street East and captivate all men with your airs and graces.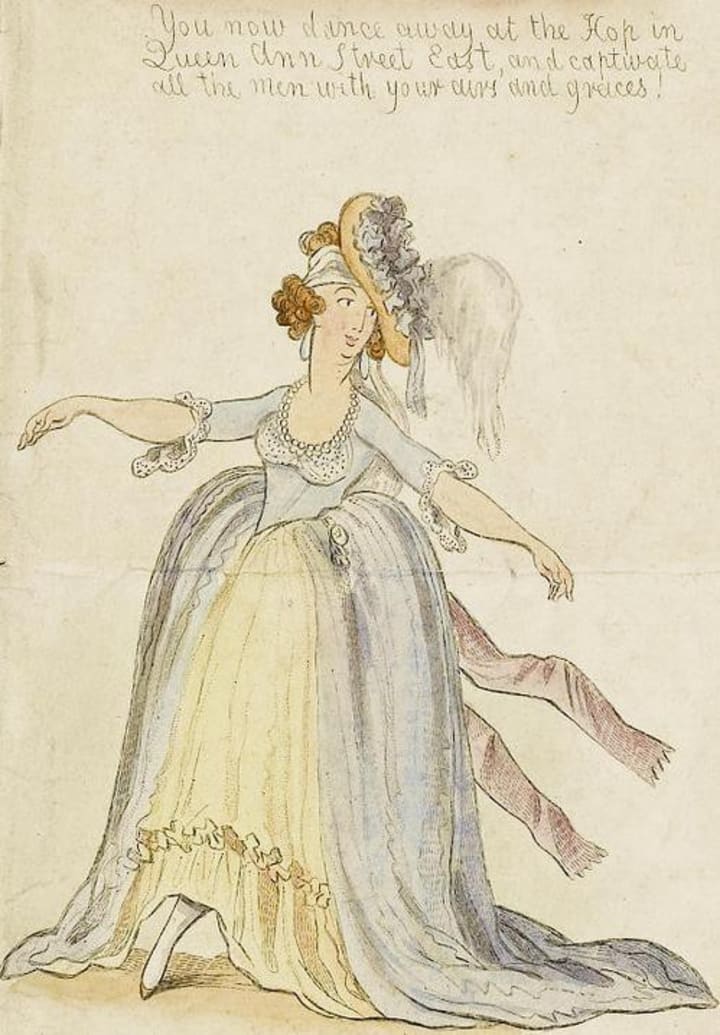 ---
11. You wind up the evening with a boxing match and a Warrant and two Black Eyes salute you in the Morning.
It would have been hard for the woman to pull down her tight chemise and be bare-breasted, which Newton compared with a boxing match.
---
12. You are now over head and ears in debt in Marybone Parish and I see you shifting and removing your little wardrobe to Covent Garden.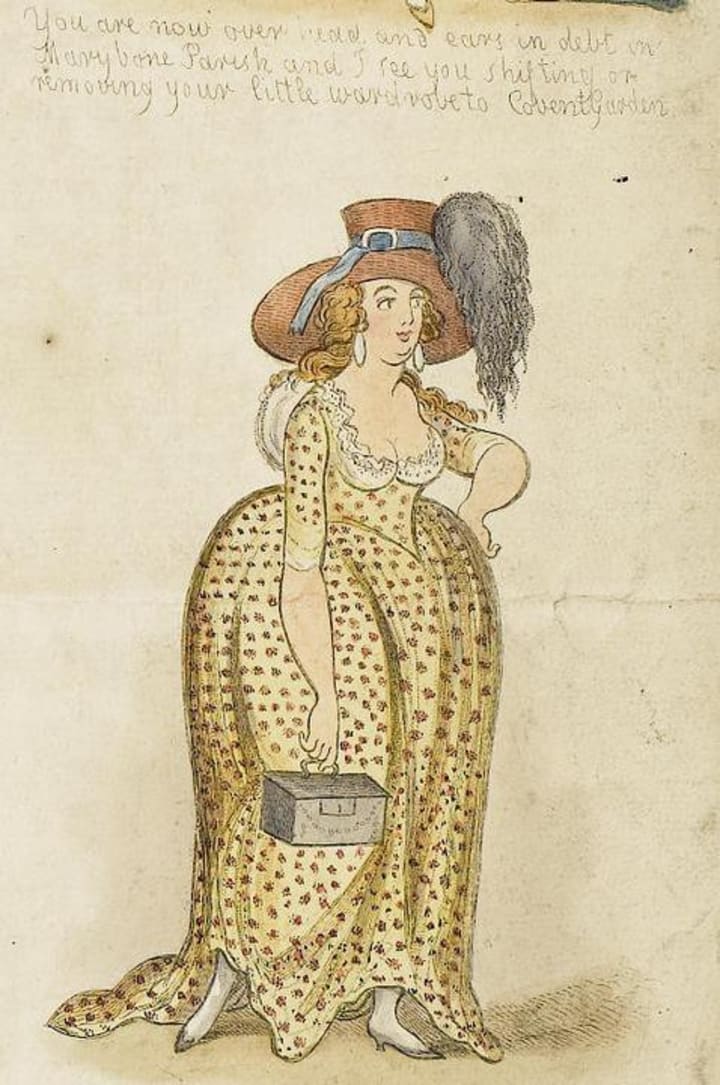 ---
13. You are glad of a half-crown customer now, in a Prentice Boy who has just robbed his master's till.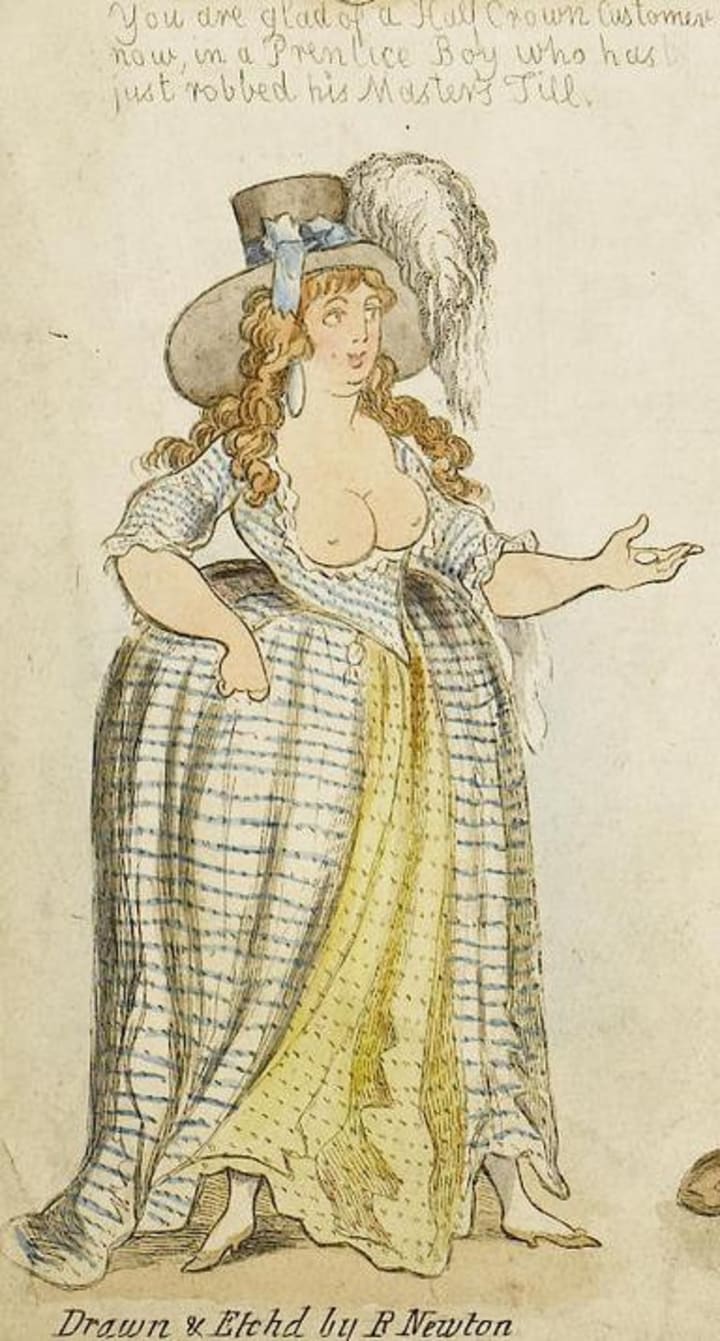 ---
14. You are now the mistress of a Player, who principally lives by Gambling; you ride out with him, cut a dash, and run him in debt; and to give him a sample of your spirit before you part you exercise a Horsewhip on his shoulders.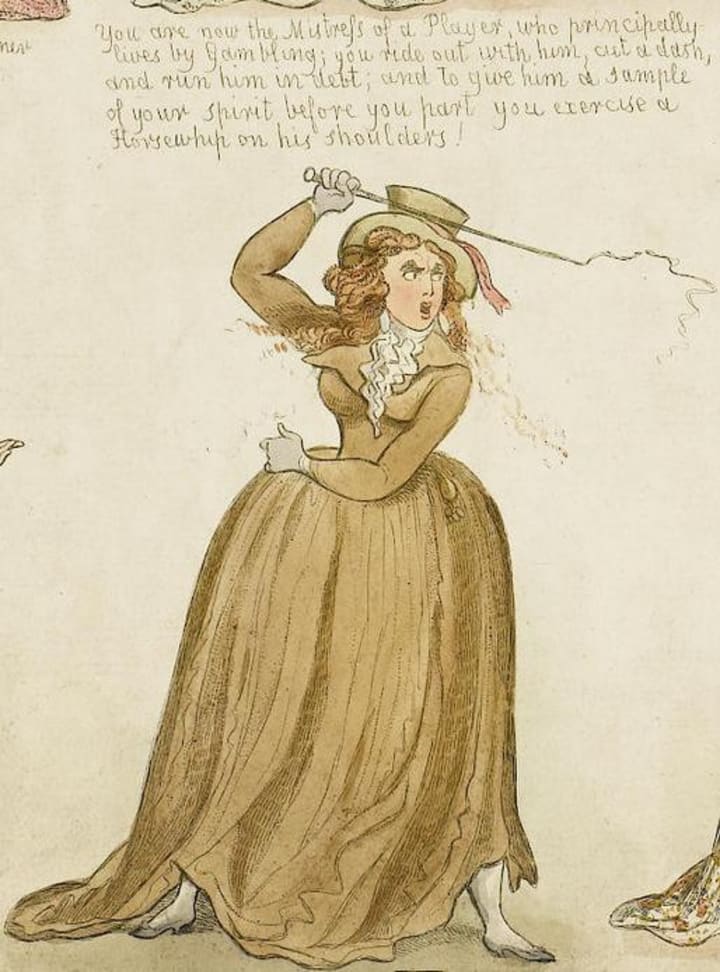 ---
15. You are now in a Sponging House, heart sick at disappointment from all your Friends, and you stupefy yourself with Gin.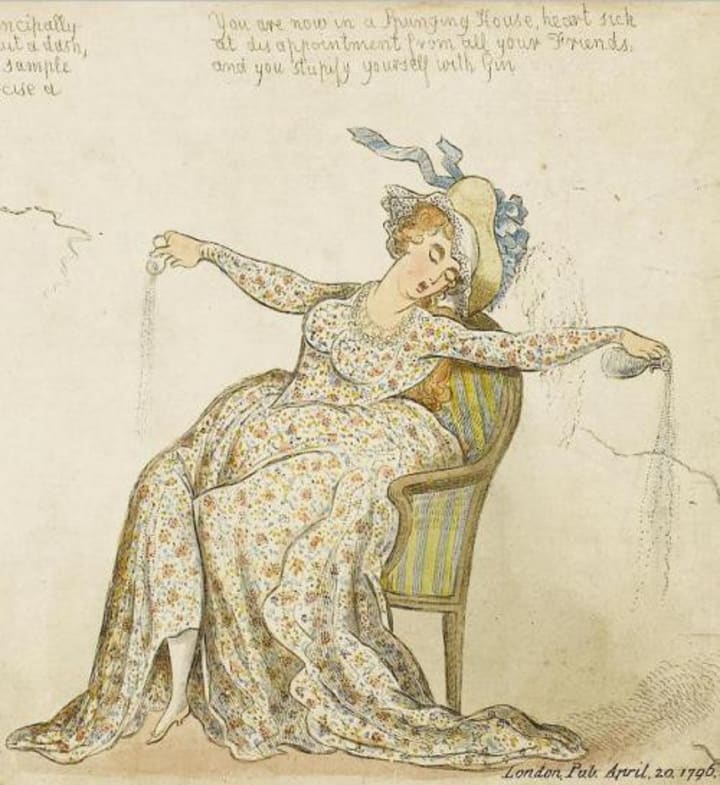 ---
16. Having in two years been the mistress of a Two Highwaymen, a Qui Tam Attorney, Two Shopmen who were Transported, I now see you at your last shift, pawning your silver thimble for a groat to purchase your breakfast.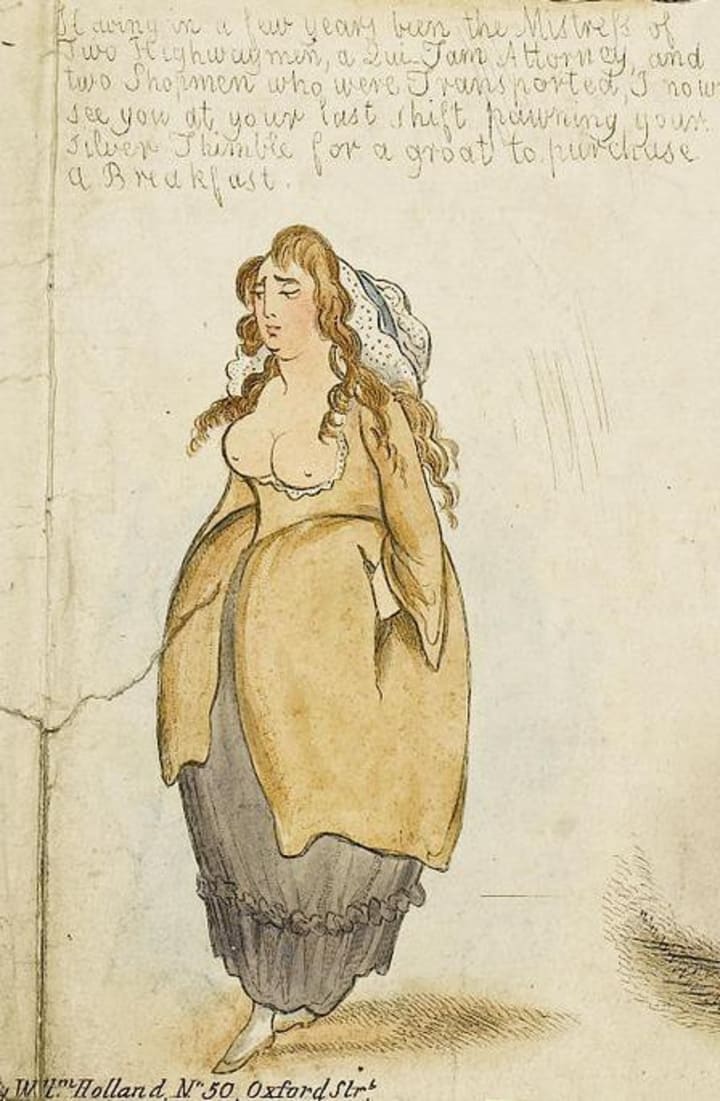 ---
17. Your sun is now setting very fast, and I see you the servant of a woman who was formerly your Servant, you live on Board Wages, which seldom affords you more than a Bunch of Radishes and a Pint of Porter for your dinner.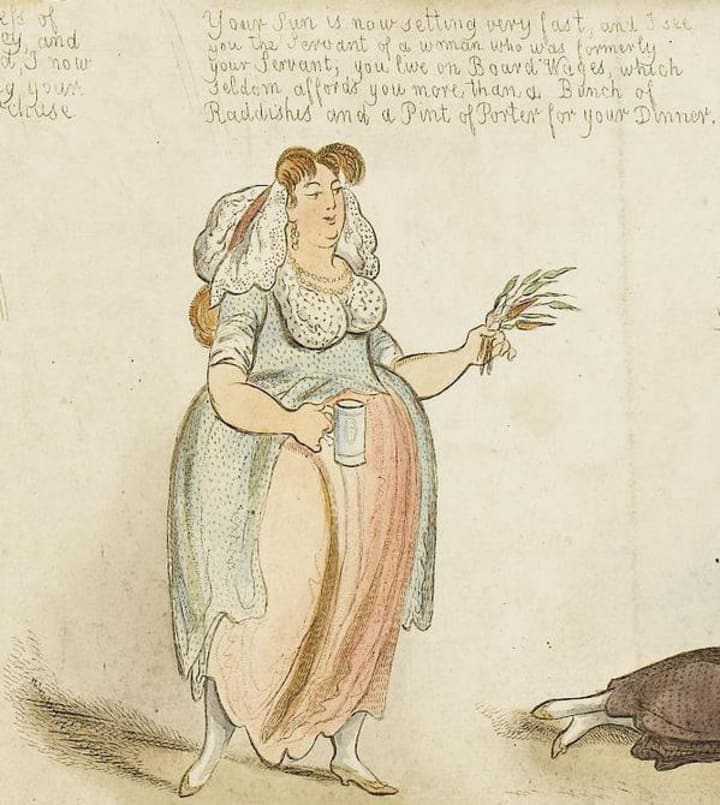 ---
18. You take sick in the service of this female monster and she turns you out of doors fearing your Funeral expenses should fall upon her.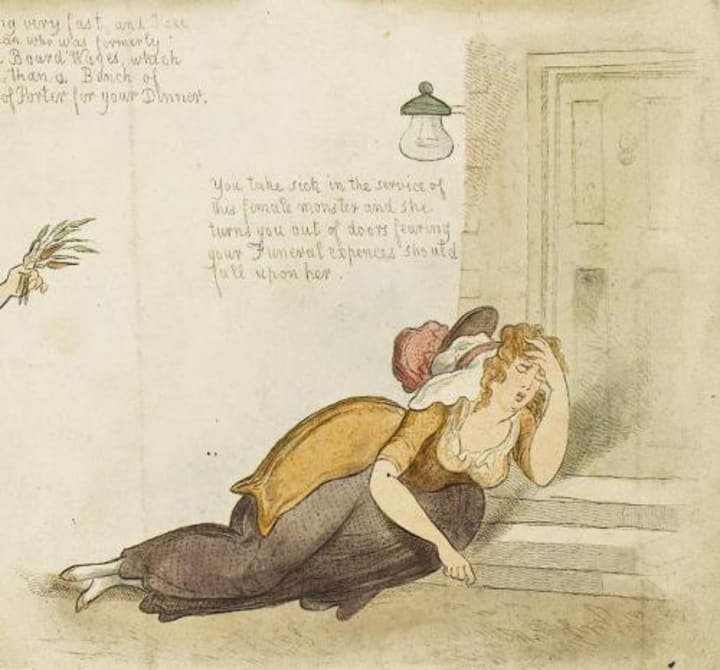 The so-called "progress" of the Women of Pleasure was a satire and slap at English society. The women prostitutes were objectified and sexually exploited - men used women for their pleasures and once done, women were discarded.
When the women prostitutes tried to leave the dirty business, they either lived an impoverished life or had tragic endings and died of STDs.
---
What do you think about The Progress of the Women of Pleasure by Richard Newton? Let me know in the comments.
---
References:
1. https://janeaustensworld.com/2012/03/24/progress-of-a-woman-of-pleasureprostitutes-in-18th-century-london/
2.'Progress of a Woman of Pleasure' by ​Richard Newton
---
I have created my next goal, "Trip to Italy." Help me finance this goal and I'd keep treating you with interesting articles. Promise!
About the Creator
Art enthusiast. I engage with art at a deep level. I also share insights about entrepreneurship, founders & nascent technologies.
https://linktr.ee/kamnakirti
Reader insights
Be the first to share your insights about this piece.
Add your insights