Why Cam Newton Is The Perfect Quarterback For New England In 2020.
A Black Patriots Perspective On NFL Football In The Shadow Of A Global Pandemic.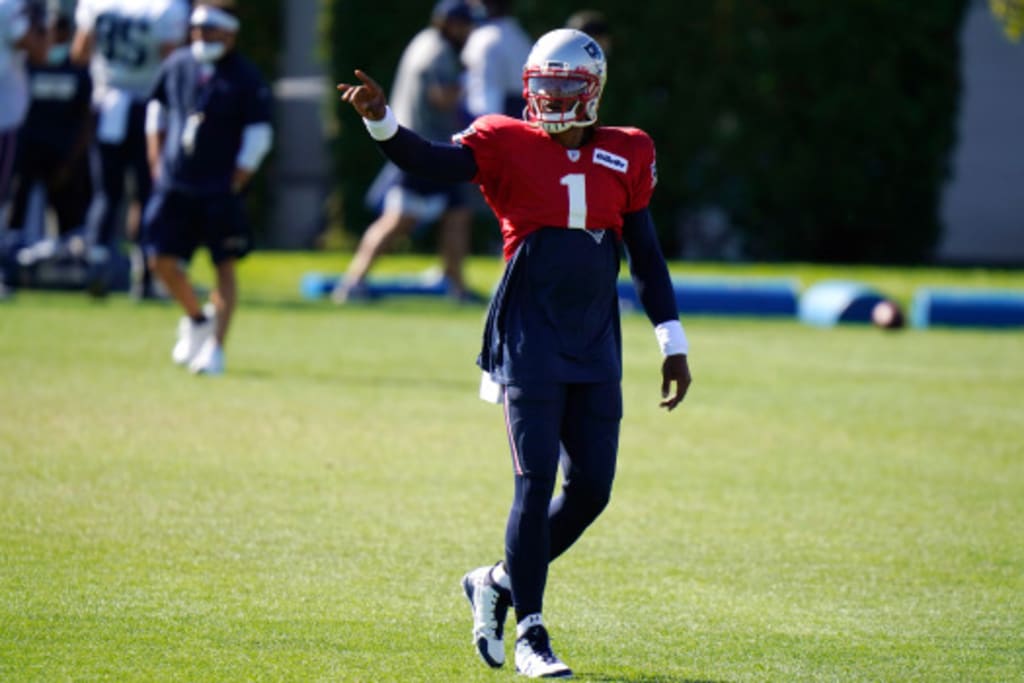 Anyone that knows me knows I am a die-hard New England Patriots fan. My love affair started with them in 2004 during my first year of college at the University of Tampa. I was an incoming freshman and all my college friends were from everywhere but Florida. There were a group of guys that I met from Boston, Massachusetts with full blown Good Will Hunting accents and everything. These guys were literally out of a scene from the movie. They were hard core Patriots fans and taught me the game of football while watching the AFC championship playoffs. This was during the beginning of the Brady era in Foxborough when he was a young phenom. Being a Brady girl, I never really thought the day would come when I would see another quarterback in that position and be genuinely happy, that wasn't Brady. I definitely never imagined that Brady wouldn't end his career with the Pats and would take his talents to Tampa Bay. 
No one could have predicted this year. No one could have foreseen a global pandemic, the countless deaths worldwide and the rocking of world economies. No one could have predicted what the societal impact of continued racism and police brutality against BIPOC would wrought on the streets of America. And no one could have predicted that Cam Newton, the former Carolina Panthers quarterback who had numerous injuries and hadn't scored a touchdown since 2018, would now be Tom Brady's successor in Foxborough. The optics of this are just too juicy a story to pass up. There has never been a Black quarterback in New England's 60 year run in the NFL. Bill Belichick, arguably the greatest head coach in NFL history, has never had a leader like Cam, with his flair for flashy suits and hats, his unyielding stance on Black Lives Matter and ultimately, his Superman-like abilities on the field. Cam is unlike anything the Massachusetts fan base has ever seen before. When Cam was first brought on board to New England, he made a comment in an interview he did with OBJ and Victor Cruz where he said he was actually shocked when he received the call from Coach Belichick. He said he honestly did not think that he would have been chosen as he wasn't sure that Coach would think that he was a good fit for the team or for the organization. 
To be completely transparent, neither did I. As a fan who has grown up with the "Patriot Way" and was used to seeing Tom's stoic demeanour for years at press conferences, it never occurred to me at all that Cam with his love of millinery and flair for the dramatic would be the face I'd be watching giving the post game analysis on game day. But alas, here we are in 2020. The football season started with no preseason games, a new kicker and a new quarterback; two positions that historically New England was known to have consistency and stability in. But sometimes, things have to fall apart in order for them to come together. I believe that Bill Belichick is one of the most underrated people in the NFL from this perspective. Everyone in the NFL world for the most part thinks they know not only who Coach Belichick is but what they believe he will and will not do. Historically, Coach has never been a particularly effusive person in his praise of anyone as he truly believes in team first. On the rare occasions you hear him speak about a specific player in great length and detail (for him), you know this individual is a true team player, leader and all around good guy. So listening to Coach wax poetic (as much as he ever does) about Cam and his work ethic and contributions on the field is seriously giving me not only life but hope that our season is actually going to be competitive. 
But it's deeper than that. In the heightened sensitivity of the times we are currently living in, I know that Coach Belichick is very aware of the optics of Cam being his quarterback. As the GM of the team who reports directly to the owners of Robert and Jonathan Kraft, he has final say on who stays or leaves in New England. There were a number of interesting white quarterbacks that Coach Belichick could have selected to backfill Brady's role; subsequently he could have also drafted the position. But he didn't. Instead, he chose to give Cam Newton an opportunity to show us that he was still Superman. And show us he did in week 1 of the regular season. Coach decided to judge Cam not on his previous antics or sometimes seeming lack of control over his emotions, but rather to give him a try and meet him where he currently is. If anyone out there is thinking that this was not really a gamble, you are sadly mistaken. Massachusetts is known almost everywhere in the US as being a very racist state. The history of Boston in particular is riddle with a lot of disturbing events. So to bring an ultra Black player to the top position on a team, knowing he will use his platform and knowing some fans will not like it was a huge risk. New England Patriot fans are a different breed. We are used to winning and have a high expectation that we will continue to win. This is exactly why Cam Newton is perfect for this team. He knows what it's like to get to the biggest stage of your life and fail on it. He knows what it's like to suffer adversity and be counted out but bounce back even better than before. He also knows intimately what it is like being a Black man in America and that no matter who he is or how much money he makes, he is still seen as a threat and his life can be taken with no remorse and even less accountability. So the fact that Coach Belichick still chose him to me signifies that while he will never openly discuss these issues in great length while he is still a coach, he recognizes and truly sees them. He could have done what a lot of other white coaches do and gone with the safe choice in Brian Hoyer or Jarrett Stidham. 
But in seeing Cam's selflessness and strong leadership abilities in practise and off the field, he decided to take the road less travelled and make Cam the starting quarterback. Cam would never have won that job if he wasn't good at his job. For those of us that know Coach and his demeanour, you know he has zero tolerance for bullshit and sloppy execution. So Cam winning this starting job lets you know the type of character and confidence he has and has now passed on to his team. Provided he stays healthy, I sincerely look forward to a new era in New England. While I love and will always love Tom Brady, it makes my heart so happy to see a Black man controlling the huddle and taking charge of my team. No matter what this season brings with Cam, I personally think history has already been made. 
There is so much division right now in America. Sports has always been a way for people to escape the bludgeons of daily life and believe in a collective thing together; to come together as one, if even for a little while, and get behind a single goal. I truly believe that sports can be a unifier of people. Cam Newton in New England sets a tone for the rest of the league that is very clear. Black Lives Matter. Even the ones you don't want to or care for. They still matter. And we all deserve a second chance.
About the Creator
Certified Life Coach & Workshop Facilitator specializing in Self-Awareness, Emotional Intelligence and Emotional Resilience coaching. I also write a sometimes.
Reader insights
Be the first to share your insights about this piece.
Add your insights