The Man Who Would've Been an All American
Sadly, He Was Never Able to Get That Chance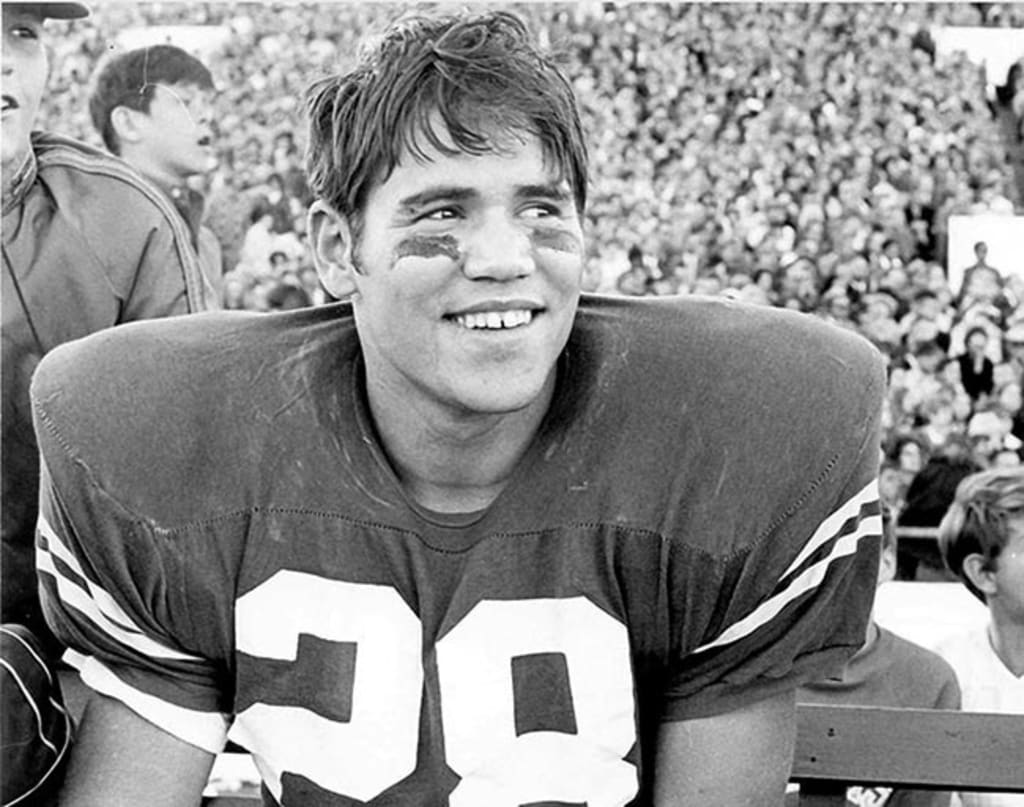 As I was sitting at by a computer in the computer lab at my school, I skimmed YouTube. I noticed the trailer to this movie starring Finn Wittrock and Aaron Eckhart called My All American. I watched the trailer and I was immediate drawn to watch the movie. Once I watched it, I automatically fell in love with it.
The movie My All American is a true story about a young man named Freddie Steinmark and his dream that had cut short because of an illness that changed his life.
Freddie Steinmark was the oldest son to Fred and Gloria Steinmark, born January 27th, 1949 and ever since he was a little boy, he had been special when it came to playing sports. Steinmark was gifted and played baseball, basketball, and football. His father Fred Steinmark was once a baseball player himself, but an injury that kept him from pursuing his dream to becoming an MLB player. Freddie Steinmark liked baseball and basketball, but his main dream was to join the NFL and hopefully be a part of the Chicago Bears.
Freddie Steinmark always exceeded in achieving his dream. He got amazing grades in school, always went to church, and prayed every night. He even had a girlfriend who loved him so much and supported him throughout his life. But, there was one problem that he was having, and it was getting into college for playing football.
He applied to many colleges and his dream college that he wanted to go to Notre Dame. But, for the fact that he was 5'9 and weighed about 165 pounds, Freddie Steinmark was considered too small and underweight for most of the college football coaches that were recruiting students to play football. Freddie thought that it was almost hopeless and was just going to attend his local college until he was able to travel to a different college.
But, it all changed when he got the opportunity to meet Darrell Royal, the football coach for the University of Texas in Austin, Texas. Coach Royal was once a quarterback and defensive back for the University of Oklahoma and just like Freddie Steinmark, he had been a smaller player. So, it didn't phase Coach Royal at all about Steinmark's height when he decided to give Steinmark a full scholarship to attend the University of Texas and become a part of the Texas Longhorns football team in 1967, much to Freddie Steinmark's excitement.
While attending the University of Texas, Freddie Steinmark helped lead the Texas Longhorns to becoming the number college football team in the country as safety in the defensive line. Also, in his last year of playing football in 1969, he helped the team become the national champions, as they played against the Arkansas Razorbacks in what is considered the "Game of the Century." But, while playing in that game, Freddie Steinmark had been dealing with a pain in his left knee. It had been giving him a difficult time to play the way he's always had played in the role of safety.
After winning the game against the Razorbacks 15-14, Freddie Steinmark's girlfriend Linda Wheeler encouraged him to go to the doctor to see about the pain in his knee. So Steinmark went to Coach Royal, telling him that the pain got worse. Coach Royal sent Steinmark off to a doctor friend of his in Austin. After doing an x-ray scan, the doctor found a tumor in Steinmark's knee and insisted on him going to Houston, Texas. The hospital in Houston had the biggest oncology department, study of cancer in Texas.
While in the hospital in Texas, Freddie Steinmark was diagnosed with osteogenic sarcoma, bone cancer, and had no choice but to amputate his left leg all the way up to his hip. Although Freddie Steinmark was all right with the doctor telling him all that information, he was devastated as he could never play football again. Especially since Notre Dame had agreed to play against the Texas Longhorns in the 1970 Cotton Bowl Classic on New Year's Day. Freddie Steinmark had wanted to play against them one day, just to show Notre Dame that they had made a mistake in not recruiting him for their football team a few years back.
After the surgery, the doctor mentioned that it would be best for Freddie Steinmark to at least stay and rest in the hospital for a month before. But Freddie Steinmark was determined to get himself to move and be there to watch his team play against Notre Dame in less that three weeks away. With his best friend Bobby Mitchell, Steinmark learned to use his crutches and on New Year's Day, 1970, he went and watched his team. The Texas Longhorns won against Notre Dame, as they had dedicated that game to him.
Also, Freddie Steinmark's fight against cancer had inspired the National Cancer Act of 1971, which President Nixon had signed and it was the beginning of the "War on Cancer."
Freddie Steinmark had fought long and hard and lived a year and a half of battling osteogenic sarcoma and died June 6th, 1971, at the age of 22.
Freddie Steinmark had been strong and been able to make anything possible. He didn't let the odds stop him from doing what he loved, which was playing football. Also Freddie Steinmark didn't let his cancer get the best of him and was able to get himself out and fought for as long as he could. He had shown inspiration for people to believe that there shouldn't be anything that stops you, no matter what it is. That you are strong enough to achieve anything and defy the odds, no matter what they are.
And even though he didn't make it to become an 'All American' football player. He would've been one of the best players in the country. But, even though he might not have been able to make it all the way to the NFL, anyone who had the pleasure to play along beside him all were lucky to have known a strong-willed person like Freddie Steinmark.