Part II : Rye High School Athletes to Remember
A Look Back at a Few of Rye's Best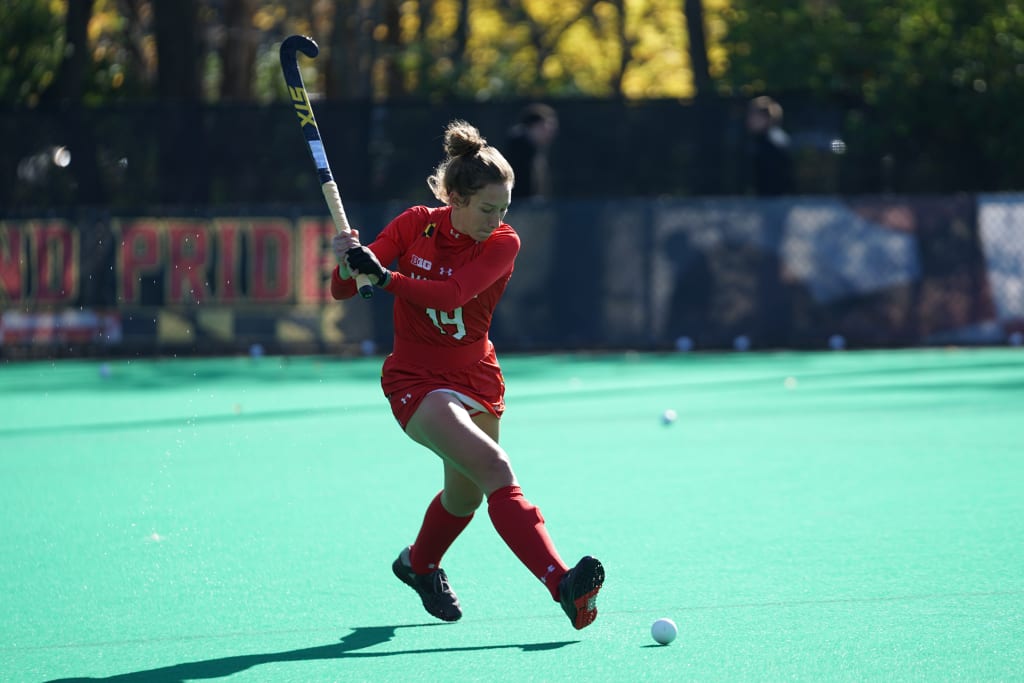 Rye Field Hockey Follows the Passion of Its Captain Emma Brinkman
Rye's Emma Brinkman does't deem it necessary to hide behind the rugged facade of team captain when it comes to getting clubbed by a field hockey stick. "It hurts a lot," she said. So shedding a tear is fine. This, just as long as they are in step with the passion she brings, and they are ready to proceed in the direction her leadership can take them.
"I want our team to play with heart so I try to leave everything on the field, and hopefully they will follow," said the senior.
An undefeated 2011 and a trip to the section finals indicates that they do. "It was a good feeling, and we both played well. But Lakeland ended up winning," she lamented.
Off to a 2-0-1 start, the Rye girls are making dues after a lot of turnover on their end of the field. "We are building the defense again," she said after losing all four starters.
On the attack, Emma and her forwards will use familiarity to their advantage. Continually rotating, she said, "We look for each other, and we usually find each other."
Otherwise, Coach Fitzgerald is not at a loss. She drills the basics, while the team bonding emphasized goes the distance. "It works for us," said Emma.
Then Field Hockey will give way to Lacrosse for Emma as easily as the weather changes. "I think they both help me get from season to season," she said. But it's Lacrosse that she hopes will accompany her in college, where she'll pursue study in the humanities.
Henry Gager Is Shutdown Defender for Rye
Senior center back fielder, Henry Gager, of Rye Soccer relishes his crucial role as a defensive stopper. He doesn't mind either the rush he gets from putting his shoes between the goal and all the cocky offensive players he confronts on his end of the field.
"It's always fun to play against kids who think they can score goals, and being able to shut them down," he asserted.
As team co-captain, Henry helps run practices and the pre-game warm ups. But leading means more than fulfilling the standard responsibilities. "It's important to give the guys a good role model, and have someone to look up to. This way everyone knows we have to take care of business on game day," Henry said.
That will be especially important following the loss of six senior starters from last season. Nonetheless, he sees a pretty successful conclusion to his high school soccer career.
A large contingent of returning juniors and seniors are joining with several newcomers who will put an international spin on Rye's home cooking. With one student arriving from Brazil, and another from Argentina, he said, "I think they are going to have a big impact."
As hard as leaving all that behind will be, graduation won't be anything to pass on either. He's committed to play soccer at the University of Pennsylvania in the fall. Playing on a division I team, he said, "I think it's a great accomplishment, and I'm really looking forward to it."
Majoring in economics and business, and doing his part on defense, the future is looking like a hat trick.
Rye Tennis Team Captain Welcomes the Pressure
What Casey Berger of the Rye Tennis Team lacks in a serve and volley, she makes up for in her ability to read and rundown balls. This leaves her more than literate in expressing and executing the simplicity of the game.
"It's not complicated and comes down to just getting the ball over the net one more time than your opponent, she reasoned.
She took that to an 8-3 record this year and keeps the advantage by training in long and short distance running throughout the year. "I have a really good stamina," Casey asserted.
Unfortunately, she fell short of the sectionals. But tennis always has her rising to the top—no matter the outcome. "I like the pressure it puts on you," said the senior captain.
That coincides with the mind set she brings when the points are not breaking in her direction. "I try to think that the next point is the only point that matters and not look back," she said.
Currently mum about where she'll study political science next year, there's no mystery on how she'll spend her down time. If I don't get on the school team, I'll play club tennis, she revealed.
Either way, the skill set needed to succeed between the lines has plenty of crossover she won't let go to waste. Drive, determination and focus, Casey concluded, "It goes for anything you do."
Author can be reached at [email protected]
Please Like my Facebook Page. It would be greatly appreciated