Holmes, Sturgis, Steiner, Salmon headline meet at Kentucky
Recap of Day One, Preview of Day Two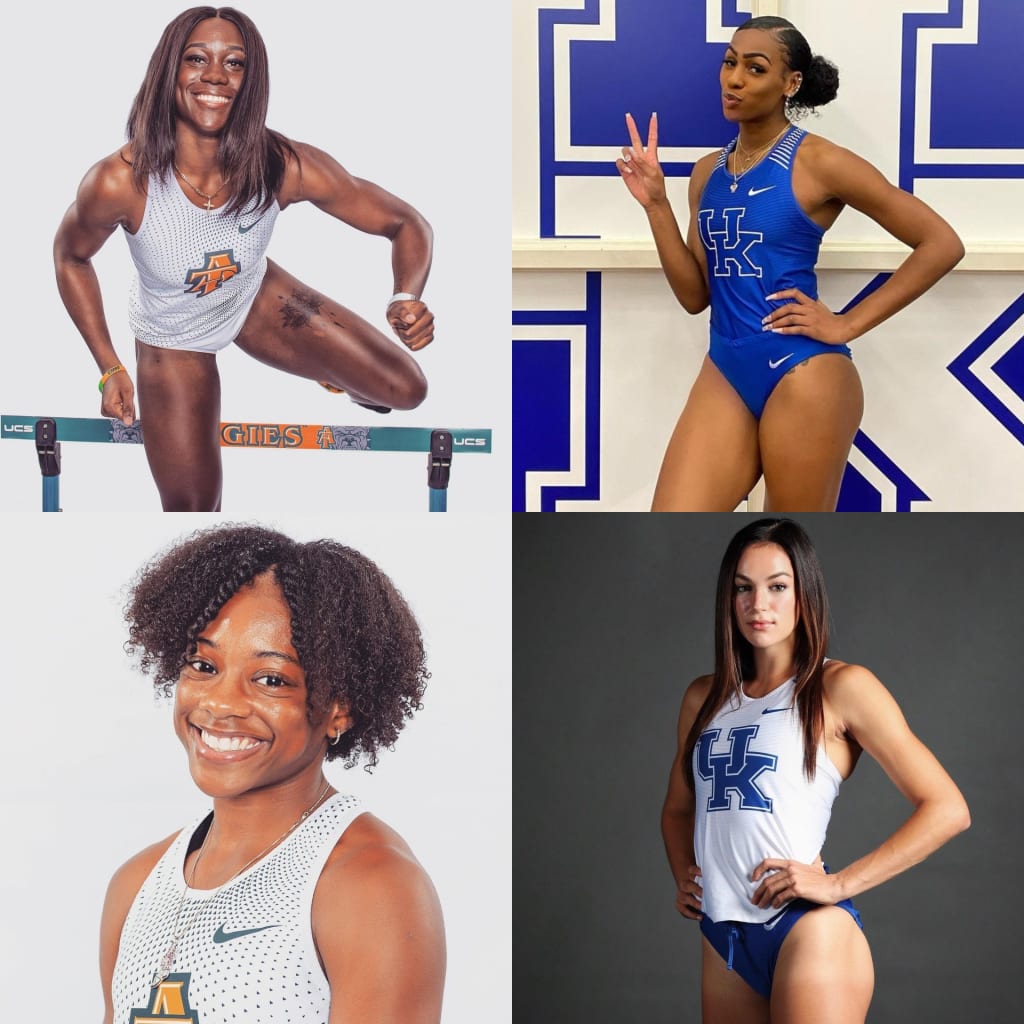 Paula Salmon, Alexis Holmes, Cambrea Sturgis and Abby Steiner
On Friday, Jan. 16, the University of Kentucky hosted the first day of the Rod McCravy-Jim Green Invitational in the Nutter Field House. The Kentucky Wildcats are competing against Cincinnati, Eastern Kentucky, Louisville and North Carolina A&T.
The meet is being held with no spectators due to the pandemic caused by COVID-19. The first event of the day featured a win by Louisville senior Makenli Forrest in the women's weight throw with a toss of 20.74. In a field of 10 competitors, Kentucky teammates senior Molly Leppelmeier and junior Jade Gates finished second and third with marks of 20.62 and 19.3 respectively.
Below: Makenli Forrest
Three other events took place on opening day. The women's shot put was taken by a Louisville Cardinal as well, with freshman Ariel Lawrence winning her first collegiate contest. Her jump of 5.91 placed ahead of runner-up Kentucky sophomore Annika Williams (5.86) in a field of eight competitors.
Below: Ariel Lawrence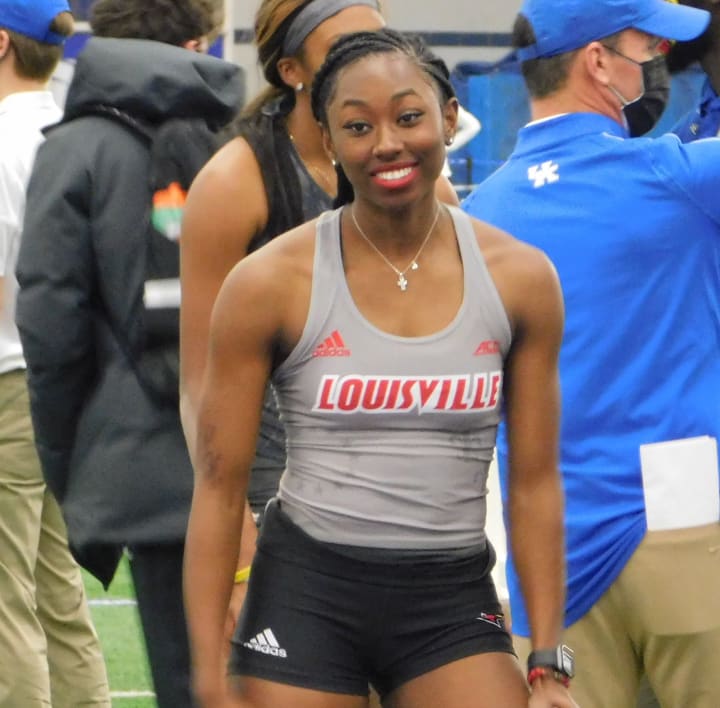 Kentucky athletes shined in the first running event of the meet. All-American junior Abby Steiner won the 200-meter dash with a time of 22.83. Last season at the Rod McCravy Memorial meet, Steiner won with a time of 23.06. Last year's second place finisher was Dajour Miles (23.39). This season, the sophomore repeated the feat at 23.89. North Carolina A&T junior Kamaya Debose-Epps finished third out of 15 competitors at 24.25.
Below: Taylor Beard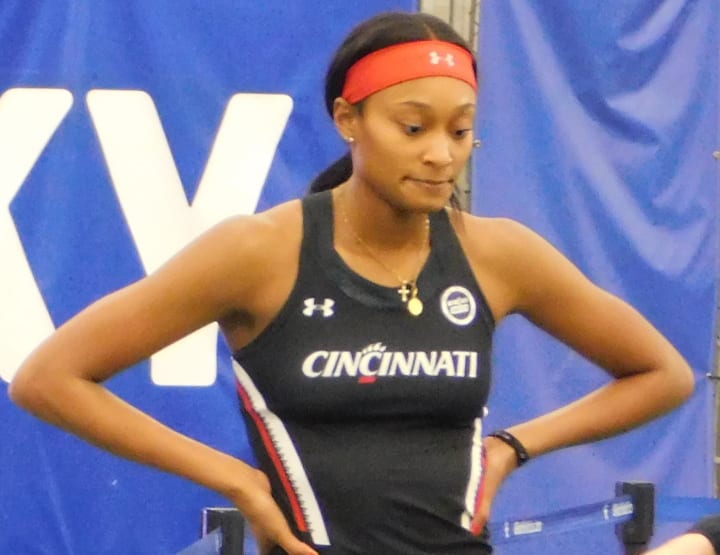 The high jump competition saw three competitors from last season's Jim Green Invitational do battle for a second straight year. Cincinnati sophomore Taylor Beard outlasted Kentucky's Williams and Carly Hinkle and eight other jumpers. Beard jumped a career best 1.79, while Williams and Hinkle jumped 1.77 and 1.71 respectively. Last season Hinkle was third, Williams placed fifth and Beard finished ninth.
Cincinnati also captured a win in the shotput with junior Malin Smith winning at 15.69. Last year she placed second at the Jim Green Invitational with a throw of 15.57.
Below: Malin Smith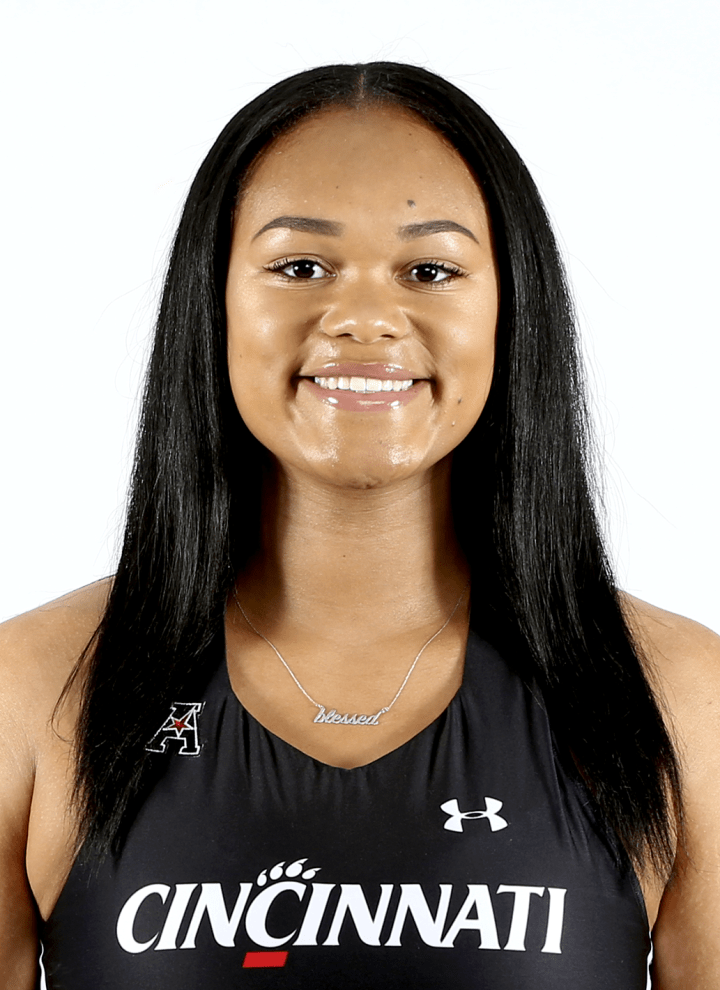 Saturday will see strong competitors in various events. The 60-meter dash features All-American sprinter Cambrea Sturgis of North Carolina A&T. At last year's Jim Green Invitational, Sturgis set a meet record and ran the second fastest time in the nation when she won the 60-meter dash at 7.15.
This year's 200 meters winner, Steiner, will also compete in the field. Cincinnati's talented junior Caisja Chandler, last year's runner-up at the American indoor conference championship in the 60 meters and 200 meters will give it a go as well.
Below: Caisja Chandler
Another event that should be exciting is the 60-meter hurdles. North Carolina A&T's Paula Salmon will return to improve on a second place finish at last year's Jim Green Invitational where she clocked in at 8.09. Salmon had a great season last year as she wrapped up the indoor session with the 10th fastest time in the nation at 8.08.
Kentucky junior Alexis Holmes is our pick as the best 400-meter runner in all of the NCAA. She will make her season debut, today in a field of eight sprinters. The defending SEC 400-meter indoor champ, also won last year's Jim Green Invitational at 52.71. Holmes' career best finish of 52.08 at the SEC Indoor Championships was the fifth best time in the NCAA last year.
Holmes is a highly decorated performer. She is a multi-time All-American and won the silver medals in the 400-meter dash at the 2019 Outdoor U20 USA National meet and U20 Pan American World Championship.
To close out the meet, Holmes and Steiner will join forces with Miles and Megan Moss as the team that is favored to win the 1,600-meter relay.
This story is brought to you by the Track Stars App.
Click the links below to download the world's first women's track and field video streaming app for iPhone and Android users.
Track Stars App, available for iPhone and iPad users:

Track Stars app is also available for Android users at: