Good, Better, Best — George Best
A tribute to Manchester United's legend and one of the greatest of all times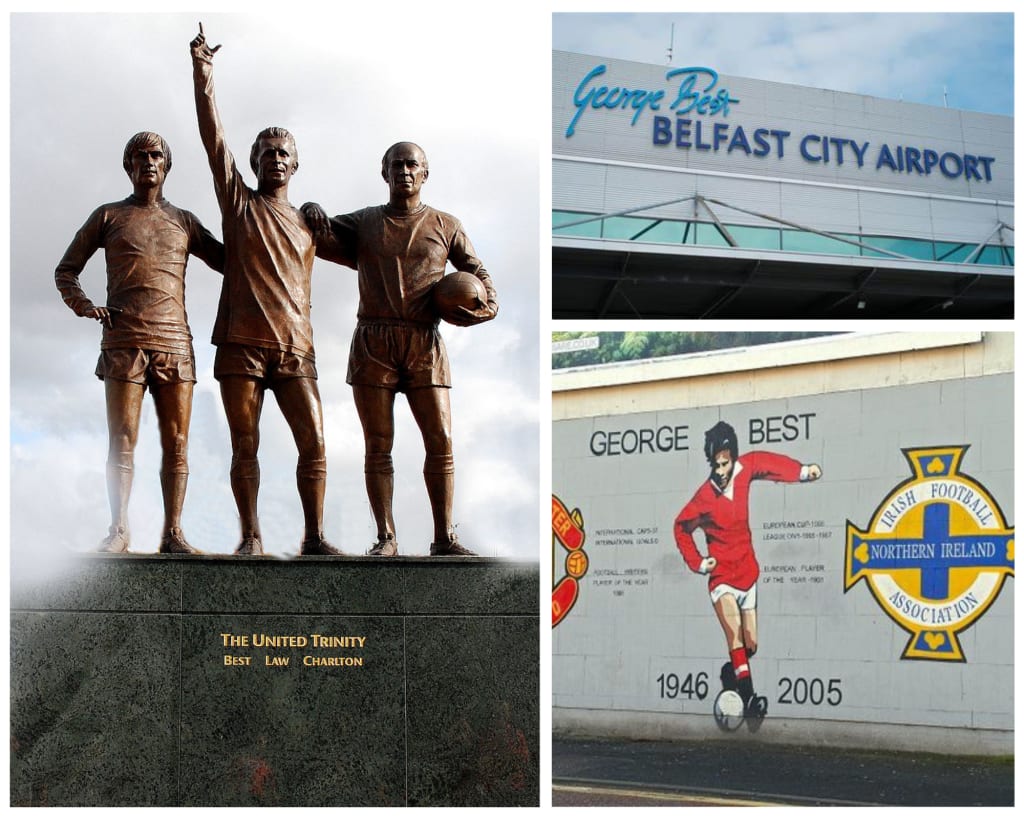 Good, Better, Best …..your grammar teacher would go when explaining comparatives and superlatives.
Years later, when the bug of football bites you, the true meaning dawns on you. In the early '60s to the early 70's like always there were many good footballers and then there was Best ……George Best. Grammar for once is clear, crystal clear.
Born in Belfast, in 1946, the gifted Irish boy played rugby and football at school. His local club Glentoran tested him and found him "too small and light".
In 1961, a Manchester United scout, scouring around spotted Best. The scout Bob Bishop, a United scout covering Northern Ireland was an affable guy with an uncanny eye for talent. He would visit Belfast every week and get some youngsters together to watch them play. The Bishop as he was affectionately known, would in his gentle ways guide the boys while he kept an eye on them.
On one of his visits, he spotted Best, he spotted the raw talent, and his telegram back to the manager Matt Busby was to become a part of the folklore at Manchester United. "I have found you a genius," wrote Bishop, and how true that turned out to be.
Recruited by Busby and allowed to train with the team, Best found his calling. In Sept 1963, he made his debut in the First Division at the age of 17 against West Brom. United won 1–0. He went to spend some time on the bench, playing on and off. At the end of the season he had played 20-odd matches and United finished second behind Liverpool.
Best announced himself to the world when at the European Cup in 1966.
On a warm day at the Stadium of Light in Lisbon, Manchester United faced Benfica in a second-leg encounter. Trailing 2–3 Benfica was not worried about the deficit. With great Eusebio and an array of the finest like the giant Jose Torres, and one of the finest left-wingers of the game Antonio Simoes in his lineup, the coach Guttmann was confident of his chances at their fortress.
Manchester United had an equally impressive line-up. The great Dennis Law and Bobby Charlton headed a sharp team, and George Best, all of 19 was in the midst. As the whistle blew for the kickoff United was off with intent. What followed was a display of pure genius as Best almost singlehandedly blew Benfica away. In the sixth minute, he rose to head in the opener. Within a few more minutes he was at it again. Picking up a pass in the midfield, the little magician, with a bobbing mop of hair, weaved his way past a bewildered Benfica midfield and deposited the ball into the far corner. The Portuguese were rattled, they never knew what hit them. The effect that the Best had on the pitch told soon. In what was to probably be Manchester United's best 45 minutes ever, they ran over Benfica. 5–1 to the good and 8–3 on aggregate. George Best had arrived and was to stay for long.
The Portuguese press, though heartbroken at their home team's loss, hailed the little genius. The sheer beauty of his game, the close control of the ball, his weaving runs, and the exuberance of fearless youth earned him the famous sobriquet "El Beatle" …the fifth Beatle.
He went on to play 470 matches for United scoring 179 times. George Best was not just a great footballer, in him, England found a folk hero and youth icon, and much more.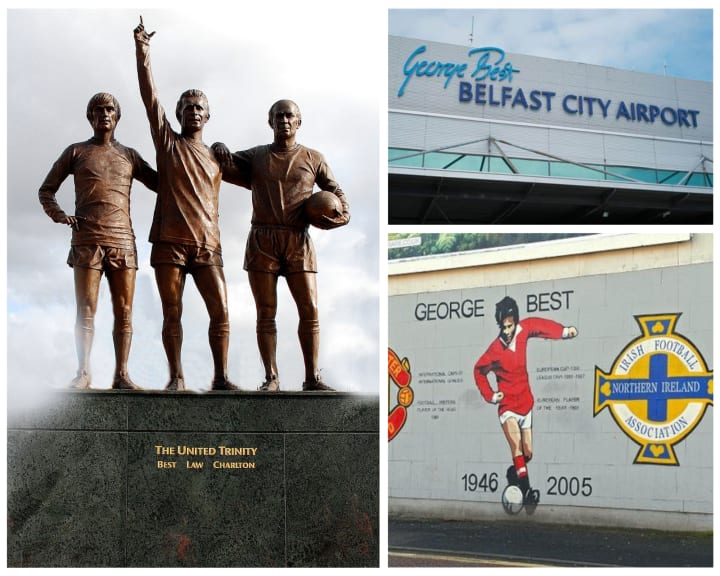 He gifted the footballing world with memorable moments. The whirlwind in Lisbon and 6 goals on his own in an 8–2 annihilation of Nottingham Forest are all gilt-edged gifts to the history of the glorious game of football.
In his ten-odd years at United, he won 2 first-division titles and a European Cup. He won the Ballon D'Or in 1968. But more than all that it was the aura that Best carried that made him a legend and found him a place in the Trinity whose statues welcome the red fans at their home fortress.
It was his addiction to alcohol which brought him down, he could not fight the urge and it took him down the spiral. He faded away and got into the news for all the wrong reasons. He left Manchester United and went around finally retiring in 1983.
In 2005 after a long battle with alcohol-related ailments, Best passed away, not before gifting the footballing world a sparkling bag of memories.
Belfast's favorite son was no more, but his legacy will live on forever. A statue in Windsor Park, a mural in his neighborhood, Best lives on in the Irish lore. Every visitor who lands in Belfast does so at the George Best Airport.
Ireland, the Irish, Manchester United, and all of the footballing world acknowledge his greatness.
Pele called him the greatest footballer, Beckenbauer agreed and all those who follow, write, and speak football will agree to his rightful place among the greats.
Pele, Maradona Johan Cruyff and George Best ….magicians all…
====================================================A side story read somewhere…… During the height of bouts with Alcohol, Best it was said, would stand up in one of those bars and wager a bet. He would bend his right foot back from the knee, keep a coin on the back of his feet, and punch drunk, he would flip it mesmerizingly over his shoulder and into his right pocket……it was always showtime with George…====================================================Sudhir Bhattathiripad
Be A Sport : Sports Blog
Twitter @tvsbhatta
About the Creator
I believe that sport mirrors life and its ups and downs.
I write stories , match reports, and tributes on Football, Cricket, Tennis, Chess etc.
My blog : Be A Sport
Twitter : @tvsbhatta
Reader insights
Be the first to share your insights about this piece.
Add your insights