10 Best Teams to Ever Win the Stanley Cup
With the NHL playoffs being the best competition in sport, check out the ten best teams to ever win the Stanley Cup!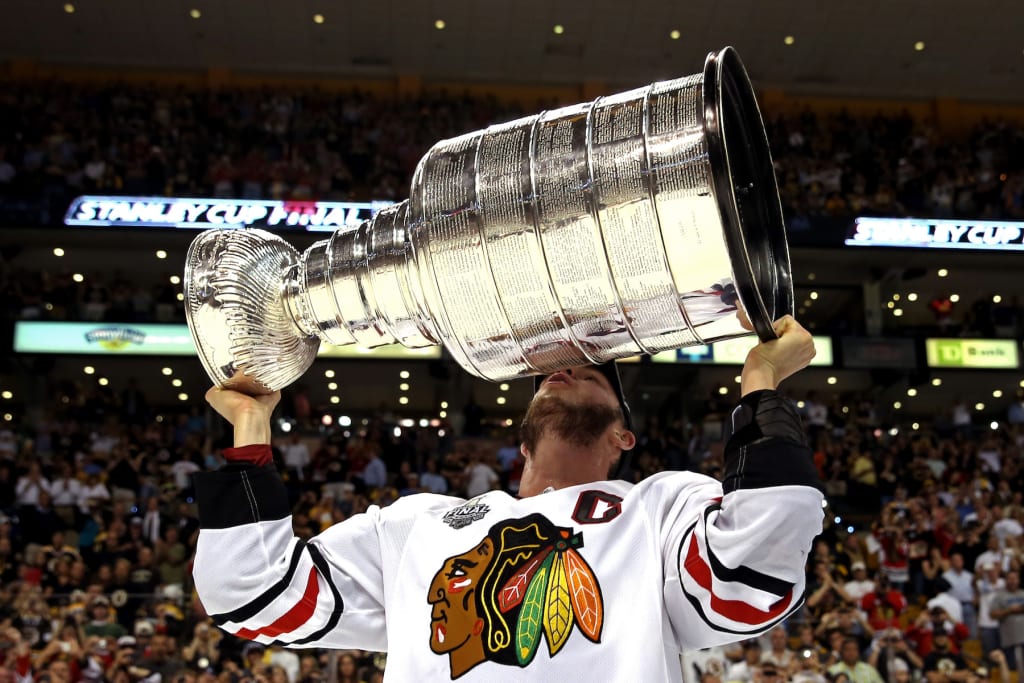 There is nothing better in sport than the Stanley Cup playoffs. It is the most intense playoff format, leads to the best moments, and has some of the best traditions. A few examples include Detroit and their octopus throwers, Nashville and their catfish throwers, and of course, the playoff beard. There are four rounds, each series can go to seven games, unbelievable comebacks occur all the time, and overtime is the most thrilling invention, potentially, of all-time. So yeah, nothing compares.
Only the best of the best win the Stanley Cup, but how do you differentiate such elite teams from one another? Well it wasn't easy, but I have been eating, breathing, and sleeping hockey for most of my life, and I think I have narrowed down the ten best teams to ever win the Stanley Cup.
The run that started the Blackhawks' dynasty. Led by young stars Patrick Kane, Jonathan Toews, Duncan Keith, and Brent Seabrook, this team was absolutely loaded. The supporting cast included Patrick Sharp, Dustin Byfuglien, Marian Hossa, Kris Versteeg, Brian Campbell, Nicklaus Hjarmalsson, Dave Bolland, Troy Brouwer, and Andrew Ladd. They had everything: size, speed, firepower, elite penalty killers, and depth for days.
All of the players mentioned were either in their prime or just entering their prime. Obviously this team could not stay together, having a salary cap will do that to that you. Some players moved on to become key pieces for other teams (Versteeg, Byfuglien), while others stayed and won two more Stanley Cup Finals in Chicago (Toews, Keith, Seabrook, Hossa, Kane). Three Stanley Cups and eight straight appearances in the playoffs is a dynasty in my book, and this was the team that started it all.
It was hard choosing an Oilers team during the 80s as one of the best teams to ever win the Stanley Cup, there were so many to choose from. I went with the 1984-85 roster because of Wayne Gretzky's insane point totals and the overall caliber of the team. "The Great One" capped off a 208-point regular season with tying the record for most playoff goals in a single season (17) and set the record for most assists (30) and points (47).
Add to that performance a team with Mark Messier, Paul Coffey, Jari Kurri, Grant Fuhr, Kevin Lowe, and Glenn Anderson, and it makes you wonder how anyone could even compete against them. This vaunted lineup ended the New York Islanders four-year streak of Stanley Cup victories and would establish a dynasty of their own.
Jaromir Jagr, Ron Francis, Ron Mullen, Kevin Stevens, Larry Murphy, Paul Coffey, Bryan Trottier, Rich Tocchet, Mark Recchi... Did I forget anyone? Oh right, Mario Lemieux, he's pretty good I guess. Of the top 20 scorers in NHL history, this team had six on the roster. That is the most absurd stat on this entire list. It goes, in order: Jagr (1,921), Francis (1,798), Lemieux (1,723), Recchi (1,533), Coffey (1,531), and Trottier (1,425). Not to mention Stevens recorded 123 points that campaign, with 28 playoff points to boot. This roster not only qualifies as one of the best teams to ever win the Stanley Cup, it may just be the best of all-time.
The Montreal Canadiens swept rival Boston Bruins this season, which is always a plus when winning a championship. This would be the second win in the Canadiens' dynasty of four straight Stanley Cups. Montreal only lost ten games all season. Guy Lafleur, Jacques Lemaire, Larry Robinson, and Steve Shutt were tasked with powering the offense, while Serge Savard and Ken Dryden shut down the opposition. Dryden recorded 14 total shutouts that year and beating your most-hated rival never gets old.
The Los Angeles Kings playoff run in 2012 earns them a spot as one of the best teams to ever win the Stanley Cup. Long story short, they completely dominated the playoffs. They lost two games in the first three rounds, beating the President's Trophy winning Vancouver Canucks, sweeping the St. Louis Blues, and demolishing the Phoenix Coyotes. They jumped out to a 3-0 lead on the New Jersey Devils before putting them away in game six.
Led by a slew of superstars, the Kings accomplished one of the most dominant playoff runs in NHL history. Anze Kopitar, Dustin Brown, Drew Doughty, and Justin Williams shouldered the offense while Jonathan Quick posted an unreal 1.41 GAA and .946 save percentage in the 20-game stretch. Bottom line, you couldn't score on Quick and you couldn't stop their offense; it was incredible to watch.
Remember when I said it was hard to choose one Oilers team to have on this list of the best teams to ever win the Stanley Cup? I was right, picking just one is impossible. Do you also remember when I said Gretzky set the Stanley Cup playoffs record for most assists? Well he broke that record this playoff season (31). Everything comes full circle! Edmonton maintained its core of Messier, Gretzky, Anderson, Kurri, Coffey, and Fuhr, and it continued to pay dividends. If the Oilers didn't trade away their franchise, with the trades of Gretzky and Messier, they could have won several more during this era.
One of the most emotional entries of the best teams to ever win the Stanley Cup, we come to the Detroit Red Wings in the 1997-98 season. You would think a team with Steve Yzerman, Sergei Fedorov, Chris Osgood, Tomas Holmstrom, and Nicklas Lidstrom would make this list for talent alone, and they probably would. But this story was so much more. Red Wings players Vladimir Konstantinov, Slava Fetisov and team masseuse Sergei Mnatsakanov were involved in a car accident which left all three gravely injured. Fortunately, all survived and when the Red Wings won the Cup, Konstantinov was there.
Unfortunately, the Red Wings era came to an end last season with the team failing to make the playoffs for the first time in 26 seasons. Their 25-year streak was one of the longest in NHL history but you can rest assured, they'll be back soon to start another streak.
Whenever you defeat the greatest player to ever play the game, you've earned yourself a spot on the best teams to ever win the Stanley Cup. Their fourth (and final) Stanley Cup in a row cemented this group as one of the best dynasties in hockey history. Captained by all-time great, defenseman Dennis Potvin, the Isles swept Wayne Gretzky and the Edmonton Oilers, which was no easy feat. This team included other hockey legends such as Mike Bossy, Bryan Trottier, Clark Gillies, and Billy Smith.
The series between the Colorado Avalanche and the New Jersey Devils in the Stanley Cup Finals was one of the best you could ever wish to see. It went seven games, had a litany of hall of fame players, and finally gave hockey legend Ray Bourque his long-awaited Stanley Cup. The Avalanche and Devils were at the height of their supremacy, with both winning multiple championships during this era, but Colorado came out ahead in this one.
The Avs were able to battle back from 3-2 down to win game seven at home behind stars like Joe Sakic, Peter Forsberg, Patrick Roy, Milan Hejduk, Rob Blake, Alex Tanguay, Chris Drury, and Adam Foote. They were able to beat a stacked Devils team which included Scott Niedermayer, Scott Stevens, Martin Brodeur, and the famous "A-Line" (Jason Arnott, Petr Sykora, and Patrik Elias). Out of all the great Avalanche teams, this was the best.
The New Jersey Devils take the last spot for the best teams to ever win the Stanley Cup. It is not so much the team itself, although they had some great players, but the teams they beat that puts them here. The Devils went up against the Boston Bruins, Pittsburgh Penguins, and Philadelphia Flyers before taking on the Red Wings. They stopped Cam Neely, Adam Oates, and Ray Bourque in Boston, Jaromir Jagr and Ron Francis in Pittsburgh, and Eric Lindros in Philadelphia.
Then, they accomplished their most impressive feat, sweeping the President's Trophy winning Red Wings. The Wings roster was insane at this point: Sergei Fedorov, Steve Yzerman, Keith Primeau, Paul Coffey, Dino Ciccarelli, Nicklas Lidstrom, Mike Vernon, Vyacheslav Kozlov, Kris Draper, Martin Lapointe, and Viacheslav Fetisov. The Devils defense of Scott Niedermayer, Scott Stevens, Ken Daneyko, Shawn Chambers, and Tommy Albelin, with the help of Martin Brodeur, stuffed the talented Wings. Meanwhile, Claude Lemieux, Stephane Richer, John MacLean, and Neil Broten led the offense to the Devils first Stanley Cup.