The End of an Era: Detroit Out of the Playoffs
It's kind of a weird feeling, isn't it?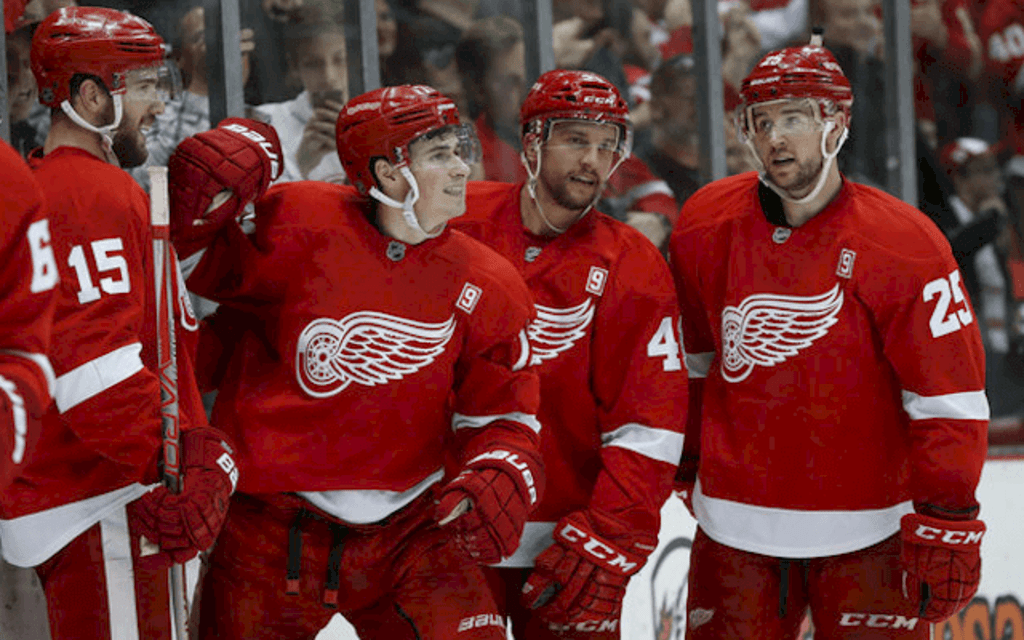 Image via Detroit Athletic
For the first time in 25 seasons, the Detroit Red Wings will miss the playoffs. With a lockout season thrown in the timeline, that means this is the first time since the 1989–90 season that the NHL Playoffs will begin without Detroit.
I turned 27 this year. Never in my lifetime has there been a season of hockey where the Detroit Red Wings were absent from the playoffs. In many of those, they were a favorite to make the Stanley Cup Finals. Six times, they did make the finals. Four times, they won the Cup.
But all of that has come to an end, and while it is surreal, it's not a terribly great surprise. They made a first-round exit in each of the previous three seasons, and an abundance of changes have taken place around the franchise leading up to this year's disappointment. As this great chapter of hockey history closes, we take a look at what was and what will become of one of the NHL's most storied franchises.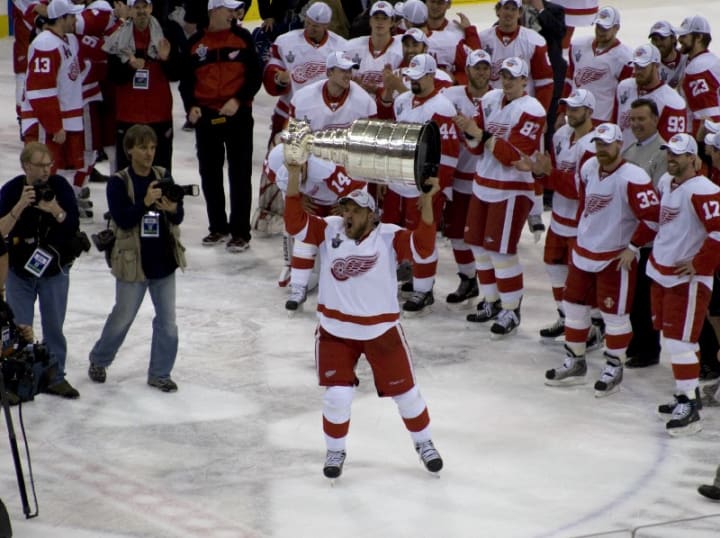 Celebrating The Streak
It certainly is worth celebrating. Twenty-five consecutive playoff seasons is tied for third most in NHL history (St. Louis also had a 25-year run), behind a 28-year stint by Chicago and a 29-year run by Boston, both of which ended in the mid-1990's. Between the Boston, Chicago, and St. Louis streaks, there were 82 years combined and only two championships (both to Boston). Detroit was able to get four. Of the teams at the top of the playoff streak list, no one had more singular or consistent success as the Red Wings.
We saw perhaps the most impressive team ever assembled in the back-to-back championships of 1997 and 1998. Names like Yzerman, Fedorov, Shanahan, and Lidstrom have gone down in hockey lore — and even into the Hall of Fame. Coaches like Scotty Bowman and Mike Babcock also made their mark with Detroit, with a combined four cups between them (Bowman with three, Babcock with one).
What was the hockey world like the last time Detroit missed the playoffs? For starters, not a single player in the NHL today, not even Jaromir Jagr, was playing yet (Jagr was drafted that summer). The Edmonton Oilers, who will be making the playoffs this year for the first time since 2006, won their fifth Stanley Cup with Mark Messier at the helm. The NHL MVP was none other than The Great One himself, Wayne Gretzky, skating in LA by this time. In fact, only 21 teams existed in the league in 1990, with Quebec, Hartford, Winnipeg, and the Minnesota North Stars destined to move on before the end of the decade.
For the Wings, Steve Yzerman paced the team with 124 points, followed by Gerard Gallant and Bernie Federko. But that's not the part of 1990 that Wings fans remember, if at all. What is worth noting? That summer's draft. After a first round selection of Mike Sillinger, the Wings took three players who would become Detroit legends: Niklas Lidstrom, Sergei Fedorov, and Vladimir Konstantinov. The Wings missed the playoffs, but they were very much in position to bounce back and create a sustainable run of success. Perhaps that's what can happen for Detroit this time around, too.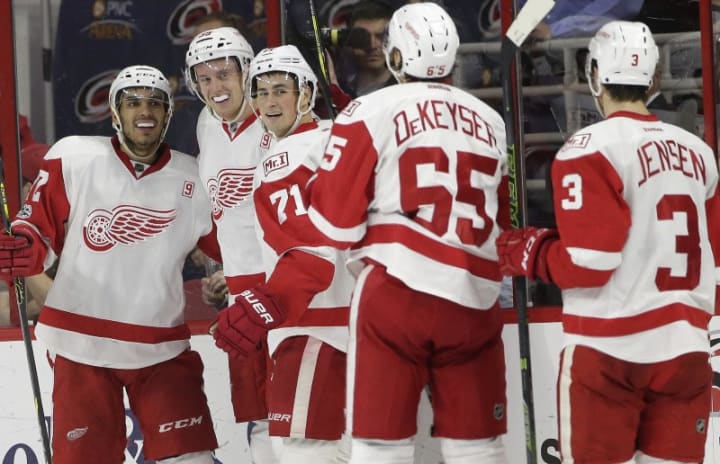 Looking Ahead
It's not just the end of an era because the Red Wings will miss the playoffs. Much has changed in the past couple years to transition this team out of an era of playoff dominance into an unsure future. Henrik Zetterberg and Niklas Kronwall represent the relic of Detroit's cup winning teams; players like Datsyuk, Holmstrom, and Lidstrom have moved on. The Western Conference they once dominated is no longer their home. Soon, the Joe Louis Arena will follow suit. Coach Mike Babcock is now in Toronto. Mr. Hockey left all of us, and so did Mr. I. In a very palpable way, the book has closed on a significant part of Detroit Red Wings history.
While the future ahead is certainly full of questions, the rebuild is in full swing and is stacked with promising young talent that has a chance to usher in a new era of winning. A franchise with a dependable foundation can make a rebuild move along pretty quickly, and it helps to have a bevy of young talent. Twelve members of the active roster are under 30-years-old, and it is likely that most of those players will lead the way if they stay in Detroit. Despite a down year for the team overall, players like Gustav Nyquist, Tomas Tatar, and Riley Sheahan form a core that any franchise would love to be able to build around. Rookies and second-year players like Andreas Athanasiou, Anthony Mantha, Xavier Ouellet, and Nick Jensen have had solid years and signal good things ahead. Even as Jimmy Howard may be transitioning out of a starting role, Petr Mrazek and Jared Coreau have shown what Detroit can expect in net for years to come.
It will be very strange to see the playoffs begin without the Detroit Red Wings. But with a rebuild fully under way, and plenty of talented young players in hand, it is easy to see that a new era of success in Hockeytown, USA, will soon be upon us.