TED NUGENT Doesn't Know Any Racists, Says, 'Color Doesn't Matter To Anybody I Know'
"We don't look at anything as colored — color doesn't matter to anybody I know."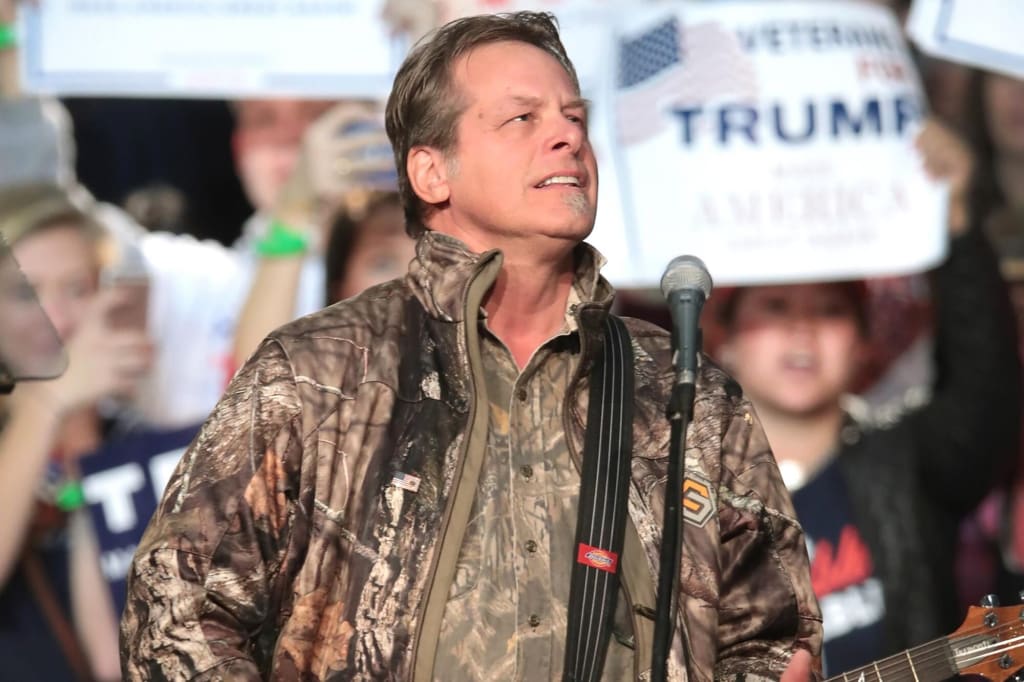 From Entertainment Weekly (www.ew.com)
Ted Nugent spoke in a recent interview on 106.9 FM and Newsradio WOOD 1300 about the upcoming election. He talked about his beliefs and what he saw as the current problems facing America.
"I'll be 72 here in a couple of months, but I'm cocked, locked and ready to rock, doc," he said. "I so love this country. I so demand freedom. I so understand the vision of the founding fathers. And what the Nugent family pursues in life, liberty and the pursuit of happiness, it's ubiquitous. It's not universal, because you've got your terrorists. You've got your 'Black Lives Matter' that don't care about black lives. Everybody I know actually does care about everybody."
He went on to explain the biggest threats facing the country by saying, "We don't look at anything as colored — color doesn't matter to anybody I know. So the most important issues right now are law and order, supporting the heroes of law enforcement that provide safe communities and secure streets. Law and order is number one. Constitutional accountability."
Law and order was a big issue for Mr. Nugent. He finished his perspective on American issues, saying, "So, if you believe in freedom, if you believe in 'we the people' and demanding accountability from our elected employees, you've got to raise hell. You've got to register. You've gotta hammer your senator and your congressman and your mayor and your governors that we believe in law and order, we believe in law enforcement. We don't wanna defund the cops; we wanna defund these terrorist organizations and put 'em in cages."
Mr. Nugent has often been involved in controversy. During Barack Obama's President, Nugent, an NRA (National Rifle Association) member, told then-President Obama to "suck on my machine gun".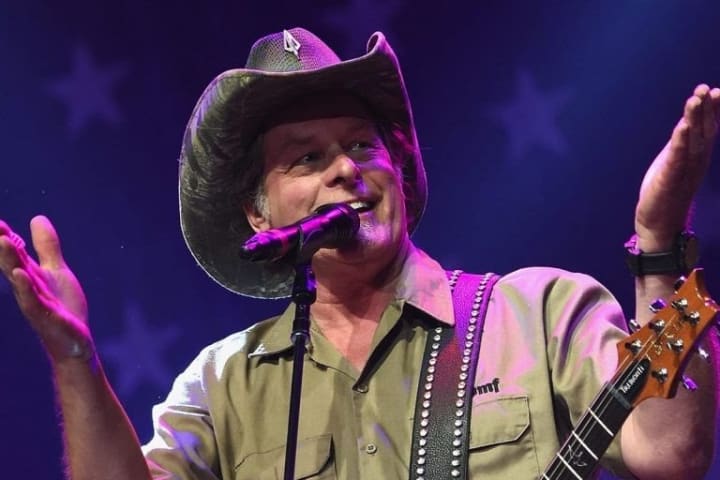 Mr. Nugent has also been a loyal Trump supporter, going so far as to say that President Trump was sent by God to uphold the Presidential office.
"Donald Trump was sent here by God. Just like our founding fathers were touched by divine intervention," Nugent said in an interview with LondonRealTV. "Because man was not created to live under the control of kings and emperors and tyrants. We need to shoot the kings and the emperors and the tyrants. They're bad people. They think they have authority over free people, and they're wrong.
"Donald Trump was sent here to prove that we the people identify the negativity of the status quo, we are more than aware of the criminal corruption and abuse of power just rampant in the Democratic party and all too often acceptable in the Republican party. And Donald Trump came along with his middle finger on fire, 'cause he was not presidential. 'Cause we didn't want presidential, because all those punks that came before him were presidential and they wrecked everything. And I could go into gory detail, but I would like to think that everybody is well aware of the evidence."
Recently, Mr. Nugent has come under fire for his comments regarding the official number of coronavirus cases in the US on a conservative podcast hosted by author David J. Harris Jr. "They claim 160,000 people dead from the Chinese communist virus. Bullshit," he said. "They claim millions and millions have been tested positive. Bullshit. They claim that the ICU units are overcrowded. Bullshit."
He later proceeded to call the CDC, FBI, and USDA liars.
As for Mr. Nugent's reasoning behind his support for President Trump, he said in an interview with "America This Week With Eric Bolling", Sinclair Broadcast Group's weekly news program hosted by conservative Fox News alum Eric Bolling, "I see that Donald J. Trump, hallelujah, is not an entrenched, status quo, power-abusing, criminal, punk-ass politician. He's a hellraiser, working-hard, playing-hard guy that got us back to God, family, country, work ethic, independence — you know, the man in the arena. You bust your ass to be in the asset column, earn your own way, live within your means, save for a rainy day — all that radical, extreme stuff. And he's my guy — I really love this guy. He came just in a nick of time."