The man who worshipped Trump has died
A man from rural India who built a shrine to the US President passed away Sunday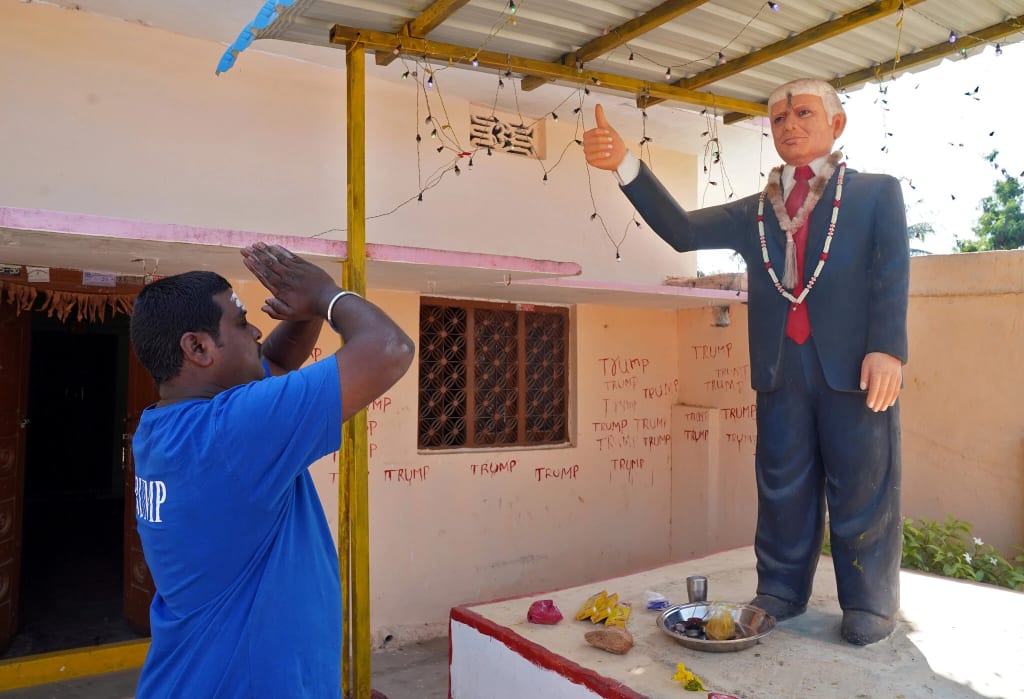 Vinod Babu/Reuters
Bussa Krishna, a 38-year-old Indian man from the state of Talangana who built a shrine to President Trump, passed away on Sunday morning. Conflicting reports say he may also have been 33.
Mr. Krishna was a school dropout who lived taking care of his two-acre farmland in his village. His wife passed away last year delivering a baby boy. Krishna began to worship the President after an Indian software engineer, Srinivas Kuchibhotla, was murdered in a hate crime by a US Navy veteran in 2017. He made his home into what he called his "Trump Temple". He celebrated the President's birthday earlier this year by decorating his home also.
"I was very much pained at the incident. I thought the only way the US president and his people could understand the greatness of Indians is to display our love and affection towards them. That is why I started worshipping Trump with a hope that the prayers would reach him one day," Krishna had said at the time.
Many in India admire President Trump and this man was no exception, taking his admiration to the extreme by building a shrine to him and praying to him every morning. He would bathe it in milk, also. His worship of President Trump earned him the nickname Trump Krishna in his village.
"At first everyone in the family thought he was mentally disturbed, but he kept at it and everyone eventually came around," said Vivek Bukka, a cousin.
Mr. Krishna was utterly devestated when he discovered that President Trump had contracted the coronavirus, and he posted a tearful video to Facebook asking for everyone to pray for the recovery of his "god".
While Mr. Krishna was a minor celebrity in his country, it is not known if President Trump himself knew about his worship and shrine.
Mr. Krishna's devotion to the President increased over time, with him fasting every Friday and with the commissioned construction of a 6-foot life-sized statue of the President in his backyard. The statue was worshiped by Mr. Krishna every morning with Hindu rituals for an hour or two as others might pray to other, more established gods in the Hindu pantheon.
Upon hearing the contracting of the coronavirus by President Trump, Mr. Krishna locked himself in his room and refused to eat. On Sunday morning, he collapsed of a heart attack while drinking tea at his home in Toopran in Medak district. His relatives took him to the hospital. He was pronounced dead on arrival at the local Toopran hospital on Sunday.
A close family of Mr. Krishna's spoke to the Times of India, saying: "He was upset when he learnt about Trump testing positive for coronavirus. He spent sleepless nights, starved and prayed for the US president's recovery for the past three-four days. He died of cardiac arrest today around noon."
Mr. Vivek, his cousin, said that the village was discussing how they would continue to maintain the shrine.
Venkat Goud, the head of Mr. Krishna's Konney village where he lived, told Reuters over the phone, "It's sad that he passed away without meeting his hero. He had tried so hard to meet him" when Trump had visited India in February.
"I'm feeling proud as my God has come to India," Mr. Krishna had said earlier this year, according to the outlet Asian News International. "I worship Trump as God and believe that I shall meet him soon. He has played a major role in [the] fight against terrorism."
President Trump tested positive for the coronavirus on October 1 and had received medical treatment at the Walter Reed National Military Medical Center, but a White House memo has since declared that he is no longer a transmission risk and is feeling better.