Dobbs (No Relation)
On Grieving the Outcome of Dobbs v. Jackson Women's Health Organization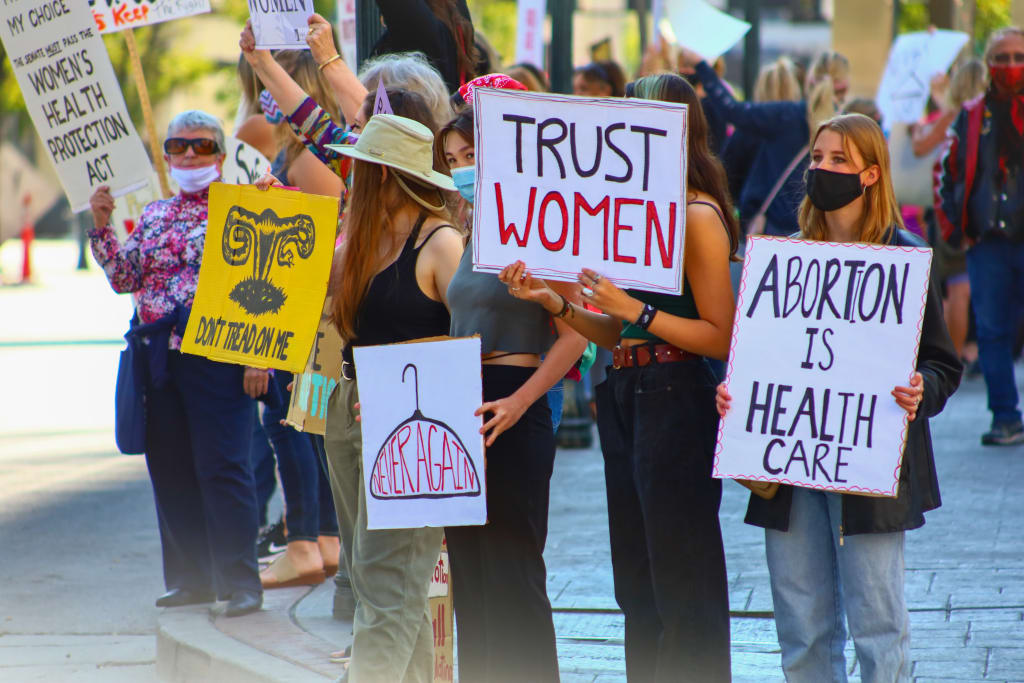 Photo by Manny Becerra on Unsplash
Most days this account is used to store articles that explain, enlighten, and argue on behalf of. Occasionally, there's a story. But, this article is straying from that. It's off genre, poorly edited, hotly written. I'm not sorry.
It would feel ingenuine to talk about anything else today, this week, indefinitely until the issue is resolved. My heart is broken. Today, tomorrow, I mourn with the United States of America.
My name is Olivia Dobbs (no relation). I do not stand with Thomas Dobbs. His choice to continue this case stands in direct opposition to my own ability to choose. He's disgraced all Dobbs' henceforth. Because of Thomas, I'm embarrassed to be called a Dobbs. Thomas, kindly go fuck yourself.
Every time I see the court case I'm reminded of my family, especially those who don't believe in my right to bodily autonomy. Back East, I reckon they're hooting and hollering in their bible belt churches.
"Finally," they'll say, "a reason to be proud of our name."
Once upon a time, the plan was to be the first Dr. Dobbs in my immediate family. Now? I question whether this name deserves the Ph.D. Isn't it fitting that one Dobbs' dream of giving the family a doctorate in evolutionary biology was beaten out by radical creationists? I mourn the death of making Dobbs known for scientific advancement, Thomas beat me to notability with his success in the greatest societal regression in the last century.
I'm watching my nation tear away the rights of 150 million people by my own damn last name.
In a moment like this, it feels insurmountable to find words that reflect the gravity of the injustice we all face. My perspective feels so small in comparison to the collective pain that floats in the air of my country. I look to the eyes of women around me for a sign. Some return thousand-yard stares, others, fire. Why are my eyes only producing tears?
I look to my state's government. In California, the governments listening to the desperate cries of the people for now. But the security is close to expiration with a list of radical governmental Newsom opposition candidates just recently mailed as June's options. Still, news of security here elicits jolts of survivor's guilt. The women in red deserve these rights too.
We contemplate whether participating in a general strike will cost our jobs. Is the progress of women's bodily autonomy worth the regression of our careers? Will it even make a difference? I shudder that women might have to put their livelihoods on the line to fight for what we deserve. I shudder that some jobs might dispose of us for it. I shudder that they can if they so choose to.
I grieve for the United States of America as they attack my sisters.
I mourn for the women born assuming that Roe was concrete only to have it ripped away.
For the trans men and nonbinary people that suffer the same all the while being excluded from far too many conversations.
For the children forced to be born into abusive homes.
For the children that will be born directly into the foster care-to-prison pipeline.
For the parents that will have to give up their dreams to raise a child that they aren't ready for.
For the pregnant people that will die because they can't get access to an abortion.
For the funerals that will occur because of improvised abortions.
For the miscarriages that will result in manslaughter charges.
For the victims of rape today, tomorrow, this month, this year.
For the activists that already fought through this in the 1970s and are coming out of retirement to fight again.
I'm grieving, and I'm sorry. I have no call to action. Someone else, please tell me what to do. Apparently, my choice doesn't matter.
--
Originally published at oliviadobbs13.medium.com