Crowds escaping London hours before entering Tier 4 restrictions
Health Secretary Matt Hancock has criticised people who left London hours before the capital was plunged into Tier 4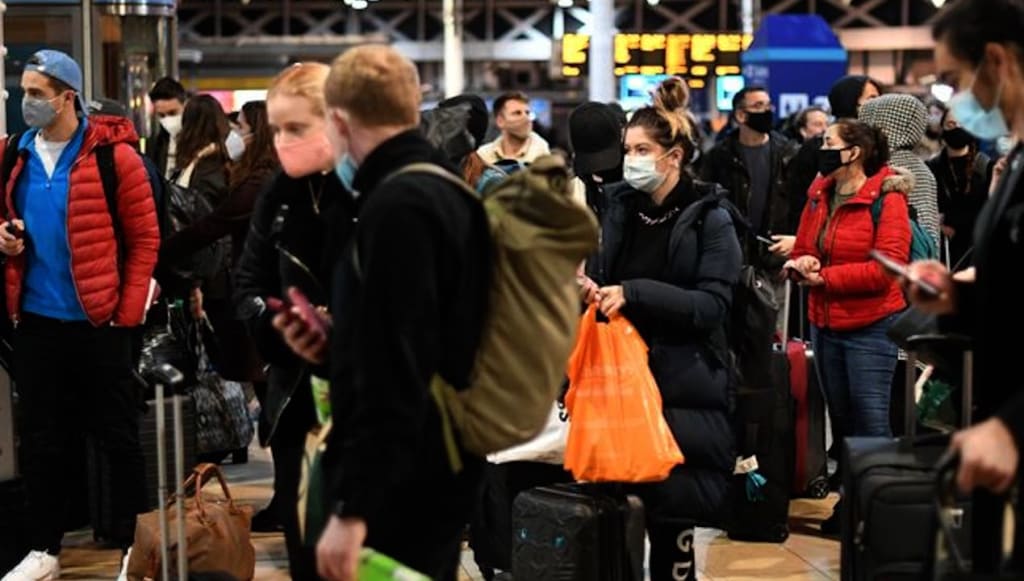 Health Minister Matt Hancock sighed and shook his head watching a video of people fleeing London hours before Tier 4 restrictions came into effect and branded it as "totally irresponsible."
Speaking on Sky News, Mr Hancock said people in Tier 4 must "follow the rules" and act as they have the virus.
He also said that it was "totally irresponsible behaviour" to travel after the new restrictions had been announced.
He echoed his comments at the Marr Show later.
"I think the scenes were utterly irresponsible. We have all got a responsibility.
"We in Government, of course, have a responsibility, but so does every single person," said the Health Secretary to BBC1, The Andrew Marr Show.
"The plea that I have is that people will play their part because it is only by acting – all of us – that we can get this under control."
Mr Hancock dismissed a suggestion from critics including Sir Charles Walker, a senior Conservative MP, that he might resign.
"I am dealing with a global pandemic in the best way we possibly can with huge pressures on the NHS, with case rates that are climbing and we must take action no matter how uncomfortable we find it," he added.
It comes as announced that police and rail workers will turn away travellers seeking to leave Tier 4 areas on Sunday as millions in the South East woke up under new stringent coronavirus restrictions.
Rail bosses are said to have held crisis meetings about how to enforce the stringent new Tier 4 laws that came into effect in the region at 7 a.m.
Travelling to and from the current Tier 4 region is also restricted by legislation intended to contain the new mutated strain of coronavirus.
Passengers who had booked their tickets home on 23 December-when the relaxed Christmas bubble steps were supposed to begin-have been told that travel will only be limited to essential workers.
Thousands of Londoners sought to leave the city last night-pictures on social media showing queues at Euston, London Kings Cross and Paddington stations.
Branding it the last train out of Saigon' – a nod to the evacuation of US staff during the Vietnam War – journalist Harriet Clugston wrote: "Any person on this train, including myself, has made what is undoubtedly a very dumb and irresponsible decision to travel, although within the rules.
"But that's what people have always been going to do to be together at Christmas."
Travellers at St Pancras Station were advised that social distance "would not be possible" because of the number of passengers on board, and anyone who felt uncomfortable" should not remain on the train.
Meanwhile, on the road, Edmund King, president of the AA, said that within 90 minutes of Boris Johnson's announcement, there were rumours of people jumping into cars and taxis and even renting vehicles to flee London before draconian new laws were enforced.
"There are certainly elements of an exodus of some people from tier 4," he said to The Mail on Sunday.
It came after England's Chief Medical Officer, Chris Whitty, last night, told people who were waiting to leave to "please unpack" their luggage.
On Saturday, Mr Johnson essentially scrapped Christmas for nearly 18 million people in London, South-East and East England, as the country began a new two-week lockout.
Under the current Tier 4 rules, non-essential shops-as well as gyms, movie theatres, casinos and hairdressers-must remain closed, and people are limited to meeting anyone from another household in an outdoor public space.
Reader insights
Be the first to share your insights about this piece.
Add your insights