Congressman John Lewis Dies at Age 80: His Life by the Numbers
People have called John Lewis an icon, a hero, a civil rights legend, a giant, a champion for peace, an American treasure, and a public servant.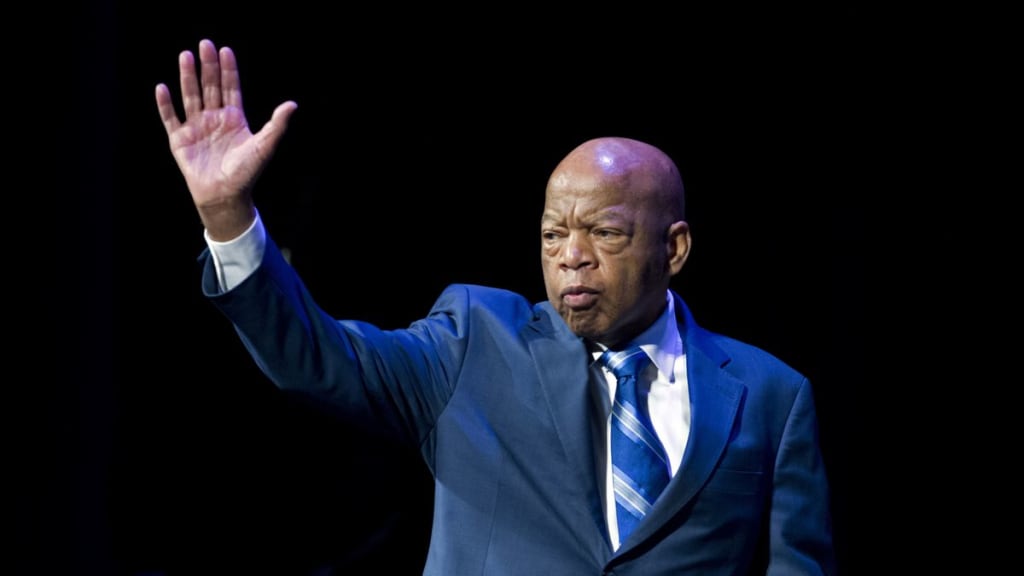 Congressman John Robert Lewis, an American politician and civil rights leader died of Stage IV pancreatic cancer on Friday, July 17, 2020, at the age of 80. He made the announcement about the disease in a statement on December 29, 2019.
Lewis was the third of ten children born to sharecroppers in Troy, Alabama on February 21, 1940. He saw two white people for the very first time when he was six years old. That's when he began learning about racism and segregation which motivated him to have many key roles in the Civil Rights Movement in a dedicated effort to end racial segregation in the United States.
Highlights of Lewis' Long Career
When Lewis died, he was still holding his position as the United States Representative for Georgia's 5th congressional district that he has held since 1987. He was also serving as a Chief Deputy Whip since 1991 as well as Senior Chief Deputy Whip since 2003. Lewis served in Congress for over 33 years and about 37 years as a politician and civil rights leader.
Lewis first became interested in politics at the age of 15 in 1955 when he heard Martin Luther King, Jr. on the radio. He met Dr. King for the first time three years later when he was 18.
In 1961, Lewis became one of the 13 original Freedom Riders. There were seven whites and six blacks who rode from Washington, D.C. to New Orleans. At 21 years old, Lewis was assaulted while in Rock Hill, South Carolina. He tried to enter a whites-only waiting room and two white men attacked him. He was hit in the head with a wooden crate. Later Lewis said he thought he was going to die when he was left lying unconscious at the Greyhound bus station.
In February 2009, 48 years after Lewis had been beaten in the Greyhound station during a Freedom Ride, he received an apology on national television from former Klansman Elwin Wilson.
Lewis was chairman of the Student Nonviolent Coordinating Committee and one of the "Big Six" leaders. He was instrumental in organizing and being an intricate part of the 1963 March on Washington. He was the youngest person at the age of 23 to be the keynote speaker at that event on August 28, 1963.
On March 7, 1965, Lewis helped organize a voting rights march from Selma to Montgomery and was among 600 demonstrators attacked by police. That day becomes known as "Bloody Sunday." From March 21-25, 1965, over 3,000 demonstrators marched from Selma to Montgomery under the protection of federal troops. By the time they reached Montgomery, more than 25,000 were in the group. Lewis said crossing the Edmund Pettus Bridge marked his life.
John Lewis' and US Presidents
Lewis told NBC News on January 13, 2017, that he did not view President-elect Donald Trump as a legitimate president because of evidence of Russian meddling during the run-up to the election. He vowed not to attend the inauguration. That was the second time Lewis did not attend the inauguration of a president.
In 2001, he also declined to attend the inauguration of President George W. Bush who won a close election after the Supreme Court stopped a recount in Florida. Bush won the Electoral College even though Vice President Al Gore received more popular vote.
On January 14, 2017, President Trump criticized Lewis in a tweet, "Congressman John Lewis should spend more time on fixing and helping his district, which is in horrible shape and falling apart (not to mention crime infested) rather than falsely complaining about the election results. All talk, talk, talk - no action or results. Sad!"
Lewis responded to Trump's by saying, "Today, Donald Trump attacked me on Twitter. He said that I'm 'all talk' and 'no action.' I've been beaten bloody, tear-gassed, fighting for what's right for America. I've marched at Selma with Dr. King. Sometimes that's what it takes to move our country in the right direction."
Arrests
Over his lifetime, Lewis was arrested more than 40 times for organizing boycotts and nonviolent protests in the fight for voter and racial equality. The civil rights leader was dedicated to nonviolence from the age of 15 until the day he died.
Education
Lewis graduated from the American Baptist Theological Seminary in Nashville, Tennessee with a B.A. in 1961. He later received a bachelor's degree in Religion and Philosophy from Fisk University in 1967.
Lewis was very dedicated to the Civil Rights Movement when he was a student at Fisk University. He organized sit-ins at segregated lunch counters in Nashville. He was involved in many other civil rights activities as part of the Nashville Student Movement.
Honors and Awards
On March 7, 2004, the John R. Lewis Monument was unveiled in Selma, Alabama at the foot of the Edmund Pettus Bridge to commemorate the events of "Bloody Sunday."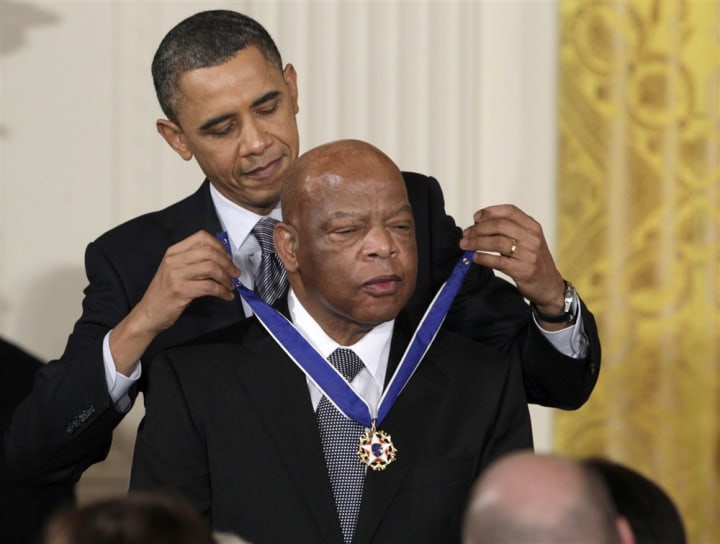 Lewis received over 50 honorary degrees and awards from American and international colleges and universities. On February 15, 2011, President Barack Obama awarded the civil rights leader the Presidential Medal of Freedom, the highest civilian honor of the United States.
Publications
Lewis' memoir, Walking with the Wind: A Memoir of the Movement, was published in 1988.
Top Shelf Productions published a trilogy written by Lewis and Andrew Aydin and illustrated by Nate Powell. The graphic novel, March: Book One, was published in August 2013. March: Book Two was published in January 2015. The final book, March: Book Three, was published in August 2016.
John Lewis, Rest In Peace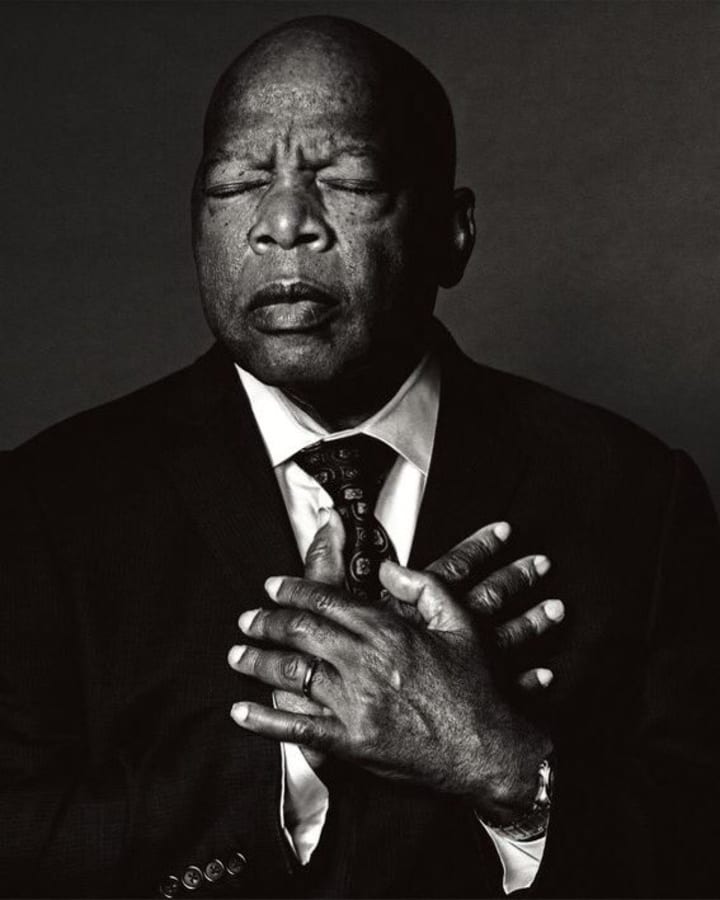 politicians
Margaret Minnicks shares articles with readers all over the world. Topics include celebrities, royal family, movies, television, foods, drinks, health issues, and other interesting things. Thanks in advance for TIPS that are sent my way.
Receive stories by Margaret Minnicks in

your feed