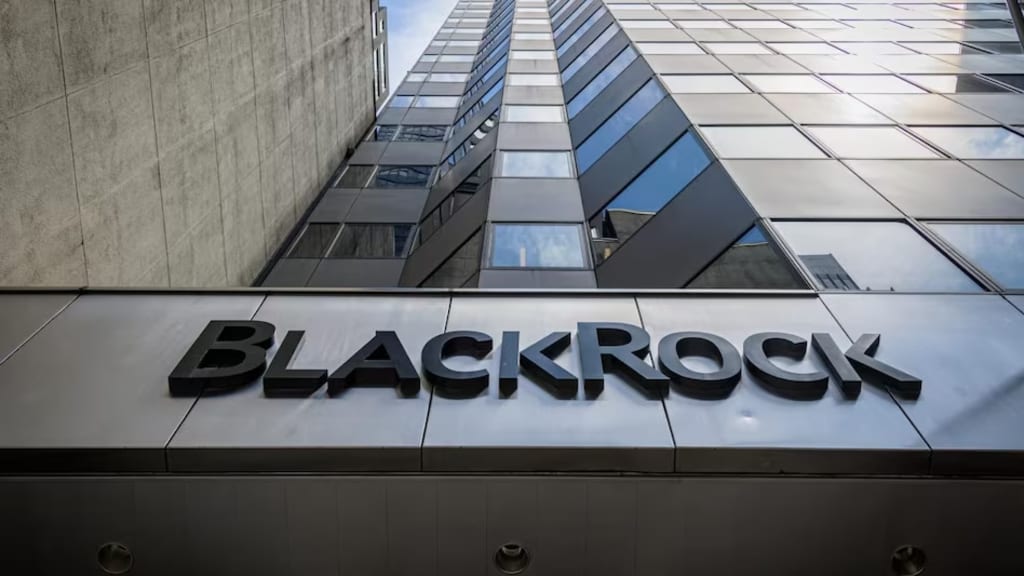 INFLUENCE AND POWER
In 2010, Ralph Schlosstein, the CEO of Evercore Partners and a BlackRock founder, called BlackRock "the most influential financial institution in the world."[20]
Due to its power and the sheer size and scope of its financial assets and activities, BlackRock has been called the world's largest shadow bank.[70][29] In 2020, U.S. Representatives Katie Porter and Jesús "Chuy" García proposed a U.S. House bill aiming to restrain BlackRock and other so-called shadow banks.[71] On March 4, 2021, U.S. Senator Elizabeth Warren suggested that BlackRock should be designated "too big to fail", and should be regulated accordingly.[72]
BlackRock invests the funds of its clients (for example, the owners of iShares exchange-traded fund units) in numerous publicly traded companies, some of which compete with each other.[73][74][75] Because of the size of BlackRock's funds, the company is among the top shareholders of many companies, including the largest companies in the world. BlackRock states these shares are ultimately owned by the company's clients, not by BlackRock itself – a view shared by multiple independent academics – but acknowledges it can exercise shareholder votes on behalf of these clients, in many cases without client input.[76]
This concentration of ownership has raised concerns of possible anti-competitive practices. A 2014 study analyzed the effects of this type of common ownership on airline ticket prices. The study found that "Prices go up and quantity goes down when the airlines competing on a given route are more commonly owned by the same set of investors." The authors noted that this price increase does not necessarily imply conscious collusion among the common owners, but could perhaps be that these firms are now "too lazy to compete" with themselves.
BlackRock has been the subject of conspiracy theories, including the conspiracy theory that BlackRock owns both Fox News and Dominion Voting Systems, which Snopes described as "false" and PolitiFact described as "mostly false". Some BlackRock conspiracy theories have also incorporated antisemitism, such as the conspiracy theory that Jewish people including BlackRock founder Robert Kapito are part of a cabal responsible for COVID and a "COVID agenda".
Environmental, social and corporate governance investing
Main article: Environmental, social and corporate governance
In 2017, BlackRock expanded its environmental, social and corporate governance (ESG) projects with new staff and products.\[88]
BlackRock started drawing attention to environmental and diversity issues by means of official letters to CEOs and shareholder votes together with activist investors or investor networks such as the Carbon Disclosure Project, which in 2017 backed a successful shareholder resolution for ExxonMobil to act on climate change.
In 2018, it asked Russell 1000 companies to improve gender diversity on their board of directors if they had fewer than two women on them.
In August 2021, a former BlackRock executive who had served as the company's first global chief investment officer for sustainable investing, said he thought the firm's ESG investing was a "dangerous placebo that harms the public interest." The former executive said that financial institutions are motivated to engage in ESG investing because ESG products have higher fees, which in turn increase company profits.
In October 2021, The Wall Street Journal editorial board wrote that BlackRock was pushing the U.S. Securities and Exchange Commission to adopt rules requiring private companies to publicly disclose their climate impact, the diversity of their boards of directors, and other metrics. The editorial board opined that "ESG mandates, which also carry substantial litigation and reputation risks, will cause many companies to shun public markets. This would hurt stock exchanges and asset managers, but most of all retail investors."
In January 2022, BlackRock founder and CEO Larry Fink defended the company's focus on ESG investing, pushing back "against accusations the asset manager was using its heft and influence to support a politically correct or progressive agenda." Fink said the practice of ESG "is not woke."
BlackRock's emphasis on ESG has drawn criticism as "either bowing to anti-business interests" or being "merely marketing".
In a talk at the Aspen Ideas Festival in June 2023, BlackRock CEO Larry Fink said he has stopped using the term "ESG" because the term has been "weaponized". According to an Axios reporter, Fink also said "I'm ashamed of being part of this conversation." Later, according to Axios, Fink said, "I never said I was ashamed. I'm not ashamed. I do believe in conscientious capitalism."[98]
In July 2023, BlackRock announced that it would allow retail investors a proxy vote in its biggest ETF from 2024. The move was initiated in the context of claims from US Republicans that Blackrock is systematically trying to push a 'woke agenda' through its pro-ESG activities. Under the plan, investors in BlackRock's iShares Core S&P 500 ETF will be asked to make choices from seven different general policies ranging from voting generally with BlackRock's management, to environmental, social and governance factors or prioritizing Catholic values. Investors will not be able to vote on specific companies.[99] The Editorial Board at The Wall Street Journal argued that it amounted to a "false voting choice" since almost all of the pre-selected voting policies are devised by the ESG-aligned proxy advisories Glass Lewis and Institutional Shareholder Services.[100]
Reader insights
Be the first to share your insights about this piece.
Add your insights